Comparing WP Engine vs Bluehost is the proverbial apples to oranges. The former is one of the best-known managed WordPress web hosts around, whereas Bluehost built a name for itself through more affordable plans. It's safe to say, both providers offer very different approaches when it comes to WordPress hosting.
If you're trying to decide between managed and regular shared hosting, you'll need to know what you're getting with each provider. A higher cost doesn't necessarily translate to quality, so it's important to understand what each price point gets you.
In this article, we're going to compare WP Engine vs Bluehost when it comes to their starter plans. We'll compare: features, ease of use, performance, customer support, price. By the end, you'll know if WP Engine's considerably higher starting prices are worth your while. Let's get to it!
WP Engine vs Bluehost: Which provider offers the best features?
WP Engine specializes in managed WordPress hosting. In contrast, Bluehost offers a broader range of services, including shared and dedicated hosting, as well as virtual private servers (VPSs). They also offer regular and managed WordPress hosting plans.
Throughout this article, we're going to focus on Bluehost's regular WordPress hosting plans, so we can help you decide if managed hosting is worth the extra cost.
WP Engine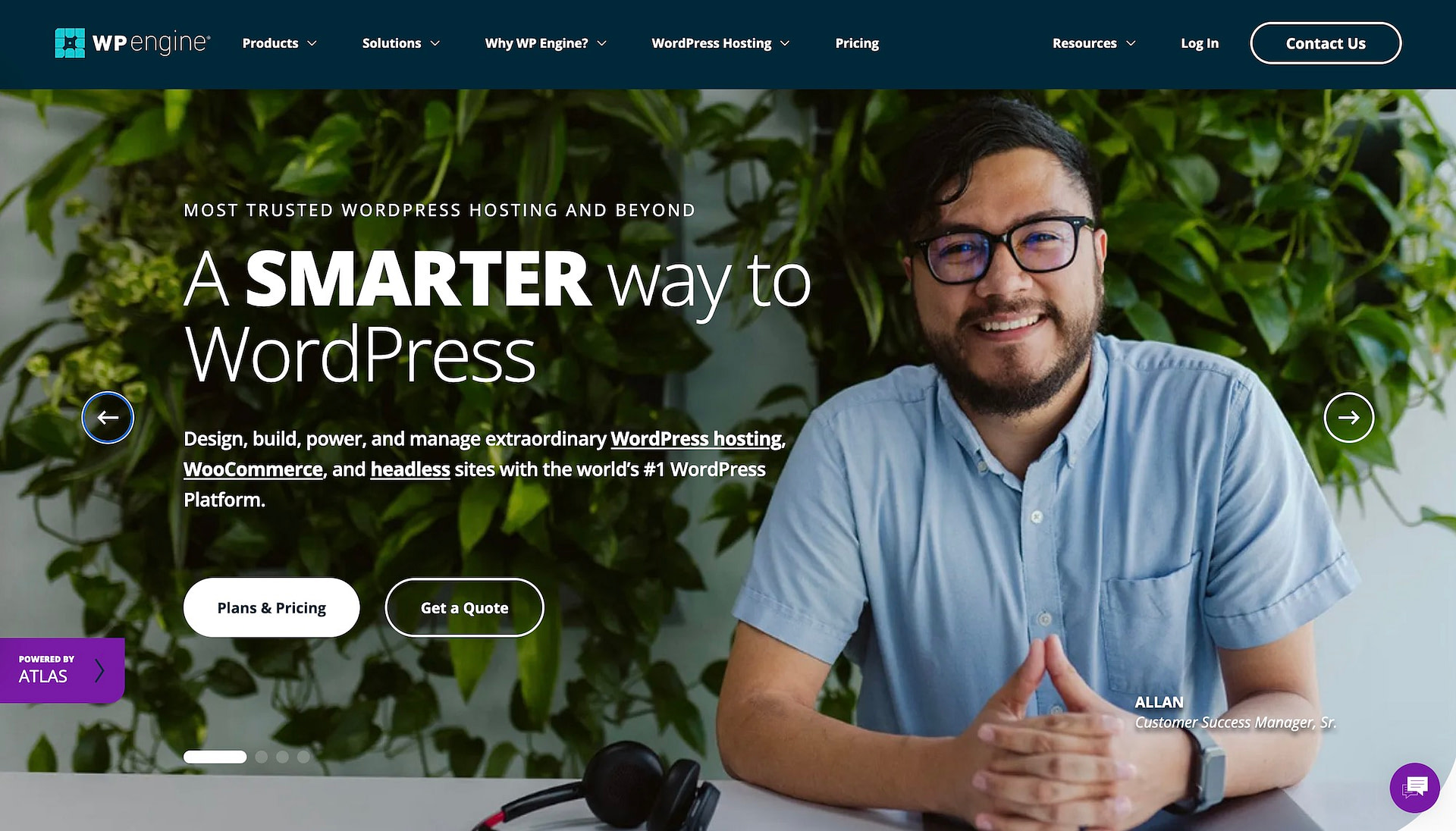 Supports one website with the Startup plan
Staging and production environments
Nightly automated backups
24/7 support via chat (with phone option for Growth plan and beyond)
Integrated content delivery network (CDN)
Free, automatic SSL certificates to secure your site and get the green padlock
Includes the Genesis Framework for free, as well as over 35 Genesis child themes
Multiple add-ons available for all plans (including automatic plugin updates and Multisite support)
Bluehost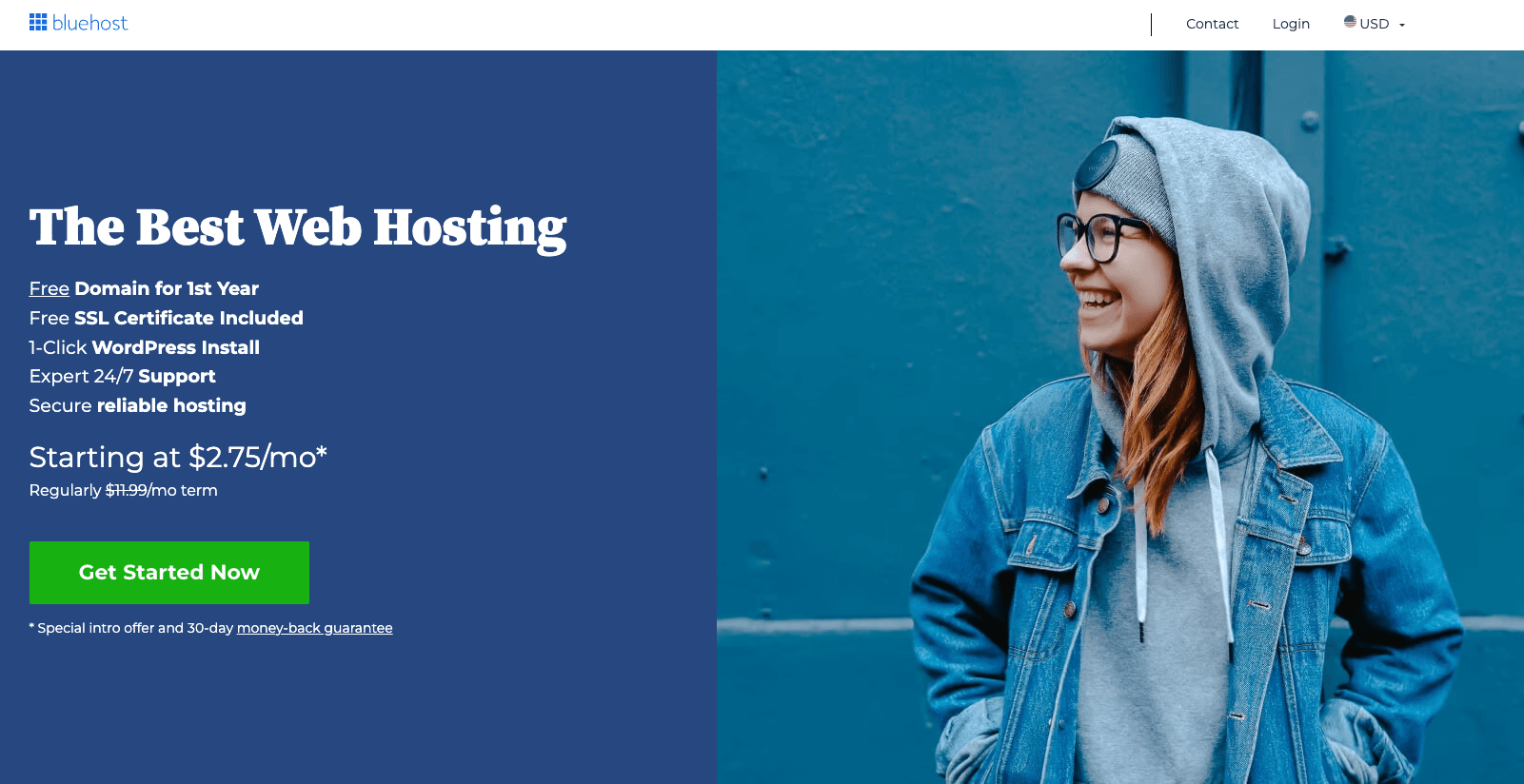 Supports one website with its Basic plan and unlimited ones with higher tiers
Free domain for one year
50 GB SSD storage (higher tiers get 'unlimited' storage and bandwidth)
Automatic WordPress installation and updates
Access to staging functionality (with all plans)
24/7 support via chat
It shouldn't come as a surprise that Bluehost's shared hosting doesn't offer as much by default as WP Engine, considering the price difference. However, Bluehost does offer staging functionality, which is something you almost never see among budget WordPress hosts. Plus, it throws in free domain registration as part of the deal, which could seal the deal for you compared to WP Engine.
Is Bluehost or WP Engine easier to use?
As far as hosting panels go, Bluehost offers one of the most user-friendly options available. Your Bluehost panel is incredibly easy to navigate, and you can easily access your WordPress websites with a single click:
It's also worth noting that while Bluehost takes care of installing WordPress for you, they do not help you migrate your site. This means if you have a website you want to move to a Bluehost shared plan, you're on your own unless you want to pay for the $149.99 Site Transfer service.
WP Engine doesn't offer human migrations either, but it does offer a dedicated plugin that automates most of the process for you. Still, it's a slight negative, considering many other managed WordPress hosts are usually happy to handle migrations for you.
Moving on, the WP Engine dashboard is not as streamlined as its Bluehost counterpart. That's to be expected considering you get access to more advanced functionality. Though, you still couldn't consider it hard to navigate:
Overall, WP Engine offers a lot more options out of the box for micromanaging your website through their hosting panel:
That's a good thing, of course, but it does mean there's a higher learning curve. Overall, once you sign up for a plan, WP Engine has an edge when it comes to functionality and it's a better fit if you have experience managing websites.
Which web host wins when it comes to performance?
Usually, the biggest gaps between managed and shared WordPress hosts lie in features and performance. We've already compared WP Engine vs Bluehost on the former, so let's talk about the latter.
WP Engine offers an integrated CDN out of the box, and boasts about fast loading times as one of its main selling points. Given this, we went into the test with high expectations.
To begin, we set up two identical websites, one on each web host. We've installed the Twenty Nineteen theme, loaded it with the WordPress Theme Unit Test Data, and activated an identical selection of popular plugins (Yoast, Wordfence, Jetpack, and Contact Form 7).
Our goal was to simulate a real-world website in order to ascertain the performance. For the tests, we used Pingdom Tools and averaged three tests at five different server locations. Here are the results:
Bluehost
Washington, D.C.: 5.11 seconds
San Francisco: 2.24 seconds
London: 3.13 seconds
Sydney: 3.63 seconds
Tokyo: 2.70 seconds
WP Engine
Washington, D.C.: 648 ms
San Francisco: 430 ms
London: 989 ms
Sydney: 1.17 seconds
Tokyo: 763 ms
The results speak for themselves – WP Engine takes a commanding lead when it comes to performance. Bluehost, on the other hand, drops the ball dramatically, even when you take into consideration the disparity in prices between both hosts.
As a rule of thumb, you don't want websites to take over two seconds to load, regardless of their complexity. The test websites we set up were incredibly straightforward, so they shouldn't take up to five seconds to load under any circumstance.
Aside from loading times, you also want to make sure your web host's uptime is as close to perfect as possible. In this area, both Bluehost and WP Engine scored 100% (seen at the bottom and near the top of the following list):
Performance is critical for any website, and since both web hosts get perfect scores when it comes to uptime, it all comes down to loading times. As such, WP Engine wipes the floor with Bluehost.
Who offers better customer support?
Both Bluehost and WP Engine have knowledge bases anyone can access for instant help with their site. However, WP Engine's is much more in-depth, and it includes hundreds of support documents for WordPress users.
Every year, we poll hundreds of users for our WordPress hosting survey. We ask users to rate the quality of support for all of the major WordPress hosts. Here's what they had to say about Bluehost and WP Engine:
WP Engine's overall support rating: 4.69/5
Bluehost's overall support rating: 3.42/5
Overall, users feel that WP Engine staff are better equipped to deal with WordPress-specific issues. This may not be surprising though, considering WP Engine's entire business is built around WordPress, whereas Bluehost offers several other types of hosting plans.
Which web host offers the most bang for your buck?
Now it's finally time to talk about the real deal-breaker when it comes to comparing managed vs shared hosting. We know on paper, managed hosting will almost always be the superior choice across the board, but it comes at a high cost.
WP Engine is not what you'd call a budget hosting option. Its base plan costs $13.00 a month, and it only supports a single website. You get this price if you opt to pay annually.
With WP Engine, prices scale rather quickly.
As you might expect, Bluehost offers dramatically more bang for your buck. $5.45 a month enables you to host unlimited websites, which puts Bluehost squarely in the 'budget hosting' category.
This is where things get complicated. If you've used hosting before, you know the prices they show you tend not to be what you end up paying unless you sign up for a long contract. With Bluehost, you only get the sticker price if you sign up for a three-year contract. With the Basic plan, this means spending $106.20 upfront.
In addition, Bluehost doesn't offer monthly billing. The shortest period you can sign up for is 12 months, which means you'd be paying $59.40 for a year of the Basic plan. This may sound like a lot until you remember it's the equivalent of fewer than two months of WP Engine's Startup tier.
WP Engine vs Bluehost: Which one should you choose?
For most people, the decision between managed and shared WordPress hosting comes down to price. You know managed hosting is, in most cases, better across the board, but the question is whether you really need all the additional features and firepower WP Engine offers.
If you want to set up a personal website or a small project that you don't anticipate will get much traffic, the decision is simple – paying $13.00 a month for hosting isn't cost-effective and is likely overkill for your project.
On the other hand, if you want to build a monetized website and you have a suitable budget, it's smart to invest in better hosting from the off.
Conclusion
Comparing WP Engine vs Bluehost is a difficult proposition.
If you focus on Bluehost's WordPress shared hosting plans, you get exactly what you pay for – a budget hosting service. Bluehost does offer some nice bells and whistles, such as access to staging functionality, but it doesn't come close to matching most managed hosting plans.
With WP Engine, you get blazing-fast performance and a lot of advanced functionality, at a higher cost. If you can afford it and you need the features offered, paying for one of their managed hosting plans is a smart investment.
If you want to see either host in more detail, we have dedicated reviews for both of these hosts:
If you decide that Bluehost is the right option for you, you can check out our tutorial on how to install WordPress on Bluehost.
And if you want the benefits of managed WordPress hosting but are put off by WP Engine's $13.00 per month price tag, you might want to check out our collection of cheaper managed WordPress hosts.
Any additional questions about WP Engine vs Bluehost? Share your thoughts with us in the comments section below!
Free guide
4 Essential Steps to Speed Up
Your WordPress Website
Follow the simple steps in our 4-part mini series
and reduce your loading times by 50-80%. 🚀
Free Access
* This post contains affiliate links, which means that if you click on one of the product links and then purchase the product, we'll receive a commission. No worries though, you'll still pay the standard amount so there's no cost on your part.