Looking for some free blog sites to help you start sharing your writing with the world? Whether you just want to share updates with your family and friends or you want to start a blog and build a broader audience, we've put together ten great sites where you can start a blog for free.
We'll also try to steer you towards the specific platform that's best for you so that you can easily create a blog for free. Here's what you need to know:
Best free blog sites to consider in 2023
Here are the best free blogging sites you can use to start your own blog today:
1. Wix (www.wix.com)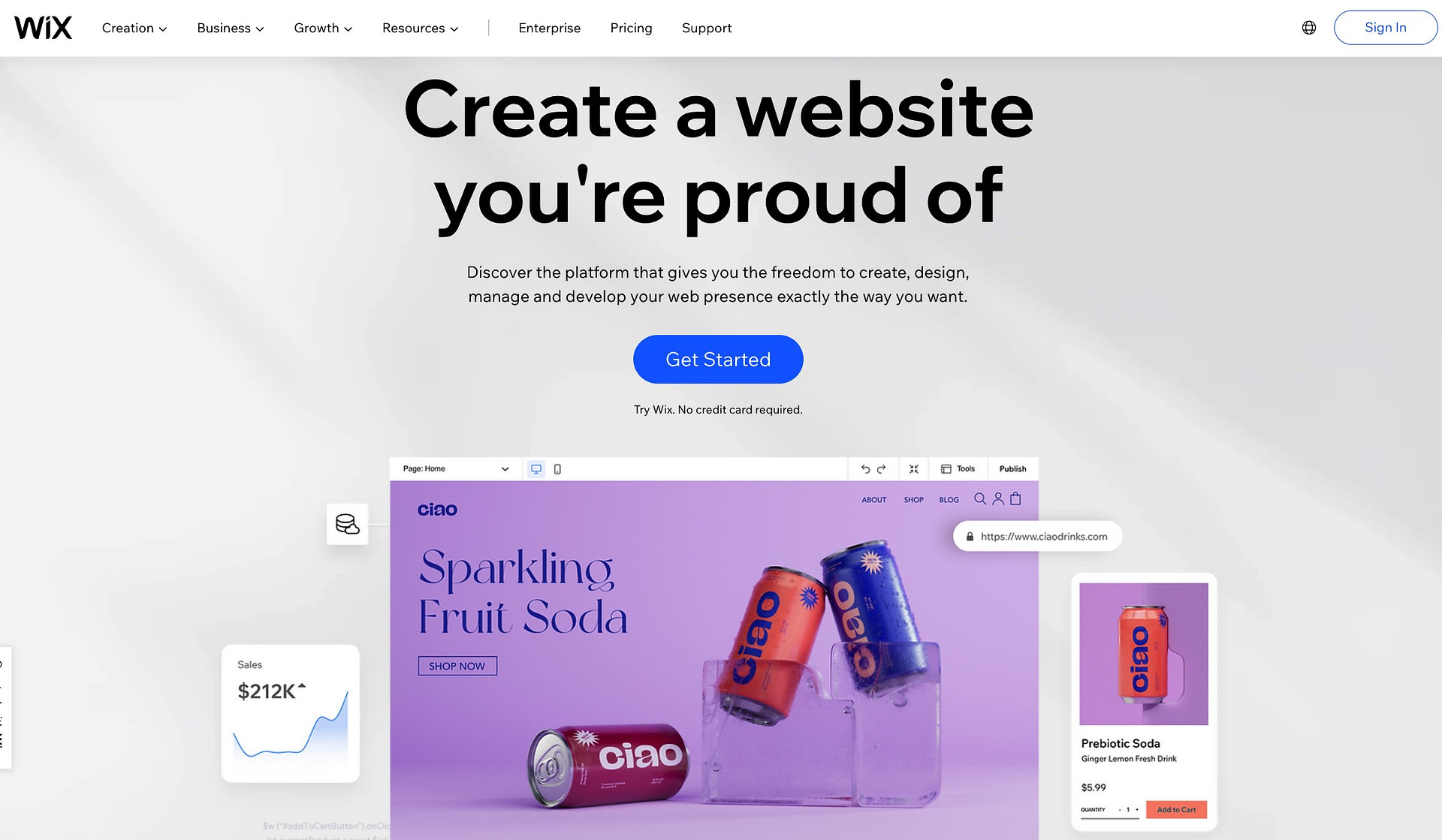 👉 Best for: Non-techies who want some "regular website" functionality along with a blog.

sponsored

Wix is a free website and blog builder tool that can be totally managed from the front-end. The main characteristics of this platform are that it comes with a 100% free plan that lets you launch a blog under Wix's subdomain, plus it offers really good drag-and-drop tools you can use when working on your blog.

Every Wix plan also comes with website hosting included, so you don't have to go elsewhere to get it, but can instead focus on arranging your layouts, picking a template, and writing some content. Wix also provides a nice collection of free and premium themes and templates for different purposes – including blogging. The design of the platform overall is very intuitive and modern, so it can be used by both beginners and advanced users alike.

To launch a Wix blog, just sign up and make a choice: you can either let the Wix ADI create a site for you based on a questionnaire or build your blog yourself – which includes selecting a template and arranging the layouts via the Wix editor. If you go with the second option, all you need to do is find a beautiful template and start customizing everything on the front-end, in a live preview mode.

You can add multiple elements to your pages, from multimedia widgets to backgrounds, menus, typography, forms, video boxes etc. When you think the site is ready, click Publish and start blogging your stories. After publishing, you can return anytime to edit the content blocks.
2. WordPress (www.wordpress.org)
👉 Best for: People who want 100% control of their blog. Perfect for a serious website that you plan to work on long-term.
WordPress is an excellent choice for anyone looking to create a blog for free. As an open-source platform, it offers an immense range of customizable features. You can choose from thousands of free themes and plugins. This makes it easy to design a unique, professional-looking blog without any coding knowledge. Furthermore, its active community is always on hand to offer help and advice.
While WordPress itself is free, to make your site live on the internet, you'll need to sign up for a web hosting account. Those are usually paid. This service stores your site's files and makes them accessible to visitors online. It's a necessary step to transition from creating your site on WordPress to sharing it with the world.
⚡ This is where Bluehost comes into play. It is a great solution for the web hosting needs of most WordPress sites. Not only is it affordable (from $2.75/month), but it also ensures that your site is going to be accessible and fast-loading. Bluehost guarantees nearly 100% uptime and offers good customer support. Plus it even includes a free domain for the first year. It's the perfect blend of cost-efficiency and quality for those looking to use WordPress for a live site.
Hosting the WordPress software yourself is like being the captain of your own ship. You steer the look, functionality, and revenue generation of your site. However, every captain must know their vessel. This means a slightly more hands-on approach during setup, equipping you with a more intimate understanding of your site's workings. Embrace the adventure! It's part of the voyage to successful blogging.
Here's what the WordPress interface looks like when creating a new post:
Some more reasons to make WordPress your choice among the other best free blogging sites that the market has to offer:
WordPress offers ultimate customization, letting you craft your site to suit your individual needs.
It's open-source, meaning a global community contributes to its ongoing development and security.
Thousands of free and premium themes allow you to create a professional-looking site, regardless of your design skills.
With a vast array of plugins, you can add almost any functionality to your site.
WordPress is SEO-friendly, helping your site rank higher in search results.
It's perfect for all types of sites – from blogs and ecommerce stores to portfolios and business sites.
3. LinkedIn (www.linkedin.com)
👉 Best for: Business owners and professionals who want to reach a pre-existing audience.
You probably didn't see this one coming. LinkedIn isn't most people's first choice when considering which of the free blogging sites to choose. That being said, it really does deserve some attention!
Two main reasons for this: easy to use tools, and pre-existing audience.
About that second thing – the audience – what's great about LinkedIn's user base is that those are highly focused users, professionals and business owners. In fact, it's reported that more than 30 million businesses are active on LinkedIn. And they're not just there for the sake of it. Other data indicates that 94% of B2B marketers use the platform as one of their primary lead sources.
In short, LinkedIn just works as a platform where you can get exposure. This makes it one of the overall best free blogging sites on the web.
From a technical point of view, publishing on LinkedIn is easy. Just go to your LinkedIn feed and use the "Start a post" widget at the top of the page. To convert your status into a full post, click on "Write an article on LinkedIn" to open the full-screen editing window.
This is where you can find all the editing tools that you're used to – for text formatting, adding images, and more.
If you want to learn more about how blogging on LinkedIn works, read this in-depth guide.
4. Weebly (www.weebly.com)
👉 Best for: Good alternative to Wix, if you don't like something about the platform.
Weebly is another website builder that you can use not only to blog but also to sell products or showcase your portfolio. It is somewhat similar to Wix to the extent that it provides a WYSIWYG editor with drag-and-drop elements. If you want to add a certain button, you can simply drag it to the page and customize it. The same happens with photo galleries, slideshows, and any other multimedia element.
Weebly provides sidebars, media boxes, forms, ad spaces, social media icons, newsletter subscription, and many more. Moreover, the platform comes with built-in analytics and lets you use your own customized domain (for which you need to pay).
On the free plan, you get five custom pages, a Weebly subdomain, 500MB storage, and ad spaces.
5. Medium (www.medium.com)
👉 Best for: Users who just want to write, are looking for a built-in audience, and don't care about having their "own site."
Medium is a multipurpose platform tackling diverse topics, where anyone with an account can write. Unlike most other free blogging sites, the big advantage of Medium is that your articles will be exposed to a wide audience since the platform is visited by 60 million readers (*) per month (and the number increases every year).
It's super simple to use – you pretty much just sign up and start writing. But the downside is that all your content is on Medium. That is, you're not really building your own "space" like you would with WordPress. Read this post for more on the differences between WordPress and Medium.
6. Ghost (www.ghost.org)
👉 Best for: People who need something with a modern vibe. Still, be careful with the technical setup.
This is another WordPress-like blogging platform. While the Ghost software can be downloaded for free, you need paid hosting for fuel. DigitalOcean is a great service that supports Ghost: it is cheap and comes with a bunch of nice features to get you started.
The downside is that installing Ghost isn't as straightforward as WordPress, and you might have to get your hands dirty with some server work – depending on the host you choose for your blog.
To create a post in Ghost is easy once you set up your website. The editor is simple and minimalist, and it offers a live preview of your text on the right side of the screen. On the front-end, you get a Medium vibe, so it's nice. Near the editor screen, there is a sidebar with settings, where you can choose your preferences.
7. Blogger (www.blogger.com)
👉 Best for: People who want to write and aren't concerned about owning their own site.
Blogger is one of the oldest free blog sites, though its popularity has dipped in recent years.
It's a solid solution for personal blogs, but it's not the best resource for professional use. It works just like the other hosted platforms: you need to create an account first in order to use it. After you create it (which is simple), you have to pick one of the default themes and you can start writing your thoughts down. This platform has an interface similar to a Google+ profile and the editor looks like a Word page.
Blogger delivers a bunch of themes to choose from, each providing different skins, advanced color filtering, and various minimalist gadgets (aka widgets). But nothing too fancy or any advanced design customization. In general, Blogger has simple appearance options. This keeps the focus more on your writing rather than some complex design. A nice part about this site is that it comes with ad spaces that you can place within your content pieces.
8. Tumblr (www.tumblr.com)
👉 Best for: Users who are into more short-form, image-focused content and don't need any "regular website" functionality.
Tumblr is one of the original free blogging sites on the web. It's just a bit 'milder' than the others on the list. Unlike the rest of the platforms that are mostly created for publishing purposes, this one here is more oriented to multimedia or social media-like content. The interface of Tumblr is more playful and is easy to get started with. You can simply sign up and then you're allowed to start posting.
Just like a regular blogging platform, it provides multiple post formats for different types of content. The thing with Tumblr is that it is purely for personal use and wouldn't put up a great solution if you have business-oriented plans. It is simplistic, offers basic customization options and, like I said earlier, has more of a social media vibe.
Despite not being built for business, it does let you display ads on your page, use affiliate links, and integrate your blog with Google Analytics.
9. Joomla (www.joomla.org)
👉 Best for: People who are looking for a WordPress alternative that is capable of handling heavy load. Not the best platform for simple blogging.
Joomla is similar to WordPress.org but not as obvious when considering the free blog sites available out there. Just like WordPress, the software is free but needs hosting and a domain. As in the WordPress case, we recommend Bluehost because it is both very cheap and reliable (and it includes a free domain).
In general, Joomla has a flexible interface that can be used not only for blogs but also for more complex websites (you can choose from a variety of templates and extensions to add custom functionality).
When it comes to the ease of use, the platform provides an old-school editor, that somehow looks like Microsoft Word. It allows you to choose the font, color, size, emoticons, tables, or background. I mean, the tools in the menu make you feel like you're in a Word window.
The Joomla editor is tabbed. The first tab is the classic texting window per se, then you need to switch tabs to select the post categories, tags, date, meta description, keywords etc.
10. Jimdo (www.jimdo.com)
👉 Best for: People who want to launch simple websites with an added blogging module.
As you would expect, Jimdo is a tool you can use to build a blog for free. The way you make your site is by giving Jimdo some quick pointers about what you'd like to build and what the blog should look like. With these answers, Jimdo will create your blog automatically based on them.
On the free plan, Jimdo lets you publish your blog under its own subdomain (.jimdosite.com). If you'd like a custom web address, you'll need to upgrade.
What's unique about Jimdo is that it gives you more of a "page builder" feel. The main difference is that you create your blog posts directly within your website's main customization page, and not in a separate editor like you might with other blogging platforms. To edit content, you click on a given content box on the live site and then edit whatever you think needs work. You can do all this without having to go to a different page. You can even edit your site's footer and logo in this way.
You'll find even more options to tweak your blog post on the left side of the Jimdo interface. There, you can add things like the post's date, title, category, whether it's published or still a draft (the post's status), a summary, and a preview image. Basically, your article is built from many individual pieces that you can edit one by one. These include things like text, pictures, and buttons, and you can decide what order they go in.
FAQs about free blogging sites and what it takes to create a blog
How to create a blog in WordPress?

The process is just a couple of steps:

✅ Sign up for web hosting (we recommend Bluehost).
✅ Pick a domain name for your blog.
✅ Install WordPress through Bluehost with one click.
✅ Find your perfect WordPress theme. Personalize the design of your blog to match your taste.
✅ Get some WordPress plugins to add some useful features like social sharing or image optimization.
✅ Start writing, sharing and engaging with your followers on your favorite subject.

Here's a video walk-through of the steps required to start your own blog on WordPress. You can treat it as a summary of what's been said above.
How can I start blogging for free?

You can start blogging for free by using any of the platforms from our list. Keep in mind though that some of them might offer only limited features on their free plans.
What is a blogging platform?

A blogging platform is a service or software that facilitates the creation, customization, and management of an online blog, handling the design, and publishing of content.
Which site is free for blogging?

Wix, LinkedIn, Weebly, Medium, Ghost, Blogger, Tumblr and Jimdo all offer options to create, customize, and publish a blog for free. Some of them also come with optional paid upgrades for additional features.
Which blog site is best for beginners?

This depends on whether you want to just write and worry about nothing else – in that case it's Medium Or, maybe you're more interested in having full control of your blog – in which case it's WordPress.
Which blog site is best for small business owners?

WordPress is a great option for small business owners because of its scalability, plugin options, and ability to add ecommerce features.
Which free blogging site is best for making money?

WordPress is ideal for monetizing a blog through various avenues like ads, affiliate marketing, and selling your own products or services.

If you want to do that, however, you'll need to launch your WordPress blog through a web host like Bluehost. It will not only handle the WordPress installation itself for you, but will also make sure that your site is visible to customers worldwide.
Ready to launch a blog with these free blog sites?
What do you think? Which one sounds like the best solution for you?
Also, if you used any of these free blog sites in the past, we would like to hear about your experiences. Submit a comment below.
Free guide
4 Essential Steps to Speed Up
Your WordPress Website
Follow the simple steps in our 4-part mini series
and reduce your loading times by 50-80%. 🚀
Free Access
* This post contains affiliate links, which means that if you click on one of the product links and then purchase the product, we'll receive a small commission. No worries though, you'll still pay the standard amount so there's no additional cost on your part.