Reselling hosting can be an excellent source of income. You may offer it as an add-on to your existing services, or you could become your own stand-alone hosting company. However, finding the best hosting resellers can take some digging.
A quality web host should give you the flexibility to brand your packages and allocate server resources as you wish. It should provide access to 24/7 support if you're unable to resolve your clients' technical issues on your own. Last but not least, freebies such as billing software or developer tools are often essential features.
In this article, we'll share a roundup of ten of the best hosting resellers.
Most of them offer cPanel, various white-labeled tools, and other features to help you launch your hosting business. Let's go!
Best hosting resellers in 2023 🏆
Now that you know which features are essential for successfully reselling hosting, let's compare ten exceptional offers. Each of them offer you flexibility and support, so finding the best fit will largely depend on your budget and needs: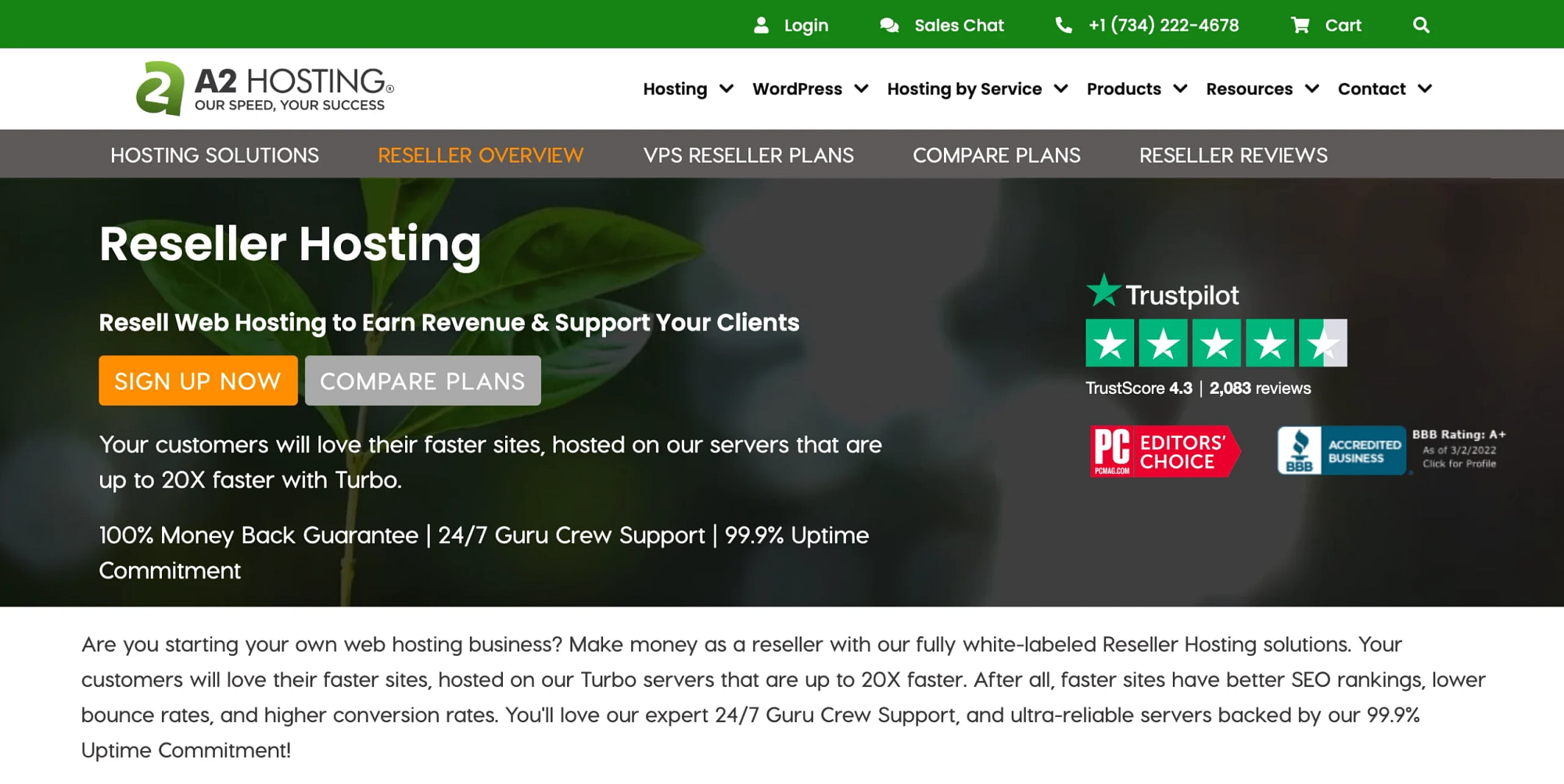 A2 Hosting is one of the fastest hosting resellers. It boasts ultra-fast page loading times and an optional Turbo speed feature (at extra cost). You can also depend on expert 24/7 support to assist you with your clients' technical queries.
A2 Hosting has a 99.9% uptime guarantee, so you'll be able to offer stellar performance to your customers. You can manage their accounts with the user-friendly WebHost Manager (WHM). It also lets you use your own branding and allocate server resources as you like.
Other features include:
Account migration
Free SSL certificates
Free CDN
Server location options
Billing software (Blesta or WHMCS)
Automatic backups
Pricing starts at $15.99 per month for the Kickstart package. It includes up to 30 client accounts, 60 GB RAID-10 SSD disk space, 600 GB data transfer, and Blesta client management software.
More advanced plans give you the option to use WHMCS as well.
If you're looking for WordPress hosting, SiteGround could be your best choice. This provider is known for expert customer support, so you can rely on top-rated assistance if you're stuck.
SiteGround offers a user-friendly client area dashboard. You also get access to over 30 developer tools to help you manage your business. However, you can only allocate resources and apply your custom branding if you purchase one of the more expensive plans.
Nevertheless, it's still a worthy contender packed with features such as:
Unlimited websites
Automatic WordPress updates
Site migration
Daily backups
Free SSL certificates
Free CDN
Email
Speed boosting caching
Easy staging
Pricing starts at just $4.99 per month for the cheapest GrowBig plan, which includes 20 GB storage and free WordPress installation. Note that SiteGround does not offer billing software with any of its plans, so you'll need to purchase that separately.
Unleash your recurring revenue potential with Cloudways' flexible reseller hosting plans, offering unlimited sites and apps with each package. Cloudways provides options to choose from three of the biggest cloud platforms – Digital Ocean, AWS, and Google Cloud, giving a broad range of options to fit any need.
For Digital Ocean, they offer 11 standard plans and 5 premium plans. AWS comes with 8 distinct plans, and Google Cloud offers 7 plans. All these plans have the option to pay either monthly or hourly, providing added flexibility.
Agencies can choose to manage hosting, transfer ownership, or recommend Cloudways to clients and earn affiliate commissions.
Begin your journey by signing up for a free account, determining your server space and bandwidth, setting your profit margins, and start reselling hosting at a profit.
Key features of Cloudways reseller hosting include:
Round-the-clock managed support with live chat, tickets, and an extensive knowledgebase.
User-friendly admin panels equipped with advanced caching and CloudwaysCDN.
Managed security, automated backups, and real-time monitoring.
Pricing starts at $11.00 per month for the Digital Ocean standard plan. It includes 1 GB RAM, 1 core processor, 25 GB storage, and 1 TB bandwidth. That's in addition to the other perks that come with all of their plans (e.g., free SSL, free migration, HTTP/2 enabled servers, staging environment, and more).
If you want a lot of flexibility, HostGator is an excellent choice. This provider offers a 99.9% uptime guarantee, premium reseller support, and a free WHMCS license with every plan. You also gain access to your own WHM control panel and various developer tools.
HostGator lets you allocate your server's resources however you see fit. You can brand clients' cPanel accounts with your company logo. Also, you get a domain reseller account, which is a handy add-on that you can offer to your customers.
Other features include:
Free SSL certificates
Unlimited databases
Automatic backups
Email
Unlimited cPanel accounts
Pricing starts at $19.95 per month for the Aluminum plan, which includes 60 GB disk space, 600 GB bandwidth, and access to WHMCS client management/billing software. There is also a 30-day money-back guarantee.
InMotion Hosting offers generous disk space and high bandwidth levels, which you can tailor into attractive packages.
All of InMotion Hosting's reseller products are white-labeled, so you can use your company logo and branding. You also receive access to WHMCS, WHM, and a domain reseller account for an extra source of income.
Other features include:
SSD storage
Free SSL certificates
Automatic backups
Email
Unlimited databases
Dedicated IP address
Security scans
24/7/365 reseller support (though the entry-level plan is limited to chat; all other plans include phone and chat support)
Pricing starts at $15.99 per month for the R-1000N plan, which includes 80 GB storage, 1000 GB bandwidth, and 25 cPanel accounts. Note that this entry-level plan is based on a three year contract commitment. Two-year, one-year, six month, and month-to-month pricing is also available, but at an incrementally higher cost.
GoDaddy is an internet giant with features to match. Its servers are reliable, so you'll provide excellent uptime and speed to your customers. You'll also be able to brand all your services with your logo and create custom hosting packages.
GoDaddy offers cPanel and free WHMCS. You can set up a storefront with your company name, set your margins, and resell domains for extra profit. Also, you'll receive extras such as the GoDaddy software, which includes email marketing. Overall, it's a worthy option to consider.
Other features include:
White-label ecommerce storefront
Credit card processing
24/7 support
Sales and commission reports
Standard buy rates, up to 20% to 40% off retail (depending on the plan)
Pricing starts at $107.88 per year (which comes out to $8.99 per month) for the Basic Reseller plan. This plan is designed to support up to 25 accounts.
GreenGeeks takes pride in its 300% green energy commitment, so you'll be able to brand your hosting services as eco-friendly. Your customers will enjoy fast page loading times and 99.9% uptime. You'll also get developer-friendly tools including Git, WP-CLI, Drush, and more.
All of GreenGeeks' plans are white-labeled and customizable. You can brand clients' cPanel accounts and even the nameservers with your company name. You also get free WHMCS, WHM, and a reseller domain account to boost your earnings.
Other features include:
Nightly backups
Security scans
cPanel migration
Free SSL certificates
Free CDN
Email
Unlimited databases
SSD storage
24/7 reseller support
Website builder
Pricing starts at $19.95 per month for the RH-25 plan. It includes 60 GB disk space, 600 GB transfer, and 25 cPanel accounts.
Liquid Web is an excellent option for reselling high-quality, managed hosting. You can choose from VPS, dedicated server, and even cloud services available for Linux or Windows.
With Liquid Web, you can fully customize your plans and offer your customers a choice of cPanel or Interworx. Approved resellers receive additional discounts and a free WHMCS license. You can also use Liquid Web's WHMCS plugin for Cloud VPS and Cloud Dedicated products.
Features include:
Free control panel migration
Advanced security scans
Payment Card Industry (PCI) service
SSD storage
Free SSL certificates
Expert reseller support
Pricing starts at $99 per month for a dedicated Bronze plan, which includes 8 GB DDR3 SDRAM, two 240 GB storage drives, 250 GB backups, and standard DDoS attack protection.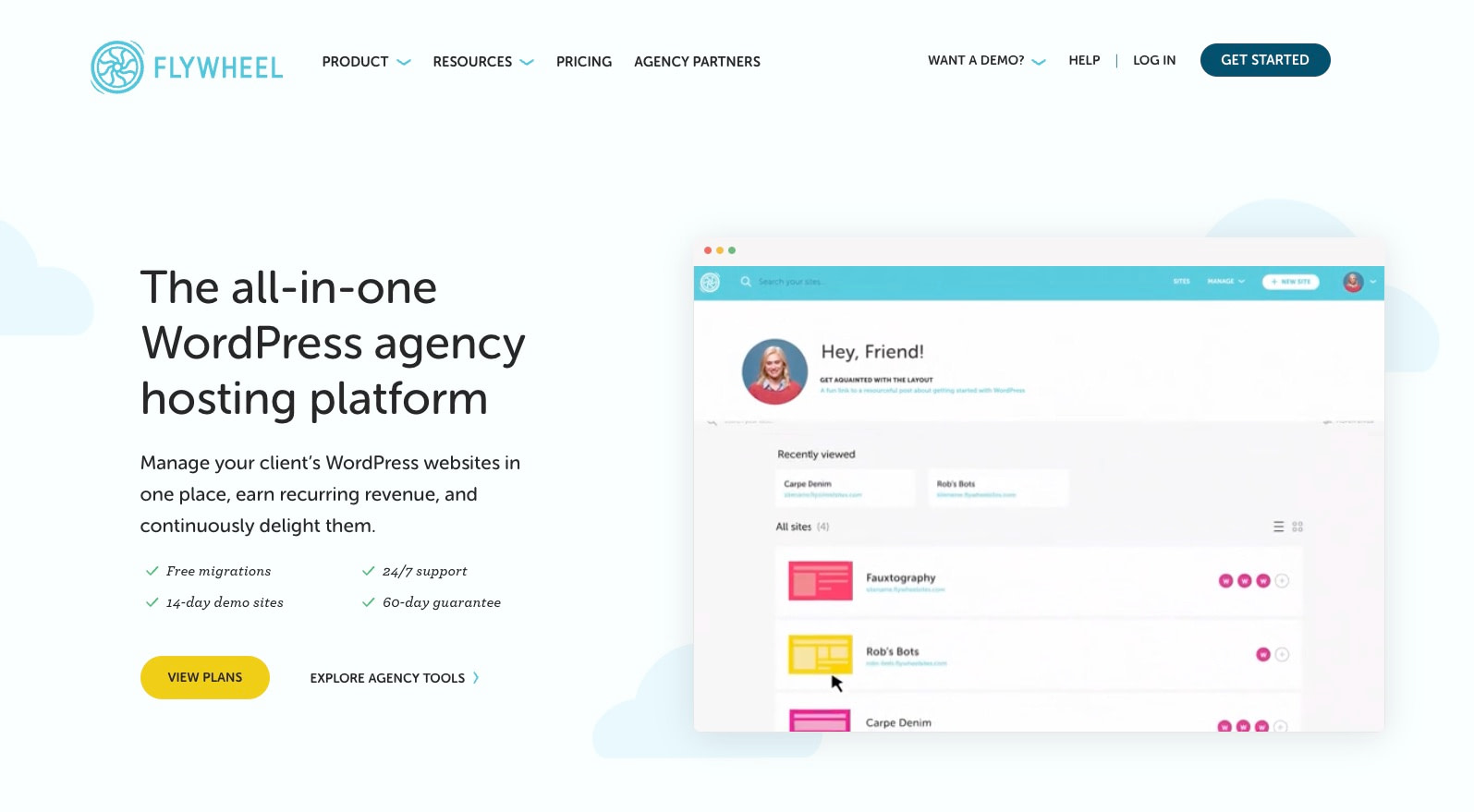 Flywheel positions itself as a designer-friendly, managed solution for agencies. It also offers a hosting reseller program targeted at creatives who want to provide extra services to their customers. They call it the Agency Partner Program. Don't let the name intimidate you though. You don't need to be an actual multi-person agency. As Flywheel states themselves:
"Any agency building WordPress sites for clients is eligible, whether you're an 'agency of one,' just scored your first big client, or founded your agency years and years ago."
Your clients will have access to an intuitive dashboard with your company logo and colors. You can tailor your subscription-based packages, set up automated billing emails with Stripe payments, and choose your billing cycle. Note that there are two reseller programs: Silver and Gold.
Other features include:
Free SSL certificates
Free CDN
Listing in Flywheel's Agency Partners Directory (Gold Plan only)
Free hosting of your agency site (Gold Plan only)
Site migration
Nightly backups
Reseller support
Pricing for Flywheel's two programs is unclear and seems to suggest that it's free. For the entry-level Silver Plan, it states that you need to refer or resell from $0 to $99 per month and is ideal for those who have ten or more clients.
Our last recommendation is Namecheap. Although it's primarily known as a domain name registrar, it also happens to be one of the best hosting resellers on the market. Namecheap's reseller program offers features such as cPanel and WHM. WHMCS billing software is also available but costs extra if you opt for one of the cheaper plans.
You can use your company branding across all the tools and use anonymous nameservers. Note that there are no free SSL certificates included with this plan, but you can join their SSL reseller program.
Other features include:
Unmetered bandwidth
Unlimited domains
Security scans
Pure SSD with US-based data centers
Pricing starts at $17.88 per month for the Nebula plan, which includes 30 GB storage and 25 cPanel accounts.
Reselling web hosting FAQ 🙋
What is reseller web hosting?

Reseller web hosting is a business model where you purchase hosting services from a provider in bulk and then resell them to your own customers, usually at a profit. This allows you to offer hosting as part of your own business services without needing to maintain servers yourself. For a more detailed explanation, check out our what is reseller hosting article.
How to start a hosting reseller business?

To start a hosting reseller business, you first need to conduct market research to understand your target audience and competition.

Then, choose a reliable hosting provider that offers reseller hosting with the necessary resources, good uptime, and quality support (that's the step you're on right now). Purchase a reseller hosting plan that aligns with your budget and your predicted client base.

Subsequently, you need to create hosting plans by dividing the resources you purchased into smaller packages that can be sold to your customers. Setting up a website and a billing system is necessary to sell your hosting packages and manage your client accounts effectively. Some hosting resellers will equip you with these as part of their packages.

After all these are in place, you need to market your business using different strategies such as SEO, content marketing, and social media to attract customers. Lastly, make sure to provide excellent customer service as the quality of support can set your business apart from competitors.

As mentioned, some reseller hosting providers can offer additional services to simplify the management of your business. For instance, GoDaddy's reseller hosting includes a white-label customer service feature. This allows GoDaddy's customer service reps to act as if they are employees of your company when your customers reach out for help via phone or email. It's one of the reasons why many people consider GoDaddy to be one of the best hosting resellers, but that premium service also comes with a heftier price tag.

Other resellers might offer you a free WHMCS license, which will lift the burden of having to take care of billing. That's why it's good to use an article like the one you're reading right now as a resource, so you can compare the various reseller hosting plans that are out there.
Is reseller hosting profitable?

Reseller hosting can be profitable, but the level of profitability depends on several factors. Key among them are the price you buy the hosting for, the price you sell it at, the size and nature of your client base, and the extent of additional services you provide.

With effective marketing and a solid customer service strategy, it's possible to build a successful and profitable reseller hosting business. However, as with any business, there's no guarantee of profit and it requires strategic planning and execution.
Is reseller hosting worth it?

Whether reseller hosting is worth it or not depends on your specific circumstances and goals. If you're already in a related business, such as web design or digital marketing, offering hosting can be a valuable add-on service for your clients.

It's also a viable way to start a new business with lower startup costs and risks compared to traditional web hosting businesses.

However, it's important to note that it also requires time and effort in marketing and administrative tasks. Ultimately, you'll need to weigh the potential revenue against these costs and your own available resources.
Which reseller hosting is best?

Determining the best hosting resellers depends on your specific needs and requirements. All of the resellers we featured in this article are solid choices. You just need to look them over carefully. Consider your budget and take a close look at which of the providers' plans is going to allow you to serve your clients the best, while allowing you to make money in the process.
Start using the best hosting resellers today 💰
Reselling hosting can be a lucrative business. However, partnering with a reliable hosting provider is essential if you want to build a quality reputation and establish trust with your clients. With plenty of options available, choosing the right one can be overwhelming.
This article rounded up ten of the best hosting resellers that offer user-friendly services at different price points. If you're a beginner, SiteGround is an excellent starting point. However, your final choice should depend on your business and your customers' needs, so consider all the available features carefully.
Do you have any questions about the hosting resellers above? Let us know in the comments section below!
Free guide
4 Essential Steps to Speed Up
Your WordPress Website
Follow the simple steps in our 4-part mini series
and reduce your loading times by 50-80%. 🚀
Free Access
* This post contains affiliate links, which means that if you click on one of the product links and then purchase the product, we'll receive a commission. No worries though, you'll still pay the standard amount so there's no additional cost on your part.