Virtual Private Servers (VPS) are powerful yet affordable options for hosting your website. However, while there are plenty of cheap VPS hosting services available, choosing the best one can be challenging.
Fortunately, a handful of popular and reputable companies offer budget-friendly VPS plans. In fact, you can find VPS hosting services available for as little as a few dollars per month.
In this post, we'll explain what you can expect from cheap VPS hosting and whether it's something to consider for your website. Then we'll take a look at five of the best VPS solutions and how they compare. Let's get started!
Best cheap VPS hosting services for 2023 🏆💻
Let's take a quick look at the five cheap VPS hosting services we'll be discussing in this post. Later we'll explore what each one has to offer in more detail.
Running short on time? Here's a brief snapshot of our top-rated cheap VPS hosts that we look at more deeply further down in this comparison:
Best cheap VPS hosting

| Host | Price from (/ mo.) | CPU | Storage | Bandwidth | Memory |
| --- | --- | --- | --- | --- | --- |
| Hostinger | $5.99 | 1 | 50 GB | 1 TB | 4 GB |
| Vultr | $2.50 | 1 | 10 GB | 512 GB | 512 MB |
| A2 Hosting | $5.99 | 1 | 20 GB | 512 GB | 1 GB |
| InMotion | $6.00 | 1 | 30 GB | 2 TB | 1 GB |
| Namecheap | $6.88 | 2 | 40 GB | 1 TB | 2 GB |
Best cheap VPS hosting services compared (in detail) 🖥️
Now that we have a better understanding of VPS hosting, let's look at five of the best cheap providers on the market!
1. Hostinger
Hostinger is a popular and cheap VPS hosting service that offers options for Linux users: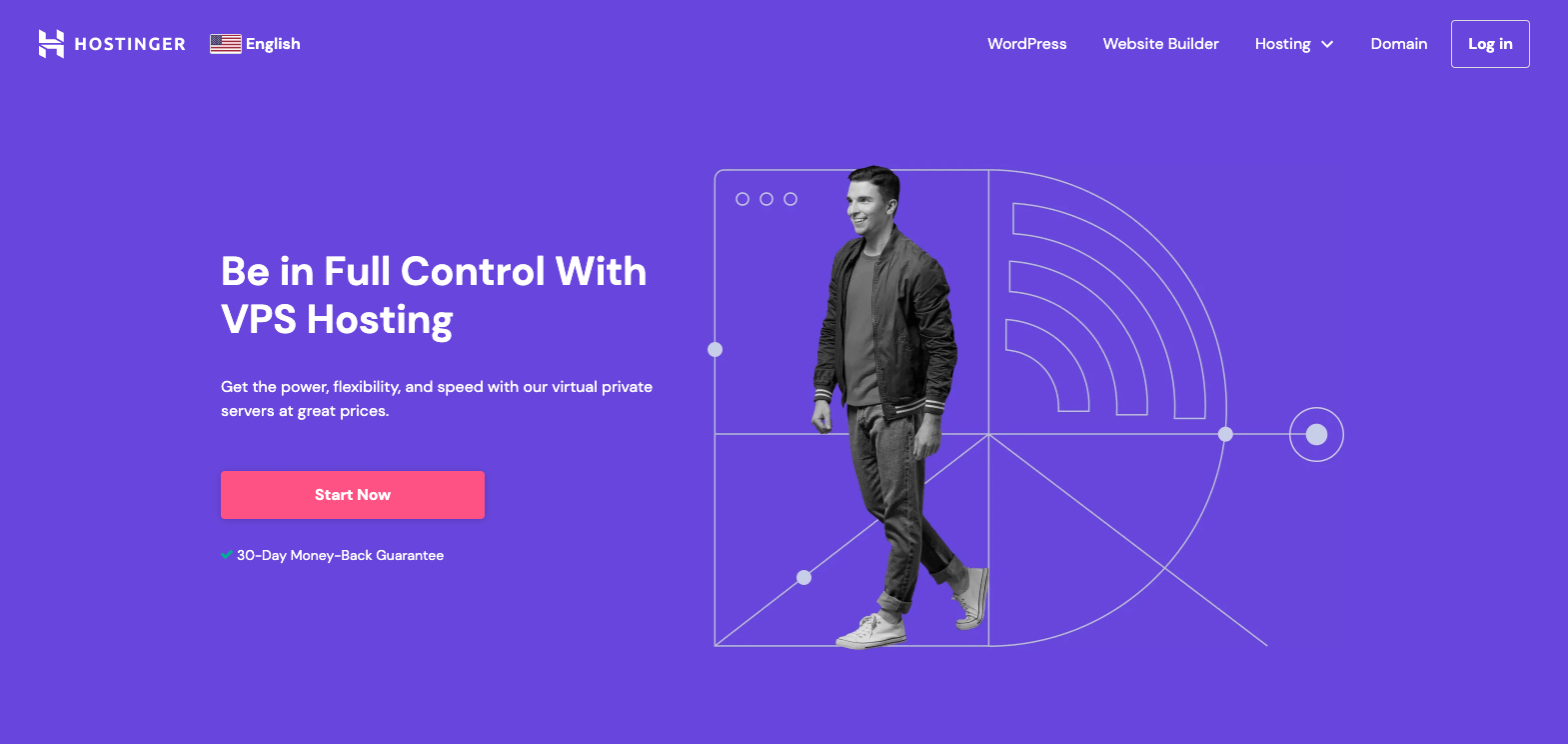 Even the cheapest VPS hosting plan includes IPv4 and IPv6 internet protocols. As a premium feature, Hostinger also offers a dedicated IP address.
Unlike Vultr, Hostinger is a general web host that provides WordPress-specific plans. In addition to VPS, it also offers shared, cloud, and dedicated plans.
Pricing 💰
Pricing for Hostinger Cloud VPS plans starts at just $5.99 per month. This package includes one vCPU, 50 GB of NVMe SSD storage, and 5 GB of RAM.
Ease of setup ⚙️
Hostinger provides a VPS control panel that makes managing your virtual server relatively easy. You can reboot, back up, and install new scripts on your server from the control panel. You also have full root access, providing you with complete control.
Customer support ☎️ 💬
Hostinger support includes a live chat option, which is available 24/7, and multilingual support services. There is no phone support offered. Interestingly, Hostinger provides an AI Assistant to their VPS users.
👉 For a more detailed look, check out our Hostinger review.
2. Vultr
Vultr is a compute instances service provider. It offers SSD VPS servers for easily building and deploying cloud infrastructures:
This provider offers both standard compute and high-powered compute instances for VPS hosting. These servers are available in 17 locations across the globe.
One of the unique benefits of Vultr is that you can choose from infinite OS combinations. These include CentOS, Debian, Ubuntu, Windows, and more. You also have the option to deploy a custom ISO.
Pricing 💰
Vultr VPS cloud compute instance pricing starts at just $2.50 per month. This plan includes 512 MB of RAM, one CPU, and a 10 GB SSD.
This provider also doesn't offer long-term contracts. VPS server accounts are billed hourly, up to the monthly rate cap.
Ease of setup ⚙️
As with any self-managed VPS server, most of the configuration, setup, and maintenance tasks will be your responsibility. However, Vultr offers a plethora of one-click installation options for software such as cPanel and WordPress.
Vultr also has paid add-ons (apps) for DDoS protection, firewalls, backups, and more. Once you choose your plan and OS, you can deploy your cloud compute instance in a matter of seconds.
Customer support ☎️ 💬
Compared to other cheap VPS hosting options, Vultr's support is lacking. However, it offers a robust collection of user guides, documentation, and tutorials on its website.
3. A2 Hosting
A2 Hosting is a well-known provider that offers everything from shared and WordPress to dedicated and reseller hosting plans. It also has cheap VPS hosting plans, including both unmanaged and managed options:
A2 Hosting only supports Linux VPS, but you can select from four data center locations. You get administrator-level root access, premium options for cPanel and SSD, and a Webuzo one-click software installer.
Pricing 💰
Unmanaged VPS hosting plans start at $5.99 per month. This package includes one CPU, 1 GB of RAM, and 20 GB of storage. There are also turbo boost performance optimization upgrades.
If you want to spring for a managed VPS plan, pricing starts at $35.99 per month. A2 Hosting also offers a 30-day money-back guarantee.
Ease of setup ⚙️
One of the advantages of A2 Hosting is that, besides being a cheap VPS hosting platform, it provides a variety of customization options to control and configure your server. This provider also uses SolusVM so that you can manage your account with ease.
With this control panel, you can reload your OS and reboot or shut down the server. While cPanel is available for unmanaged VPS, it's only offered with Mid and Elite plans as a paid add-on.
Customer support ☎️ 💬
A2 Hosting offers 24/7 phone and live chat support. It also provides a ticket-based system and knowledge center.
👉 For a more detailed look, check out our A2 Hosting Review.
4. InMotion Hosting
InMotion Hosting is another general web host that offers various hosting options. When it comes to cheap VPS hosting services, it provides both cloud self-managed and managed plans:
InMotion Hosting servers are built with redundancy and offer you complete control and root access. You can choose your own Linux OS, including CentOS, Ubuntu, or Debian.
Pricing 💰
Self-managed VPS plans start at $6 per month. This package includes one CPU, 30 GB of storage, and 1 GB of RAM.
Ease of setup ⚙️
With a self-managed VPS plan, you'll have to handle all the maintenance and setup on your own. However, InMotion makes this process easier through its control panel. It also offers an exclusive Ansible Control Node, an open-source automation framework that you can set up for free on your first server.
Customer support ☎️ 💬
InMotion Hosting offers a handful of support options. In addition to its support center, it also provides both chat and phone support.
👉 For a more detailed look, check out our InMotion Hosting Review.
5. Namecheap
Namecheap is a company most commonly known for its domain registrar services. However, it also offers inexpensive VPS hosting packages: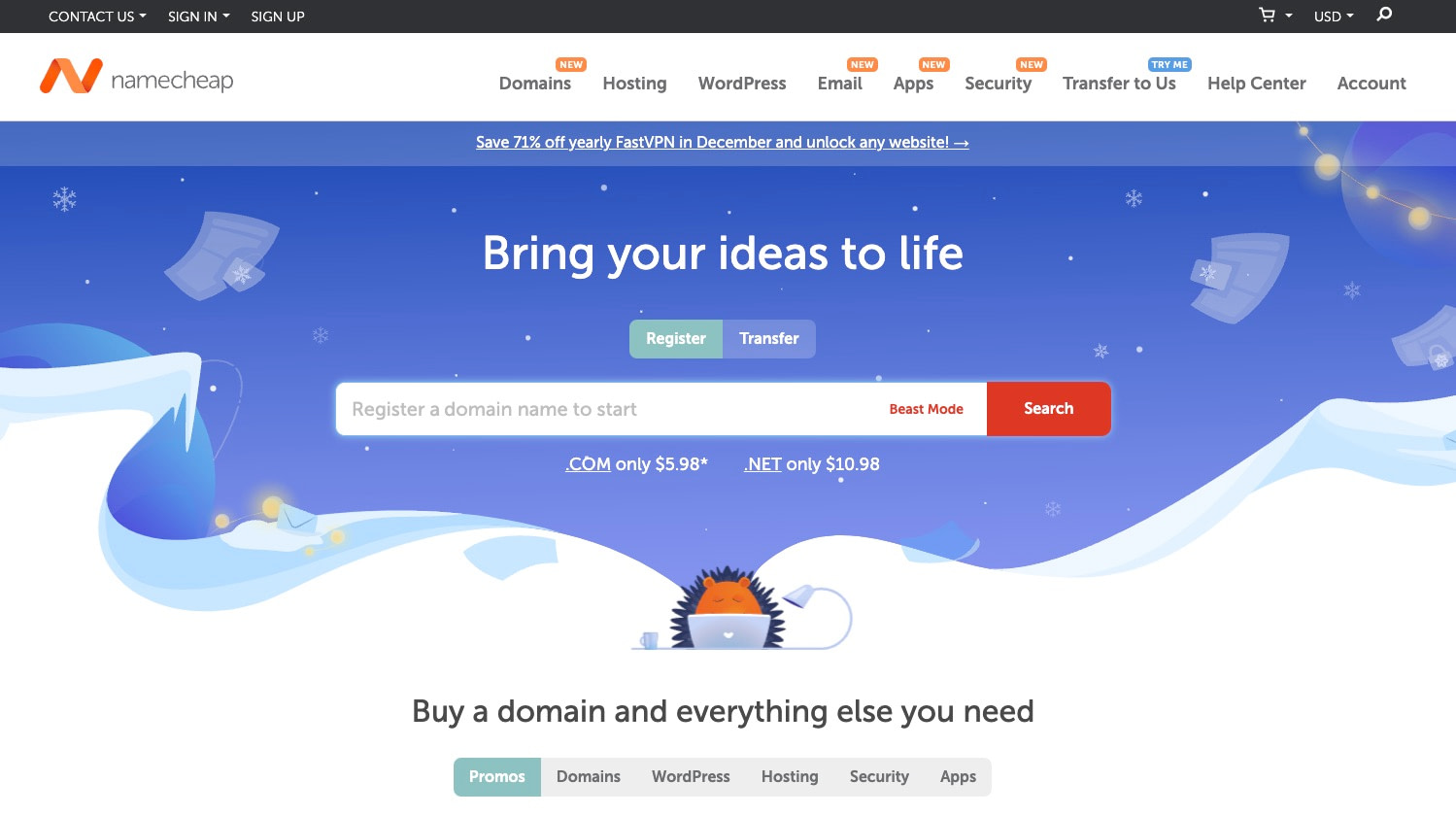 Namecheap's VPS hosting is fully customizable. You can choose your OS (Debian, CentOS, or Ubuntu) and leverage complete root access to your server.
You also have the option to install a cPanel control panel. It lets you transfer existing websites and VPS to Namecheap for free.
Pricing 💰
Billed annually, Namecheap Pulsar VPS hosting starts at $6.88 per month. This plan includes two CPU cores, 2 GB RAM, 40 GB storage, and 1000 GB Bandwidth.
If you want to upgrade to a higher-performance plan, the Qusar VPS package starts at $12.88 per month. It comes with four CPU cores, 6 GB RAM, 120 GB storage, and 3000 GB bandwidth.
You can also choose from multiple server management options. The Basic plan costs $10 per month and includes security enhancements and a restore server failure service.
The Complete plan, for $25 per month, has these features plus core software changes and a service to fix server failure causes. Furthermore, both Namecheap VPS plans come with a 30-day money-back guarantee.
Ease of setup ⚙️
Namecheap's VPS hosting offers you complete control over your server configuration and setup. You gain root access level and the option to choose the OS and server management solution of your liking. cPanel is also available with both hosting plans.
Customer support ☎️ 💬
Namecheap VPS hosting offers 24/7 live support. Both plans include live chat, a 24/7 help desk, and setup assistance.
👉 For a more detailed look, check out our Namecheap vs Bluehost review.
FAQs about cheap VPS hosting 🙋
You might still be wondering what cheap VPS hosting is and whether you should consider using it. In this section, we'll answer some FAQs to clarify some queries you might have.
What to expect from cheap VPS hosting

You might be wondering whether discounted or cheap hosting plans translate to subpar service. However, VPS hosting generally delivers strong performance compared to other types of hosting, particularly shared hosting.

You can also expect plenty of options for customizing your web server's configuration. For example, many service providers will enable you to choose which Operating System (OS) you use, as well as the included resources.

However, you'll also need to handle most server configuration and management tasks yourself. This setup can be a downside for some users but is often preferable for system administrators and developers who want to have full control over their server hosting.

What you can expect from cheap VPS hosting also depends on whether you choose a managed or unmanaged VPS plan. Managed VPS could be ideal if you don't want the hassle of configuring your own server. However, its plans tend to be more expensive than unmanaged ones.

It's also worth looking into additional services provided by some hosting companies. Those may include domain names, ecommerce accommodations, uptime guarantees – maybe even "no downtime" guarantees – email accounts, etc. bundled into the plan. Another thing that's crucial are support options and ways to contact the support team. You never know when you might need them.
Is cheap VPS hosting the right option for you?

If you're working with a tight budget and want to pay as little as possible for your web hosting service, the two obvious choices will be cheap VPS hosting or shared hosting. While VPS hosting doesn't typically provide the same level of speed, stability, and scalability as high performance cloud and dedicated servers, it is a step up from shared plans.

With a VPS, you share hardware with other clients but not resources. Instead, you get your own virtual space on the server, resulting in more privacy and isolation than you can expect from a shared hosting plan.

VPS hosting is best for websites with medium levels of traffic. This setup is also a worthwhile option if you're looking for a middle ground between shared and dedicated hosting or you have a small budget.

Cheap VPS hosting is an effective way to keep costs down while you're still trying to grow and scale your business. You won't get the suite of features and tools that you would with pricier plans.

However, with the right VPS provider, you can get what you need to make your site work.
If you have a modest website, we recommend checking out our list of the cheapest WordPress hosting services to help you decide which is the best web hosting plan for you.
What is the cheapest VPS?

The cheapest VPS hosting provider is Vultr. At just $2.50 per month, this service includes one CPU, 512 MB of RAM, and 10 GB disk space. Vultr doesn't offer long-term contracts, and VPS server accounts are billed hourly.
Why is normal VPS so expensive?

Typically, a standard VPS is pricier than other server options because it comes with more reliable and powerful hardware and Rapid SSD storage. It can also be more expensive due to the quality and technology of the virtualization system used.
What's the difference between managed and unmanaged VPS hosting?

The main difference between managed and unmanaged VPS hosting is the management of server responsibilities and maintenance tasks. With unmanaged CPS hosting, as the site owner, you are charged with overseeing and executing the server management. The hosting provider only deals with the physical server and its availability, which guarantees it's low cost.

With managed service, on the other hand, the company will take care of most maintenance tasks. The downside is that this hosting usually costs more than unmanaged plans, and there's less control and flexibility.
What are the cheapest Linux VPS options?

When it comes to affordable Linux VPS hosting, two providers that come highly recommended are Kamatera and Ultahost.

Kamatera: Offering a wide range of customizable VPS plans, Kamatera allows you to choose the exact resources you need, ensuring you only pay for what you use. Their prices start at just $4 per month for a basic VPS configuration, making it a very cost-effective choice for individuals and businesses alike. You also have the option to scale your resources up or down at any time, providing a great deal of flexibility as your Linux VPS hosting needs change.
Ultahost: Ultahost's VPS hosting solutions are also highly affordable, with prices starting at $5.50 per month for their VPS Basic plan. Additionally, Ultahost provides a number of higher-tier VPS plans, allowing you to upgrade your resources as needed.

Both Kamatera and Ultahost offer competitive pricing and a range of options to cater to different hosting needs, making them excellent choices for those seeking cheap Linux VPS hosting solutions.
Recap of the best cheap VPS hosting platforms
Once again, let's take a look at how our five best cheap VPS hosting services stack up against each other:
| Host | Price from (/ mo.) | CPU | Storage | Bandwidth | Memory |
| --- | --- | --- | --- | --- | --- |
| Hostinger | $5.99 | 1 | 50 GB | 1 TB | 5 GB |
| Vultr | $2.50 | 1 | 10 GB | 512 GB | 512 MB |
| A2 Hosting | $5.99 | 1 | 20 GB | 512 GB | 1 GB |
| InMotion | $6.00 | 1 | 30 GB | 2 TB | 1 GB |
| Namecheap | $6.88 | 2 | 40 GB | 1 TB | 2 GB |
If you're hosting a WordPress site and are scared off by managing your own VPS, you also might want to consider cheap managed WordPress hosting. Many of these plans use VPS but with a more accessible setup for WordPress users.
Do you have any questions about which cheap VPS hosting provider is the best VPS hosting for you? Let us know in the comments section below!
Free guide
4 Essential Steps to Speed Up
Your WordPress Website
Follow the simple steps in our 4-part mini series
and reduce your loading times by 50-80%. 🚀
Free Access
* This post contains affiliate links, which means that if you click on one of the product links and then purchase the product, we'll receive a commission. No worries though, you'll still pay the standard amount so there's no additional cost on your part.