Is free website hosting any good? Well, "free" is always good but not always worth it in the long run. Let me explain:
In short, if you want to run a test website, you're not expecting to get much from it, and you don't want to invest any money into it at all, then free website hosting might indeed work for you!
In 95% of other cases, however, you're going to be better off with a cheap website hosting plan – no more expensive than $2.75 or even $1.79 per month (small businesses or online stores often choose something in this price range).
Want the full story? Read on for a detailed comparison of the best free website hosting options on the market. We present the pros and cons of each one, plus show you in which scenarios going with free website hosting might be a good idea.
⏰ TL;DR:
Free website hosting is fine for temporary projects or hobbies. However, for more serious, long-term websites, affordable or premium web hosting services are recommended. These services often provide better reliability, security, and support, making them a worthy investment for your online presence.
For example, Bluehost is our recommended self-hosted website server. If you check them out through our link, you'll unlock a special discounted price of $2.75 / month vs the $3.75 standard entry-level price. You also get a free domain name bundled in.
Alternatively, if what you really want is not just free hosting on its own, but actually a whole free website, then consider an all-in-one solution like Wix. It offers both hosting and a website builder in one place. Though a free plan is available, you can also test their premium plans risk-free with a 14-day money-back guarantee.
The limitations of free website hosting
In life, you tend to get what you pay for, and web hosting is no exception. If you choose the free hosting route, be prepared for some common issues that come along with it.
Even the best free hosting tends to be fairly unstable, which can result in downtime. Also, providers typically place restrictions on storage space and bandwidth, limiting your site's growth and traffic capacity. There's basically no such thing as free unlimited web hosting. Your personal website or business website may also have slow performance.
That said, there are times you may want to consider free hosting. For a personal project, it may be all you need. The same is true if you're practicing your web design and development skills and just want a space to try out new ideas.
Perhaps you're setting up an area to test new plugins or themes. In that case, the limitations of free hosting shouldn't be a barrier to what you want to accomplish. Of course, if you simply need a staging site, you may want to use a local development tool, such as Local, and not worry about hosting at all.
However, if you need a live site and don't want to deal with the drawbacks of free web hosting, there are some affordable alternatives to consider. A cheap host can help you keep your budget low while avoiding poor site availability.
Best free website hosting services compared for 2023
The good news is that you can test drive free website hosting at no cost to see if it might work for you. If you've decided to give it a try, here are some great options if you want to find out how to host a website for free.
1. InfinityFree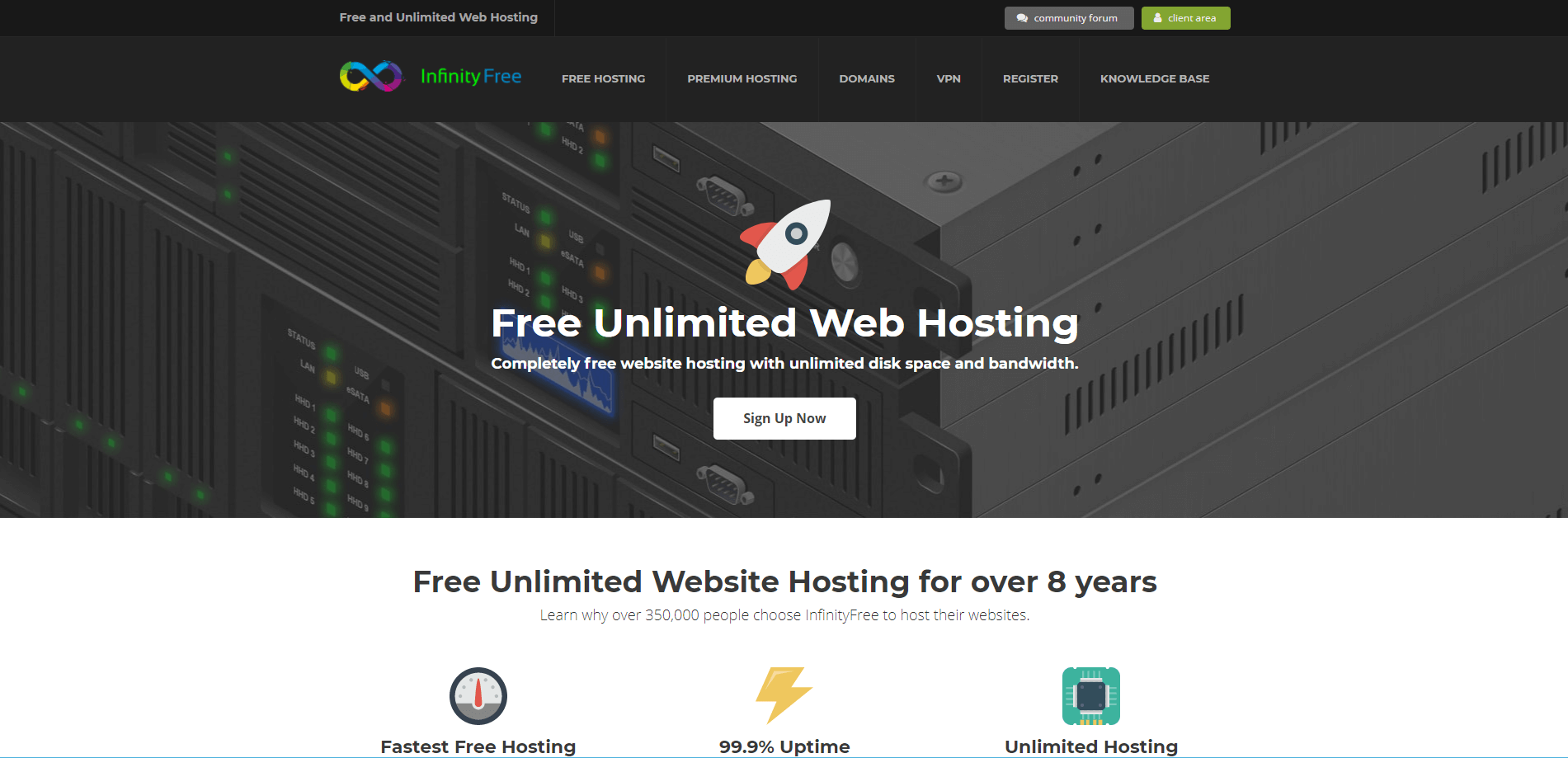 InfinityFree is a free web hosting service that boasts a 99.9% uptime guarantee. It offers users:
An auto-installer with more than 400 different apps, including WordPress
Free subdomains
5 GB disk space
Unlimited bandwidth
400 MySQL databases
Knowledge base support
You'll also have access to the Softaculous Script Installer to set up WordPress. This hosting service provider doesn't offer domain registration, but you can use one you've acquired from another registrar.
Once your website is published, your visitors won't see ads. However, there will be ads in cPanel on the back end. Your site is also limited to 50,000 hits per day.
InfinityFree is powered by iFastNet, which also offers premium hosting. The cheapest plan starts at $4.99 per month and includes six free domains, unlimited disk space, and more features.
2. Wix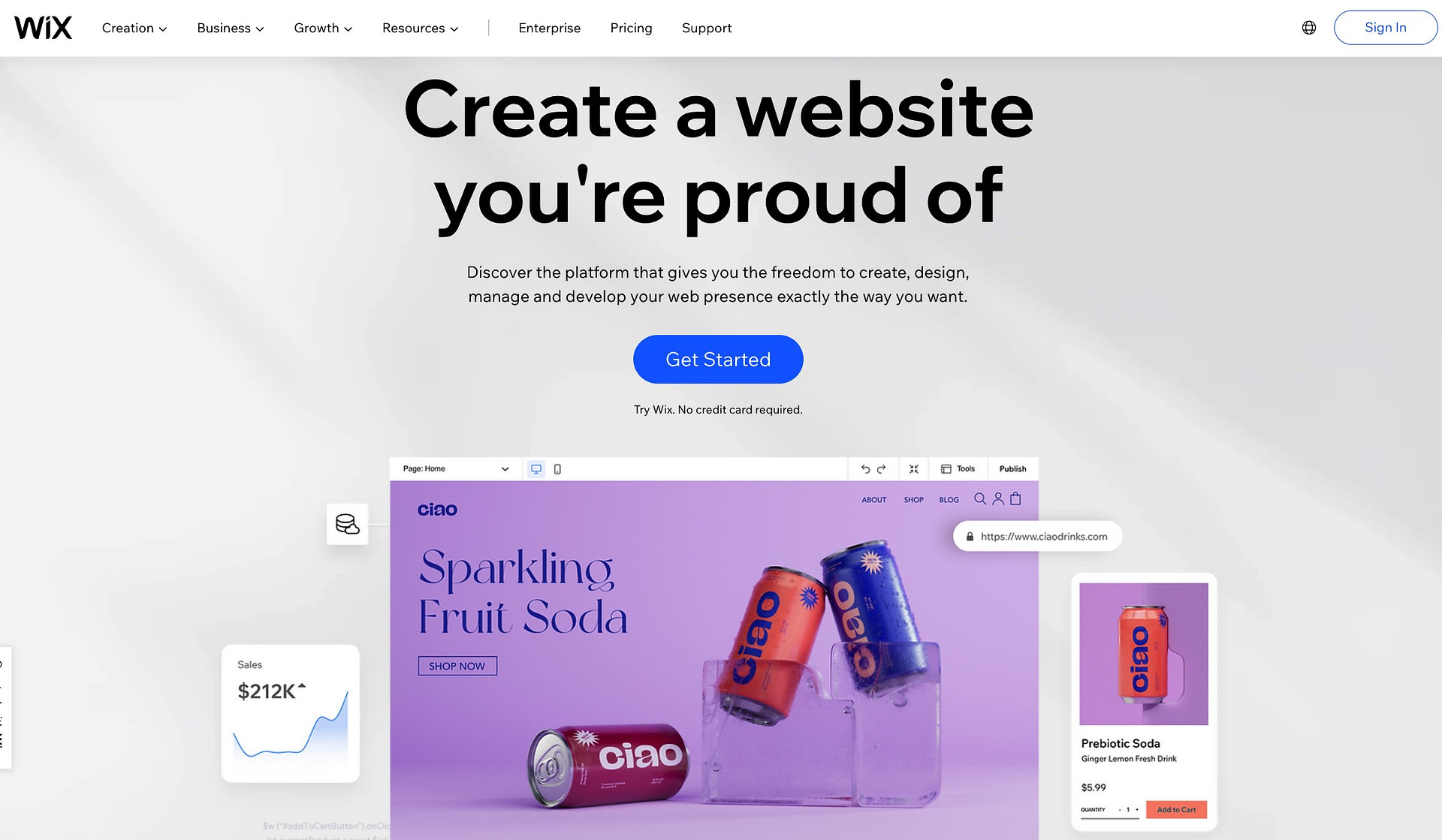 As you may already know, Wix is not a free website hosting platform per se. However, we're featuring it here for those of you who are not really looking for free hosting on its own, but rather for a possibility to launch a whole website from scratch for free. This is where Wix really delivers.
Wix is an all-in-one solution for building a website. It covers everything from hosting, domain, to the website platform itself all within a single dashboard that's also easy to use. In other words, you don't need to be familiar with coding to create your own site on Wix.
Wix does indeed come with a free plan, which means that you can launch a simple site as a test and experiment with some of Wix's features. Then if you want to, you have the option to upgrade to one of their premium tiers. On that free plan, you get:
Wix.com subdomain
Beautiful templates
500 MB disk space
500 MB bandwidth
Global content delivery network
Free SSL and security monitoring
Knowledge base and customer support
Decent load times
Just like most of the free web hosting providers, Wix places their own ads on free plan sites. You can only connect a Wix subdomain and would have to move to a paid plan for connecting a custom domain.
Note; the eCommerce functionality is not available in the free version. However, you can still set up things like bookings, events, and forums, and fill in your site with SEO-friendly content with just a few clicks.
3. 000WebHost
000WebHost is a free hosting option from the team behind Hostinger – a recognizable company for those looking for where to host a website. Some of 000WebHost's features include:
One website
300 MB disk space
3 GB of bandwidth
One MySQL database
Community forum
Free website builder
WordPress auto-installer
000WebHost also comes with the Hostinger Website Builder, which should make designing your site less intimidating. Like InfinityFree, visitors to your website won't see ads, but there will be ads in your WordPress dashboard.
Free hosting from 000WebHost doesn't even require a credit card to set up, and you can use it as long as you like. Also, if you outgrow your free plan, you can easily upgrade to a cheap plan from Hostinger. Hostinger plans start at $1.79 / month for your first billing cycle.
4. ByetHost
ByetHost is another free hosting service that you could use. Its plan features:
Five subdomains
1 GB disk space
50 GB monthly transfers
One MySQL database
24/7 support via ticket system and knowledge base
ByetHost offers solid support for its free plan, which can be rare. You can access a self-service knowledge base and video tutorials, but a ticketing system is also available.
In addition, you'll receive usage statistics such as disk space, bandwidth usage, and daily hits. You can find this data in VistaPanel, which is ByetHost's free hosting control panel. Then, you can use the information to help budget your resources.
Like InfinityFree, ByetHost is managed by iFastNet. This company provides a variety of web hosting services at affordable prices. For instance, the Ultimate Premium plan comes with unlimited bandwidth, disk space, and addon domains. It starts at $7.99 per month.
5. HyperPHP
HyperPHP is a free hosting and domain service for personal websites. Its plan offers:
1 GB disk space
Free subdomains
MySQL database
Free tech support and community forums
HyperPHP offers a few ways to make launching a new website easy. Firstly, a free domain transfer is available. This host also offers an automatic script installer, which you can access through VistaPanel.
HyperPHP is a free service offered by iFastNet. However, if you want to build a professional business website, we recommend upgrading to a paid plan. Starting at just $4.99 per month, these premium hosting plans include advanced features such as Cloudflare Railgun, which can help speed up your site and deliver a smoother user experience.
6. Google Cloud Hosting
Google Cloud Hosting isn't technically free. However, it does offer a one-year free trial that includes:
One website
Unlimited storage
Extensive support documentation
While Google Cloud Hosting is tailored towards large businesses, anyone can use it. To get started, all you need is a Google account.
The free trial lasts for 12 months, or until you've used up the $300 credit it includes. After this, you only pay for the resources you use. Google offers a price calculator to help you estimate your costs.
If you're planning to use WordPress, check out our guide on how to install WordPress on Google Cloud.
7. AwardSpace
AwardSpace offers a variety of hosting services. It's best known for its free plan, which includes:
One website
Three subdomains
1 GB disk space
5 GB bandwidth
MySQL database
24/7 live chat
Awardspace includes one-click content management system (CMS) installation as well as the Zacky website builder. Also, the 24/7 live chat is available to free plan users if you have questions.
Once launched, your own website will be ad-free. Plus, you can place ads to monetize it. AwardSpace provides you with the ability to monitor your bandwidth usage as well, which may help you budget your resources.
8. Freehostia
Freehostia offers paid and free hosting. The free plan, called 'Chocolate', provides:
Five websites
250 MB disk space
6 GB bandwidth
One MySQL database
FAQ and ticket support system
Freehostia's cluster platform aims to offer more reliability from its free hosting. Hopefully, this results in less downtime for your website.
You'll have access to a website builder complete with templates. If you run into issues, you can have an answer to your support ticket in one hour, even with the free plan.
9. FreeHosting
FreeHosting.com offers free and paid hosting from its two data centers. With the free plan, you get:
One website
10 GB disk space
Unmetered bandwidth
One MySQL database
Ticket support system
When you sign up, you can bring your own domain name, or FreeHosting can register one for you. This provider promises unmetered bandwidth as long as you comply with its Fair Use Policy.
One-time billed add-ons are available, such as an additional mailbox or SSL certificate. This lets you improve upon the free hosting plan while keeping costs low. Note that FreeHosting does not offer services for users in Brazil, Cuba, Iran, Sudan, Syria, or Vietnam.
10. FreeWebHostingArea
FreeWebHostingArea is a volunteer-maintained free hosting service. It offers:
1.5 GB disk space
Unmetered traffic
MySQL databases
Free email support
To use FreeWebHostingArea, your free site must have at least one visitor per month. It can be deleted due to inactivity if you drop below this metric. This service also prohibits private projects, APIs, and password-protected websites.
FreeWebHostingArea provides backups for all hosting accounts, although it's recommended you create your own as well. You can bring a domain or purchase one through the provider's own service.
Conclusion
While your free web hosting platform might not be perfect, it can be a viable option in some scenarios. However, finding a quality provider that delivers on its promises is no easy task.
In this article, we shared our opinions on the best free website hosting options available in 2023. You have nothing to lose by giving one a try. Our top pick in the category of best free web hosting is 000WebHost for its live chat support and easy WordPress installation.
However, for any type of serious project, we recommend using at least a cheap paid shared hosting service rather than hoping to find free unlimited web hosting. In our collection of cheap web hosting sites, you'll find services that cost just a few dollars per month.
As we mentioned earlier in this post, you can get quality, affordable website hosting for $2.75 or even $1.79 per month. ← click on the prices to learn more
Have any questions about whether free website hosting is right for your needs? Looking for more ways on how to host a website for free? Ask us in the comments!
Free guide
4 Essential Steps to Speed Up
Your WordPress Website
Follow the simple steps in our 4-part mini series
and reduce your loading times by 50-80%. 🚀
Free Access
* This post contains affiliate links, which means that if you click on one of the product links and then purchase the product, we'll receive a commission. No worries though, you'll still pay the standard amount so there's no cost on your part.