Searching for the best cheap email hosting?
Creating a custom email address for you and/or your organization is a great way to look more professional and better organize your email communication. But at the same time, it's also an added expense, so you'll want to make sure you're not spending more than you need to when it comes to email hosting.
Thankfully, there are some great cheap email hosts that can help you set up your own mailbox for as little as $1 per month. If needed, you can also add more mailboxes to account for your team members.
Keep reading for our collection of the seven best cheap email hosting services.
⚡ Pro tip: Most web hosting providers offer free email hosting alongside their website hosting plans, which is a great way to save money by bundling everything together. We recommend Bluehost if you want to do that. Bluehost not only provides hosting for your website, but also one free domain and unlimited email accounts and email storage at only $2.75/month (normally $9.99/month) with our special deal.
Best cheap email hosting providers in 2023 📧
In a rush? Here's a quick comparison table of the best options for cheap email hosting:
Starting individual price – some services have special prices for a single account. If you only need an email account for yourself, this is what you can pay per month.
Starting price per user – if you need email for your whole team, this is what you'll pay per user per month. Some services offer unlimited users for one price.
Monthly minimum – some services specify a minimum monthly commitment that you'll need to pay no matter what. If you're a solo user, you'll probably want to avoid these services.
Now, let's look at each host in more detail:
1. Website hosting with free email hosting – e.g. Bluehost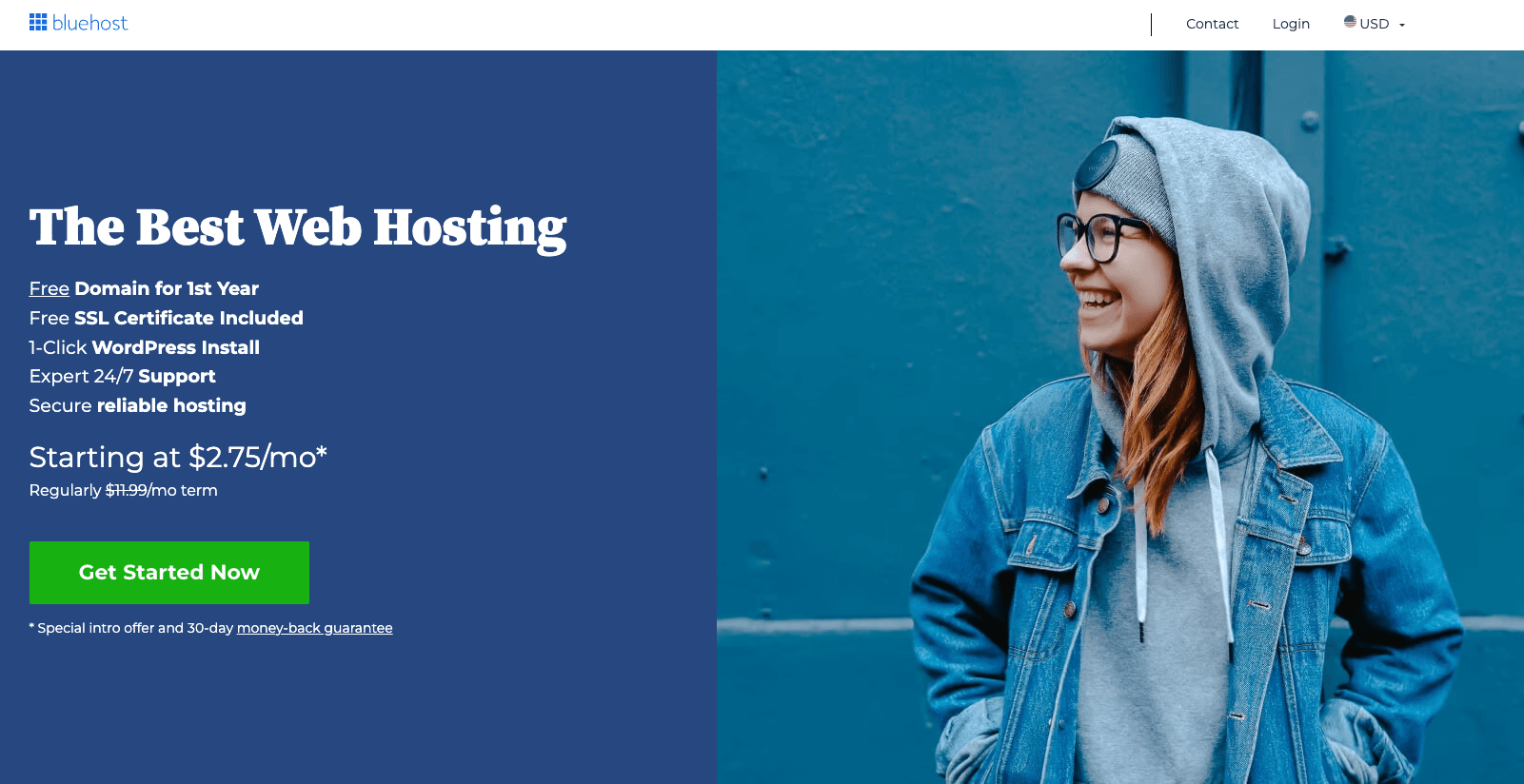 Before you start, think about whether you need a separate email host in the first place. If you're already hosting a website, many shared web hosts include free email hosting as part of their plans. This usually lets you create unlimited email accounts at no extra cost to your hosting plan.
Or, if you haven't made your website yet but are planning to, you can make sure to choose a host that comes with free email hosting to kill two birds with one stone!
Some popular hosts that offer unlimited free email hosting include:
Our recommendation for most people is Bluehost. For one low price, Bluehost lets you host unlimited websites and create unlimited email accounts using any domain name. By bundling everything together, you can save a lot of money vs paying separately for hosted email services and website hosting.
Plus, Bluehost has a very beginner-friendly experience, with a user-friendly account dashboard to manage your email accounts, multiple webmail options, easy connection to your favorite email client, a special WordPress website builder, and more.
We also negotiated a special deal for Themeisle users that gets you prices starting at just $2.75/month.
If using one of these hosts isn't an option for you, keep reading for the dedicated cheap email hosts. Otherwise, you can use the button below to head to Bluehost.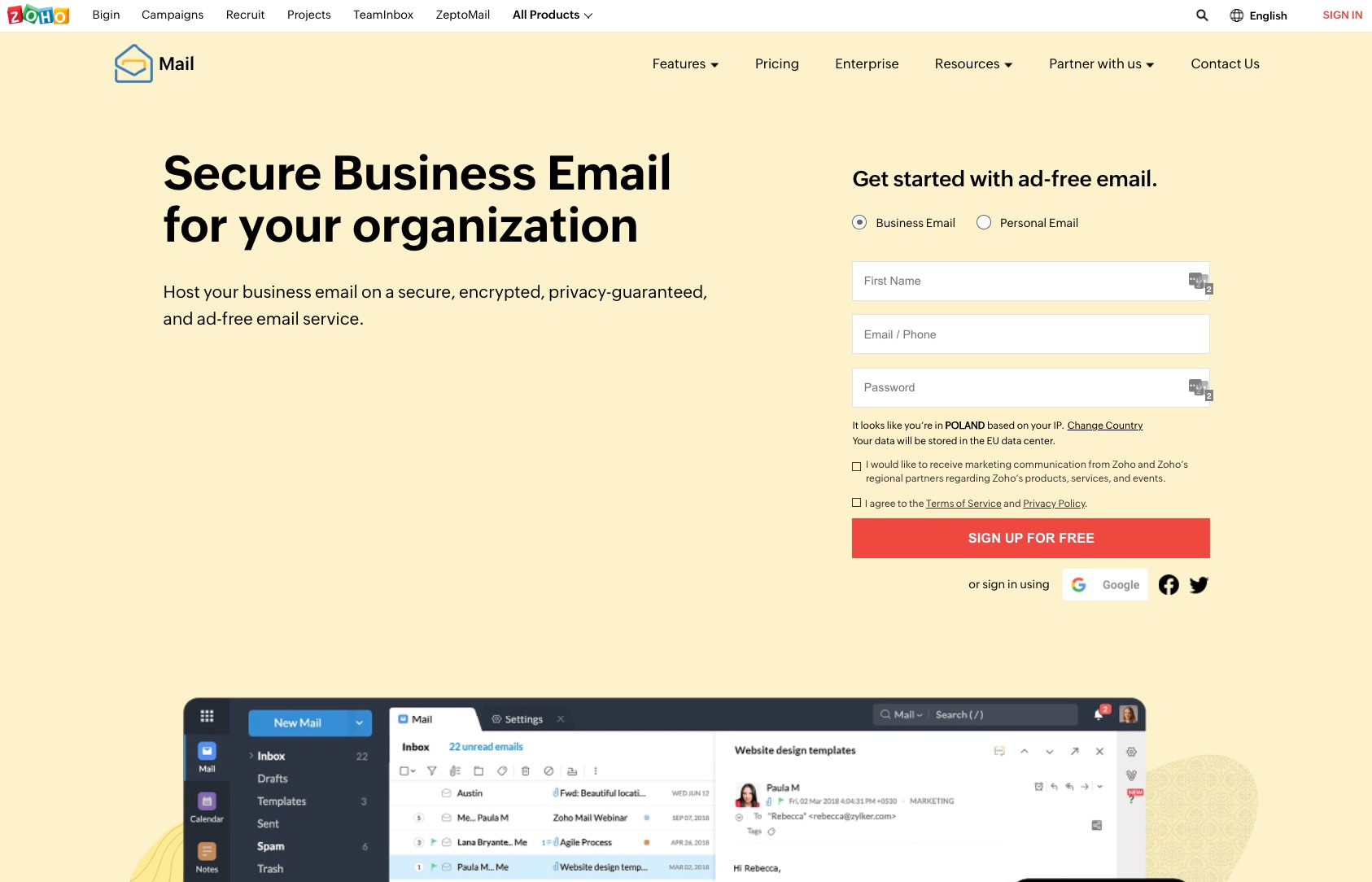 💡 Highlights:
Only service to offer free email hosting, but with some limits
Paid prices from $1/user/month for 5 GB storage
Has convenient features like dedicated mobile apps, email recall, and email/folder sharing for organizations
Zoho Mail had to be first on our list of hosted email providers because it's the only option on this list that offers free email hosting. Yes, there's a forever-free plan that allows for up to five users with 5 GB of storage per user and a 25 MB attachment limit.
Beyond the limits, the downside of the free email hosting plan is that it only allows for web access. That is, you'll have to use Zoho Mail's webmail client – you can't use your own preferred client, like hooking it up to Gmail.
Zoho Mail's paid plans are also some of the most affordable on this list. For just $1/user/month, the Mail Lite plan gives you access to that same 5 GB/user limit but access to new features like:
IMAP/POP access to use email clients
Email routing
Domain aliases
Higher attachment limits (250 MB)
Email recall (for those "Oh crap!" moments)
Email and folder sharing in organizations
Dedicated mobile apps
You can also upgrade to Mail Premium for $4/user/month to get 50 GB of storage per user, 1 GB attachments, email backup, and some other features.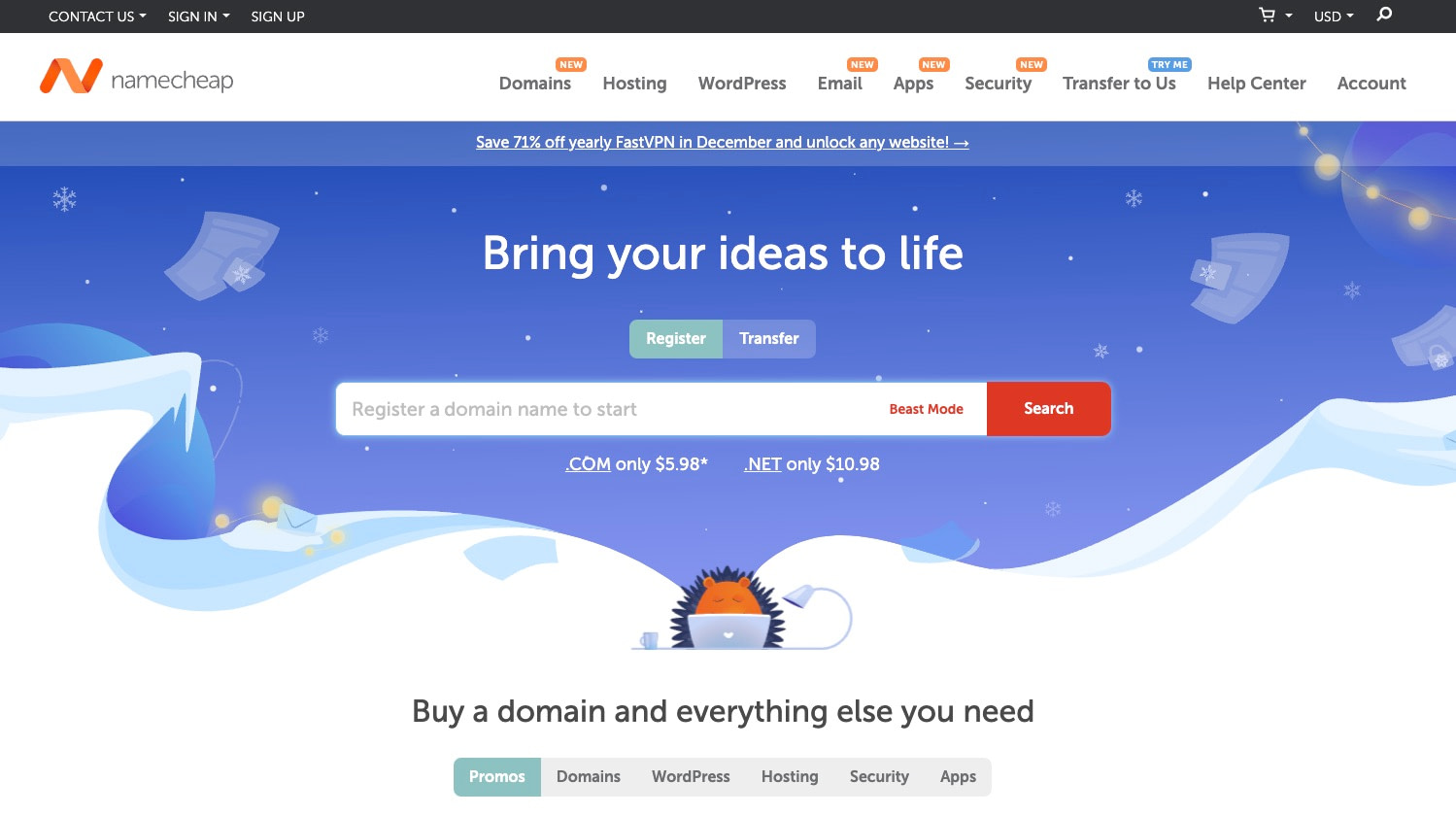 💡 Highlights:
The cheapest option on this list in terms of both individual and per-user pricing
Two-month free trial on any plan
High storage quota for the price
Email sharing for organizations on the higher-tier plans
In terms of per-user prices, Namecheap is definitely the cheapest email hosting provider on this list because its Starter plan costs just $0.91 and it includes one mailbox. You can get additional mailboxes for $0.74 apiece.
Basically, Namecheap's email hosting is just all-around cheap.
On that cheapest tier, you have a fairly basic feature list, but it includes everything you need to have a custom email address:
5 GB storage for email
2 GB storage for files
POP3/IMAP access (i.e. you can connect it to your own email client, like Gmail or other Gmail alternatives)
Webmail access
Two-factor authentication
If you need more storage or features, there are also Pro and Ultimate plans:
Pro – $2.41 for three mailboxes + $2.16 per additional mailbox for 30 GB emails/15 GB files
Ultimate – $3.66 for five mailboxes + $2.91 per additional mailbox for 150 GB emails/30 GB files
The Pro and Ultimate plans also offer collaboration features like shared emails, documents, spreadsheets, appointments, and more.
💡 Highlights:
The most expensive option on this list at $6.00/month/user
Lets you use an ad-free version of Gmail for your email
Lets you use other Google apps, like Drive and Docs
Has useful tools for organizations to share information and collaborate
Google Workspace (formerly G Suite) is kind of right on the edge of cheap email hosting. However, we're including it because it offers a lot of value beyond just email hosting. If you'll use those other services, that might still make it "cheap," even though its monthly price is higher than the other services.
First off, using Google Workspace (G Suite) lets you use Gmail for your custom email addresses. There is a workaround that lets you use POP3/IMAP to use Gmail with other cheap email hosting providers, but Google Workspace (G Suite) is the simplest way to get access to Gmail with a custom domain name. Using Google Workspace (G Suite) also removes ads from the Gmail interface.
Second, you'll also get dedicated access to all of Gmail's apps for your account including Drive, Docs, Sheets, etc. If you're part of an organization, you can also easily share data between your entire organization.
Access to Google Workspace (G Suite) starts at a flat $6.00/user/month. Google also has a Google Workspace Individual plan that's targeted towards solo users and starts at $12/month.
💡 Highlights:
Not quite as cheap as some alternatives at $2.99/user/month
High mailbox storage – 25 GB
Allows unlimited aliases, group lists, and forwarding rules
Free email migrations from your existing provider
Rackspace Email isn't as cheap as some other email hosting providers on this list, but it makes up for it with lots of features and a high storage limit. So, for what you get, Rackspace Email is competitively priced.
All plans also get unlimited aliases, group lists, and forwarding rules, as well as spam/virus protection, no ads, and free email migrations.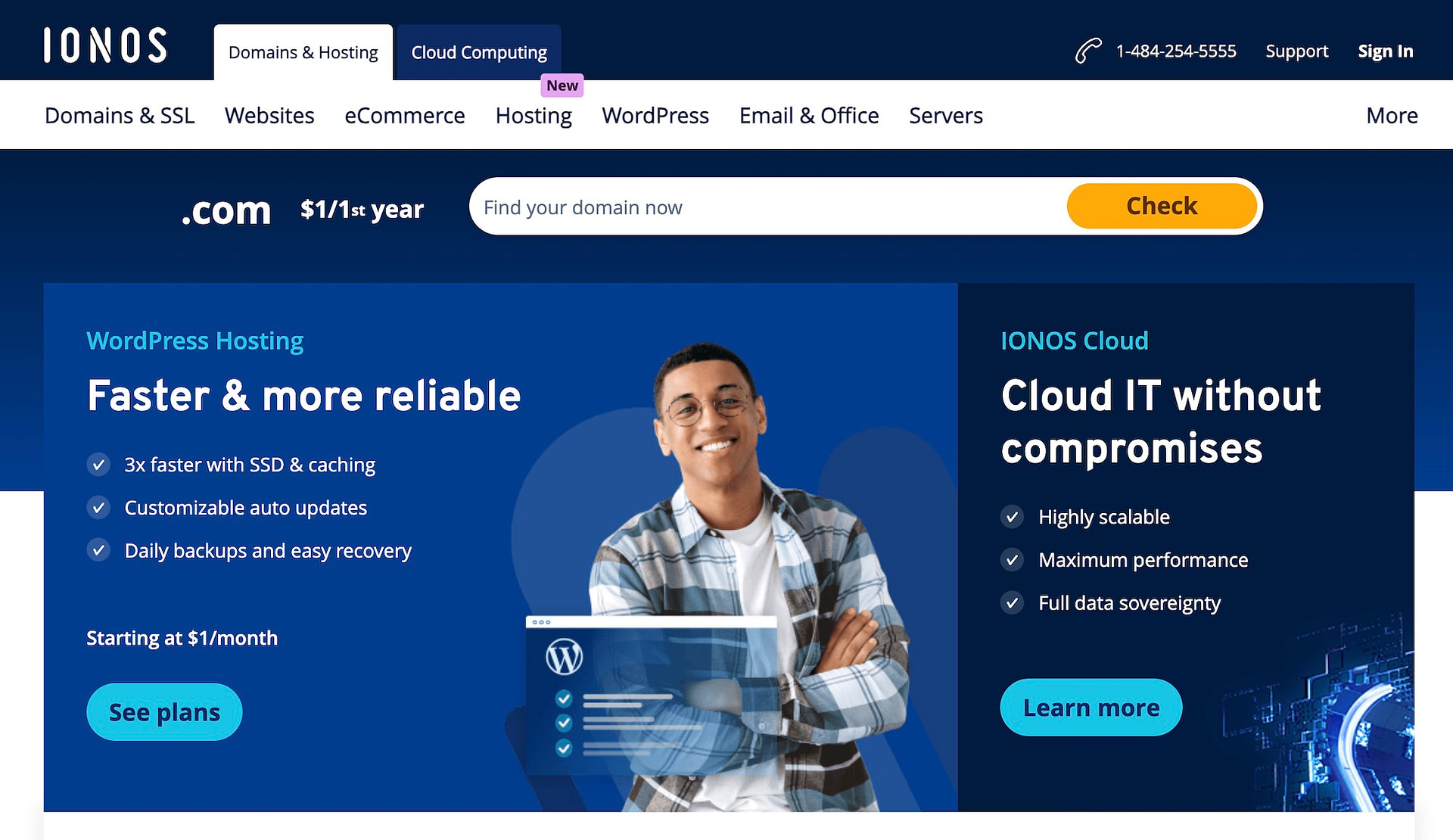 💡 Highlights:
Cheap for individual users at $1/month, though the storage limit isn't high
Includes a free domain name for your email (good value if you don't already have one)
Multi-user plans are not as cheap as the individual plans
IONOS by 1&1 is a very cheap option for individual email hosting for two reasons:
The Mail Basic 1 plan costs just $1/month for 2 GB of storage
You get a free domain to use for your email address – you can choose from four domain extensions: .com, .net, .us, or .online
Given that a free .com domain is worth at least $10, you're basically getting the email hosting for free. What's more, you'll still be able to use your own email client and sync your email on all devices. Or, you can also stick with IONOS' webmail.
The downside is the 2 GB storage limit. To raise that, you can use the Mail Basic 1+ plan to expand it to 12 GB for $4 per month.
If you're part of a team, you can also use the Mail Business plan which ups the storage to 50 GB per mailbox and gives you team collaboration tools, like shared emails and calendars. The price for the team plan depends on how many users you have:
1 user – $5/month
5 users – $15/month ($3/user)
10 users – $25/month ($2.50/user)
💡 Highlights:
Cheap per-user prices at just $1 per month
Has a $15 per month account minimum, so it's not the cheapest option for individuals or small teams
Can manage emails for multiple domains from one dashboard
Greatmail is an excellent cheap email hosting provider if you need to host lots of users because it costs just $1 per mailbox, which is one of the cheaper per-user prices on this list. However, it's not a great option for individuals or small teams because the minimum commitment is $15 per month (which includes 15 mailboxes).
With the $1/user/month Standard Edition, you'll get reliable email with IMAP/POP3 so that you can use any email client along with cloud security and spam, virus, and malware protection.
For more features, you can upgrade to the Groupware Edition at $3/user/month to get access to features to let you sync mail, calendars, and contacts across all your devices using Exchange ActiveSync, CalDAV, and/or CardDAV.
Email hosting services FAQs 🙋
Before we get to our recommendations for the top budget email hosting, let's quickly run over some common questions you might still have…
What is email hosting?

Email hosting refers to the service that allows individuals or businesses to create and manage their email accounts using their own custom domain name. It involves providing server space, infrastructure, and software to store, send, and receive emails.

With email hosting, users can have professional-looking email addresses that match their domain (e.g., yourname@yoursite.com) and access their emails through email clients or webmail interfaces. Email hosting providers handle the technical aspects of email delivery, spam filtering, and security, ensuring reliable and secure email communication.
What is a hosted email service?

A hosted email service is a dedicated email service that operates email servers for you. You can use these email servers to send and receive email using your own custom email address – e.g. yourname@yoursite.com.
How much does email hosting cost?

You can get cheap email hosting for less than $1 per month, or even free in some cases. Generally, around $1 per user per month is a rough starting point for a budget hosted email service.
What are the different types of email hosting?

There are several different types of email hosting services depending on your needs and budget.

On the budget end, most people will use shared hosting email services, which have you share resources on a server with other users. By sharing resources, you're able to keep costs down.

Another option is cloud email servers, which has you host mailboxes on an external cloud hosting service. Common examples here are Google Workspace (G Suite) and Microsoft 365 (Office 365).

At the highest level, you have an enterprise email service. These are pricey, but they typically give you dedicated servers to host multiple mailboxes. Or, in some cases you can also host an enterprise email server using the cloud email approach.

Most of the affordable email hosting providers in this post use the shared email server approach, though some use the cloud email type.
How can I host my email for free?

If you're specifically looking for free email hosting with a custom domain name, Zoho Mail is usually your best option. While you can find lots of free email services that let you use the service's domain name (e.g. @gmail.com), Zoho Mail is one of the few options that lets you use your email domain name for free.
Which is the best cheap email hosting provider? 🤔
If you're looking for the absolute cheapest email hosting provider, here are our recommendations:
Of course, with all of these email hosts, you'll still need a domain name to set up your custom email address. We have some additional tips on how you might be able to get a free email domain name, as well as a guide on how to purchase your own domain name.
Do you have any questions about finding the best budget email hosting provider for your needs? Let us know in the comments!
Free guide
4 Essential Steps to Speed Up
Your WordPress Website
Follow the simple steps in our 4-part mini series
and reduce your loading times by 50-80%. 🚀
Free Access
* This post contains affiliate links, which means that if you click on one of the product links and then purchase the product, we'll receive a commission. No worries though, you'll still pay the standard amount so there's no additional cost on your part.