If you're running a website based in the UK, it makes sense to choose a web host with servers located in the same country. Your visitors will be able to load your pages faster, which can help boost your search engine optimization (SEO) efforts. However, finding the best cheap UK web hosting providers can take some digging.
Apart from affordability and faster performance, it also helps to have access to UK-based customer service. This way, you can reach technical assistance more easily within a time zone that is convenient for you. Also, you'll be able to see prices quoted in your currency.
This article will give you an overview of six of the best cheap UK web hosting providers with London-based data centers. Let's go!
Six top cheap UK web hosting services
Now that we've discussed the value of UK based servers, let's look at six excellent web hosts. The one that's the best fit for you will at least partly depend on what kind of services you need, but they all offer somewhat similar features.
1. IONOS (www.ionos.co.uk)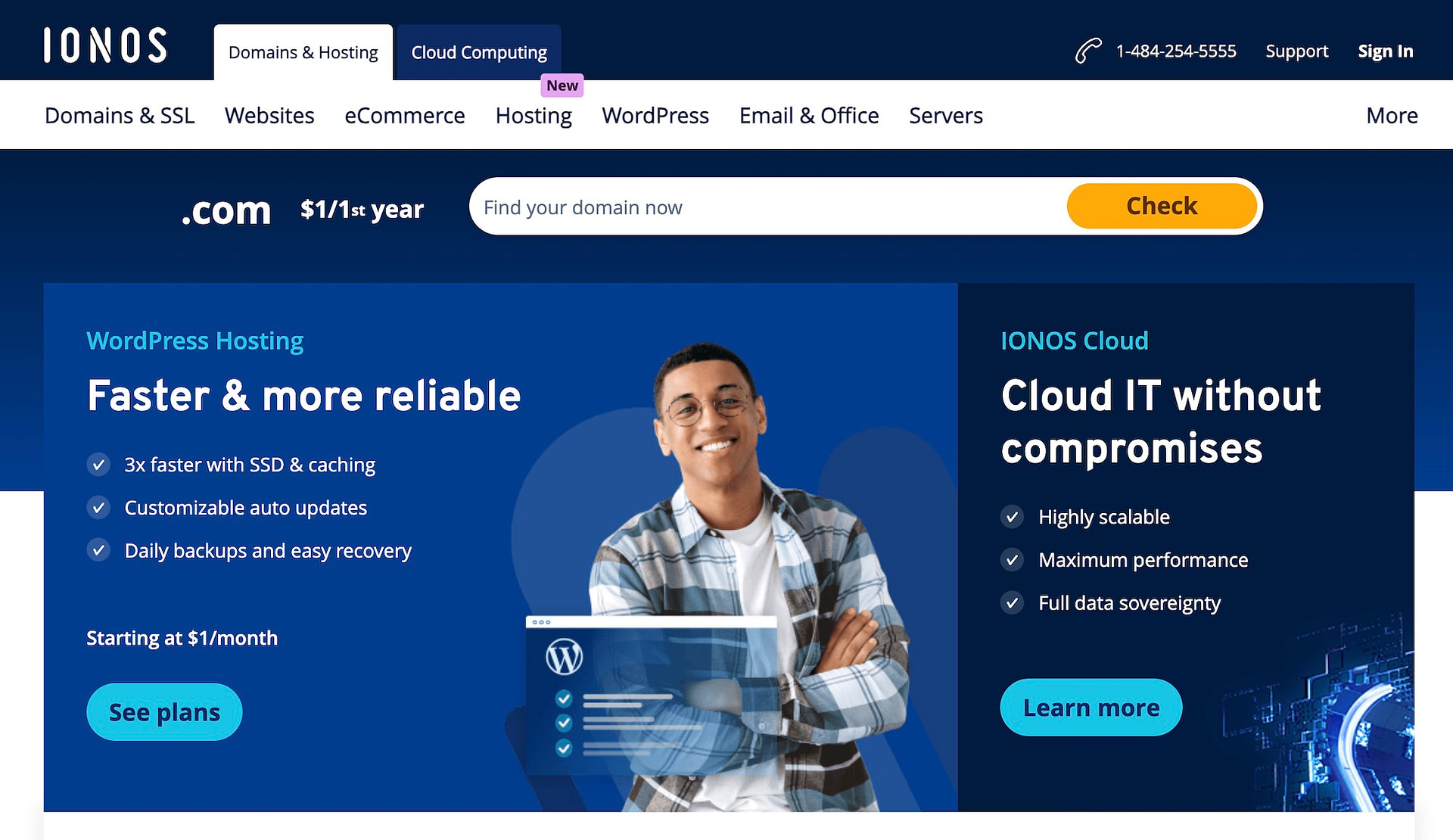 Ionos offers reliable, cheap UK web hosting with a 99.9% uptime guarantee and some of the most impressive speeds on the market. You can choose from a range of shared and dedicated plans, including Windows hosting. It also enables you to adjust your server's performance to meet the growing demands of your website.
Ionos promises to keep your projects online at all times thanks to its geo-redundant infrastructure. This means your data will be mirrored in two locations to prevent unexpected downtime or outages.
Shared web hosting plans include the following features:
One-click installation of popular platforms including WordPress and PrestaShop
GDPR-compliant SiteAnalytics dashboard
Extended PHP support
Free domain registration for the first year
Email hosting with 2 GB of storage
Advanced security
Free SSL certificates
Unmetered bandwidth
Pricing 💷
UK customers can enjoy an introductory price of only £1 for first six months for the mid-tier Pro package. This plan includes 50 GB of SSD storage, 100 databases, and boosted performance. Note that the cost increases to £10 per month upon renewal.
2. 123-Reg (www.123-reg.co.uk)
123-Reg is the UK's leading domain registrar and web hosting provider. It offers affordable shared, virtual private server (VPS), and WordPress-optimized services. You can also install over 125 applications such as Magento or Joomla and create an environment best suited for your chosen tools.
All of 123-Reg's plans come with only one free top-level domain (TLD) option – .co.uk. If your business and customer base are predominantly British, then this might be an excellent choice. However, note that you'll have to purchase an SSL certificate separately unless you opt for one of the advanced plans.
With 123-Reg shared plans, you gain access to features such as:
One-click installation of Linux-compatible software (Joomla, Drupal, and more)
Free .co.uk domain for the first year
Unlimited bandwidth
Programming tools
Email hosting
UK-based customer support
Website builder
Security features
Pricing 💷
Plans start at £2.99 per month for the Starter package, which includes 100 GB of storage and 512 MB of memory. For £5.99 per month, you can also access unlimited features, 1 GB RAM, and free SSL certificates.
3. Bluehost (bluehost.com)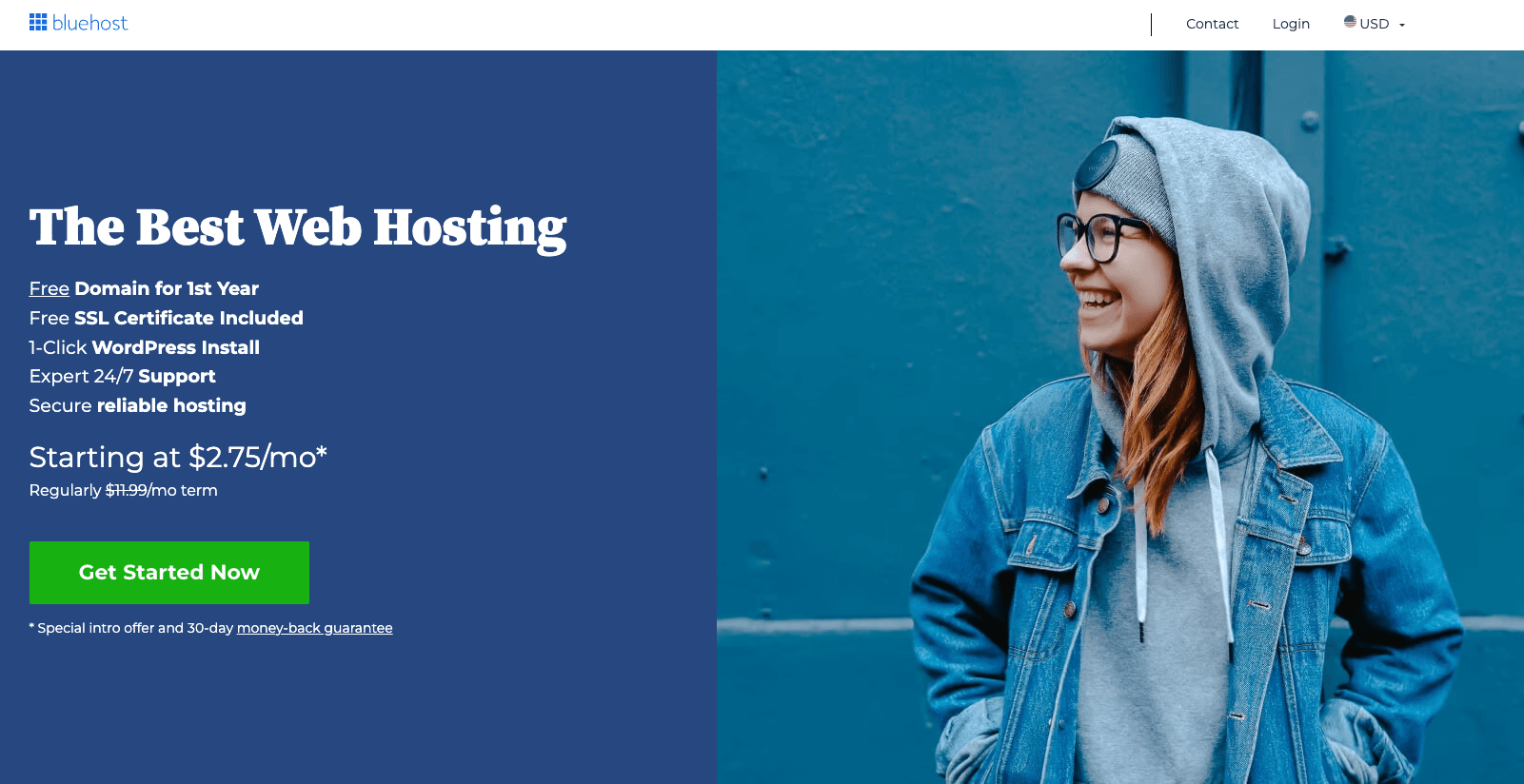 If you're familiar with WordPress hosting, you'll likely recognize Bluehost. It provides highly optimized hosting services even at entry-level. If you require more resources, you can also choose from a range of affordable VPS and dedicated hosting plans, all of which boast a user-friendly control panel.
With one of its data centers located in London, Bluehost gives you reliable performance and cheap UK web hosting. You can also easily upgrade your plan once your website grows, so you don't have to worry about binding contracts.
Besides, plans also include features such as:
One-click WordPress installation
Domain registration included for the first year
Unmetered bandwidth
Free SSL certificates
Marketing credits towards ads
Security features
Content delivery network (CDN) add-on
Pricing 💷
Plans start at £2.20 for the Basic option, which includes 50 GB of storage for a single website. The Plus plan also includes spam protection, free Office 365 email for 30-days, and unlimited resources for £4.06 per month.
4. Hostinger (www.hostinger.co.uk)
Hostinger is one of the cheapest UK web hosting providers on the market. Despite its low prices, it offers reliable services and impressive performance. Its services include shared, VPS, and cloud hosting plans. You can also launch your WordPress website in minutes if you're looking for a fully optimized package.
If you're a beginner or in a hurry, Hostinger comes with its own intuitive website builder. It even helps you create a professional logo and populate your site with copy thanks to its AI content generator.
Hostinger's range of shared hosting plans come with features such as:
Free SSL certificates
Email hosting
One-click WordPress installation
User-friendly control panel
Cloudflare protected nameservers
Free domain registration for the first year (except for the entry plan)
Pricing 💷
Plans start at only £0.99 per month for the Single Shared Hosting package, which includes 100 GB bandwidth and 10 GB of disk space. You can access unlimited bandwidth and databases for £2.89 per month.
5. tsoHost (www.tsohost.com)
tsoHost is a provider entirely based in the UK, with servers located in London and Amsterdam. It specializes in cloud hosting and offers surprisingly affordable prices for this type of service. Plus, you can choose to pay month to month if you prefer not to commit to long-term contracts.
All of tsoHost's plans come with cPanel and other useful tools, although they're not as feature-rich as other popular cloud platforms. For instance, a free SSL certificate is only included with the advanced plans. Still, you get access to one-click installation for popular content management systems (CMS) such as WordPress, Magento, Joomla, and more. There's also a free website migration service.
Other features include:
Free domain registration if you purchase a one-year plan
Unlimited bandwidth
Advanced security
UK-based customer service
Email hosting with 1 GB storage
99.9% uptime
Developer tools
Pricing 💷
Plans start at £3.99 for the Economy option, which includes 100 GB storage and 512 MB memory. If you need more resources, the Ultimate package gives you access to unlimited storage and bandwidth, 1 GB memory, and free SSL certificates. It costs £8.99 per month.
6. Namecheap (www.namecheap.com)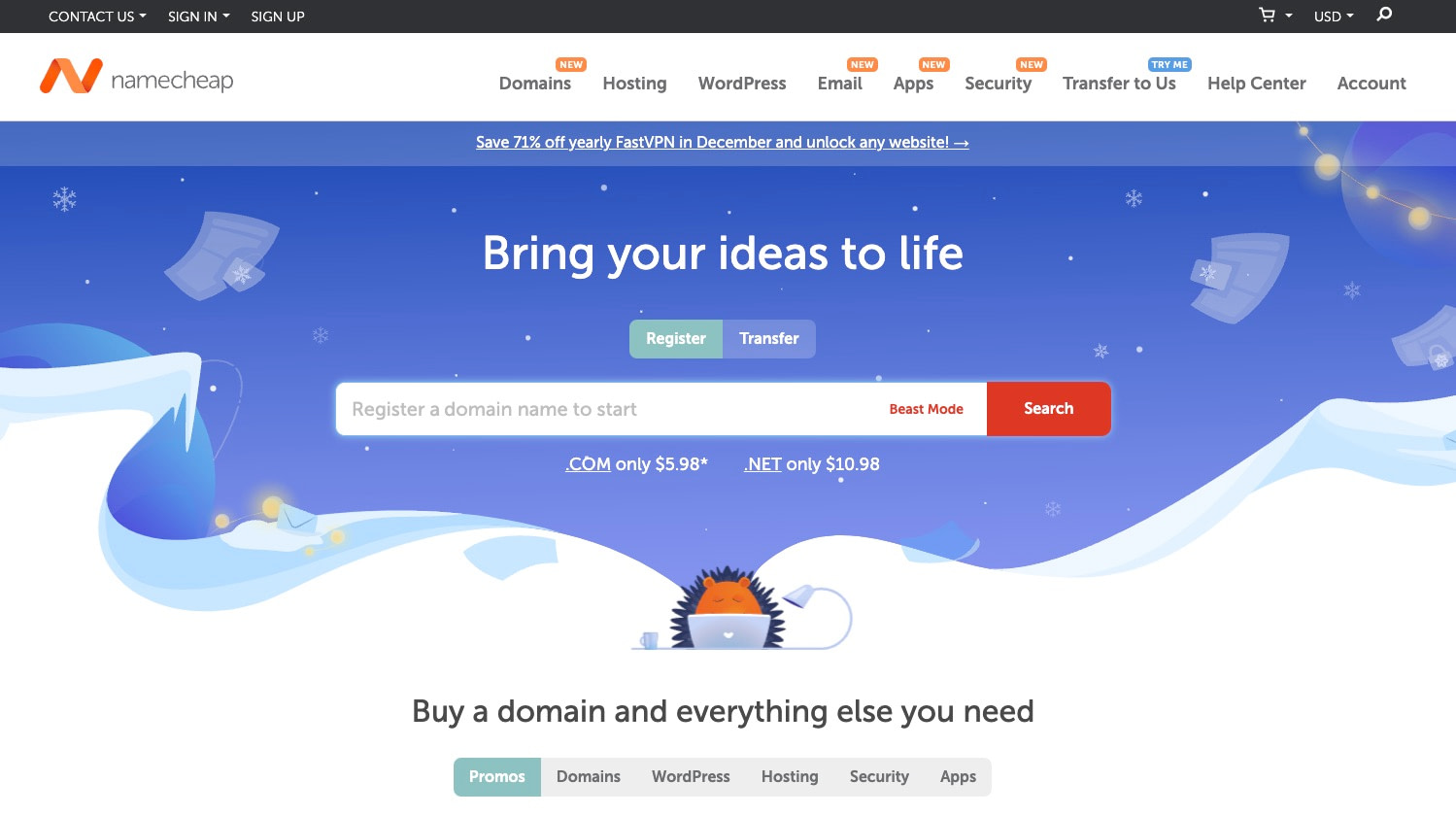 Our final recommendation for cheap UK web hosting is Namecheap, a well-known budget-friendly domain registrar. It's also quickly establishing itself as a worthy contender in the web hosting world.
You can choose between US and UK data center locations. However, the latter is only available with shared hosting and comes at a slightly higher price. Still, it's a reliable option for smaller website owners.
Similar to Hostinger, Namecheap has its own drag-and-drop page building tool, which can help you set up your website in no time. Alternatively, it will migrate your existing website and domain for free.
Shared hosting with Namecheap also gives you access to the following features:
Softaculous app installer
Domain registration included in the first year
Unmetered bandwidth
Free SSL certificates for one year
Email hosting
Automatic backups (except for the entry-level plan)
Pricing 💷
Plans start at £1.72 per month for the Stellar package, which renews at £3 per month after the first year. This plan is suitable for up to three websites and includes 20 GB of storage. To access the AutoBackup feature, you'll need to opt for at least the Stellar Plus plan, which starts at £2.66 per month.
Get started with cheap UK web hosting today 🇬🇧
In this article, we've discussed six of the best cheap UK web hosting companies that will suit various projects. Ionos is the most budget-friendly option for advanced websites, at only £1 for the first year. Beginners might prefer Hostinger or Bluehost. However, all of the providers on our list offer solid features at affordable prices.
You can also check out our overall collection of the best UK web hosting, which includes both budget and non-budget options.
Do you have any questions about cheap UK web hosting? Let us know in the comments section below!
* This post contains affiliate links, which means that if you click on one of the product links and then purchase the product, we'll receive a commission. No worries though, you'll still pay the standard amount so there's no additional cost on your part.