WordPress is the most popular website platform in the world, which makes it a top-drawer consideration when building a new site. However, if you're unfamiliar with this Content Management System (CMS), you ask the question: "What is WordPress used for?"
The short answer to this question is: "Just about everything"! As a platform, WordPress is flexible, feature-rich, and secure enough that few applications are truly outside its reach. Like anything else, however, there are situations in which WordPress is a particularly strong choice.
In this post, we're going to provide an answer to "What is WordPress used for?" To do this, we'll walk through four types of websites you can build easily using the WordPress software. Let's start from the top!
1. Blogs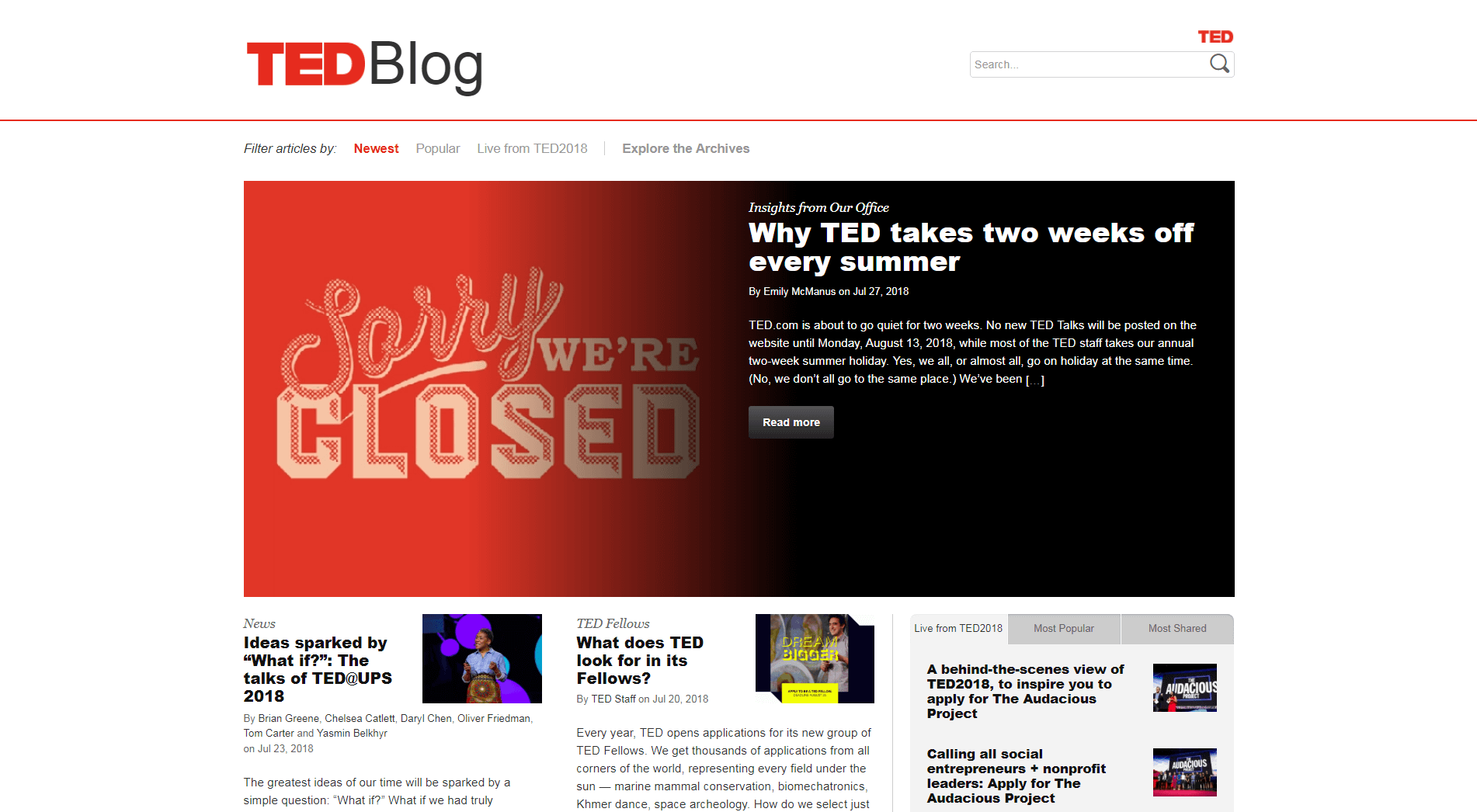 So, what is WordPress used for? If you know anything about WordPress, you may know it started life as a blogging platform. In fact, there's a common misconception that blogs are all WordPress is truly good at. While this isn't true – as you'll see throughout the next few sections – it's still perfect for this type of site.
The fact that WordPress was originally built with blogs in mind means many of its basic features and structure lend themselves to this application. There's a built-in option for creating posts, for example, as well as a robust comments system. Plus, it would be hard to find a platform easier to pick up.
It's perfectly possible to create a WordPress blog using only the platform's default features. However, there are a few things you may need if you want your blog to really stand out:
A blogging theme. This will provide your site with the right look and layout for a blog. There are literally thousands of options to choose from, many designed for specific topics and niches.
Some basic plugins. These will add useful functionality to your blog, and we'd recommend picking up at least a few. Most crucial for blogs are a strong anti-spam plugin, a contact form plugin, and a Search Engine Optimization (SEO) plugin.
That's really all you need to run a successful blog on WordPress. Plus, you can expand it over time, adding new features and even maintaining it alongside one of the other website types covered below.
2. Portfolios
At this point, you may be wondering: "What is WordPress used for besides blogs?" While it's long been valuable for businesses to establish themselves online, there's increasing importance for individuals to do this as well. Having a strong portfolio website can be the key to getting jobs, finding clients, and building a reputation.
It may seem like WordPress would be less suited to this type of site. After all, blogs are dynamic and constantly changing, while a portfolio is a largely static resource. However, WordPress makes it just as simple to build normal web pages as it does blog posts.
You can use WordPress pages to set up everything required for your portfolio – a contact page, a services page, and even a showcase of your work. More importantly, no portfolio is complete without plenty of images, both of you and of what you provide. That's where the WordPress Media Library comes in very handy, enabling you to upload, edit, and manage your media files easily.
Like blogs, portfolio sites don't require a lot of extra features in order to shine, although you'll want to consider:
A portfolio theme. Even more so than with blogs, having the right layout and look can make or break your portfolio. Since you'll want to keep it streamlined and easy to scan, a one-page theme such as Hestia may be ideal.
A contact form plugin. We mentioned this under the blogs section as well. However, it's absolutely crucial here. If you're trying to form connections and solicit work online, you need to provide an easy and fast way for visitors to get in touch.
Some type of gallery plugin. Especially if you're a creative type, you'll want to show off your best projects in your portfolio. A robust gallery plugin makes it much easier to display your work in the best possible light.
3. Business sites
As we've established, WordPress is an excellent choice for smaller, more personal projects. This is actually another common myth about the platform. People wondering "What is WordPress used for?" often assume it's only suited to small-scale sites.
In fact, WordPress is a frequent and smart choice for business websites of all sizes (including the really big ones). There are a number of reasons for this. It's highly customizable, which means it's easy to ensure your site reflects your company's branding. You can also add just about any feature you need to the platform, whether via a plugin or custom coding. Plus, it's a very secure option for building your site.
Putting together a business site often requires extra functionality, given it will be an important part of establishing your company's reputation, and maybe even increasing conversions. More specifically, you'll want:
A highly-customizable theme. This can either be a business-specific theme, or something multipurpose. Most importantly, your choice should enable you to fully personalize your site's appearance – the last thing any business wants is a cookie-cutter website.
An email marketing plugin. If you don't have an email list for your business, now is the time to set one up. It's a hugely beneficial way of communicating with your target audience and increasing sales. Plus, you can add an opt-in form to your site to encourage visitors to sign up.
An analytics tool. Tracking your website's visitors, clicks, and other metrics is key for determining what you're doing right and where you can improve. You can simply use an online tool like Google Analytics, or go one step further and integrate analytics right into your website.
Finally, instead of installing a number of smaller individual plugins, you may want to look for an all-in-one solution. Jetpack is the perfect example – a WordPress plugin that helps your business out with design, marketing, and security.
4. E-Commerce stores
Now, let's look at an even more ambitious answer to the question "What is WordPress used for?" What if you want to set up a fully-functioning online store? As you'd expect, WordPress is an excellent option for e-commerce. In fact, it's actually the most popular way to create an e-commerce store (yes, even more popular than Shopify!).
However, there's a caveat – WordPress doesn't include built-in e-commerce functionality. This means you'll need at least one plugin to create your store.
You'll find that WordPress-powered stores benefit from a lot of the platform's inherent advantages, such as its security and scalability. You can build a modestly-sized store with WordPress, and eventually grow it into a massive venture. Plus, it's easy to run a WordPress store alongside a blog or business site.
As we noted, you'll need a tool to add e-commerce functionality to WordPress, such as product pages, carts, and payment gateways. There are a lot of options, but WooCommerce is the standout choice for most users. Installing this plugin will add much of what you need to build a store and sell products through WordPress.
Along with WooCommerce, you'll want to look for:
A dedicated e-commerce theme. This is vital for any store, since default or multipurpose options aren't usually suited to e-commerce. Plus, if you're running a 'parallel' website, you'll need a theme that integrates the two aspects smoothly.
A strong security solution. Selling products or services online necessitates handling sensitive customer data. While WordPress is inherently secure, you'll benefit from adding as much protection to your store as possible. Jetpack is again a good option here, as is a dedicated security plugin like Wordfence. Also, make sure you pick a WordPress host that makes it easy to use HTTPS.
Built-in backup functionality. Your store will be constantly changing and gathering new data. A solid backup tool is a must, so you never risk losing any information. Fortunately, there are many WordPress backup plugins up to the task.
You may also want to check out WooCommerce's comprehensive library of extensions. While not required, these will add all sorts of features to your site, letting you shape it into whatever kind of store you want to build.
So what is WordPress used for? Everything!
Despite how much WordPress has evolved since its beginning, some people still mistakenly believe it's just a blogging platform. This couldn't be further from the truth. As we've discussed, while it's still a fantastic option for blogs, it can do so much more.
While the answer to "What is WordPress used for?" is "Nearly everything", it stands out particularly well when you're building:
Wondering if you can use WordPress to build the website of your dreams? Ask away in the comments below (but the answer is probably, "yes"!).
Free guide
4 Essential Steps to Speed Up
Your WordPress Website
Follow the simple steps in our 4-part mini series
and reduce your loading times by 50-80%. 🚀
Free Access