While your existing customers will certainly visit your website, most of its views are likely to come from potential leads. Perhaps the most important step in 'selling' these visitors on your business is to help them understand exactly what you offer. In turn, this means learning how to write a services page.
Before people can decide whether or not they need your services, you need to make it clear exactly what you're offering. A dedicated services page helps you lay out all the necessary details. Plus, placing this information in its own page means it won't clutter up your homepage.
In this post, we'll talk about when and why this kind of page can be useful. Then we'll explain what it should include, and explore how to write a services page in WordPress. Let's get to work!
How a dedicated services page benefits your website
Sometimes, people will end up on your website because they're looking for a very specific type of solution. However, a lot of visitors aren't likely to know who you are and what you do until they arrive. Communicating your business' purpose and offerings to those potential leads should be one of your site's primary goals.
Among other things, this includes clarifying what services you provide. It's important to be as specific as possible here. Just saying you offer "security solutions" doesn't tell your visitors much. They're just going to wonder what those security solutions are for, and what features are included.
However, trying to cram a lot of details about your services on your homepage can be counterproductive. In general, you want your homepage, landing page, or other portal to be concise and easy to grasp.
This is where a dedicated services page comes in very handy: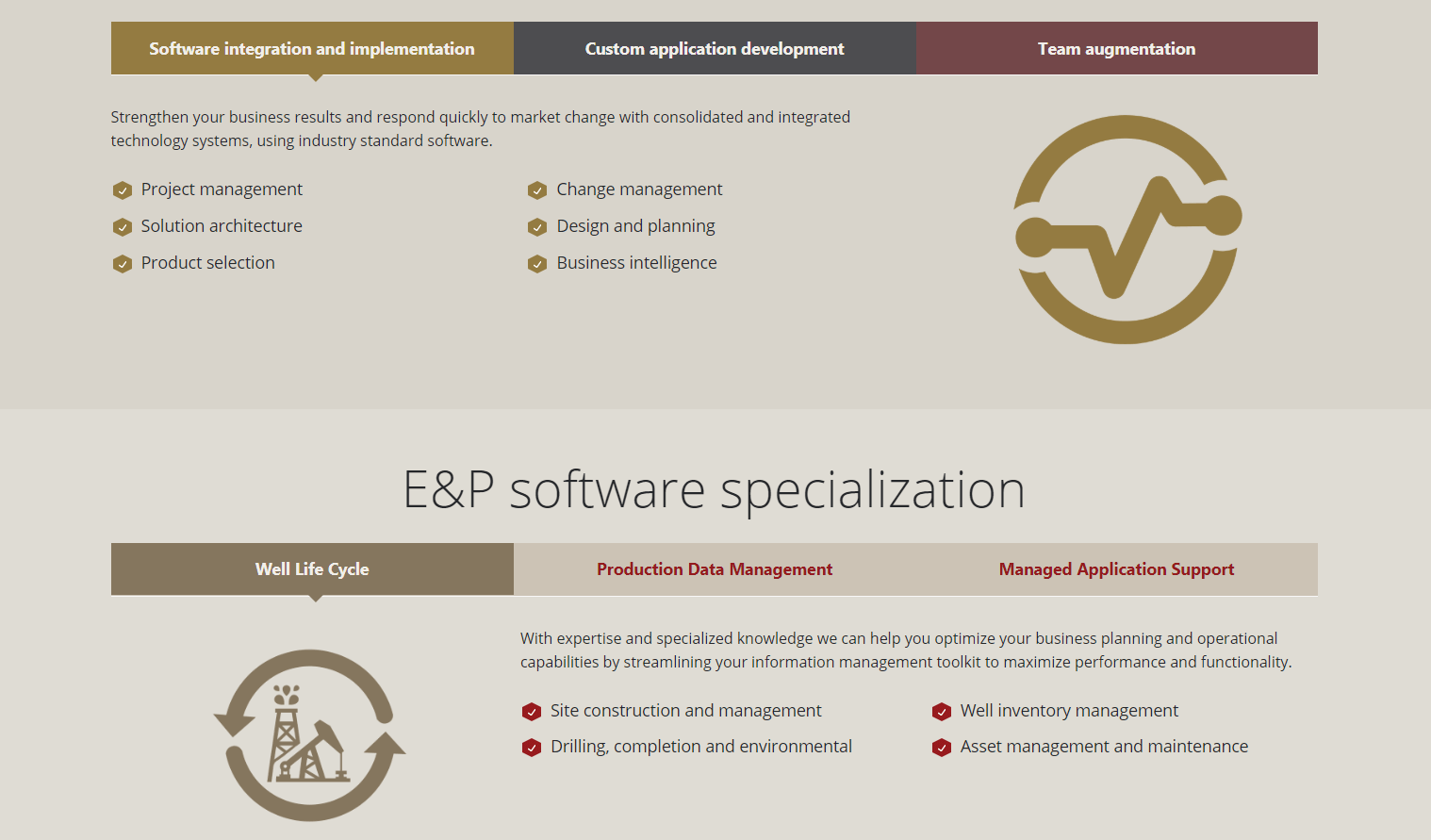 You can collect all the necessary information about your services in one place, and include as much detail as you like. Plus, you can even link to it from your homepage, as well as other prominent locations such as your sidebar and menu.
A services page is a smart inclusion for nearly any business website. In general, though, it's most useful for companies offering a range of services instead of doing one very specific thing. However, before you can learn how to write a services page like this, you'll need to know what it should cover.
What your services page should include
At this point, you're probably wondering what an effective services page might look like. Just as with any page on your site, it should naturally be informed by your unique audience, focus, and goals. However, there are some tips you can keep in mind as you decide how to write a services page.
For instance, you'll want to include:
A list of your services, laid out in an organized fashion. This could be in the form of an actual list, a table, or a series of separate sections. What's vital here is that each service is clearly distinguished from the others.
Detailed information about each service. You'll want to explain what your business is able to provide for customers. This should include making the benefits very clear. In other words, your descriptions need to answer the question: "Why would I choose to purchase this service?"
Links out to supporting information, documentation, and/or examples. You'll want your services page to be comprehensive. At the same time, you still don't want to overload it. Therefore, it can be helpful to link out to more details on each service, particularly if your offerings are complex. This can include documentation articles or videos explaining specific features, and even examples or case studies demonstrating the service in action.
Finally – and most importantly – you'll need at least one strong Call To Action (CTA). This is a link, button, or sign-up form that tells visitors who are interested in your services what to do next. If all your services come in a single plan or package, you'll probably only need one CTA. However, if customers can purchase services individually, be sure to include a dedicated CTA for each one.
How to write a services page in WordPress
Now you have a clear idea about what your services page should include, all that's left is to put it together. At a basic level, this is a very simple task. You can simply create a new page in WordPress, add in content about your services, and publish it.
In a way, this isn't different from creating any other page on your website. However, as a WordPress user you have a few unique options when deciding how to write a services page. There are a couple of ways you can make this page stand out, and design it so it has the maximum impact possible.
First, you can use a plugin to build your services page. This will provide you with a specially-designed layout, without the need to change your theme. For a perfect example, check out Service Box:
This plugin helps you create a simple yet effective services page. It provides organized sections for each service, along with the chance to link out to further information:
There are also plenty of customization options on offer, and you can add as many services as you'd like. This method is useful if your services are fairly simple to explain. It also works well if you want your services page to serve as a portal directing visitors to individual pages about each offering.
However, If you're looking for a more elegant solution, you can also create a services page using a suitable WordPress theme. This approach means the page is sure to fit in with the rest of your site, and is ideal if you're building a new site or don't mind changing your current theme.
What you'll want to look for is a theme offering clearly-defined page sections, such as Hestia.
With this theme, you can set up a scrolling services page where each offering is featured in its own distinct section:
This layout clearly distinguishes between services that are sold individually. Alternately, it can be used to list out the various features of one specific plan or package. Either way, you'll be able to fully customize every section. You can set a unique background for each, and tweak the designs so they look unique and compelling.
Conclusion
The best way to convince visitors to purchase your services is to clearly explain what you're offering and how it will benefit them. A dedicated services page is an ideal technique for doing this – and it's easy to set up.
By now, you should have a firm grasp on how to write a services page. You'll want to include details, links, and CTAs for each individual service, so potential customers can see what they'll be getting. To make your services page stand out and clearly distinguish between its sections, you may want to create it using a plugin like Service Box, or an optimized business theme such as Hestia.
Do you have any questions about how to write a services page in WordPress? Ask away in the comments section below!
Free guide
4 Essential Steps to Speed Up
Your WordPress Website
Follow the simple steps in our 4-part mini series
and reduce your loading times by 50-80%. 🚀
Free Access