Searching for a solution for how to create a website free of cost?
Having your own website is a great way to reach people via the internet, but you might not have the money to pay for a website right now.
Fortunately, many companies now offer a way to establish a free website. By familiarizing yourself with some of the most popular choices, you can start connecting your ideas with more people.
In this article, we'll start by examining whether a free website is right for you. After that, we'll discuss a few of your options. Finally, we'll show you how to create a website free of cost with two of the most popular platforms. Let's dive in!
📚 Table of contents:
👉 Interested in a more general guide on how to make a website? ← Click here. We walk you through the entire process from the very beginning, until you have a fully functional WordPress website at your disposal.
Deciding whether a free website is right for you
Setting up a website usually requires some amount of monetary investment. Paying for web hosting, a domain name, and premium extras can start to add up quickly. Fortunately, this route is not your only option. You can also create a website free of cost.
The most obvious benefit to the latter approach is the lack of a price tag. Free websites don't require you to invest anything other than your time and effort. Additionally, many free services these days are both advanced and user-friendly. Therefore, you can usually create a beautiful website without paying any bills. Plus, you can always upgrade to paid options down the line if you see fit.
Moreover, a free website can make the design, setup, and creation process a lot simpler. These cost-free page builders don't usually give you much granular control. That means you can worry less about the technological side of operations, and more about the display and content.
Nevertheless, there are some downsides to a free website as well. For one thing, most providers will add their branding to your site. For example, there may be a logo in the corner or a mandatory credit in your website's subdomain.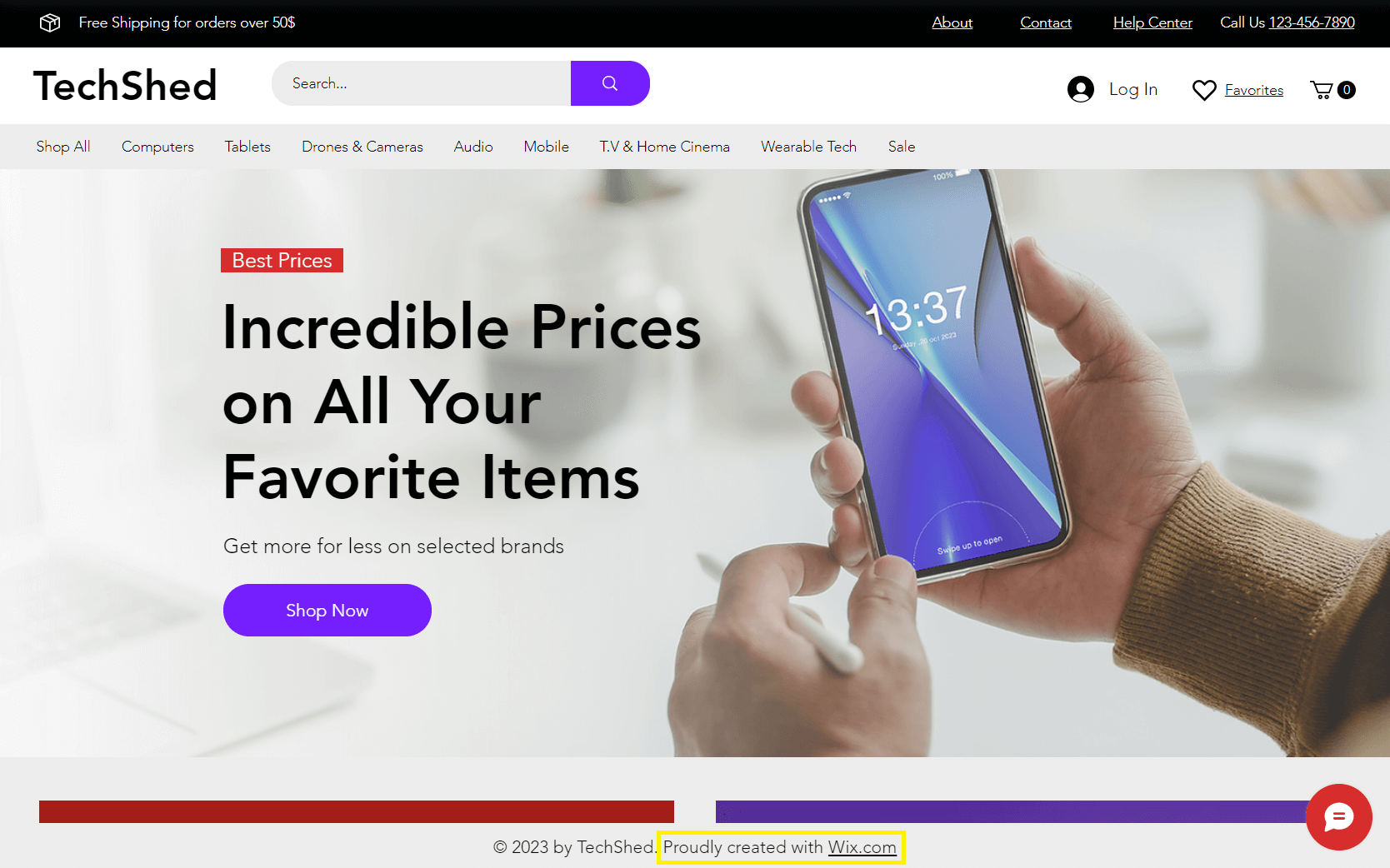 This isn't necessarily a bad thing. However, your site may not feel totally your own. Also, third-party branding and advertisements can sometimes look unprofessional. If your own branding is important to you or your website is business-related, this can be a major negative factor.
You may also find that free website builders' features are rather limited. Simply put, functionality costs money. As such, you may be sacrificing the ability to do things such as fully equip your online store or use an expert-designed theme to make it look unique.
On the other hand, knowing how to create a website free of cost can be invaluable if you're on a tight budget. It can also be the answer if you're not ready to commit to a paid solution or aren't quite sure what kind of site you want to create. Since the process is free, you'll have the opportunity to experiment and try multiple options.
Choosing a platform for your free website
Wix
Wix is known for being a beginner-friendly option:
You can work with over 500 pre-designed templates, using an intuitive drag-and-drop editor to rearrange elements and add new ones. You can also include dynamic features such as animations without a single line of code.
However, Wix's accessibility doesn't mean it's without advanced features. You can choose to start building a site from scratch. Afterward, you can use the basic search engine optimization (SEO) and analytics tools to test your site's performance.
The free version of this platform also enables you to create unlimited pages, albeit with the Wix branding still in place. If you'd like more functionality or to personalize your site, the website builder also offers paid plans, making scaling up simple.
Weebly
Another popular option is Weebly:
If we compare Weebly vs Wix, then Weebly is arguably even more user-friendly. A large part of this is due to its real-time editor. When combined with designs that are ready for mobile use out of the box, getting started with Weebly is simple.
However, this simplicity means you will have less flexibility than you would with Wix. For example, Wix lets you embed audio in three different ways for free. By contrast, Weebly only gives you such freedom on its premium plans.
Weebly does still have some useful cost-free features. You can create unlimited pages, enabling you to build complex sites. If you find that you enjoy using Weebly, you can also upgrade a current site to a premium plan.
Other free website builders
While they're the focus of this post, it's worth mentioning that Wix and Weebly aren't the only two options on the market. If you're interested in an artificial intelligence (AI)-heavy experience, you might also consider using Jimdo. This solution can be used to create both online stores and professional websites:
Alternatively, you might opt for the ultra-simple Site123:
Both of these builders can help you build a basic site in no time. However, because they're not as widely used as Wix or Weebly, it's not as easy to find support and helpful documentation, which can come in handy as you learn how to build your website.
How to create a website free of cost (two methods)
What it's like to build your free website will depend a lot on your chosen platform. The process will be similar from tool to tool, but what you'll have access to and the interface you'll use will vary.
To give you an idea of what to expect, we'll walk through the process on both Wix and Weebly. We'll show you what it looks like to get started with each builder and begin constructing a simple site. Let's get to work!
1. How to create a free website with Wix
Once you've signed up for an account, Wix will provide you with a quiz to learn a little about your needs. The questions are brief and can help tailor your experience. However, you can also skip it if you're not interested:
When you begin editing your first page, you'll have two choices: you can use the Wix Editor or the Wix ADI. The Wix Editor will enable you to jump straight into customizing the site yourself. On the other hand, the Wix ADI will provide an AI-powered builder to help you out.
In general, the Wix Editor gives you more flexibility, while Wix ADI is the simplest option but offers less flexibility because the AI makes choices for you. You can read our full review of Wix ADI editor here, but next, we'll focus on the Wix Editor approach, though.
You'll then be presented with a few template choices:
You can scroll through over 500 options to find your perfect starting point. Once you've chosen your template, you'll be able to access the editor. Here's what the Wix interface looks like:
As you can see, there are two separate menus with multiple features. Right now, we'll cover the three basic operations:
Editing the theme
Adding pages
Including apps.
To change your display, you can navigate to the left-hand menu and select Theme Manager. Wix will then provide options for adjusting basic settings, such as the color scheme and font choice.
If you want to add more pages, you'll once again want to navigate to the left-hand menu. This time, select the tab labeled Pages:
You can either add Main Pages, such as a section describing your services, or Blog Pages to organize your writing. You can also insert page transitions, including cross-fades and other dynamic elements.
Finally, let's look at your options for applications:
Web apps are important because they extend the functionality of your site. They are required for tasks such as accepting bookings or generating analytics. Wix offers several premium apps, but there are also free options.
Once you've adjusted your design, completed your pages, and added some apps, you can click on Publish. This will take your site live! Of course, you can come back and make changes to it at any time.
👉 For a more detailed guide, check out our full tutorial on how to make a Wix website.
2. How to create a free website with Weebly
As with Wix, the first step for how to create a website free of cost with Weebly is to sign up for an account. After that, you'll be asked if you're building a personal or a business site. You can choose your preference to view your theme choices:
You have several categories to select from. When you find a theme you like, click on it. Then you'll choose your domain name (for example, "mysite.weebly.com").
After that, you will arrive at the main editing interface:
As we mentioned earlier, Weebly offers fewer options than Wix. However, this can also make it easier to navigate. Nevertheless, keep in mind that any options marked with a lightning bolt are only available to premium members.
If you want to adjust the overall look of your site, you can navigate to the top tabs and select Theme. That will open up a special menu for personalizing your pages:
From there, you can set different fonts and colors. You can also toggle between a light and dark mode, and add your own custom code. Alternatively, you can select Choose Theme if you want a new template.
Once you're done with that step, you can navigate to the Pages tab. Adding more pages is simple: all you have to do is reorder the existing entries or add new ones from a template. As with the editor, page adjustments work on a drag-and-drop system.
Finally, you can add many different features via apps. To do so, navigate to the Apps tab to bring up a selection of add-ons:
You'll see a screen dividing potential apps by their purpose. Some will be free, and others paid. You can browse by category or search for a specific tool.
When you're all set, you can click on Publish button to make your site available to the public. Once again, you can return to this interface at any time to make changes to your site and add new content.
Create a website for free today
Websites are a vital part of any online presence. There are any number of platforms that can help you build a full-featured and complex site. However, if you're working with few resources and a small budget, you may need to know how to create a website free of cost.
In this article, we covered two of the most popular methods for starting your own free website in 2023:
Wix is a user-friendly option with a wealth of starter templates and customization options. Check out our full Wix tutorial.
Weebly is a simpler yet still powerful alternative to help you get started quickly.
Another option would be to consider free open-source software like WordPress and free website hosting. However, we don't recommend free website hosting for serious websites.
Do you still have any questions about how to create a website free of cost? Let us know in the comments section below!
Free guide
4 Essential Steps to Speed Up
Your WordPress Website
Follow the simple steps in our 4-part mini series
and reduce your loading times by 50-80%. 🚀
Free Access
* This post contains affiliate links, which means that if you click on one of the product links and then purchase the product, we'll receive a commission. No worries though, you'll still pay the standard amount so there's no additional cost on your part.