Are you seeking the best domain registrars to make your dream website a reality?
Whether you're a seasoned entrepreneur or launching your very first website, finding the ideal domain name can feel like searching for a needle in a haystack. That's where we come in! 😎
Just to clarify, domain registrars are companies that sell domain names. And as with any purchase, you want to ensure you're getting your money's worth in terms of:
Price
User-friendliness
Additional services
Customer support
In this blog post, we've distilled the vast market down to a list of the very best domain registrars. Our insights will help you navigate your choices and select the registrar that best fits your needs. You will save valuable time, make a more informed decision, and kickstart your web venture with confidence. Let's dive in!
Best domain registrars in 2023 🥇
If you're running short on time, below is a brief snapshot of our top-rated domain registrars and how much they charge for some of the most popular TLDs on the market right now.
Best domain registrars in 2023

| Registrar | .com | .net | .org | .io | .co | .ai |
| --- | --- | --- | --- | --- | --- | --- |
| Bluehost | $12.99* | $18.99* | $9.99* | N/A | $27.99* | N/A |
| Domain.com | $11.99* | $14.99* | $9.99* | $47.99 | $1.99* | N/A |
| Namecheap | $5.98* | $11.98* | $7.48* | $39.98* | $9.48* | $79.98* |
| Hover | $14.99* | $16.99* | $13.99* | $34.99* | $27.99 | N/A |
| IONOS | $1.00* | $5.00* | $3.00* | $33.00* | $40.00 | $77.00* |
| GoDaddy | $0.01* | $14.99* | $9.99* | $44.99* | $0.01* | $59.99* |
| SiteGround | $17.99* | $19.99* | $19.99* | N/A | $29.99 | N/A |
| OVH | $10.76 | $10.89 | $10.12 | $54.22 | $12.32 | N/A |
Prices with an *asterisk denote first year costs that change upon renewal.
Prices that are highlighted in bold are the cheapest possible price for that TLD among the featured domain registrars. However, it's important to keep in mind the previous point, which is that prices with an asterisk will change after the initial contract term is up.
If you're interested in some of those renewal prices compared to their promo price counterparts, then feel free to jump to the full review of any one of the registrars.
Another thing to keep in mind is that the prices shown are the listed prices as anyone would see them when landing on the websites of each of those registrars – but! – we've arranged discounts for our readers with several of them. This means that if you use our links (in some instances in combination with a coupon code), you will end up paying even less.
Finally, the prices for OVH can be custom quoted in various currencies, but we put the USD equivalent based on recent exchange rates to make it easier to compare.
1. Bluehost (bluehost.com)
Dipping its toes into the domain name business, Bluehost remains more of a maestro in the orchestra of web hosting. As its name subtly suggests, hosting is truly its forte.
Repeatedly gracing the top ranks of web hosting provider lists, Bluehost has crafted a niche for itself in the industry. Its reputation for top-tier hosting services is well-earned and widely recognized.
Now, if your journey has led you here, with a quest for cost-effective domain names coupled with hosting plans, Bluehost might just be a noteworthy stop. The main aspect of their offer that stands out is that they will actually throw in a domain name for free as long as you're ready to buy one of their web hosting plans.

Bluehost pricing 💰
The prices are industry standard. However, what makes this a great deal is the fact that you get a free domain name for the first year with even the cheapest hosting package (which starts at $2.75/month upfront). Otherwise, if you only want to purchase a domain name (sans web hosting), the first year prices are as follows:
Domain prices at Bluehost

| .com | .net | .org | .io | .biz | .info | .blog | .tech |
| --- | --- | --- | --- | --- | --- | --- | --- |
| $12.99; $21.99 renewal | $14.99; $22.99 renewal | $9.99; $20.99 renewal | $11.99; $60.99 renewal | $9.99; $26.99 renewal | $11.99; $31.99 renewal | $22.99; $24.99 renewal | $4.99; $69.99 renewal |
We're assuming that most of you reading this are searching for domain registrars because you want to buy a domain name so you can build a website, not just so you can park it or flip it for a profit.
In short, we're assuming that you're going to need web hosting and will be more likely to go that route. Thus, the more immediate price to focus on is actually the hosting price, which is already low to begin with, but if you use one of the Bluehost promo links on this page, it'll be even lower.
More specifically, by going through them, two things will happen: (1) they are affiliate links, which means that we receive a small commission if you buy through them, (2) it will unlock a $2.75 vs $3.95 discounted price for you. You won't get this discount if you visit the Bluehost site in any other way.
Ease of use 🚦
It's easy to purchase your first domain name on Bluehost. We like their easy-to-use, beginner friendly interface, and the fact that they aren't aggressive with their upsells.
Additional services that Bluehost offers ➕
Web hosting (they even have a discounted plan for WordPress users – this comes with a free domain and a free SSL certificate thrown in)
Marketing and website design services
Auto-renewal, which ensures that your domain name won't expire
Read our Bluehost review for more on their hosting offerings.
Customer support 🤝
While Bluehost isn't the worst when it comes to customer service, there are quite a few complaints floating around online. In our WordPress hosting survey, they scored a 3.2 out of 5, which was near the bottom of the most popular hosts.
Again, this support score is for hosting specifically (not domain registration), but it does give you a good idea of what type of support you can expect.
Stepping into the world of domain registrars, Domain.com emerges as a standout contender. With a veritable buffet of services and features, they're more than just a registrar!
In fact, they offer over 300 unique top-level domains (TLDs) – both classic (.com) and more original ones (.store).
Domain.com also goes the extra mile to guard your confidential details with their domain privacy and protection package.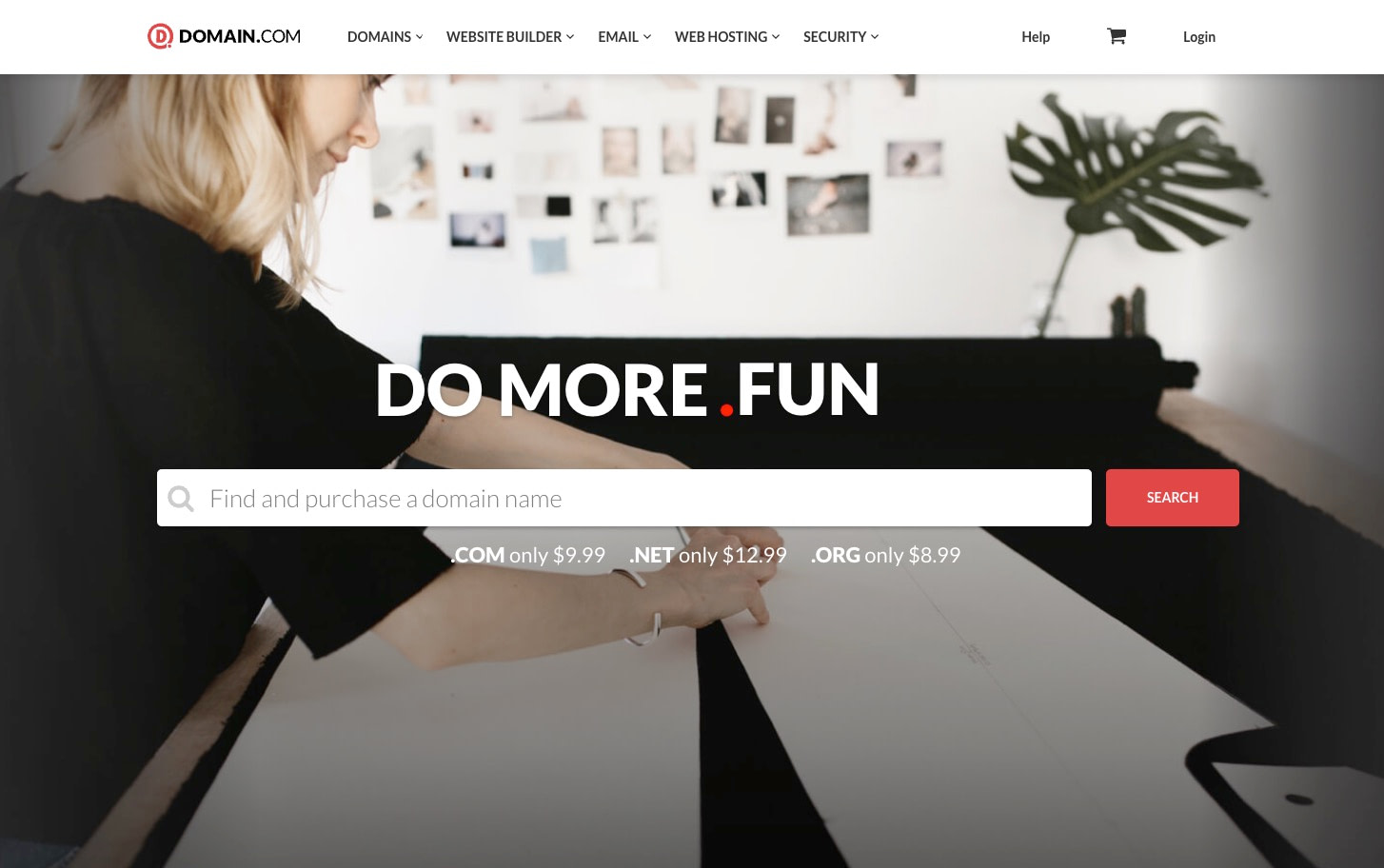 Domain.com Pricing 💰
When you make any purchase on Domain.com via our link, you get an exclusive discount and we receive a small commission in exchange.
🎯 Use coupon code: DOMAINWHEEL.
The TLD prices listed below are the normal prices, without the discount code. So as you can see in the screenshot, if you opt for a .com domain name, you'll pay $8.99 instead of the normal $11.99 with our link and coupon code.
Domain.com's pricing is also somewhat unique in that their .com promotional price lasts for two years before increasing. This behavior is out of ordinary for the domain name industry. Most domain registrars usually increase any promotional prices at the end of the first year or otherwise keep them the same.
Domain prices at Domain.com

| .com | .net | .org | .io | .de | .ru | .it | .shop |
| --- | --- | --- | --- | --- | --- | --- | --- |
| $11.99* $16.99 renewal | $14.99; $14.99 renewal | $9.99; $14.99 renewal | $47.99; $47.99 renewal | $39.99; $39.99 renewal | $28.99; $28.99 renewal | $14.99; $14.99 renewal | $32.99; $32.99 renewal |
*Lasts for the first two years.

Ease of use 🚦
The Domain.com checkout process is relatively simple but does feature an obnoxious number of upsells. They also have the base time for a domain purchase set at two years, so you'll need to adjust it manually if you want to purchase a domain name for only one year.
Additional services ➕
Domain.com offers web hosting services, including their own custom Website Builder. However, these services are not recommended. If you go through Domain.com for your domain, we strongly recommend looking elsewhere for web hosting.
Customer support 🤝
According to the reviews, Domain.com customer service is slow to respond when they do respond at all [1]. These reviews are based on the hosting products, but provide good insight into how customer support will work with you if you buy a new domain from this source.
3. Namecheap (www.namecheap.com)
Namecheap was established more than two decades ago (in 2000) and since that time it has grown to become one of the best domain name registrars on the market. Over the years, it has also diversified its offerings, adding services like web hosting, SSL certificates, and VPN solutions.
With its user-friendly interface and commitment to customer privacy, Namecheap has become a favorite choice for many individuals and businesses worldwide. If you're looking to register a cheap domain name, then Namecheap has to be on your shortlist.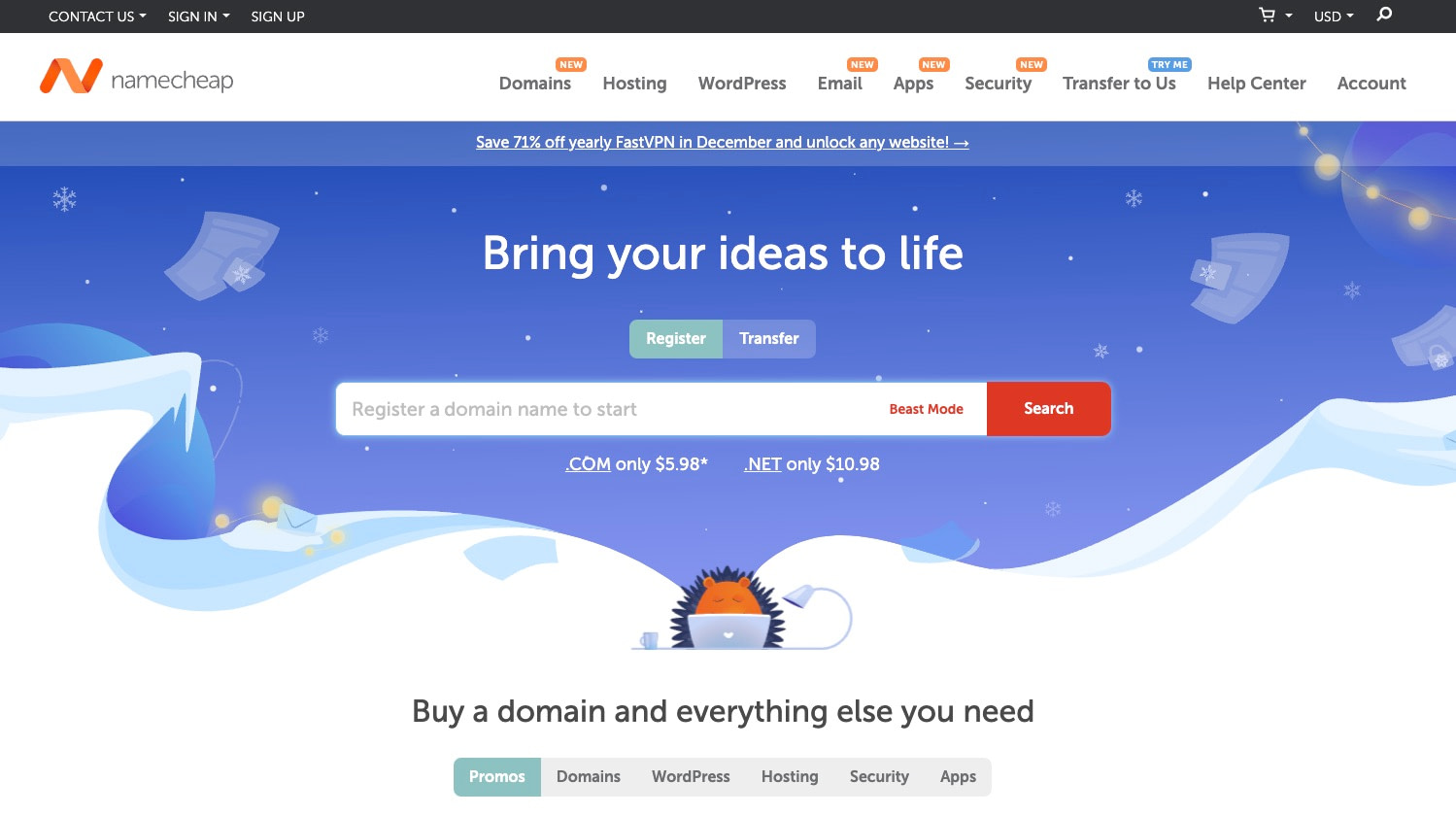 Namecheap pricing 💰
The prices for Namecheap's domain name extensions (TLDs) are:
Domain prices at Namecheap

| .com | .net | .org | .io | .me | .co | .dev | .blog |
| --- | --- | --- | --- | --- | --- | --- | --- |
| $9.58; $14.58 renewal | $11.98; $14.98 renewal | $7.48; $14.98 renewal | $39.98; $44.98 renewal | $8.98; $20.98 renewal | $9.48; $28.98 renewal | $12.98; $16.98 renewal | $4.98; $25.98 renewal |
If you register a .com domain with Namecheap, they'll also throw in domain privacy – whois privacy protection for free. A lot of people don't like publicly exposing their contact information, so this is a nice bonus.
Ease of use 🚦
Buying a new domain name on Namecheap is easy-peasy. First, they have a really good domain search tool.
The checkout process is simple and straightforward, and unlike GoDaddy, Namecheap doesn't try and jam in as many upsells as possible.
Namecheap's domain management panel is also simple and intuitive, so they get extra brownie points there.
Additional services that Namecheap offers ➕
Namecheap also offers:
Web hosting. Namecheap offers 1-click installation for WordPress with most of their hosting plans. They also offer managed WordPress hosting
VPN Services to help you retain your privacy
Namecheap makes available a variety of website apps, including site builders, SEO and ecommerce tools, and many more
Customer support 🤝
First things first: Namecheap only offers 24/7 live chat, so you can't call in using a phone number provided on their website.
Most folks say that the live chat function is easy to use, and they get their inquiries answered in less than a day.
Namecheap also has a Status Updates blog where they keep all their customers in the loop about their scheduled maintenance and other issues.
4. Hover (www.hover.com)
Hover is a relatively new domain seller that bills themselves as the place "Where the internet's best ideas get named". That claim is somewhat subjective, but the appeal of Hover can't be denied: they are a simple company that does one thing – selling domains and associated email accounts, really well.
Hover pricing 💰
The prices for Hover's domain name extensions (TLDs) are:
Domain prices at Hover

| .com | .net | .org | .io | .de | .tech | .info | .shop |
| --- | --- | --- | --- | --- | --- | --- | --- |
| $14.99; $16.99 renewal | $16.99; $18.99 renewal | $13.99; $15.99 renewal | $34.99; $49.99 renewal | $14.99; $14.99 renewal | $4.99; $54.99 renewal | $4.99; $24.99 renewal | $4.99; $39.99 renewal |
Ease of Use 🚦
Hover is a company devoted to simplicity, and it shows in their checkout process. There are no upsells whatsoever during the purchase process, and they accept a myriad of payment methods including a variety of credit cards, PayPal, and Apple Pay.
Additional services ➕
Hover does provide email addresses with their domains, which is great if you need professional email for your business, but offers no other services at this time.
Customer support 🤝
Hover allows customers to reach out to them via phone, email, and offers live chat support. However, their customer service representatives are only available from 8AM-8PM Monday-Friday and 12-5PM Saturday and Sunday (all times are EST). This may be an issue if you live in a different time zone.
5. 1&1 IONOS (www.ionos.com)
IONOS, formerly known as 1&1, is a global web hosting and domain registrar company established in 1988 in Germany. Renowned for its comprehensive suite of online services, IONOS offers domain registration, web hosting, cloud services, and other online applications.
With a strong emphasis on reliability and scalability, the company has grown to become one of Europe's best domain registrars. Their rebranding to IONOS in 2018 underscored a renewed focus on cloud services and a commitment to customer support excellence.
IONOS pricing 💰
IONOS offers competitive pricing for domain registration, often starting with promotional prices as low as $1 for the first year for some domains. However, regular rates can start at around $10 to $15 for generic top-level domains (gTLDs) like .com, but they can vary based on the domain extension. It's worth noting that while their primary focus includes hosting and cloud solutions, they are a significant player in the domain registration space.
Having your domain and hosting under the same provider can be convenient for some, making IONOS an attractive choice for those seeking bundled services.
Domain extension pricing with IONOS is as follows:
Domain prices at IONOS

| .com | .net | .org | .io | .de | .blog | .tech | .shop |
| --- | --- | --- | --- | --- | --- | --- | --- |
| $1.00; $17.00 renewal | $5.00; $20.00 renewal | $3.00; $20.00 renewal | $33.00; $60.00 renewal | $9.00; $15.00 renewal | $6.00; $40.00 renewal | $3.50; $70.00 renewal | $50.00; $50.00 renewal |
Ease of Use 🚦
Navigating the IONOS website is relatively straightforward. When you're looking to purchase a domain or manage your existing domains, their control panel and dashboard are user-friendly, ensuring that even beginners can handle their digital assets with ease.
Additional services ➕
Web hosting (shared, dedicated, VPS, and more)
Email hosting and solutions
Website builder
Cloud solutions
SSL certificates
And other digital products
Customer support 🤝
1&1 IONOS takes customer support seriously.
They offer 24/7 support through various channels, including phone and live chat. For those who prefer self-help solutions, they also maintain an extensive knowledge base, covering a range of topics related to domains, hosting, and other services.
Over the years, IONOS has built a reputation for prompt and helpful customer service, ensuring that clients have the resources they need to tackle any challenges they encounter.
6. GoDaddy (www.godaddy.com)
GoDaddy is one of the largest ICANN-accredited domain registrars, and it's pretty much a household name. Catering to millions of customers globally, GoDaddy not only offers domain registration but also provides a plethora of solutions including web hosting, website builders, and digital marketing services, making it a one-stop-shop for many online businesses and entrepreneurs.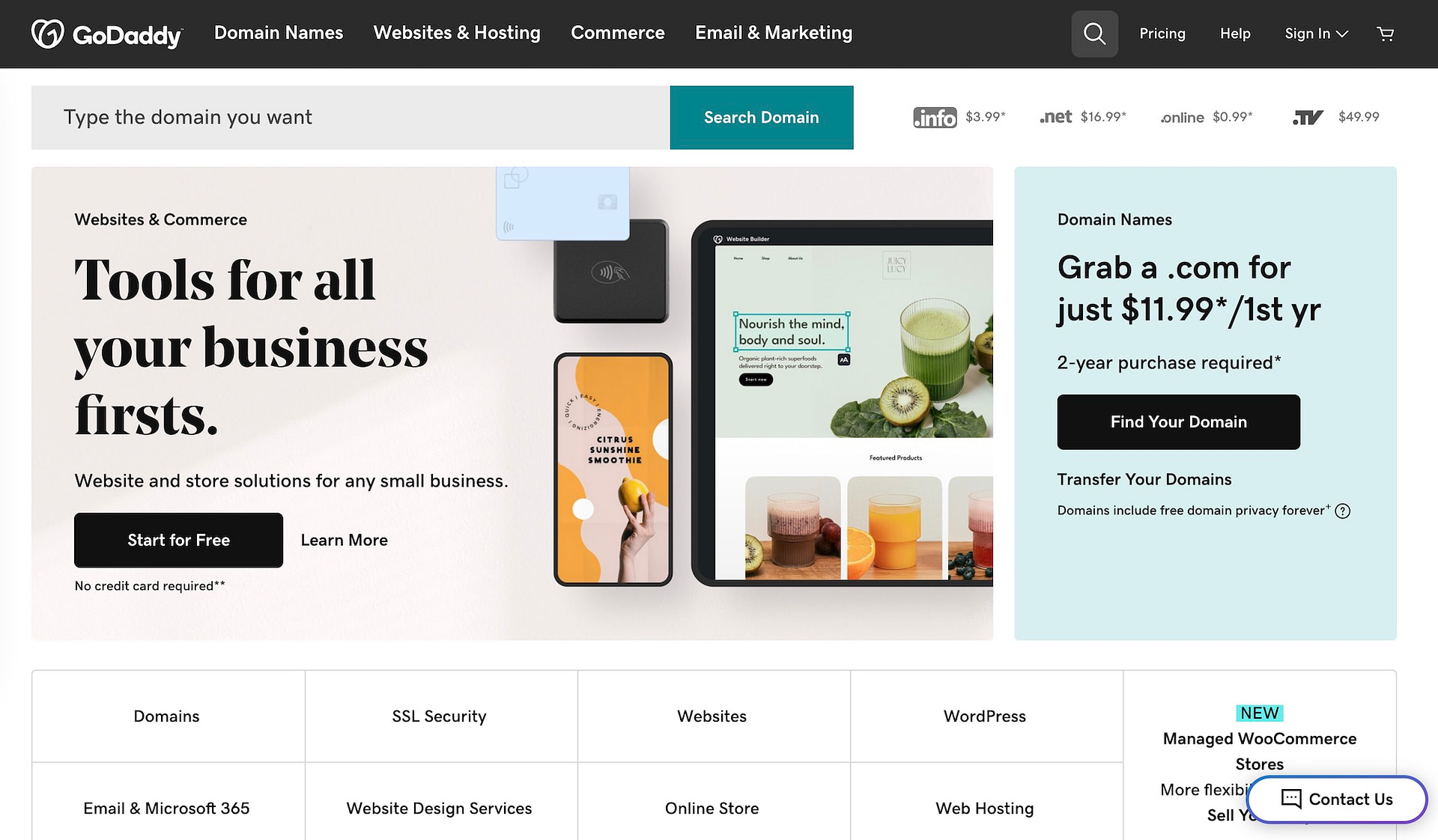 But is it a good fit for you? Let's find out!
GoDaddy domain pricing 💰
The prices for GoDaddy are:
Domain prices at GoDaddy

| .com | .net | .org | .io | .de | .blog | .it | .shop |
| --- | --- | --- | --- | --- | --- | --- | --- |
| $0.01; $21.99 renewal | $14.99; $22.99 renewal | $9.99; $22.99 renewal | $44.99; $62.99 renewal | $9.99; $9.99 renewal | $4.99; $39.99 renewal | $14.99; $14.99 renewal | $1.49; $44.99 renewal |
Ease of use 🚦
We're not big fans of the checkout process at GoDaddy…
Namely because there are so. Many. Upsells.
Seriously, though – you'll get bombarded with upsells at every turn, and it gets really frustrating.
Additional services that GoDaddy offers ➕
GoDaddy also offers these services:
Bulk domain name purchasing.
Purchasing domain names that are already taken (or attempting to, at least), which may come in handy when you're willing to pay for a popular domain or a top level domain name.
GoDaddy also has a directory of premium domains.
Web hosting. If you're getting hosting from GoDaddy, they provide 1-click installation for WordPress. You won't need to go through the hassle of installing WordPress manually!
Customer support 🤝
While GoDaddy prides themselves on being the "World's #1 ICANN-accredited Domain Registrar", many would beg to differ.
They've gotten a lot of terrible reviews based on their customer service. For example, in our WordPress hosting survey, GoDaddy ranked near the bottom in terms of support quality. While that survey did deal specifically with hosting, rather than just domain registration, it is a good indicator of the overall reputation GoDaddy has for customer service.
Like Bluehost, SiteGround is primarily a web host, but they do offer domain name registration services as well.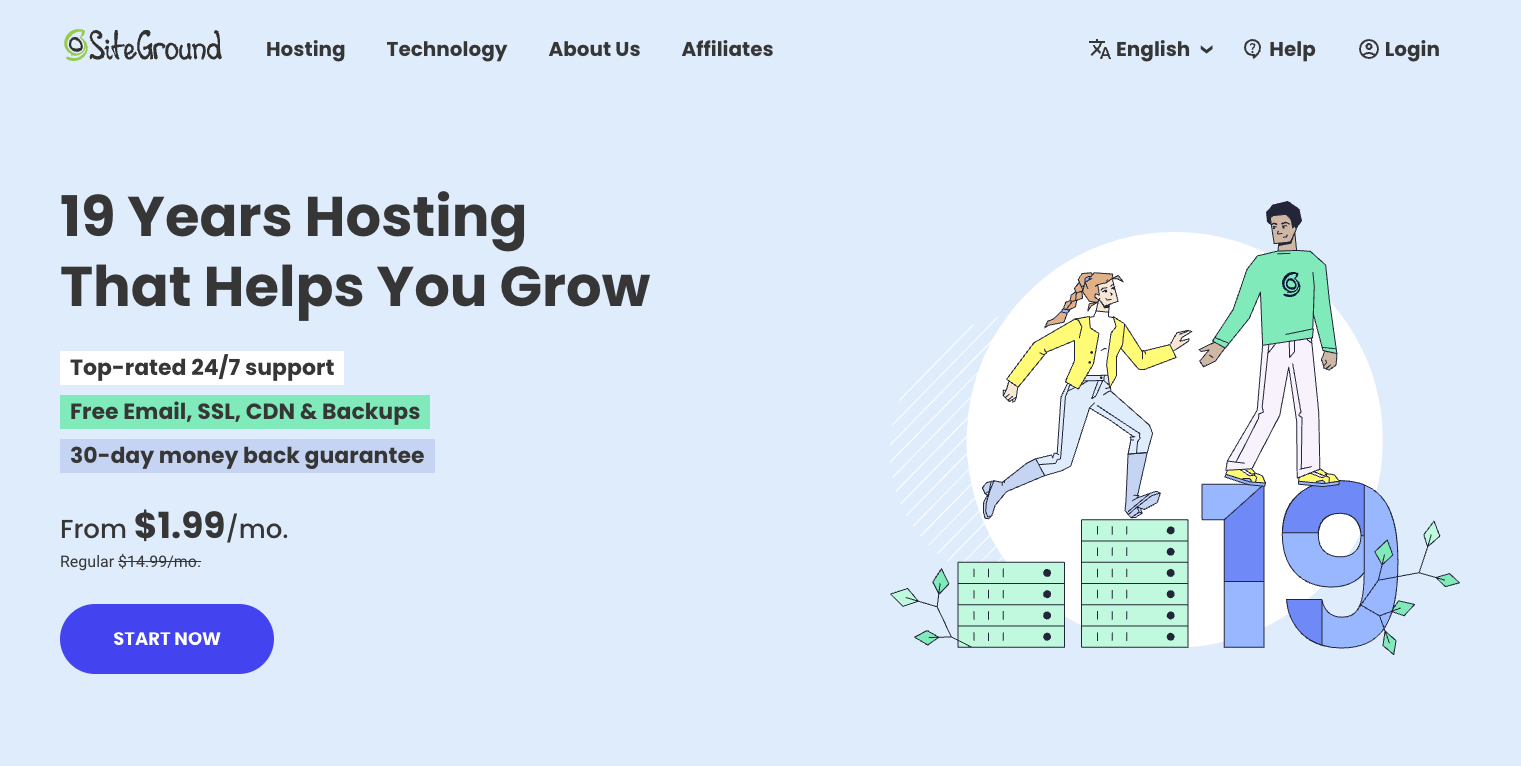 SiteGround pricing 💰
SiteGround doesn't have the best pricing; their domain names start at $14.99+ per year. As we said, their primary business is hosting, not selling domains!
With that being said, if you're not comfortable working directly with nameservers, the extra money might be worth it for the convenience of having your domain name and hosting in one workspace. SiteGround is one of the best domain registrars that also offers hosting.
Domain prices at SiteGround

| .com | .net | .org | .blog | .cc | .coffee | .me | .shop |
| --- | --- | --- | --- | --- | --- | --- | --- |
| $17.99; $19.99 renewal | $19.99; $21.99 renewal | $19.99; $21.99 renewal | $34.99; $34.99 renewal | $47.95; $70.95 renewal | $25.99; $40.99 renewal | $19.99; $19.99 renewal | $39.99; $39.99 renewal |
Ease of use 🚦
SiteGround's website is neatly laid out, and you won't encounter much trouble purchasing a domain. Their domain management panel is intuitive to use as well.
Additional services that SiteGround offers ➕
Web hosting
Email hosting
Read our SiteGround review for more on their hosting offerings.
Customer support 🤝
When it comes to customer support, SiteGround is pretty all-rounded.
Their support channels are available 24/7, and you can contact them via phone or live chat, or submit a ticket. They also have an extensive knowledge base.
In our WordPress hosting survey, SiteGround scored a 4.7 out of 5 for support, which was by far the highest score at its price point. So if support is a big thing for you, that's another mark in SiteGround's favor.
8. OVH (ovhcloud.com)
OVH is the #1 domain registrar in Europe, with some limited service in other parts of the world (namely Africa, Asia, and Australia). If you happen to be based in the UK or you access their website using a UK-based IP address, then you will be redirected to a subsidiary company and slightly different URL (www.ovh.co.uk).
Assuming that you reside in Europe (or in one of OVH's other service areas), then this is one of the best domain registrars for you.
OVH pricing 💰
Because OVH serves several global markets, you can view their prices in a range of languages and currencies, ranging from Euros to West African francs, and from Singaporean dollars to Polish złoty.
If you're in the UK, you'll naturally be quoted in British pounds.
All domain names come with a free email address (+ 5GB of storage space), a Whois Obfuscator, a Domain Name System Security Extension (helps with avoiding malware), and DNS management.
Ease of use 🚦
It's straightforward enough to navigate OVH's website and purchase a domain name. You can easily choose your region of the world and OVH will automatically load up a version of their domain registration services in the language and currency of that location.
Their domain management panel is also decent – no major problems there. With that being said, the management interfaces and the level of support offered vary by location which can be inconvenient for some multinational customers.
Additional services that OVH offers ➕
In addition to domain names, OVH also offers:
Web hosting. (There's the option of purchasing an add-on called DNS Anycast, which redirects your visitors to the DNS server that is the closest to them.)
Customer support 🤝
We didn't manage to dig up a ton of reviews about OVH, but the ones that we did find talk about how OVH isn't very responsive. Response times can be slow and it may take 24 hours or more to get in touch with someone.
Domain registrars FAQ 🙋
What is a domain name registrar and how does it work?

A domain name registrar is an organization accredited by ICANN (Internet Corporation for Assigned Names and Numbers) or a national authority, responsible for registering domain names. They act as an intermediary between the person registering the domain and the domain name system, managing the reservation of domain names and ensuring their uniqueness.
What is ICANN accreditation?

ICANN accreditation means that the Internet Corporation for Assigned Names and Numbers (ICANN) has officially granted you the permission to register domain names – meaning to perform the function of a domain name registrar.

All of the names on our list are ICANN accredited. It's an absolute minimum baseline requirement if you want to be considered as one of the best domain registrars.
Why is it important to choose a reputable domain name registrar?

Selecting a reputable registrar ensures that your domain registration is secure, stable, and free from potential disputes or conflicts. Top-tier registrars often provide additional features, such as advanced DNS settings, domain protection, and 24/7 customer support.
How do I transfer my domain name to a different registrar?

Transferring a domain usually involves unlocking the domain at the current registrar, obtaining an authorization code (often called an EPP code), and then initiating a transfer request at the new registrar using that code. The process can vary slightly between registrars, but the basic steps remain consistent. It's also crucial to ensure that the domain's contact email is accessible, as confirmation emails are typically sent during the process.
Do domain registrars also offer web hosting services?

Many domain registrars offer web hosting services as an additional product, allowing customers to both register a domain name and set up a website on it. However, the quality and features of hosting services can vary widely between registrars, so it's essential to review the offerings and determine if they fit your specific needs.
How long does it take for a new domain registration to become active?

After registering a new domain, it generally takes anywhere from a few minutes to 48 hours for the domain to become fully active and accessible worldwide. This period is known as DNS propagation, during which servers around the world update their caches with the new domain's DNS information.
What is the "registrar of record" for a domain?

The "registrar of record" refers to the domain registrar with whom a specific domain name is currently registered. This is the company responsible for managing the domain's registration and renewal processes. When you perform a WHOIS lookup for a domain, the registrar of record will be listed, indicating which organization currently manages that domain's registration details. If you ever wish to transfer your domain to a different company, you'd be transferring it away from the current registrar of record to a new one.
Final thoughts on the best domain registrars 💭
If you ask us, the best domain name registrar (by far!) is Namecheap.
They have great customer service, some of the cheapest domain registration options in the industry, and they're an easy choice!
If you want to manage hosting and domain both from one place, we recommend Bluehost.
There are of course other solutions that either specialize in domain name registration or allow you to buy domains in addition to other services. These are HostGator, NameSilo, DreamHost, Squarespace Domains – just to name a few.
💡 Quick tip. Keep in mind that domain renewal prices may vary (usually are higher) than the price for the first year.
And if you need help coming up with a domain name to register, check out our posts on domain name generators, domain extensions, and how to choose a domain name.
Now over to you – have you used any of the best domain registrars featured here? What was your experience? Drop us a comment to let us know!
Free guide
4 Essential Steps to Speed Up
Your WordPress Website
Follow the simple steps in our 4-part mini series
and reduce your loading times by 50-80%. 🚀
Free Access
* This post contains affiliate links, which means that if you click on one of the product links and then purchase the product, we'll receive a small commission. No worries though, you'll still pay the standard amount so there's no additional cost on your part.