Wondering what is GoDaddy? When you think of building a website, what are some of the first services that come to your mind?
I bet many of you think of GoDaddy.
This is because GoDaddy spends plenty of money on (sometimes controversial) advertising. But what exactly is GoDaddy? What do they offer?
Founded in 1997, GoDaddy today offers tools for building professional websites. They are arguably the world's most popular domain registrar and web hosting company.
Apart from domain registration and hosting, GoDaddy also offers a wide range of other services like ecommerce solutions, SSL certificates, professional business email, website builder, etc.
If you have never built or operated a website before, GoDaddy's offerings can sound very unfamiliar, even puzzling. Many novice business owners and hobbyists end up buying bundles under the mistaken belief that all these options are essential for operating a website.
This is a costly mistake.
In this article, we will dive deep into some of GoDaddy's primary offerings. Consider spending a few minutes going over them. It could save you a considerable amount of money in the long run.
An introduction to GoDaddy services 💻
There are eight main services that they offer. Those are:
We are going to look at each service in some detail along with their pricing structure.
Still with me? Great! Let's dive in…
1. Web hosting
In a nutshell, web hosting is a service that sells web server spaces to individuals and organizations enabling them to build websites on the server.
The server is basically a hardware located somewhere in the world. All your website files, like images and code, are stored there.
If you have ever Googled hosting services, you'll quickly find out that there are four different types of hosting: shared, dedicated, VPS, and reseller hosting. They differ in terms of the server space, infrastructure of the data center, website management level, and additional resources.
GoDaddy offers all four types of hosting. Below, we are going to take a quick look at each plan. For a deeper dive, check our GoDaddy hosting review.
GoDaddy's shared hosting plans are perfect for small websites that don't require ultimate server performance. In this type of hosting, you will be sharing your server spaces with other websites. It'll cost you $11.99 per month.
| | Economy | Deluxe | Ultimate |
| --- | --- | --- | --- |
| Price | $2.99/mo | $15.99/mo | $20.99/mo |
| Websites | 1 | Unlimited | Unlimited |
| Processor | Standard Performance | Standard Performance | Increased Processing |
| Storage | 100 GB storage | Unlimited | Unlimited |
| Databases | 10 | 25 | Unlimited |
| Bandwidth | Unlimited | Unlimited | Unlimited |
| Domain | ✅ | ✅ | ✅ |
| Microsoft 365 | ✅ | ✅ | ✅ |
| Professional Email | ✅ | ✅ | ✅ |
| DNS | ❌ | ❌ | ✅ |
| SSL Certificate | ❌ | ❌ | ✅ |
With GoDaddy's VPS hosting plan, you get the server configured according to your needs. Naturally, it offers higher performance than shared hosting and is also more expensive. The basic plan starts at $9.99 per month which can go up to $86.09 for higher plans.
The dedicated hosting plan offers the highest performance possible. You have full control over the server. This is the most expensive type of hosting service. The lowest plan starts at $159.99 per month. Higher plans can climb up to $500.
Finally, the reseller program enables you to sell GoDaddy servers as your own to your clients at whatever price you want. There are two reseller plans. In the basic one, you can host up to 25 client websites, and it'll cost you $9 per month. The pro plan costs $15. It's designed for hosting unlimited customers.
2. WordPress hosting
GoDaddy offers WordPress optimized shared hosting services, as most popular web hosting providers do. This is ideal for those who are comfortable managing WordPress websites. WordPress comes pre-installed along with plenty of themes and plugins to choose from.
In case you are wondering if WordPress hosting is better than a regular shared hosting plan: probably not. This particular hosting service is designed to make it easy for you to build and manage a WordPress website. Performance-wise, it's not very different from regular shared hosting.
You can go for regular web hosting and install WordPress later…that should work just fine.
Unsure about whether you need web hosting or WordPress hosting? This guide will help you.
It is important to note that GoDaddy's WordPress hosting plans are limited to a single install. And the pricing starts at $11.99.
If you are not sure what type of WordPress hosting you need, this article will help you make up your mind: types of WordPress hosting plans.
3. Domain registration
A domain name is the address that people type into their browser to visit your website. Although the internet is full of domain names with the .com extension, there are plenty of other domain extensions to choose from like .biz, .club, .net, .today, .xyz, .email, .group, .company, .org, and more.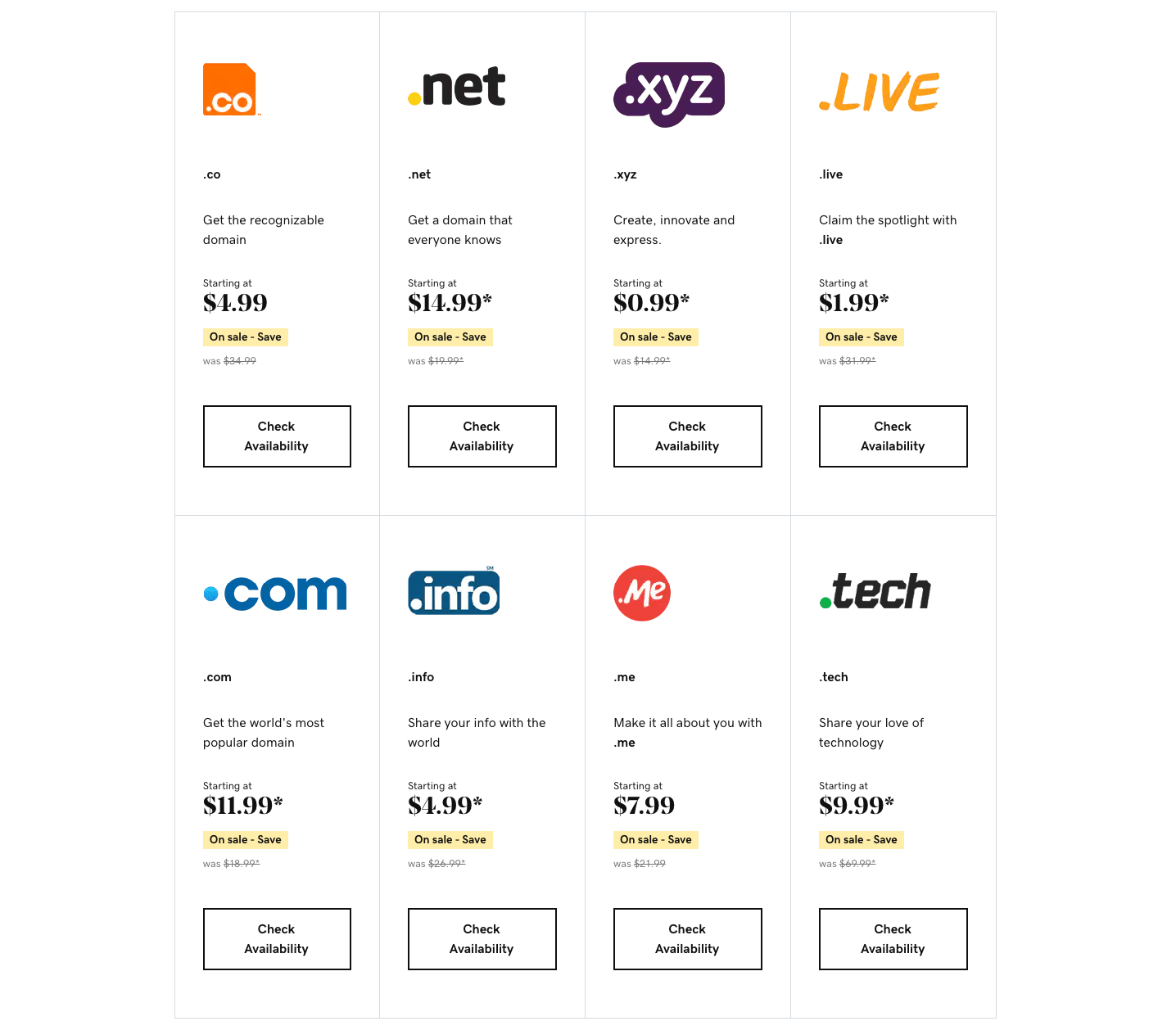 GoDaddy offers domain protection against threats, like domain hijacking, accidental expiration, and data exposure. Basic privacy protection is free of charge, but you can upgrade to any of the two higher plans that cost $9.99 and $19.99, respectively. Learn more: types of domain protection.
You get one free domain name with any hosting plan you buy from GoDaddy. But you'd need to renew it at $11.99 every year.
That said, you do have the option to buy a standalone domain name. It will cost you $11.99 for the first year and then $17.99 for renewal. Generally speaking, a .com domain name will be costlier than, say, a .biz domain name.
4. Ecommerce solutions
GoDaddy's ecommerce solution helps users build an online store. It's basically a combination of GoDaddy's hosting plan and a pre-installed WooCommerce. If you don't know anything about it, WooCommerce is a free WordPress plugin that helps transform a regular WordPress website into an online store.
With GoDaddy's ecommerce solution, you can sell unlimited products in your store, manage your customers, and track your revenue. You can use tools for SEO, Google listing, product promotion, and building subscribers list.
GoDaddy supports popular payment gateways, like PayPal, Stripe, and Square. It does not charge any transaction fee. You can try out their service for 30 days. Following which, you will need to pay $24.99.
If you want to learn more about GoDaddy's ecommerce solution, you can talk to the support team.
Want to start an online store? Here are two useful guides: how to start an online store and create an ecommerce website (video).
5. Website builder
As the name suggests, a website builder is a tool that enables you to create the website you envisioned.
GoDaddy's visual website builder offers many templates to choose from. You can modify the template with the help of the drag-and-drop option.
We had a chance to try out the visual builder ourselves. Check out our review: GoDaddy website builder reviewed.
You can try out the website builder for free but when you are ready to launch the website online, you will need to upgrade. The pricing starts at $6.99.
6. SSL certificates
SSL is a digital certificate that authenticates the website's identity. In simpler terms: it ensures that a website is secure enough to be navigated.
You must have come across websites labeled as "Not Secure" by Chrome. An SSL certificate will not only remove the label but also display a lock representing security.
Post-2015, SSL has become a standard for websites. We strongly advise that you get one for your website. Some of GoDaddy's higher hosting plans like Ultimate and Ecommerce offer SSL certificates for free. You can also buy a standalone certificate. A basic one will cost $64.
You may want to follow this guide to learn how to install an SSL certificate.
7. Professional email
Besides hosting web servers, GoDaddy hosts an email service so you can have a professional-looking email, like media@skatergirl.com, instead of the generic skatergirl@gmail.com. The basic plan starts at $6 per user.
8. Microsoft 365
You probably already know that Office 365 is a service offered by Microsoft in which you get to access tools like Word, Excel, PowerPoint, Skype, OneDrive, among others. Along with the professional email, Microsoft 365 is a perfect bundle for businesses. Pricing starts at $8 and renews at $11.
What next? 🤔
That's pretty much it for this one. By now, you should have an idea of what GoDaddy offers and hopefully you would have figured out if you want to use their services.
GoDaddy is one of the most popular hosting and domain companies on the web. They can help you host any type of website and also take care of your email and other online needs.
If you do decide to work with GoDaddy, the following tutorials will help you get your site off the ground:
If you have any questions about GoDaddy, feel free to drop them in the comments section below.
Free guide
4 Essential Steps to Speed Up
Your WordPress Website
Follow the simple steps in our 4-part mini series
and reduce your loading times by 50-80%. 🚀
Free Access