Considering using Kinsta to host your WordPress site? In our hands-on Kinsta review for WordPress, we'll share our thoughts on this popular host.
Kinsta is a WordPress-specific host, providing managed plans with plenty of bells and whistles. At the same time, it's not exactly cheap. The question is – will this hosting provider be worth its cost?
To help you answer this question, we've put together a full Kinsta review for WordPress. We'll cover what features are included, the performance and support you can expect, and what you'll need to pay. Let's jump right in!
⚙️ Kinsta review for WordPress: features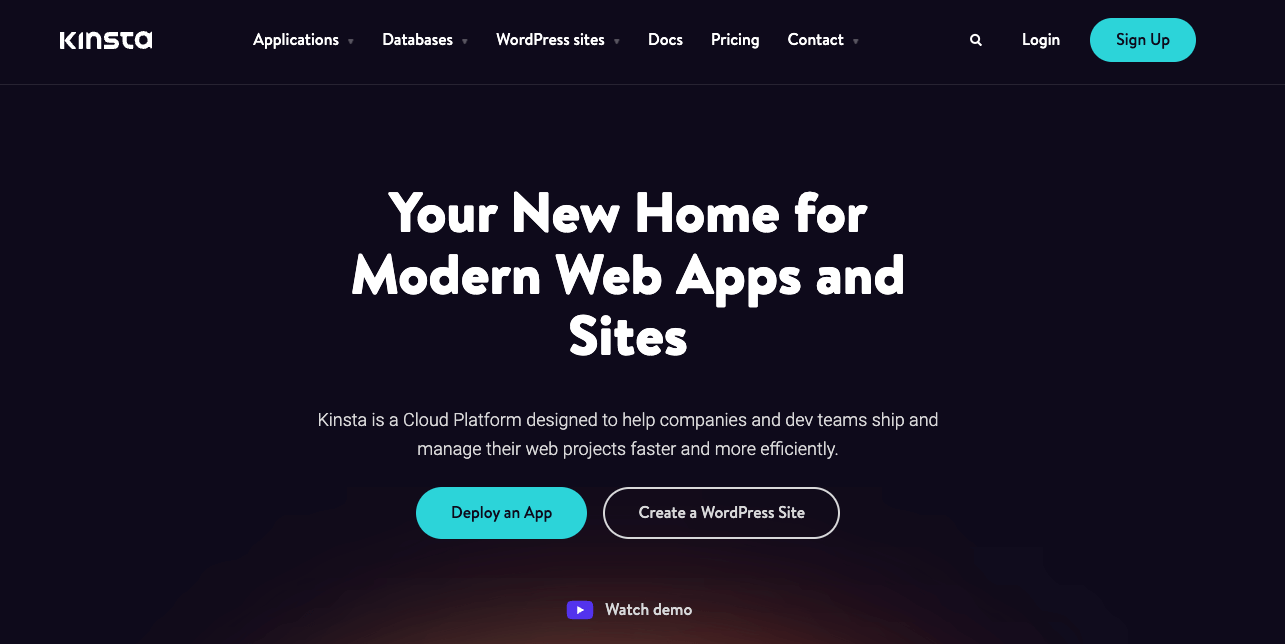 Some hosting providers try to do it all. Kinsta, on the other hand, has a very specific focus. This provider offers a single set of plans, all of which are WordPress-specific.
The plans are also fully managed, which means you can be very hands-off when it comes to setting up and maintaining your site.
Kinsta is a cloud WordPress hosting, which means that it doesn't have its own data center with its own servers. Instead, all of its plans are powered by the premium tier of Google Cloud Platform, which is the same infrastructure that Google uses to power its own products.
As for features, Kinsta has quite a bit to offer. This includes:
A custom dashboard, where you can view site stats and analytics.
Automatic daily backups, along with the option to back your site up manually.
A staging area for testing changes to your site.
Free migrations from WP Engine, SiteGround, Flywheel, & more.
A free SSL certificate.
Various security features, such as Google Cloud firewalls and uptime checks.
Secure Shell (SSH) access to your site for development tasks.
Included CDN bandwidth via KeyCDN.
All of these features are included even on the basic Starter plan. This feature set provides you with a lot of the tools you'll need to create and manage your site right away, minimizing the need for external solutions (and getting you up and running fast).
👐 Support options
Even though your Kinsta site will be managed, you're still going to need assistance and advice from time to time. Access to knowledgeable and reliable support is therefore a must-have.
Kinsta provides a number of support options, including email and live chat through your dashboard. As part of our Kinsta review for WordPress, we tested the latter:
The support team was quick to respond, helpful, and generally able to point us in the right direction.
There are also plenty of resources to help you in a more hands-on fashion. These include a knowledge base, a selection of comprehensive guides on key topics, and an active blog. All three are well-written and contain lots of useful advice and tips.
📈 Performance
Now, we come to what might be the most important part of our Kinsta review for WordPress. Top performance is vital on any site – at least if you want to retain visitors and provide a strong User Experience (UX).
It's particularly important to check out what a managed provider offers in terms of performance. After all, they'll be the ones largely in control of keeping your site running smoothly. Fortunately, Kinsta covers the basics, such as:
And again, the underlying infrastructure is Google Cloud Platform, which gives you the reliability and performance of Google's network.
Another benefit of Google Cloud Platform is that you can choose from 20 different data centers, which is way more than most hosts offer. These data centers are located all across the globe. You can select from many European locations, a number of US and Canadian cities, and even far-flung places, such as Brazil, India, and Australia.
By having the option to select your data center, you can position your site's 'home' close to the bulk of its users. This is a handy way to reduce loading times and keep performance tight.
Page speed tests with Pingdom
So, how do all those features fare when put to the test? For the next stage of our Kinsta review for WordPress, we set up a testing site of our own. Then we used Pingdom Tools to measure its loading times from a variety of locations. Our results are as follows (each number is the average of three tests):
San Francisco: 1.92 seconds
Washington D.C.: 1.79 seconds
London: 1.25 seconds
Frankfurt: 4.75 seconds
While serviceable, these times are nothing to write home about. However, the first three do stay under the golden two-second mark, with the Frankfurt time lagging behind (likely due to our server's location).
Page speed tests with Load Impact
Of course, individual loading times are only half the picture. The other key element of your site's performance is how well it holds up under the strain of multiple concurrent users. To test this, we can use Load Impact's handy tool.
When we ran our test site through Load Impact, we got the following results:
Load Generator: Ashburn, United States
Test Server: Mountain View, United States
Minimum Response Time: 0.12 seconds
Maximum Response Time: 0.13 seconds
As a stark contrast to Pingdom, these results are much more impressive. The loading times stayed remarkably low and consistent throughout the entire test, which put a strain of up to 50 virtual users on the site at once. This suggests that with the right server placement, Kinsta sites are capable of maintaining excellent performance under stress.
💸 Kinsta pricing
The last element of our Kinsta review for WordPress is a look at this provider's pricing options. As we mentioned earlier, there's just a single set of WordPress-specific managed plans:
However, you're able to scale your plan to meet your needs, since there are ten tiers on offer. They range from $29.17 per month for a single WordPress install, to a $1,500 per month enterprise plan supporting up to 150 installs.
The plans in between offer a range of installs, supported traffic, and resources. However, for the most part, the features provided with each are identical. Higher-tier plans do come with a few perks, such as free 'white glove' migrations, Multisite support, and site cloning functionality.
Still, you'll be able to select a plan based on your needs, whether you're a small business owner or a developer with lots of clients. There are also some optional add-ons you can purchase, such as an analytics engine and extra backup storage.
👍👎 Overall pros and cons
Before we wrap up this Kinsta review for WordPress, let's summarize the primary advantages and drawbacks of choosing this managed provider.
Pros
Wide range of both basic and advanced features.
WordPress-specific optimization, functionality, and support.
Powered by Google Cloud Platform's premium tier.
Many performance optimizations, including the choice between 20 global data centers.
Scalable plan options to fit your needs.
Cons
Even the Starter plan is on the pricier side when it comes to WordPress hosting, and may not fit into every budget.
🏁 Conclusion
All in all, the results of our Kinsta review for WordPress suggest that this is a provider to pay attention to. The price may be high for some, but includes a ton of features and support options. If you're looking for a comprehensive solution that offers website management and many of the tools you need to get started, Kinsta is worth a look.
Of course, there are plenty of other WordPress providers you'll want to check out in comparison. To get you started, here are some of our reviews of similar managed WordPress hosts:
Additionally, if you want to see how Kinsta stacks up to a similar managed WordPress host, you can read our Kinsta vs WP Engine comparison.
Do you have any other questions about Kinsta that would help you make your decision? Ask in the comments section and we'll try to help.
Kinsta
Kinsta specializes in providing premium managed WordPress hosting services for businesses and developers. It includes fast and secure hosting with advanced features such as automatic backups, free SSL certificates, and easy scalability.
Pros
WordPress-specific optimization
Wide selection of global data centers
Cons
Won't fit into every budget
Free guide
4 Essential Steps to Speed Up
Your WordPress Website
Follow the simple steps in our 4-part mini series
and reduce your loading times by 50-80%. 🚀
Free Access
* This post contains affiliate links, which means that if you click on one of the product links and then purchase the product, we'll receive a small commission. No worries though, you'll still pay the standard amount so there's no additional cost on your part.