Searching for the best WordPress hosting according to Reddit? 🤔
On Reddit, you're bound to come across a couple of genuine recommendations from WordPress users. There are now over 1.5 billion Redditors, some of whom happen to be web developers, business owners, bloggers, and IT gurus who've had first-hand experiences with leading WordPress hosting providers.
The only problem is that finding their reviews is not as easy as going to Reddit and typing in "the best hosting for WordPress ". Most of the results you'll see here come from affiliate marketing bots, and there's no automatic tool that can filter them out.
So, you have to do everything manually if you hope to find genuine recommendations for the best WordPress hosting from Reddit. And that would, of course, mean digging through volumes of comment strings across various subreddits.
Luckily for you, though, we've beaten you to it. The following is a summarized report on what we subsequently discovered as the most popular WordPress hosts on Reddit, plus the hosting providers that Redditors insist you should avoid.
What is the best WordPress hosting according to Reddit?
Reddit's best WordPress hosting providers are Cloudways, Kinsta, and A2 Hosting.
Cloudways has been upvoted by Redditors as the fastest WordPress host, Kinsta is the best managed WordPress hosting provider, while A2 Hosting has emerged as the best in the cheap WordPress hosting category. You can think of the three as the best WordPress hosting Reddit trio.
Best WordPress hosting Reddit 2023 revealed
1. Cloudways: Fastest WordPress hosting Reddit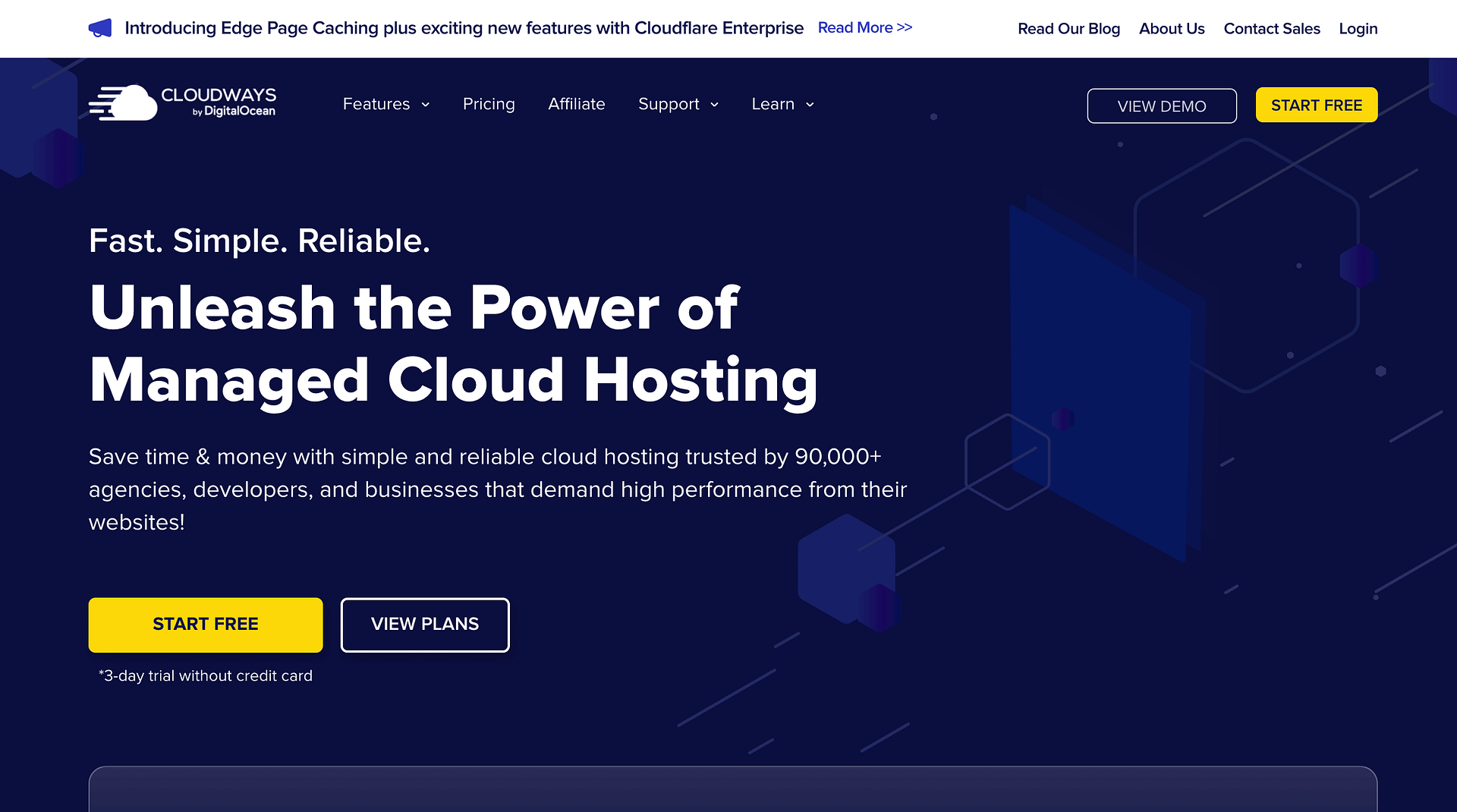 Cloudways isn't exactly your typical web hosting service. It is, instead, a platform-as-a-service (PaaS) provider that offers web hosting services built on the following cloud infrastructures:
Digital Ocean
Linode
Vultr
Google Cloud
Amazon Web Services (AWS)
Reddit users, like jsmile, tend to think of it as a blend between a managed WordPress hosting service and virtual private servers (VPS).
What this means is, Cloudways makes things easy for people who'd otherwise want to run their WordPress sites on advanced cloud platforms like AWS and Google Cloud. Instead of a bare cloud server, you get an infrastructure that has been optimized for speed, performance, and security.
WordPress users, for instance, are given managed virtual private servers that are loaded with Apache, Memcached, Varnish, NGINX, etc.
This, according to Redditors, places Cloudways miles ahead of SiteGround and the likes, especially when it comes to performance.
Take, for instance, the case of this user, who migrated his WordPress site from SiteGround's cloud hosting to Cloudways. The result was a significant increase in performance and a 60% reduction in hosting costs.
And no, you don't have to purchase the costliest packages to experience the power. Reddit users confirm that even on its cheapest plans, Cloudways is still one of the fastest WordPress hosting providers.
Here are the actual numbers from npranshu, after switching from A2 hosting to the cheapest WordPress hosting option on Cloudways.
WordPress developers on Reddit agree unanimously that DigitalOcean is Cloudways' most economical hosting option. It's fast alright – but, if you'd want the fastest page loading speeds, Reddit's best WordPress hosting recommendation is Vultr.
Cloudways WordPress hosting features ⚙️
Automated WordPress migrations
Optimized WordPress stack
SSD disk storage
Managed WordPress cloud hosting for individuals, ecommerce sites, agencies, and SMBs
Rides on infrastructure from top IaaS providers
Built-in cache mechanism
Cloudways WordPress hosting pricing 💸
The pricing for WordPress hosting on Cloudways starts at $11.00 per month.
Cloudways WordPress hosting speed and performance (our data) 🏎️
Cloudways uptime 📶

| September 2023 | October 2023 | November 2023 |
| --- | --- | --- |
| 100% ⭐ | 100% ⭐ | 100% ⭐ |
Cloudways loading times 🔃

| | |
| --- | --- |
| East Coast, USA: 1.66s | West Coast, USA: 1.32s |
| London: 0.22s ⭐ | Paris: 0.24s ⭐ |
| Mumbai, India: 1.22s | Sydney: 2.76s |
2. Kinsta: Best managed WordPress hosting Reddit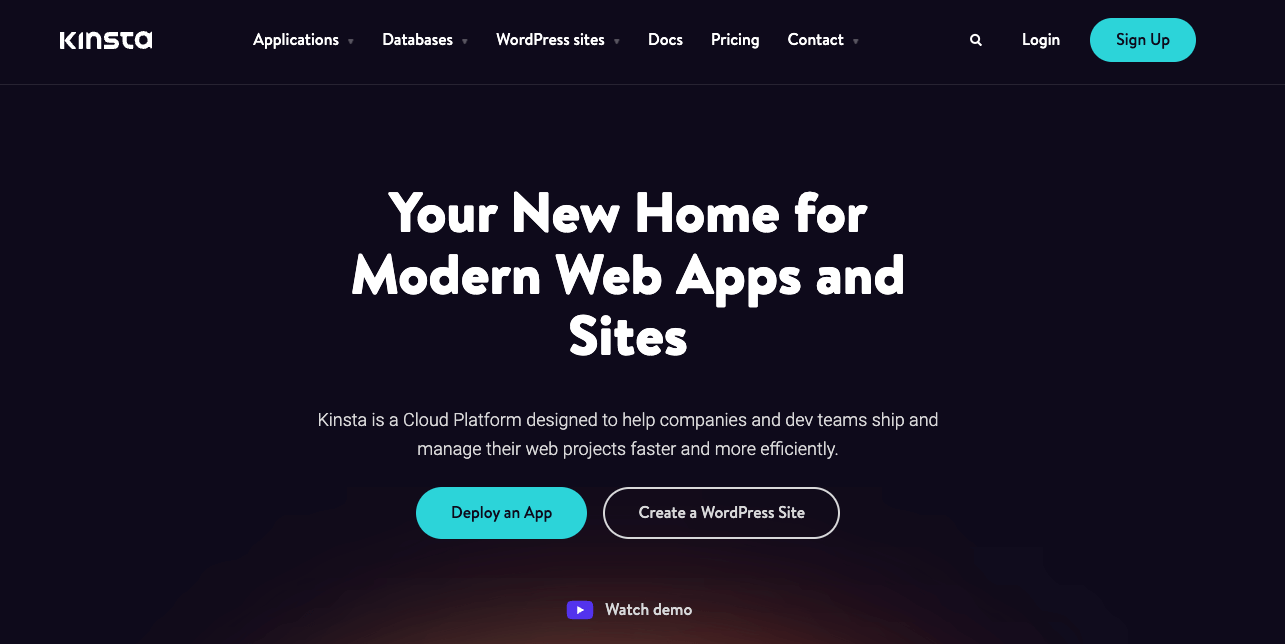 If you're looking for cheap managed WordPress hosting, the likes of SiteGround and DreamHost might seem like worthwhile options.
But if your goal is to maximize value, Reddit users strongly recommend choosing Kinsta instead. They say that while Kinsta will cost you more, at least you're guaranteed to get your money's worth.
Check out these two Redditors who experienced the benefits first-hand, after migrating from SiteGround to Kinsta. They attest that Kinsta is indeed much more superior in WordPress site management, technical support, and resource scaling.
Now, for the sake of clarity, managed WordPress hosting means that your web host acts as your site's helicopter parent. They take care of all the technical bits – such as WordPress updates and performance optimization – leaving you to focus entirely on running the business.
As for the question on the best managed WordPress hosting Reddit, you'll notice that the community here is often torn between Kinsta and WP Engine – both of which have been built from Google Cloud's infrastructure.
Now, to settle this debate, we had to search far and wide for Redditors who've adequately experienced both platforms. And upon sampling their comments, Kinsta ended up being the favorite – with most of the upvotes being attributed to its superior performance over WP Engine.
Consider, for example, this comment from a seasoned WordPress web developer. He was amazed by the service and performance improvements that he got from Kinsta, after migrating one of his client's WordPress sites from WP Engine.
Some Reddit users explain that the superiority comes from Kinsta's better-optimized infrastructure.
It has, for instance, built up 35 data centers, tripling WP Engine's fleet of 11. Then, while WP Engine is open to sites sharing some of its server resources, Kinsta tends to containerize everything. This means your WooCommerce site will auto-scale more efficiently on Kinsta, which is great for a growing business.
Kinsta managed WordPress hosting features ⚙️
Free Kinsta CDN
Edge caching
Enterprise-level firewall and DDos protection
Daily optimization for high-traffic WooCommerce sites
35 data centers running Google Cloud's C2 machines
Built-in application performance monitoring
Kinsta managed WordPress hosting pricing 💸
Kinsta's managed WordPress hosting starts at $29.17 per month.
Kinsta managed WordPress hosting speed and performance (our data) 🏎️
Kinsta uptime 📶

| September 2023 | October 2023 | November 2023 |
| --- | --- | --- |
| 100% ⭐ | 100% ⭐ | 99.93% |
Kinsta loading times 🔃

| | |
| --- | --- |
| East Coast, USA: 0.42s ⭐ | West Coast, USA: 0.85s ⭐ |
| London: 0.99s ⭐ | Paris: 1.03s |
| Mumbai, India: 2.39s | Sydney: 1.81s |
3. A2 Hosting: Best cheap WordPress hosting Reddit
One thing that the Reddit community frowns upon is shared web hosting. Members who've tried it repeatedly complain of struggling with slow speeds, downtime issues, limited scaling capabilities, and insufficient customer support.
If you're on an extremely tight budget, though, shared WordPress hosting would be an understandable option, especially if it comes from A2 Hosting. It has beaten all the traditional web hosts – such as SiteGround, Bluehost, DreamHost, and HostGator – to emerge as the best shared WordPress hosting Reddit.
For context, here's one of the best comparisons that we've sampled of A2 Hosting vs its biggest competitor, SiteGround. Rajendrazore points out that while she or he experienced difficulties with both platforms, A2 Hosting proved to be better in shared WordPress Hosting.
Those sentiments are backed by many other web developers, with some even confirming the superiority of A2 Hosting based on insights from multi-site deployments.
Take, for instance, this user who had over 100 WordPress sites on SiteGround running concurrently with 50 on A2 Hosting's shared WordPress packages. Upon comparing his experiences with both web hosts, he concludes that A2 Hosting is the one with better value for money.
You can get started for as low as $1.99 per month. This will give you 100 GB of SSD storage for your WordPress site, which should be enough for something like a small blog.
Upgrading to the next package will cost you at least $4.99 a month, upon which all the limitations on the number of sites and storage volume will be removed.
Not bad, but you'll still need to upgrade once more to start experiencing the real power of A2 Hosting shared servers. We're talking about the Turbo Boost setup, which will cost you at least $5.99 per month. These plans use LiteSpeed Web Server, which means faster load times and better scalability.
This is what teamkoode is describing as the "best value" WordPress hosting package.
Word on the streets of Reddit is, the turbo servers will indeed supercharge your website's performance, just as the hosting company claims. A2 Hosting has reportedly provisioned them to handle up to nine times more traffic, read and write data three times faster, while the CPU itself is set to perform up to 40 times faster.
And that's not all. A2 Hosting further throws in turbo caching (LiteSpeed Cache), along with OPcache, and memcached optimizations.
Your WordPress site will run relatively well, but not as fast as the ones that alternatively go for A2 Hosting's VPS offerings. This is the level that you should upgrade to if you happen to be running a WooCommerce store.
Here is even advice from the horse's mouth:
Nevertheless, keep in mind that even though VPS hosting is A2 Hosting's best WordPress hosting option, it's still far from being recognized as the best WooCommerce hosting Reddit.
In that case, if your site happens to grow its demands beyond the shared hosting level, you might want to upgrade to A2's managed WordPress hosting or migrate it to Kinsta or Cloudways.
A2 Hosting WordPress hosting features ⚙️
SSD storage
Free WordPress site migration
Free automatic backups
Pre-configured site caching
Traffic surge protection
Turbo servers
Pre-installed WordPress
WordPress LiteSpeed cache acceleration
1-click WooCommerce setup
Free Cloudflare CDN
A2 Hosting WordPress hosting pricing 💸
WordPress shared hosting packages here start at $1.99 per month, while WordPress managed hosting packages start at $9.99 per month.
A2 Hosting WordPress hosting speed and performance (our data) 🏎️
A2 uptime 📶

| September 2023 | October 2023 | November 2023 |
| --- | --- | --- |
| 99.93% | 99.93% | 100% ⭐ |
A2 loading times 🔃

| | |
| --- | --- |
| East Coast, USA: 0.77s ⭐ | West Coast, USA: 1.35s |
| London: 1.82s | Paris: 1.62s |
| Mumbai, India: 3.38s | Sydney: 3.51s |
WordPress hosting providers to avoid – according to Reddit
Reddit users have also been considerate enough to give you a heads-up on the worst performers.
These are the WordPress hosting providers you should supposedly avoid.
Take a look at these screenshots and decide for yourself if the comments are objective or not.
Bluehost
HostGator
GoDaddy
Parting shot 💣
Well, based on the many reviews and tests we've done on web hosts, we'll admit that the Reddit users are actually onto something here.
Kinsta, Cloudways, and A2 Hosting are indeed some of the best performers in the WordPress hosting segment. But, as for Bluehost, HostGator, and GoDaddy, we'll let you judge their reliability for yourself.
All in all, always remember that…
Finally, bear in mind that we have detailed reviews of all of Reddit's top WordPress hosts. Check them out here…
Do you still have any questions about the best WordPress hosting on Reddit? Let us know in the comments!
Free guide
4 Essential Steps to Speed Up
Your WordPress Website
Follow the simple steps in our 4-part mini series
and reduce your loading times by 50-80%. 🚀
Free Access