If you're looking for the best Minecraft server hosting to host a few games with your friends, you're in the right place!
However, with so many hosting companies offering cheap Minecraft hosting, it can be hard to find a good deal that also offers everything you need for reliable gameplay.
But don't give up yet. We're here to confirm that there are good Minecraft hosts out there that offer an extensive feature set and high-performance technology at an affordable price. And, in many cases, all you need to do is sign up for the service and the host will do the rest.
In this article, we're showcasing the best Minecraft server hosting options suitable for every budget. We'll even share the fine details about technology stacks, support, and control panels, so you'll know exactly what to look for before you make a commitment.
Ready? Let's get started!
Best Minecraft Server Hosting

| | Price | Players | Control panel | 1-click mod install |
| --- | --- | --- | --- | --- |
| Bisect Hosting | $2.99/mo Custom | 24 slots on budget. Unlimited on Premium. | Customized Multicraft panel | ✅ |
| Host Havoc | $10/mo | Maximum 10 | Customized Multicraft panel | ✅ |
| Bloom.Host | $16/mo | Unlimited | Custom | ✅ |
| Vultr | Maximum $20/mo | Unlimited | PufferPanel | ❌ |
| GTXGaming | Starting from $9.21/mo | 30 slots | Custom | ✅ |
| Aternos | Free | 20 slots | Custom | ✅ |
How to find the best Minecraft server hosting?
If you're a new Minecraft admin, then you're probably itching to find out how much it costs to buy a Minecraft server. Well, I can happily report that Minecraft server hosting offers a lot of range when it comes to price. But, I'd also say that searching solely for cheap Minecraft hosting can be a trap.
Because plenty of hosting companies see Minecraft's popularity as a way to make a lot of money with too-good-to-be-true cheap Minecraft hosting that can barely handle small maps, let alone large groups of players. Avoiding these villains is made incredibly be difficult by the number of variables to consider for Minecraft hosting. For starters, let's use RAM as an example.
For crash-free gaming, you should have at least 75 MB of RAM for each player. Depending on quality, plugins can be more demanding, so allocate around 100 MB for each one. If you plan to run a modded Minecraft server, then simple rules aren't a great help. Take the CrazyCraft mods, for example, they need at least 2 GB of RAM each, while some of FTB's most popular modpacks require 4 GB of RAM before you can even add a player to your server.
Sounds like a lot, right? Kind of, but when you break it down, a 2 GB server with a good processor could easily host 10 players with plenty of room left for well-selected plugins. And, it's pretty easy to find cheap Minecraft hosting with 2 GB and good processors. Heck, you'll even find free Minecraft server hosting that offers around 2 GB of RAM.
But, that's just the memory. What else do we consider important for Minecraft server hosting?
A single-core processor with a high-clock speed. Ideally, your Minecraft host will offer AMD Ryzen or Intel i7/i9.
Instant setup and quick provisioning will help you get straight to the game and avoid some of the complicated configuration.
Uptime and support are key to your server's success. Let's be fair, things will probably go wrong, but some hosts handle it better than others. Check out the support options and join Discord chats to see how the host handles their support requests and communicates with users.
Mods and plugins should be easy to install, preferably through a customized control panel. Some panels can be slow and unresponsive, so try some control panel demos before you make a commitment.
Multiple data centers, or at least, servers that are close to your players for the fastest connections and lowest latency. Great to have: a host who'll let you switch locations easily.
Free Minecraft server hosting can be used but not relied upon. You'll have to make a compromise on slots numbers, plugins, performance, reliability. Furthermore, most free Minecraft hosts will be interested in upgrading you to paid plans, will have long queues, and bombard you with ads.
The best Minecraft server hosting for every type of user
Now that we've discussed the essentials, let's look at six of the best hosts offering good Minecraft servers for all games types and player ability.
Best Minecraft server hosting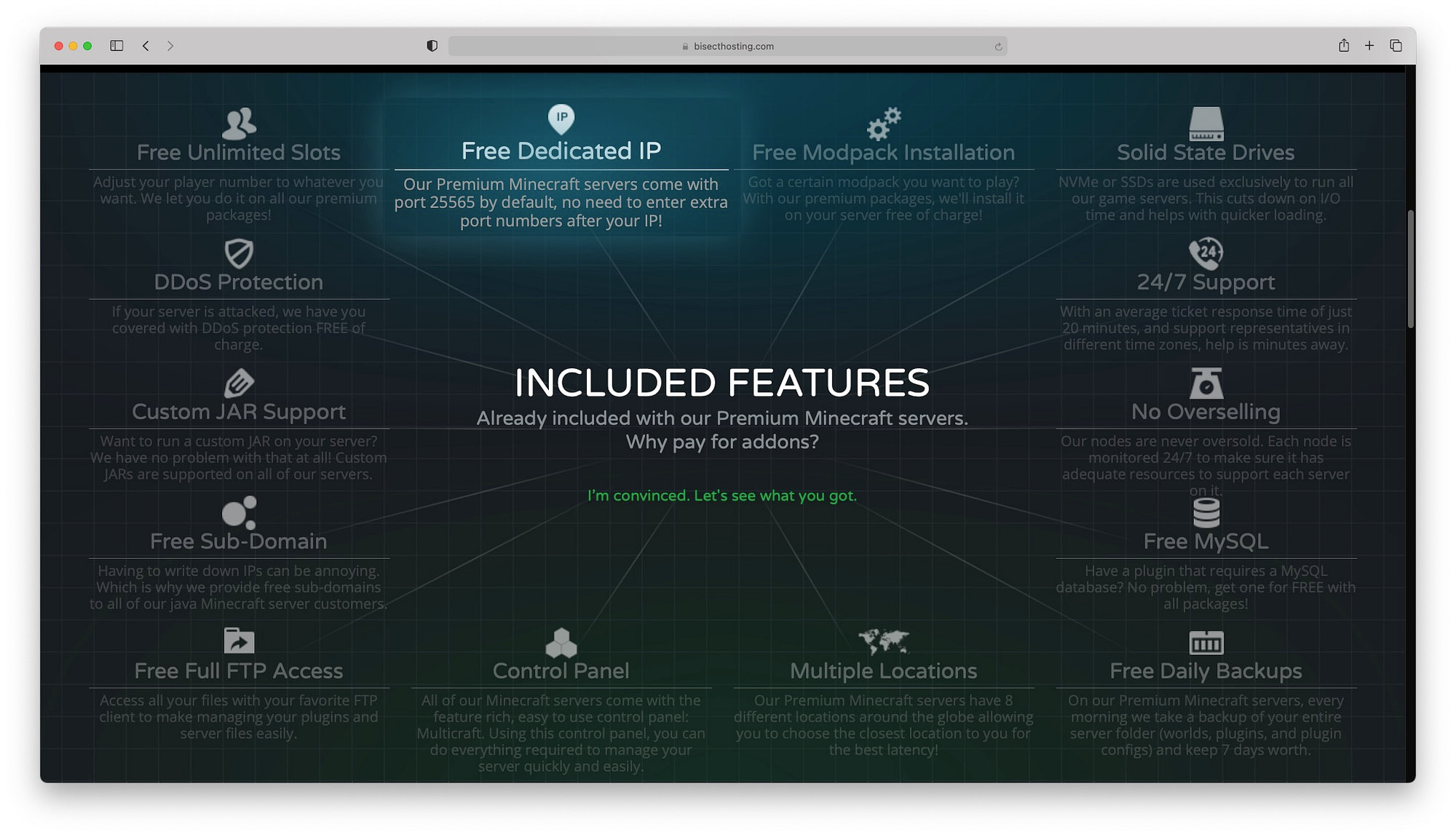 When you ask people about the best Minecraft server hosting, someone will mention Bisect Hosting. Guaranteed and with good reason. With a range of budget and premium plans, they offer affordable options suited to both beginner and advanced admins alike. Not only that, but their sign-up wizard will help you find the best server according to required slots and the expected number of plugins.
With truly global coverage, Bisect Hosting offers the best place to rent a Minecraft server for fast connections and low latency for people outside popular hubs. It won't even cost you extra to buy a Minecraft server located outside of North America and Europe. Aside from similar pricing, each location has the same standard features, including Xeon processors, instant setup, full FTP access, unlimited SSD storage, and more.
They offer support for all modpacks, plans for Bedrock and Java editions of Minecraft with a customized Multicraft control panel to make game management easy. Taken together, these options make Bisect Hosting hard to pass up for anyone looking for the ultimate Minecraft experience.
⚙️ Features:
Free migration service.
Support for Custom JARs on all servers.
Free sub-domain.
Free MySQL.
💵 Pricing: Bisect Hosting offers two tiers of Minecraft servers. How much your Minecraft server will cost depends on whether you need the Premium options, like daily backups, unlimited slots, free sponge, and modpack installation. For a 2 GB Premium plan, you'll pay $9.98/mo and each additional GB of RAM will add $4.99 to your monthly spend.
If you don't need the additional features, Budget plans start at $5.98/mo for 2 GB and 24 slots. For extra RAM add $2.99 per GB. However, some modpacks incur extra charges, so check the final price carefully and consider a Premium plan where appropriate.
You can get a refund within the first 72 hours of your purchase.
Best Vanilla Minecraft server hosting
Host Havoc has over eight years of hosting experience and a reputation for offering variety in their hosting options. Each plan is backed by high-performance technology, like Xeon or Ryzen processors, which gives you a good shot at consistent server performance for numerous jars, modpacks, and plugins.
Unfortunately, nothing can guarantee a flawless experience, but the Host Havoc support team comprises passionate gamers who have proven experience dealing with a range of server configurations. Throw in some of the best response times in the business, and you know you are in safe hands.
With instantly activated servers and quick provisioning, Host Havoc offers beginners the easiest path towards gameplay. However, they use a customized version of the Multicraft control panel, and not all modpacks have one-click install options. While this does mean clearing some hurdles before you can create your modded Minecraft server, their knowledge base is clear and makes using FTP a quick process.
Finally, they also offer some useful free extras, like the monetization plugin, Tebex, and game switching at any time.
⚙️ Features:
Free migration service.
Scheduled backups.
Dedicated IP is free on higher-tiers ($4.15/mo on the lower end).
Each plan comes with a slot recommendation depending on whether you run a modded Minecraft server or a vanilla Minecraft server.
💵 Pricing: They charge $5 per 1 GB with discounts available on long-term plans. I'd recommend starting with the Wood plan, which will cost you $10 for 2 GB.
Host Havoc offers a 72-hour refund policy on the first purchase only.
Best modded Minecraft server hosting
Bloom.Host is one of the youngest Minecraft server hosts, but their dedicated server setups place them close to the top of any Minecraft hosting discussion. Admittedly, it helps that they only provide gaming servers for Minecraft, but this does give them the freedom to offer a variety of unique features you'll instantly find useful.
For one, you should check out their tailor-made control panel – Duck Panel. Not only is it incredibly fast, but it also makes everything easy. Take server splitting as an example. You effectively have a quick setup for up to ten sub-servers containing extra Minecraft configurations. There's no better way to quickly switch between dedicated configurations for Java or Bedrock without having significant downtime. All of the mods can be installed on sub-servers with a single click and you have support for all of the popular jars like Spigot and Fabric. For me, this certainly brings them in line with other leading modded Minecraft servers.
But this does come at a cost. At this time, they don't offer global data centers as you'll find elsewhere. You'll have to choose between the US, Virginia or Texas, and Germany.
On the other hand, they have the technology stack to make it work. All of their plans are running with at least Ryzen 9 3900/5950X, which can be clocked at 4.7 GHz, and NVMe SSD storage (starting at 120 GB). And, I also like that they only offer plans with 8 GB RAM and above. The truth is, you'll be able to run some good-sized games with their basic setup. If something goes wrong, they have a growing knowledge base with helpful support available through tickets and Discord.
⚙️ Features:
Unmetered bandwidth.
Free custom backup solution with individual file and folder restoration.
Migration tools for importing servers and databases with just a few clicks.
Free dedicated IP and reverse proxy available with every plan.
💵 Pricing: With no discounts for committing to the quarterly or six-monthly plan, the monthly option is a great way to give them a trial.
Performance plans start at $16/mo for 8 GB RAM and 120 GB storage. Prices rise by $8 per 4 GB RAM and 60 GB storage up to $48/mo for 24 GB RAM and 360 GB storage.
They also offer a Performance plus plan, using the amazing Ryzen 9 5950X. For just $22/mo, you can buy a Minecraft server with 8 GB RAM and 150 GB storage. Prices rise by $11 per 4 GB and 75 GB storage.
The refund policy is 72-hours, but you can only get one, regardless of how long you use the service.
Best Minecraft custom server
I'll be honest, this was a tough call to make and the spot could go to two or three VPS providers. However, in the end, I feel that Vultr strikes the best balance between ease-of-use and performance. With Minecraft included in their list of Marketplace Apps, alongside traditional fare like WordPress, you can genuinely spin up good Minecraft servers in a few minutes.
While setting up a vanilla Minecraft server is incredibly easy, there isn't a one-click process for setting up Spigot, Paper, and so on. On the plus side, Vultr does boast an enviable knowledge base full of easy-to-follow guides for getting a modded Minecraft server running. You can even follow their guide to setting up PufferPanel which will give you support for Sponge, Forge, and much more in an instant.
When it comes to infrastructure, Vultr uses Intel CPUs almost exclusively. On their Cloud compute plans, you'll use Xeon processors with clocks speeds in excess of 3 GHz. However, DDoS protection is only available in certain locations for $10/mo, so you will need to develop your security skills.
⚙️ Features:
No limits on what you can do with mods, plugins, and customizations.
Windows servers are available.
17 global data centers, including Sydney, Singapore, and Tokyo.
Full SSH access.
💵 Pricing: For a Cloud instance using two high core speed Intel CPUs with 2 GB RAM, you'll pay $20/mo at most. After that, prices rise by $5 per 1 GB of RAM.
Vultr charges you for what you use, and they have a strict no refunds policy.
Best Minecraft server hosting for global reach
No list of good Minecraft hosting options could skip the OG of Minecraft hosting, GTXGaming. With worldwide coverage on instant setup servers, they offer a solid option for anyone looking for a basic entry point into the world of Minecraft server hosting.
Server configuration is handled via drop-down menus for important elements like server locations, memory, clock speed, and storage. In a similar fashion, the tailor-made control page makes game management easy with sliders, drop-downs, and one-click installation for Craftbukkit and Spigot via the dedicated mod manager.
Finally, GTXGaming offers an evolving tech stack with their rollout of AMD Ryzens gathering pace. In most cases, you'll be fine with the base CPU clock speed of 3.8 GHz, but you can pay for better processors if you need them.
With a professional support team, you'll have no trouble taking advantage of special offers like free game switching to any popular game on their extensive list (over 150, including Minecraft Bedrock).
⚙️ Features:
Built-in donation system using PayPal.
Full FTP support.
Enterprise DDoS protection.
18 data centers covering every continent.
Full daily backups.
💵 Pricing: GTXGaming has a range of different RAM and slot options for Minecraft server hosting running 3.8 GHz:
2 GB/30 slots servers – $9.21/mo.
3 GB/40 slots start at $12.75/mo.
6 GB/80 slots available from $20.55/mo.
8 GB/100 slots costs $26.22/mo.
On top of these options, you can also opt for priority support ($2.82/mo), higher-CPU priority (from $7.07/mo), increased clock speed (4.4 GHz for $7.07/mo), and NVMe storage ($7.07/mo).
GTXGaming has a 24-hour refund policy for everything but dedicated servers.
Best free Minecraft server hosting
If you want to play Minecraft cheap, then Aternos is as low-priced as you can get. With over eight years of providing free-forever plans, it represents the best free Minecraft hosting currently available. While you'd expect some limitations, Aternos manages to pack enough customizability into their offer for you to have fun games at an unbeatable price point.
But what are the limitations, exactly? Well, ads for one. But even this has a positive spin. With their effective ads, Aternos is able to run its servers without hidden costs or payable upgrades. However, the slots are limited to a generous number – 20, and someone needs to be online if you want the server to run. You'll also run into limitations when it comes to plugins and modpacks.
However, if the server stops, you can enable automatic backups, saved to Google Drive, on every server. They even have DDoS protection and a one-click game management panel. All of this comes with around 2 GB of RAM on a shared core.
⚙️ Features:
Full catalog of games, including Minecraft Java and Bedrock editions.
A good amount of mods and plugins to allow modded servers for free.
Drag-and-drop upload for Bedrock.
Outstanding support for a free product with clear warnings about downtimes.
💵 Pricing: Completely free.
Who offers the best Minecraft server hosting?
Now that we've looked at the best Minecraft hosts in detail, you should have an option that provides the ideal conditions for low latency and reliable gameplay. While all of the hosts offer a degree of customization, some, like Vultr, give you the freedom to create an entire Minecraft world without any limitations.
Obviously, your final decision will be determined by your specific needs and preferences. But, if we were to pick, then we'd suggest:
Bisect Hosting is our top choice for casual players who'd like an easy way to set up a game with a variety of mods and plugins.
Bloom.Host or Vultr are the best options for advanced players who'd like to host large games.
Best Minecraft Server Hosting

| | Price | Players | Control panel | 1-click mod install |
| --- | --- | --- | --- | --- |
| Bisect Hosting | $2.99/mo Custom | 24 slots on budget. Unlimited on Premium. | Customized Multicraft panel | ✅ |
| Host Havoc | $10/mo | Maximum 10 | Customized Multicraft panel | ✅ |
| Bloom.Host | $16/mo | Unlimited | Custom | ✅ |
| Vultr | Maximum $20/mo | Unlimited | PufferPanel | ❌ |
| GTXGaming | Starting from $9.21/mo | 30 slots | Custom | ✅ |
| Aternos | Free | 20 slots | Custom | ✅ |
Have we missed an incredible Minecraft host? Share our experience with your Minecraft hosting provider in the comments below!
Free guide
4 Essential Steps to Speed Up
Your WordPress Website
Follow the simple steps in our 4-part mini series
and reduce your loading times by 50-80%. 🚀
Free Access