You might be thinking who even needs church website hosting in the first place? Well, connecting with a church congregation means more than holding mass. With a website, those who manage church functions – like ministers, church directors, and pastors – can reach out to the masses with video services, event notifications, and donation pages.
And anyone can build a church website; all you need is a reputable website builder (one that's good for religious organizations) and some church website hosting. There are even niche WordPress templates to design a church website without any coding knowledge. 😎
We'd like to cover church website hosting, in particular, to help ministers and church managers understand the benefits of going with one host over another. Keep reading to learn 📚 which hosts make it easy for churches to build websites.
The best church web hosting for all places of worship in 2023
The following hosting options are ideal for churches, and other places of worship because of their reliability, speed, and affordability. In addition, some hosts actually cater to religious organizations by offering discounts to non-profits, and by blocking the use of their servers for services or products that go against church-like values.
👉 Here's a quick glance at the best church web hosting companies: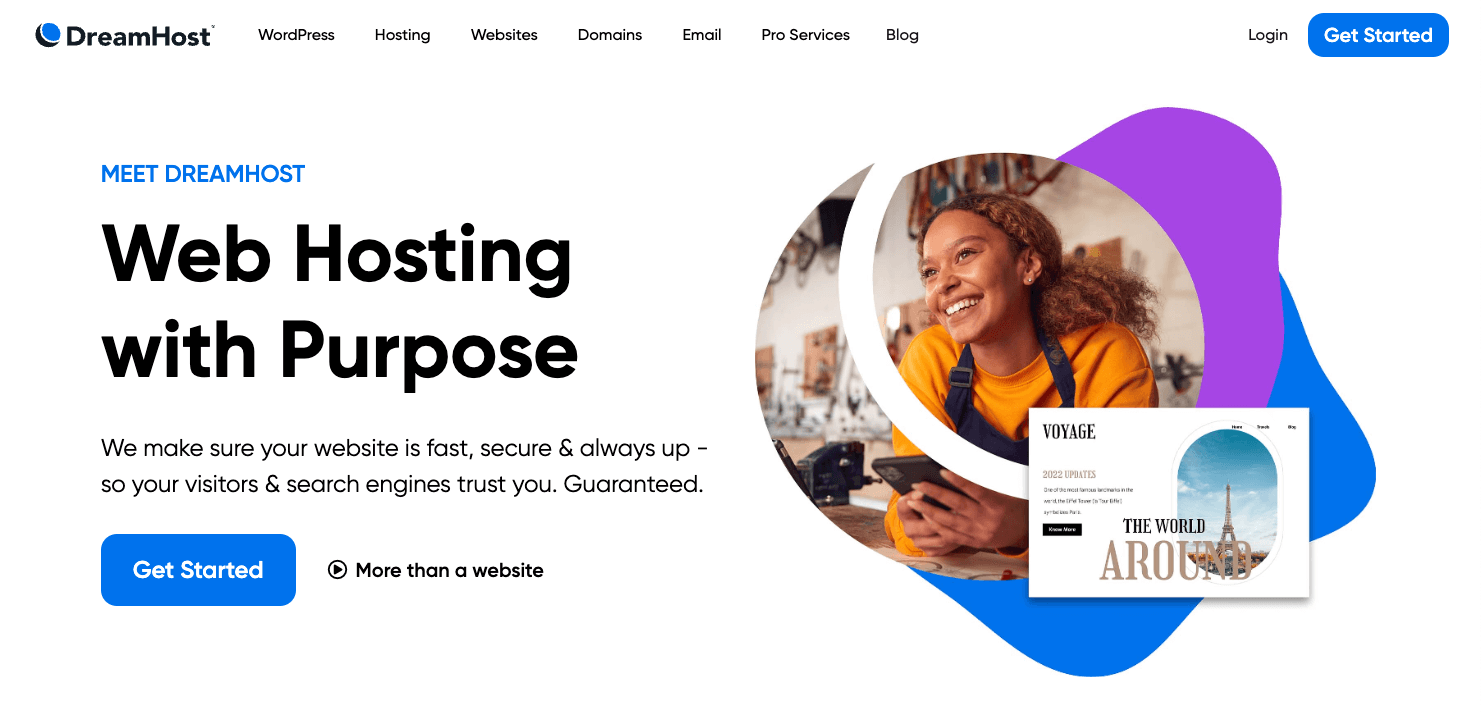 DreamHost offers one of the best church website hosting situations due to its completely free hosting plan for non-profits and charities. You must be a verified 501(c)(3) non-profit in the United States to qualify.
We also like DreamHost for churches since all customers receive a drag-and-drop website builder; that builder includes a library of WordPress themes, many of which are designed for churches. With their core values to empower people and give everyone a voice, religious organizations should have no problem aligning with the values of DreamHost.
🎁 Pricing for non-profits
Free for 1 shared hosting plan with an email address
35% off managed hosting ($12.95 per month for annual payments, $14.95 per month for monthly payments)
💸 Standard pricing on annual plans
Shared: Starting at $2.59 per month
DreamPress (Managed): Starting at $16.95 per month
VPS: Starting at $10.00 per month
⛪ What makes it great for church website hosting?
Completely free hosting account for verified non-profits (and a free email address)
They align with church-going values by blocking use of servers for illegal activity, adult content, and theft
Discounts for non-profits to use managed hosting
Drag-and-drop site builder with church themes
Simple non-profit application process – no credit card required
As long as you're running a 501(c)(3) in the United States, Kualo Hosting provides its Solo shared hosting plan for free. Churches can grow with features like 10 email accounts, unlimited bandwidth, and one-click installations for Joomla and WordPress.
They even have what's called a Church CRM (customer relationship management) hosting plan, with prebuilt WordPress features for managing groups, donations, congregation information, attendance, and more.
🎁 Pricing for non-profits
Free (sometimes 50% off depending on the organization) for the Solo shared hosting plan
50% off most hosting plans for non-profits
💸 Standard pricing on annual plans
Solo Shared Hosting: $8.33 per month
Startup: $12.49 per month
Performance: $20.83 per month
Performance Business Hosting: Starting at $20.83 per month
ChurchCRM Solo: Starting at $8.33 per month
⛪ What makes it great for church website hosting?
Free shared hosting, and 50% off other plans for non-profits
Church CRM hosting plans with pre-made management modules for church-specific functions
Drag-and-drop page building with church templates to pick
100% green powered to help the earth
Automated account backups, SSL, and backup restoration for top-notch security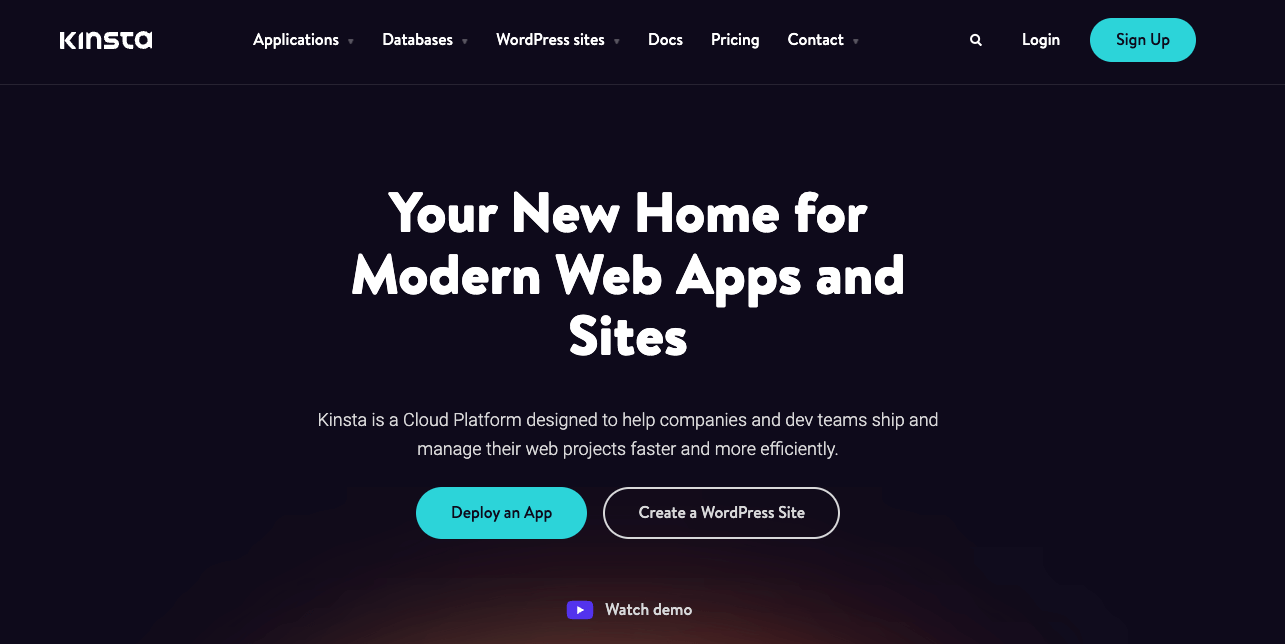 Churches and non-profits benefit when hosting with Kinsta, seeing as how the host offers a 15% discount on all plans. Not only that, but there's an added bonus of getting two months free when signing up for yearly payments.
Kinsta lacks the free hosting for non-profits that you can find elsewhere, but the cost allows you to run the most efficient managed WordPress setup possible. In short, your site will be speedy, secure, and reliable without having to manage the backend yourself (like you would have to do with shared hosting).
🎁 Pricing for non-profits
15% off all pricing plans
💸 Standard pricing on annual plans
Starter: $29.17 per month
Pro: $58.33 per month
Business 1: $95.83 per month
Business 2: $187.50 per month
Business 3: $283.33 per month
Business 4: $375 per month
Enterprise from $562.50 per month
⛪ What makes it great for church website hosting?
Discounted hosting on every plan (and they're all managed hosting accounts)
Kinsta aligns with church-going values by disallowing things like adult and illegal content on its servers
Easy application process where you simply show a 501(c)(3) document
Fastest, most reliable host on this list
Automatic everything, from caching to backups, and WordPress updates to spam blocking
For the low price of $0, churches and other non-profits can sign up for InterServer's hosting to receive a fully customizable non-profit website, 24/7 customer support, email accounts, and one-click WordPress installations.
You just set up a free account and send over your IRS 501(c)(3) tax identification letter. The only catch is that you must put a link in your footer that states you're using InterServer to host the site.
🎁 Pricing for non-profits
Free for unlimited websites, email accounts, and storage
💸 Standard pricing on annual plans
Standard (Shared) Web Hosting: Starting at $2.50 per month
Windows ASP.NET Hosting: Starting at $8.00 per month
Boost Web Hosting: Starting at $9.95 per month
WordPress VPS Hosting: Starting at $6.00 per month
⛪ What makes it great for church website hosting?
Free shared hosting with unlimited storage, transfers, websites, and email addresses
Website builder with over 300 themes and 40 widgets, many of which are perfect for churches
There's a one-click installation for making a website
They restrict content hosting for illegal, adult, and data hacking practices
The plan application for non-profits is extremely fast
Access to hundreds of cloud apps to extend site functionality
Security tools for blocking web attacks, scanning for viruses, and blocking malware
Accredited non-profits (including churches) receive a discount to host with A2 Hosting. Although it's a little tedious to go through the application process by speaking with tech support, A2 Hosting is one of the few hosts with discounts for churches and non-profits inside and outside the United States. All that's needed is a certification document based on your location's requirements.
When it comes to the hosting itself, A2 is known for its speedy reliability. You can also get WordPress hosting for a low cost, along with a wide variety of features for rapidly building your website and keeping it secure in the process.
🎁 Pricing for non-profits
Undisclosed (and possibly customized depending on the organization), but after the application they provide a percentage discount for all plans
💸 Standard pricing on annual plans
Startup: Starting at $1.99 per month
Drive: Starting at $4.99 per month
Turbo Boost: Starting at $5.99 per month
Turbo Max: Starting at $14.99 per month
⛪ What makes it great for church website hosting?
Discounted hosting plans on top of the already extremely low pricing; those discounts are available for both US and non-US non-profits
Some of the strongest restrictions on illegal, dangerous, and crude content on its servers, with blocking of adult material, illegal products and activities, scammers, financial scams, fraudulent sites, human trafficking, unfriendly activity, and gambling content
A fast and beginner-friendly site builder with plug-and-play themes made for all types of charities, churches, and religious organizations; additional support for Elementor and Microweber drag-and-drop builders
A focus on green hosting to minimize their effect on the earth
Security tools like SSL certificates, automated backups, hack scanning, firewalls, brute force defense, and reinforced DDoS protection
Which church website hosting is right for you? 🧐
With these respectable hosting companies to choose from, is there one that stands out for your church or religious organization?
Here are our final thoughts 🏁 to help you make the decision:
If you have more questions about the best church website hosting, or would like to share thoughts on other hosts that work well for churches, please let us know in the comments!
Free guide
4 Essential Steps to Speed Up
Your WordPress Website
Follow the simple steps in our 4-part mini series
and reduce your loading times by 50-80%. 🚀
Free Access