You're considering using Cloudways to host your WordPress site? Read our hands-on Cloudways review to decide if this service fits your needs.
There are many advantages of using cloud hosting. It's easily scalable, you can have a lot of control over server choices, and it's often budget-friendly. The problem is that most cloud hosting platforms – such as Google Cloud or Amazon Web Services (AWS) – are too complicated for most non-developers to use.
Cloudways' goal is to simplify cloud-based hosting so that even non-developers can benefit from this type of hosting. It's a managed cloud service that supports WordPress, among other platforms. With Cloudways, you can easily deploy a website on a high-performance cloud server through a user-friendly interface.
In this Cloudways review, we're going to take a look at how the service works and what features it offers. We'll also cover its performance, support, and pricing to help you decide whether it's a good fit for you. Let's get to it!
Cloudways review for WordPress: Features ⚙️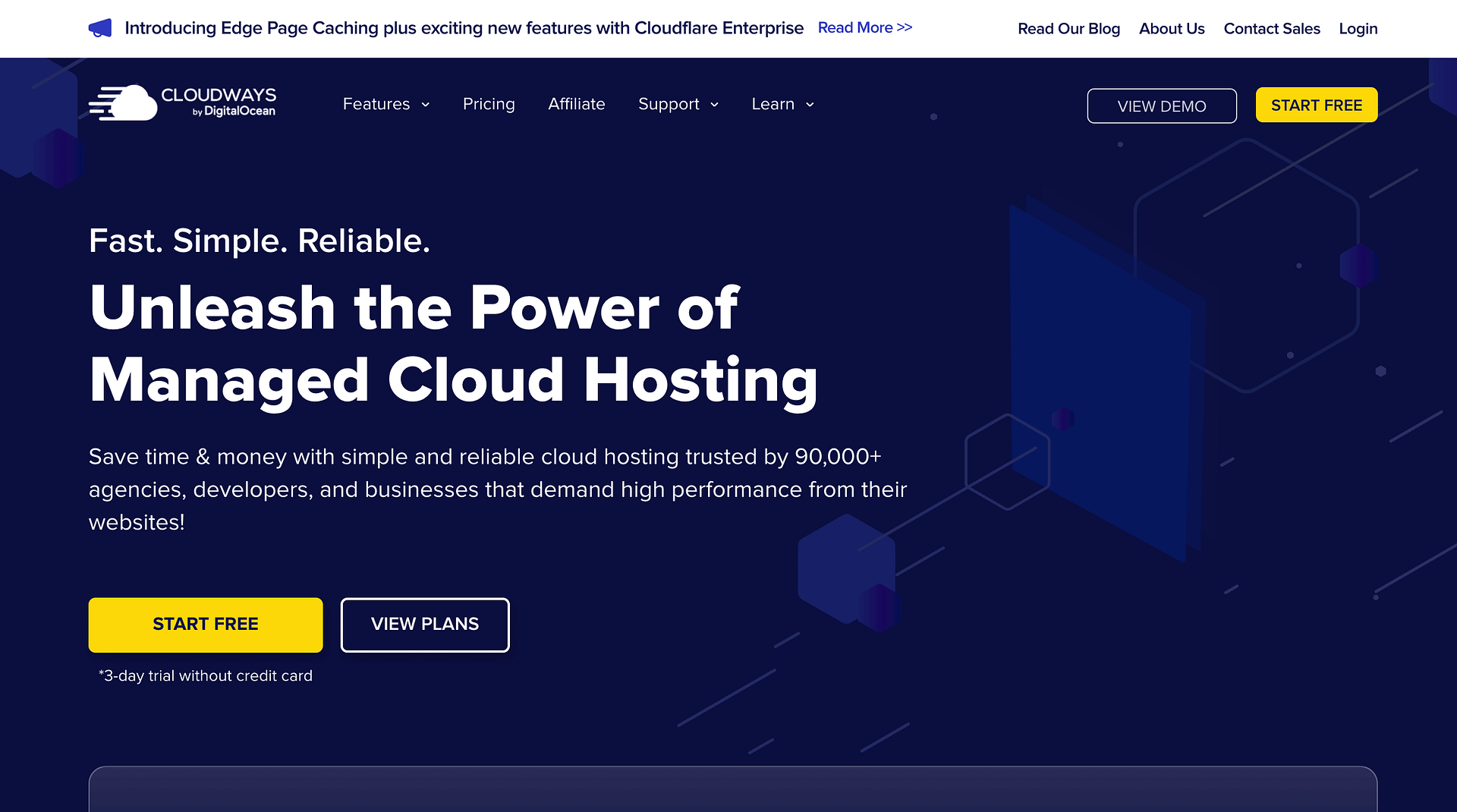 First off, it's important to make it clear that Cloudways isn't a hosting provider per se. Instead, it enables you to set up web applications on one of several cloud hosts, including DigitalOcean, Linode, Vultr, AWS, and Google Cloud. WordPress, of course, is among the available applications:
When you set up a new website, Cloudways enables you to configure everything from which cloud service to use to your server size. Depending on the host, you might also get to choose from multiple server locations:
All this happens on a single screen. In practice, Cloudways enables you to set up a WordPress website using your cloud provider of choice in a matter of minutes.
When it comes to ease of use, Cloudways gets top marks. Regardless of how you decide to configure your server, you can also access the following features:
Managed hosting and security services
One-click SSL certificate setup
Simple server scaling should you need more resources
Support for multiple PHP versions
Support for both MySQL and MariaDB database management systems
SSH and FTP access
Git integration
One thing Cloudways doesn't support, though, is sending or hosting emails. However, Cloudways does have a simple integration with SendGrid for free email sending, and you can use services such as Google Workspace (formerly G Suite) (paid) or Zoho Mail (free) to host your email. Or, Cloudways also has a dedicated integration with Rackspace for affordable email hosting.
Overall, Cloudways offers a wealth of features that are comparable to some top WordPress managed hosting options (such as SiteGround or WP Engine). Plus, keep in mind that although we'll be focusing on WordPress for this Cloudways review, it also works with platforms such as Magento and Drupal.
Cloudways review: Performance 📈
Since Cloudways relies on third-party cloud hosting platform servers, performance can vary depending on your configuration. For our test website, we chose the most basic DigitalOcean setup, with 1 GB of RAM and 25 GB of SSD storage. Beyond that, every server also includes the following:
At any time, you can choose to scale your server to add more RAM or storage, in case you need a performance boost. However, downgrading requires you to clone and restore your server configuration. In any case, Cloudways also offers one-click backup and restore options.
Theoretically, cloud hosting should provide near-perfect uptime, but your mileage may vary depending on the host you choose. Cloudways itself keeps detailed records of incidents you can review at any time:
On paper, Cloudways should deliver top-of-the-line WordPress performance. We ran some tests to find out if it lives up to expectations.
Page speed tests with Pingdom
The fastest way to get a read on a WordPress website's performance is with a quick page loading speed test. As we mentioned before, we set up a new WordPress website on a DigitalOcean server. We also went ahead and imported the WordPress Theme Unit Test Data, which we set up alongside one of the default themes to simulate a simple website.
Once our website was ready, we ran some page loading tests from multiple locations using Pingdom:
Washington D.C.: 0.38 seconds
San Francisco: 0.63 seconds
London: 0.61 seconds
Sydney: 1.33 seconds
Overall, these are fantastic results, and even more so when you consider our test page weighs 6.5 MB. That level of performance should be par for the course for a properly configured cloud server.
The slight increase in loading times when we tested the site using an Australian server is also normal. Our website's server is located in New York, so the distance explains the higher number.
Page speed tests with BlazeMeter
A single page loading test doesn't paint a full picture when it comes to performance. You also want to find out how your website will hold up under traffic spikes. That's where BlazeMeter comes in. We used this tool to simulate up to 30 virtual users hitting our site over a period of three minutes. Here's what the results look like:
On average, it took 0.25 seconds for our site's server to respond, even under moderate stress. This tells you that even with the most basic Cloudways setup, your website should be able to handle moderate amounts of traffic. From a performance standpoint, Cloudways gets a thumbs-up for its optimized server configurations.
Support options 🧑‍💻
After setting up a WordPress website on a DigitalOcean server, we had some questions to ask Cloudways' support team. They're available 24/7 and claim to have excellent response times.
Cloudways offers support via phone, live chat, and a ticket system. One standout feature is that the service assigns you an 'account manager.' You can schedule calls with this agent if you have any questions:
Since we didn't want to wait for a scheduled call, we opened a live chat. Before you can get to an agent, Cloudways uses a chatbot to help you find answers to common technical questions:
However, navigating the bot to get to an agent is simple, and we were connected with someone almost immediately. Sadly, the support experience itself could've gone better. We periodically had to ask the agent if they were still there due to slow response times. When we did get replies, they weren't as informative as we would have liked:
Keep in mind that your own experience with Cloudways support might vary. Live chat agents may be fielding multiple requests at once, so they're not always the best option for in-depth technical queries. That said, for simple questions like the ones we posed, we would've expected better service, particularly from a 'premium' platform.
If you want more focused support, you can pay an extra fee for premium support.
Cloudways pricing 💸
Here's where things get a bit more complicated with our Cloudways review. As you may know, most cloud hosting providers typically charge based on resource consumption. With Cloudways, you're paying for hosting through a secondary service, which means it's going to be more expensive than paying the host directly.
Likewise, prices vary depending on which cloud hosting provider you choose. Cloudways doesn't offer 'plans' per se, but it enables you to set up as many servers as you want and then bills you at the end of the month.
With that in mind, Cloudways offers both monthly and hourly pricing for all its cloud hosting solutions:
DigitalOcean and Vultr are the two best options if you're looking for relatively cheap cloud hosting. For around $10–20 a month, you can get basic servers with around:
1–2 GB of RAM
Single-core processors
20–50 GB of SSD storage
1–2 TB of bandwidth
These specs are more than enough for a growing WordPress website, and you can always scale up when needed. At this starting point, Cloudways is a little cheaper than most managed WordPress hosting options.
On the other hand, AWS and Google Cloud both have monthly options starting at around $30 per month. This is more in line with managed WordPress hosts such as Kinsta or WP Engine.
Our Cloudways review pros 👍 and cons 👎
We've covered a lot of information in this Cloudways review, so let's quickly go over the pros and cons of this service.
Pros
It's the most user-friendly way to get into cloud hosting
Cloudways takes care of server optimization for you
You have full control over your server resources
You can set up a WordPress website in minutes
You can scale up resources at any time
Cloudways has excellent performance across the board (though exact performance will depend on your chosen cloud provider and specs)
Cons
Customer support could be better (although your mileage may vary)
It can be hard to determine what resources you need if you don't have experience with server management
The pricing structure is a bit complicated and some options could become quite expensive
Conclusion 🏁
Cloud hosting doesn't have to be intimidating. Using services such as Cloudways, you get all the advantages of the best cloud hosting providers through a platform that's much more user-friendly. Deploying a WordPress website is just as simple as with a regular host.
If you're still not sure whether cloud hosting is the best fit for you, there are plenty of other options to consider.
First off, if you're using WordPress, you might want cheap managed WordPress hosting, which will be even simpler than Cloudways.
Or, if you have some technical knowledge, you can install WordPress directly on your chosen provider. We have some tutorials for the following cloud providers:
Do you have any questions about our Cloudways review? Ask away in the comments section below!
Cloudways
Cloudways specializes in managed cloud hosting, providing a platform that allows users to easily deploy and manage websites on popular cloud infrastructure providers such as AWS, Google Cloud, and DigitalOcean. With features like easy scalability, dedicated resources, and 24/7 support, Cloudways is a great option for those looking for high-performance and reliable cloud hosting with a user-friendly interface
Pros
User friendly solution for managing cloud hosting
Cons
Requires some technical knowledge for best results
Slow support response times
Free guide
4 Essential Steps to Speed Up
Your WordPress Website
Follow the simple steps in our 4-part mini series
and reduce your loading times by 50-80%. 🚀
Free Access
* This post contains affiliate links, which means that if you click on one of the product links and then purchase the product, we'll receive a commission. No worries though, you'll still pay the standard amount so there's no additional cost on your part.