Are the GoDaddy WordPress hosting plans a good choice for your website?
It's no surprise that GoDaddy offers plans tailored to the most popular content management system (CMS) on the web (WordPress)! Depending on your needs, the handy features that GoDaddy's WordPress plans provide could help your website succeed.
In our GoDaddy review for WordPress, we'll take a closer look at the features it offers, as well as its support system, performance, and prices. Let's get to it!
⚙️ Features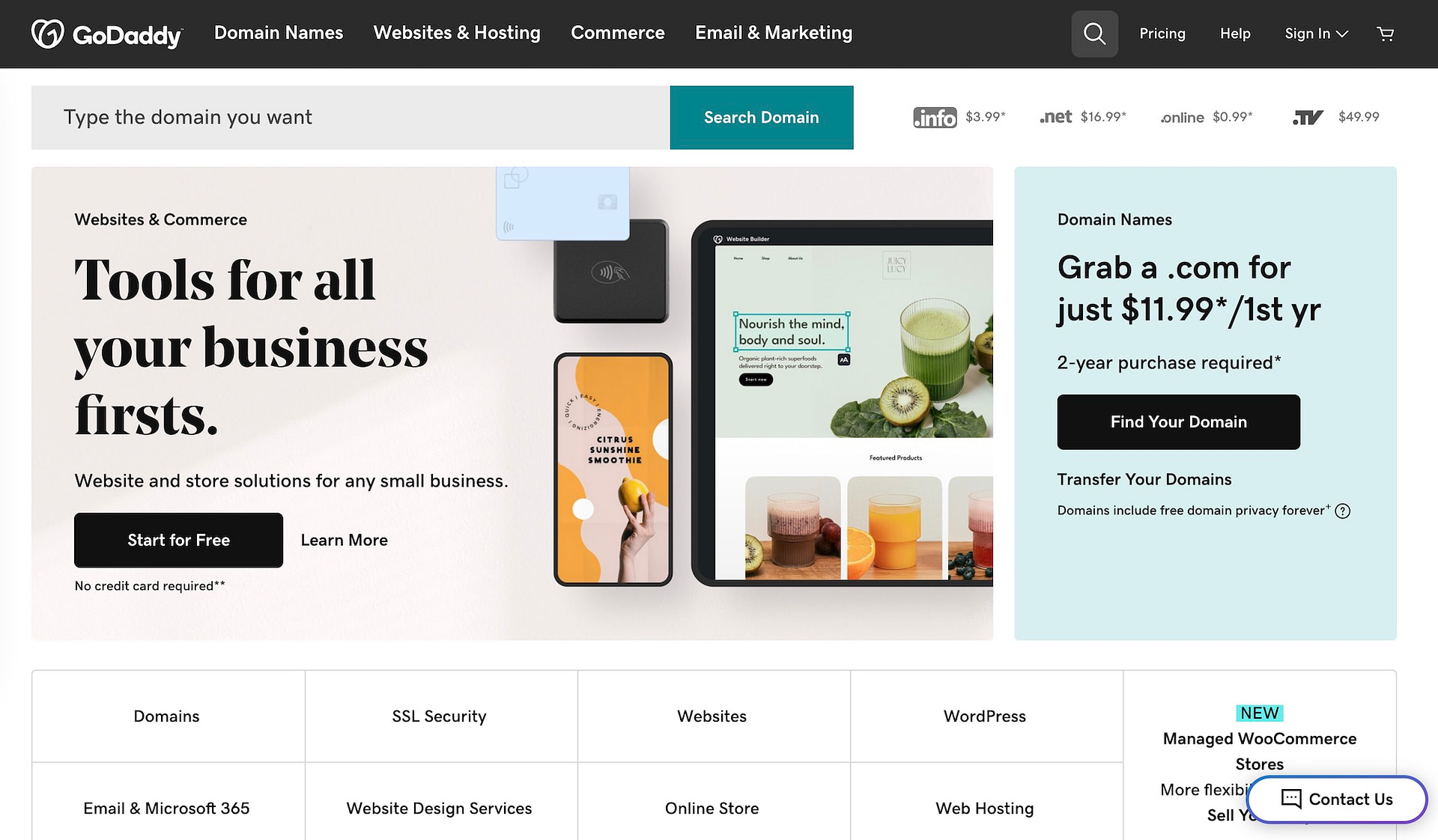 GoDaddy boasts a lot of variety when it comes to hosting. It provides shared plans, virtual private servers (VPS), dedicated options, and, of course, WordPress-specific offerings.
Here's a full breakdown of the features you can access with the Basic WordPress hosting tier:
Free business email and domain for one year
Daily malware scans with Sucuri
Automatic backups with one-click restore
SFTP access to your server
Out-of-the-box integration with a content delivery network (CDN)
Automatic WordPress core updates
It's a decent feature set, although there's nothing here that's particularly unique compared to other hosts.
The Ultimate plan serves up additional features, including unlimited malware removal and hack repair, and one-click staging.
More impressively, the Ecommerce plan includes free access to premium WooCommerce features and extensions like WooCommerce Subscriptions. The premium extensions alone are worth thousands of dollars and offer serious value if you're creating a WooCommerce store.
📞 Support options and quality
GoDaddy's support quality is a bit of a mixed bag. On one hand, it offers 24/7 availability all throughout the year. However, the easiest way to contact a specialist is via phone.
Whether that's a pro or a con depends on your personal preferences. Other options include searching the GoDaddy Help articles, seeking assistance via the community forums, or – if you can find it – a live chat option tucked into the Product Support page:
You have to set your region as the United States in order for the live chat button to appear, which can be confusing for some users. This option is also only available from 5am – 6pm Mountain Time, making it somewhat inconvenient for GoDaddy's international customers.
While support availability is generally good, the quality itself can be hit or miss. In our 2018 WordPress hosting survey of over 830 users, GoDaddy received the following scores for support (out of five):
Overall support: 3.3
WordPress-specific support: 3.3
While not horrible, it's below many other cheap WordPress hosts:
🏎️ Performance
Performance is a vital consideration when choosing a web hosting plan. Website optimization will only take you so far if your server is sub-par. For our GoDaddy review for WordPress, we took a look at all the speed-boosting features it offers, such as:
CDN integration. As we mentioned earlier, all of GoDaddy's WordPress plans provide out-of-the-box CDN integration for increased site speed.
Load-balanced, clustered server environments. GoDaddy's servers are optimized for WordPress. Additionally, they're prepared to handle traffic spikes that might otherwise crash your site.
99.9% uptime guarantee. GoDaddy provides an uptime guarantee in its contracts that enables customers to request account credits in the amount of 5% of their monthly bill if it fails to meet the minimum requirement.
Like the features available in GoDaddy's Basic WordPress hosting plan, nothing here stands out as particularly unique or better than other providers. However, you can rest assured that you're at least receiving decent performance optimization.
Basic load testing with Load Impact
In a nutshell, traditional performance tests paint only half a picture. Even if you get stellar results after multiple consecutive runs, that doesn't tell you how your server will fare if it faces a sudden influx of traffic.
Recently, we compared several of the most popular WordPress hosting providers, including GoDaddy. We ran some pretty exhaustive performance tests for each host, including some load impact analyses.
For our stress test, we used Load Impact and had it simulate up to 40 concurrent users for our GoDaddy WordPress site. Here are the minimum and maximum response times from our results:
Minimum response time: 0.63 seconds
Maximum response time: 0.83 seconds
Those are decent numbers for any web hosting service. They're not the fastest we've seen, but the results are right up there. Overall, the performance to price ratio you get with GoDaddy WordPress hosting is not terrible.
Uptime with our hosting monitor
Having your site's server up and running is crucial. When it's down, you're missing out on ad revenue, email subscriptions, sales, and page views. GoDaddy guarantees 99.9% uptime, but our hosting uptime monitor shows a noticeable difference with GoDaddy frequently coming in below that mark.
While the difference between 99.9% and 99.1% uptime might not seem like a lot, that comes out to almost six hours of added downtime per month, which is substantial.
As a silver lining, you would be able to get a 5% discount if your site goes under the 99.9% uptime guarantee.
💰 GoDaddy WordPress hosting pricing
When it comes to WordPress, GoDaddy offers a managed service at some of the lowest prices on the market.
GoDaddy falls firmly under the category of budget WordPress hosting, with its most expensive plan coming in at just $19.99 per month:
All of the WordPress hosting plans come with a free domain name for the initial contract term (minimum 12 months), and a free SSL certificate as long as you maintain a hosting plan with GoDaddy. Here's what you get with each plan, beyond the features we discussed before:
Basic ($2.99 per month): one website, 20 GB of storage
Deluxe ($15.99 per month): one website, 40 GB of storage
Ultimate ($20.99 per month): one website, 60 GB storage
Unfortunately, GoDaddy only supports a single website on every one of its basic WordPress hosting plans, which is a massive downside even at these prices. If you want to host multiple sites, you'll need to upgrade to the Pro plans, which are much pricier:
Another important factor to be aware of is that many of the features GoDaddy promotes in conjunction with its WordPress plans are available for free via plugins. Its daily malware scans are performed by Sucuri, its "SEO Optimizer" is just Yoast, and WooCommerce provides unlimited products and no transaction fees out of the box.
On a positive note, GoDaddy does bundle a lot of premium WooCommerce add-ons with its top tier. These extensions are collectively worth thousands of dollars per year, so it's worth considering if you're starting an online store with WooCommerce.
As usual, to get the prices you see on the website, you need to sign up for a long-term contract. The fees mentioned above are available for a minimum of 36-months, which is pretty standard for budget hosts. For month-to-month payments, the Basic plan goes up to $14.99 per month and doesn't come with perks like the free domain name.
Why not use GoDaddy's cheap shared plans?
Finally, it's worth mentioning that GoDaddy's basic shared hosting plan is only one dollar cheaper than its managed WordPress counterpart.
Additionally, excluding the lowest tier, all of GoDaddy's shared plans let you host unlimited websites, whereas the GoDaddy WordPress hosting plans limit you to a single website.
Those shared plans still let you install WordPress with a one-click installer, so why not use them?
Well, there's certainly nothing wrong with doing that. But the benefit of the WordPress-specific plans is that you get access to optimized WordPress performance, as well as beneficial features such as*:
Automatic updates
Staging sites
Malware and hack removal
Bundled WooCommerce plugins
*The exact features depend on which plan you sign up for.
➕➖ Overall pros and cons
To close out our GoDaddy review for WordPress, here's a summary of its best features:
Prices are among the best for managed WordPress plans.
You get access to an excellent list of features (especially for ecommerce).
The performance is solid for the price.
On the other hand, the biggest downside to GoDaddy's WordPress plans, in our opinion, is that they only support a single website. If you want to host multiple sites, you'll need to look into its Pro Plans.
Beyond that, GoDaddy makes it difficult to find and use its live chat support option, which is not optimal. It's also important to mention for those who aren't experienced WordPress users that many of the features it lists are available for free with Sucuri, Yoast, and WooCommerce.
🏆 GoDaddy WordPress hosting review conclusion
Not too long ago, GoDaddy was synonymous with terrible performance and support.
However, lately, it's been putting a lot of effort into offering better services across the board.
In a nutshell, GoDaddy WordPress hosting plans offer adequate performance and a pretty attractive feature lineup, especially for online stores. However, we can only recommend it if you're looking to host a single website. Otherwise, you're better off looking elsewhere.
👉 If you want to see some other options, check out our collection of the best cheap managed WordPress hosts.
Do you have any questions about GoDaddy for WordPress? Ask away in the comments section below!
GoDaddy WordPress Hosting
The GoDaddy WordPress hosting plans offer decent load times for the price and some solid features like automatic daily updates, a free SSL, and a staging site to test changes before you push them to your live site. As long as you don't plan on running more than one website then GoDaddy's WordPress hosting is a good choice for a flexible and affordable WordPress hosting solution.
Pros
24/7 support availability
Free WooCommerce extensions on Ecommerce plan
Cons
Only supports a single site
Poor user support ratings in our survey
Free guide
4 Essential Steps to Speed Up
Your WordPress Website
Follow the simple steps in our 4-part mini series
and reduce your loading times by 50-80%. 🚀
Free Access