Google Domains has announced its plans to close down and transfer its existing customers to Squarespace. Since the platform lacks total WHOIS privacy, and charges higher prices, you might be looking for a Google Domains alternative.
Fortunately, there are tons of great domain registrars to choose from. Better yet, you can find top-level domains, access low renewal rates, and find options that include free privacy and protection.
👉 In this post, we'll take a closer look at why you might consider a Google Domains alternative. Then, we'll discuss some of the best options for your website. Let's get started!
Why consider a Google Domains alternative?
If you run a website, you need to register a domain so that people know where to find you online. Typically, a domain should be unique, short, and memorable, allowing users to enter your domain name in the address bar of their browser easily.
In the past, Google domains has been an excellent way to find and register website domains. However, recently, Google Domains announced that it will be shutting down [1].
💼 Instead, Squarespace will acquire the business [2]: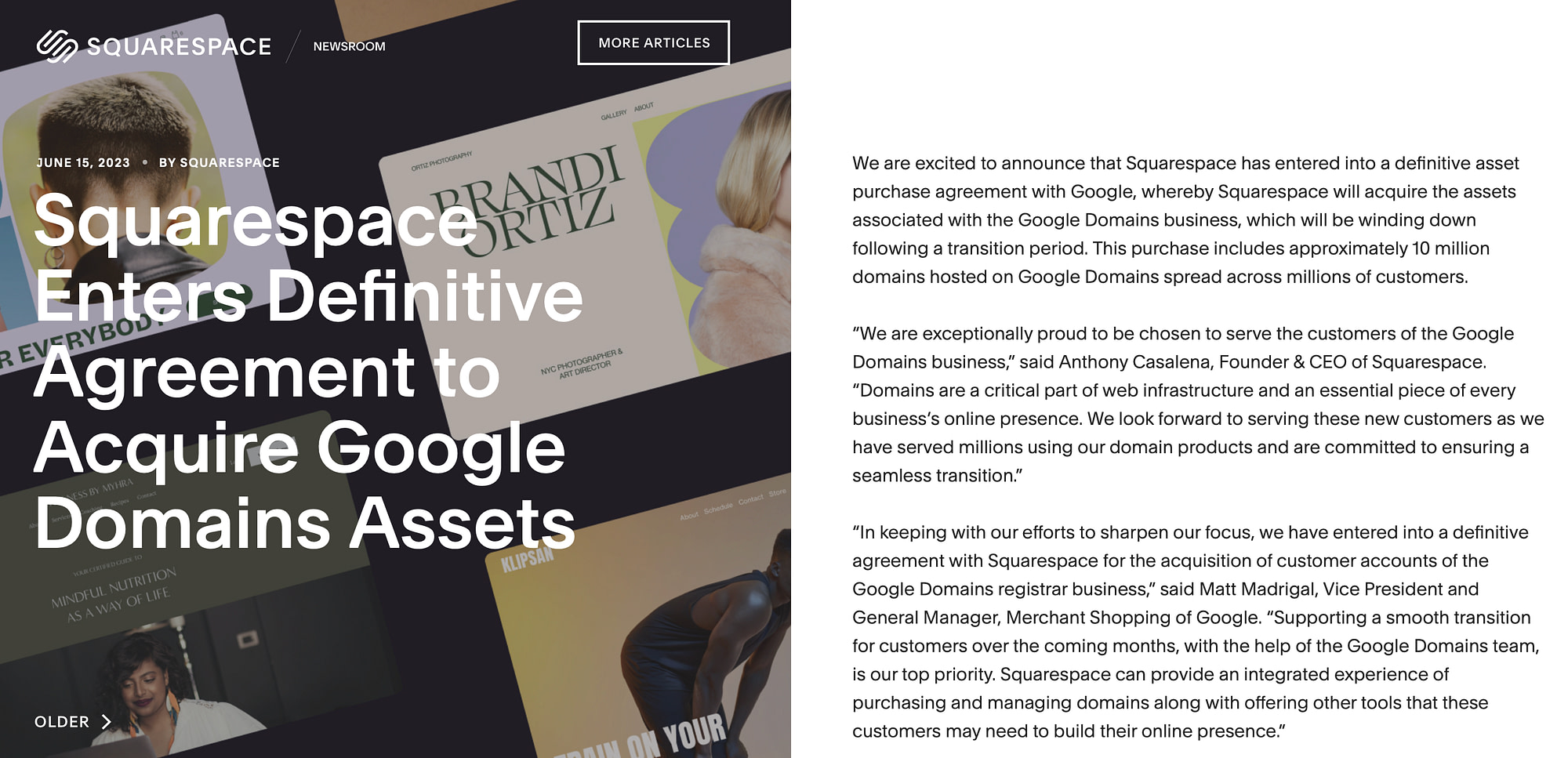 This means that all existing customers and domains will automatically be transferred to Squarespace once the transaction closes. If you're happy to continue with Squarespace, then you don't have to do anything when the change takes place.
However, there are some reasons why you might consider a Google Domains alternative. For starters, Squarespace charges steeper prices for top-level domains (TLDs) compared with Google. For example, the exact domain that would cost $30 with Google Domains costs $50 on Squarespace.
Plus, Squarespace provides WHOIS redaction that removes personal data (with the exception of country, state, and organization). While this may be useful for some users, others might prefer a domain registrar that offers total WHOIS privacy.
The best Google Domains alternative (5 options)
Now that you know why it's a good idea to consider a Google Domains alternative, let's take a look at some of the best options for your website.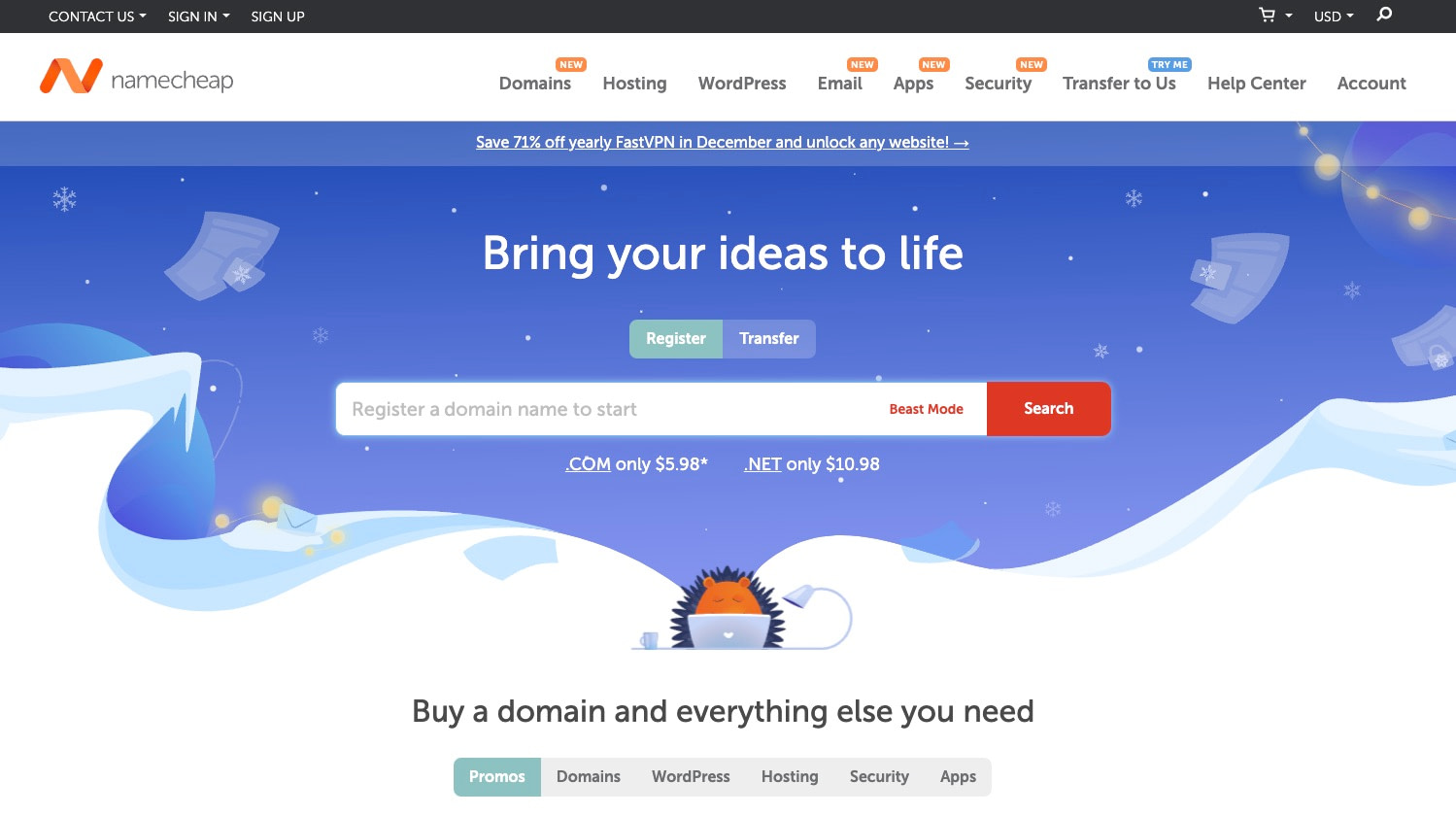 Namecheap is an excellent Google Domains alternative that enables you to search, register, and transfer domain names. Better yet, it's an affordable option. For example, you can score a ".store" extension for less than a dollar or a ".org" extension for $6.
You'll also find tons of neat features like a free domain generator and Beast Mode advanced search. Plus, if you're just getting set up with a new site, you can find hosting plans, email accounts, and SSL certificates.
⚙️ Key features
Add available domains easily
Bid on taken domains
Full WHOIS privacy
Discounted price for the first year
Domain generator
Hosting
SSL certificates
Private emails
Transfers and migrations
💳 Price
You can find TLDs with ".org" or ".com" extensions for less than $10 a year. Meanwhile, an extension like ".store" can cost less than a dollar.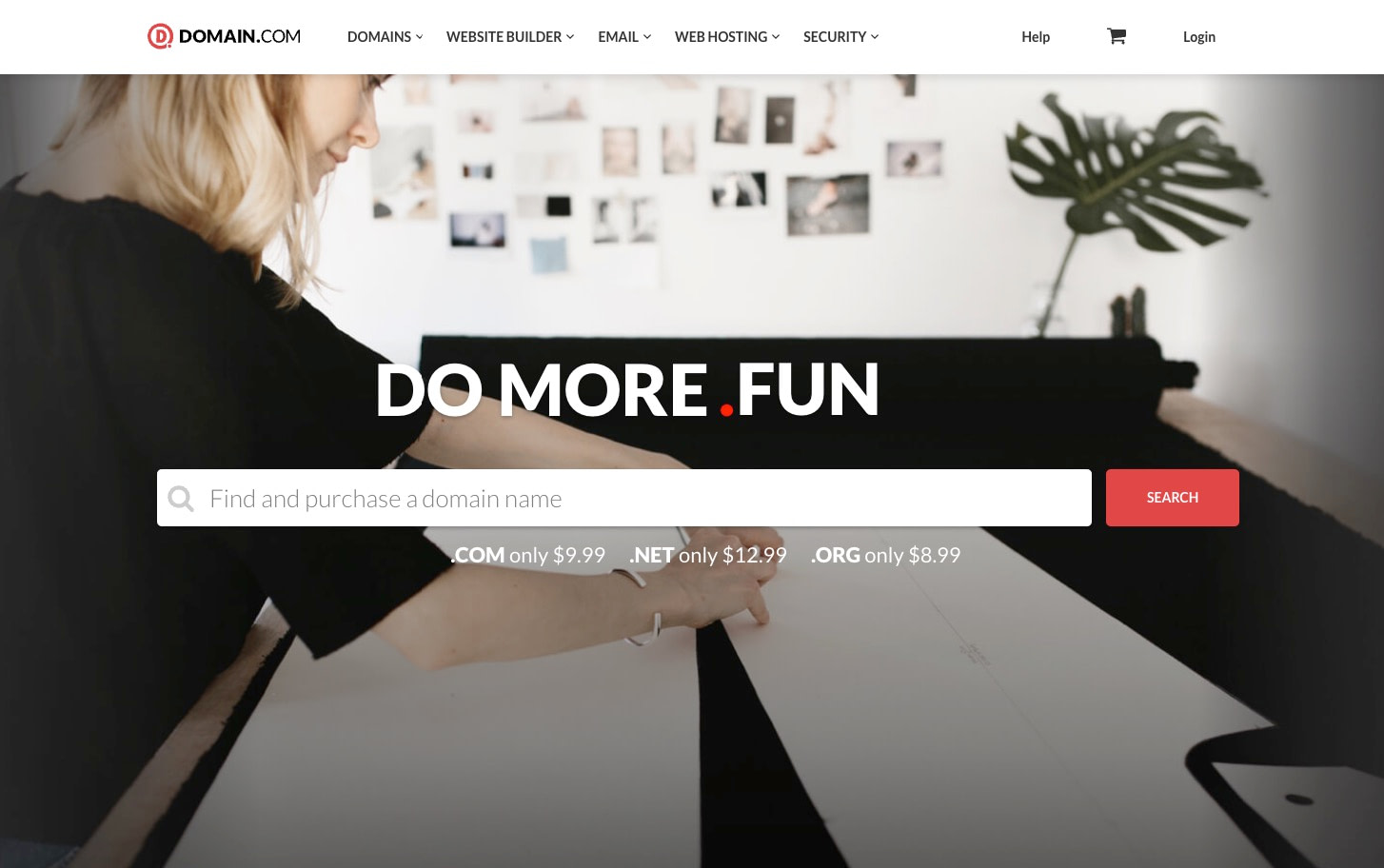 While Domain.com is another solid Google Domains alternative, it doesn't offer total WHOIS privacy. In fact, you'll need to purchase domain privacy and protection separately, which costs $8.99 a year.
However, Domain.com is a great place to find a new domain for your website (especially if you're a beginner). You can get related suggestions if your preferred domain is taken. Plus, you'll find other useful services like security, web hosting, and a website builder.
⚙️ Key features
Search domains
Transfer domains
Privacy and protection (at additional cost)
Website builder
Emails
Web hosting
Security features (like SSL)
Expiration protection (for an additional cost)
💳 Price
You can find TLD extensions like ".com" for around $12 a year. Or, ".info" and ".store" extensions can cost less than $3.
Dynadot makes an ideal Google Domains alternative with affordable pricing, secure checkout, and quality customer support. What's more, you'll get complete WHOIS privacy.
Additionally, Dynadot offers very low prices for TLD renewals. For example, you can find ".com" extensions that renew at just $10.99 per year.
⚙️ Key features
Domain search and transfer
Suggestion tool
IDNs search
Domain security
WHOIS privacy
Website builder
Emails
SSL
24/7 support
💳 Price
You can find ".net" and ".org" domains for less than $12. Meanwhile, lower-level extensions like ".info" or ".pro" only cost a couple of dollars.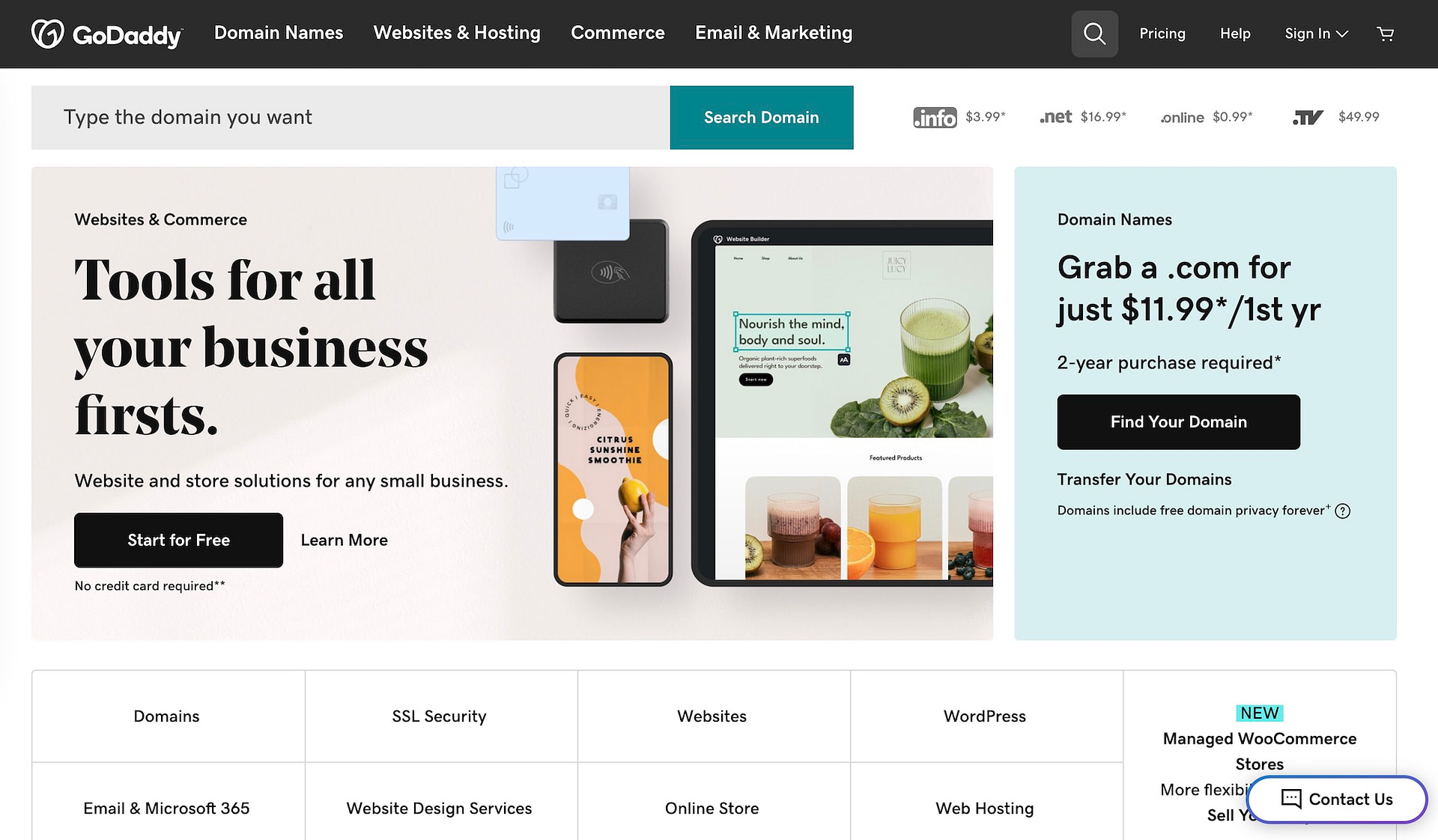 GoDaddy is one of the largest domain registrars in the world, so it makes sense to include it in a list of Google Domains alternatives. However, TLDs can lock you into a three-year contract and renewals can be quite pricey.
For example, a ".com" extension that costs $5 can renew at more than $20 the following year. But, if you have more than one website, you can bundle domains together to save costs.
⚙️ Key details
Domain search and suggestions
Discounts for domain bundles
Long contracts (three-year registration)
High renewals
Website hosting
Emails
WHOIS privacy costs an additional $9.99
💳 Price
You can find TLDs for less than $6, but these renew at much higher prices (above $20). Or, stick with lower-level extensions like ".ltd" or ".me" for just a couple of dollars a year.

Bluehost is an excellent all-in-one option, perfect for first-time website owners. Primarily a web hosting provider, Bluehost also offers domains, email accounts, and web design services.
As a domain registrar, Bluehost gives you access to a 30-day free trial of shared hosting for your website. Or, if you purchase a web hosting package, you'll get your domain name free of charge for the first year.
⚙️ Key features
Search domains
Featured domains
Free domains when you purchase web hosting
Privacy and protection (for an additional $11.88)
Auto-renewal
Domain lock
Domain forwarding
24/7 hosting support
💳 Price
At Bluehost, you can find ".com" domains for $12.99 or a ".space" extension will cost just $1.99.
Conclusion 🧐
With Google Domains shutting down and transferring to Squarespace, you might be in need of a Google Domains alternative. The good news is that there are plenty of top domain registrars to choose from, enabling you to find one that meets your exact website requirements.
💡 To recap, here are some of the best Google Domains alternatives:
Do you have any questions about which Google Domains alternative to pick? Let us know in the comments section below!
Free guide
4 Essential Steps to Speed Up
Your WordPress Website
Follow the simple steps in our 4-part mini series
and reduce your loading times by 50-80%. 🚀
Free Access