Trying to choose between WP Engine vs SiteGround to host your WordPress site? When it comes to choosing a managed WordPress hosting provider, there are a few key aspects to consider. Using performance tests, surveys, and other objective data can highlight important differences between these two hosts to help you make the best choice for your website.
In this post, we'll compare WP Engine vs SiteGround on their features, performance, customer support, and price. Then we'll share advice on choosing the best provider for you. Let's get started!
TL;DR: Overall, if you want affordable hosting with great support and performance, SiteGround is the winner; its low price can't be beaten. You can read more on how these hosts compare below.
⚙️ Features: Both offer plenty of helpful features
If you've narrowed down your potential web hosts to SiteGround and WP Engine, their features may have been a key factor in your consideration. Both provide highly desirable tools for creating high-performing WordPress sites that aren't readily available with other providers. Let's break both down.
WP Engine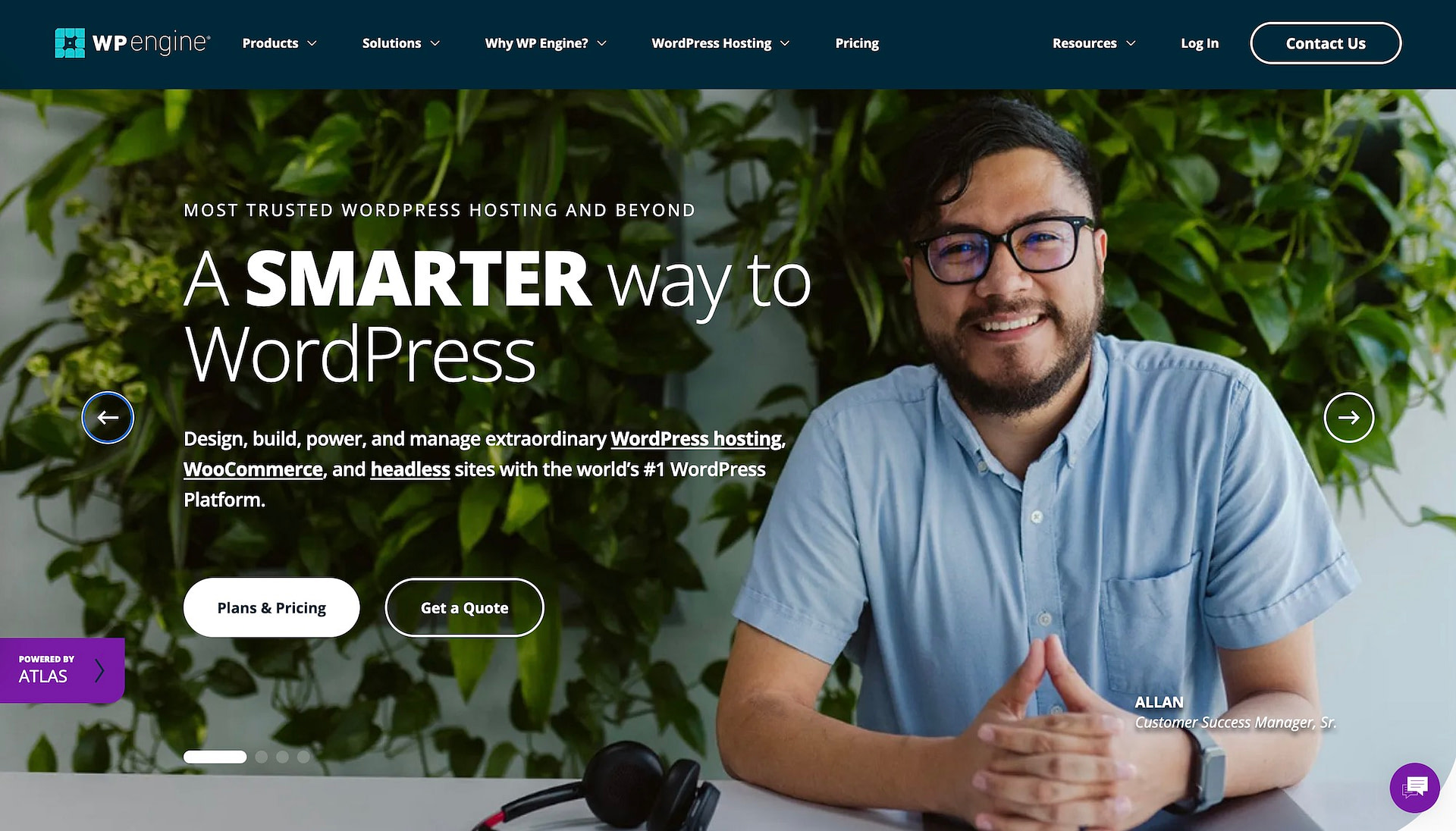 Built-in caching via Varnish and Memcached for improved performance.
Access to the Genesis Framework and over 35 StudioPress Genesis child themes.
Connection with Secure File Transfer Protocol (SFTP) and Git for advanced development.
Three separate staging environments, set up with one click.
Automated WordPress updates and backups.
Simplified migration with the Automated Migration plugin.
Free content delivery network (CDN) and SSL certificates.
GeoTargeting for the creation of location-specific content.
A dedicated WooCommerce plugin pack with important tweaks (like optimizing database queries), which is great if you're hosting a WooCommerce store.
SiteGround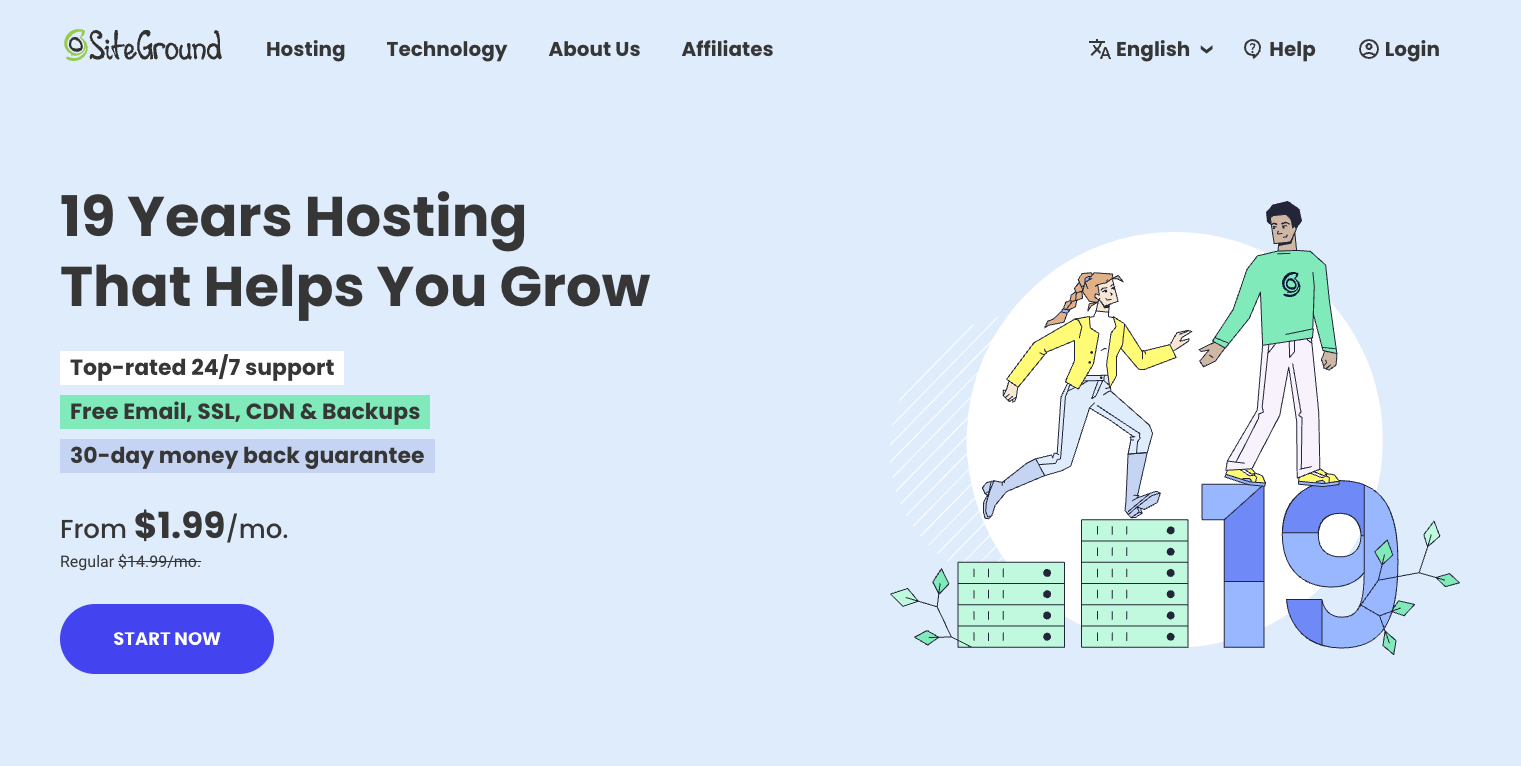 Free WordPress site transfers via the SiteGround Migrator plugin.
Automated WordPress installation for new users.
Built-in caching, and other performance improvements via the SG Optimizer plugin.
A server firewall that protects against common WordPress security vulnerabilities.
Automatic WordPress updates and daily backups.
CDN and SSL certificates included.
Advanced development tools, including Git integration.
Unlimited email accounts featuring your website's domain.
One-click staging site creation.
As you can see, the feature set of both hosts are similar in many respects. The key differences are in WP Engine's StudioPress access and GeoTargeting, and SiteGround's server firewall and email service. All are useful for WordPress site management and maintenance, so the winner for you here is really based on both your personal preferences and the needs of your site.
📈 Performance: Both loaded in under two seconds
Solid performance is a necessity for the success of any website. It influences not only user experience (UX), but your search engine rankings as well. Choosing a host that can't keep up with your site's performance needs could hurt both your conversion rate and your site's visibility.
Fortunately, we've had the opportunity to run performance tests for several popular hosting providers, including WP Engine and SiteGround. We used Pingdom and fresh WordPress installs to test site speed in various locations around the world. Here are the results:
WP Engine
New York: 1.61 seconds.
Melbourne: 1.67 seconds.
Stockholm: 1.60 seconds.
SiteGround
New York: 0.645 seconds.
Melbourne: 1.563 seconds.
Stockholm: 1.39 seconds.
Of course, this is only one aspect of performance, but even so, the competition between these two is pretty tight.
For example, the test results for Melbourne and Stockholm differ by less than 0.3 seconds. In addition, while almost a full second separates the two hosts New York site speeds, this isn't necessarily a deal-breaker. Further and deeper testing would shed light on why this would be, and picking a different data center could change things.
Overall, regardless of how the scores compare with one another, both hosts consistently provide speeds of under two seconds – ideal for providing high-quality UX. Additionally, our uptime monitors show both hosts are providing 100 percent site accessibility to their customers' users:
👐 Support: Both scored high marks, with WP Engine slightly ahead
Considering a host's customer support is important, as you'll want them to be reachable in the event something goes wrong with your site.
Plus, when looking at managed WordPress hosting plans, considering a provider's knowledge of the WordPress platform is extremely useful. One of the benefits of these types of plans is that they're geared specifically towards WordPress users. Access to help with WordPress-related issues should be included.
In 2018, we conducted an extensive survey about the quality of popular WordPress hosting providers. More than 800 WordPress users participated and weighed in on the state of the support from a range of hosts. Here are the scores (out of five) for WP Engine and SiteGround:
| Type of Support | SiteGround | WP Engine |
| --- | --- | --- |
| Overall Support Rating | 4.7 | 4.7 |
| WordPress-Specific Support Rating | 4.5 | 4.7 |
Once again, these two hosts are neck-and-neck. With scores at or above 4.5 in all categories, you can expect high-quality support no matter which host you choose. In fact, these two hosts were both at the top of the list of any host in our survey.
Since they're tied for overall support, we have to turn to their WordPress support scores to determine which is superior. As you can see, WP Engine has a slight edge here, although in reality, both of these hosts are highly knowledgeable, and well-suited for those who need guidance when it comes to using the platform.
💸 Pricing: SiteGround is more affordable
Of course, fancy features, high performance scores, and outstanding customer support don't matter if you aren't able to afford them from the outset. Price could very well be the deciding factor in your choice between WP Engine vs SiteGround.
Looking at WP Engine's plans, the least expensive plan is $13.00 per month, which might put it out of reach if you're looking to host your site on a budget.
SiteGround, on the other hand, is affordable across the board. The lowest tier plan is just $3.99 per month with promotional pricing, and includes their email service, the SiteGround Migrator plugin, automatic updates and backups, a free Cloudflare CDN, and a free SSL certificate.
Unless you're planning to spend a large chunk of change on a premium theme and consider access to the StudioPress themes worth the additional cost, SiteGround takes the cake when it comes to price. Considering the fact that you'll get most of the same features for almost one-third of the cost at SiteGround, it's pretty difficult to justify WP Engine's price tag if you consider everything else equal.
However, there is one other number you may want to consider when selecting one of these plans. While SiteGround's GoGeek plan can handle approximately 100,000 visits per month, WP Engine's Scale plan can take on 400,000. Additionally, if you have a very large site with high traffic levels, their Custom plan could be just what you need to support millions of visitors.
WP Engine vs SiteGround: How to pick the best one for you
For much of our comparison between WP Engine vs SiteGround, these two hosts have displayed fairly similar results. Both show very strong results when compared with other hosting providers, particularly when it comes to site performance and customer support.
When it comes to choosing one of these two hosts for your WordPress site, the decision comes down to features and price. As we mentioned earlier, WP Engine offers 35+ StudioPress themes with its hosting plans, as well as GeoTargeting for personalizing your site based on location. In contrast, SiteGround has a solid server firewall for additional security and dedicated email hosting. Overall, your personal preferences and needs will dictate which is a better fit for you.
As far as price goes, SiteGround's low-cost plans will arguably be an attractive choice for many budget-conscious sites. The exception will be those with large sites with six-figure traffic numbers. Though they're expensive, WP Engine's Scale and Custom plans may be what you need here to support your site.
Conclusion
Your hosting provider is integral to your WordPress site's success. Choosing one is no small task, and requires you to study each provider in depth across a range of areas to whittle them down.
In this article, we've compared two of the best managed WordPress hosts on four key aspects. If you're still trying to decide between WP Engine vs SiteGround, remember these points:
WP Engine is great for large sites with high traffic volumes, though its StudioPress themes and GeoTargeting features might also make it worth the cost for users who want to keep as many site aspects under one roof as possible.
SiteGround offers high-end features at low prices for the everyday WordPress user. Their email hosting, server firewall, and other features provide almost everything you need to create a secure and professional WordPress site.
Do you have any more questions about how to choose between SiteGround vs WP Engine?
Let us know in the comments section below!
Free guide
4 Essential Steps to Speed Up
Your WordPress Website
Follow the simple steps in our 4-part mini series
and reduce your loading times by 50-80%. 🚀
Free Access
* This post contains affiliate links, which means that if you click on one of the product links and then purchase the product, we'll receive a small fee. No worries though, you'll still pay the standard amount so there's no cost on your part.