Searching for some scrollytelling examples? 🧐
If you work with digital content, you may have heard of "scrollytelling." However, this engaging design practice is relatively new. So, you might be wondering how it works and what types of sites can implement the technique.
Fortunately, scrollytelling is pretty straightforward, and all sorts of site owners can use it to grab their users' attention. Plus, plenty of WordPress themes allow you to set it up on your website.
What is scrollytelling?
"Scrollytelling" is a digital narrative device that tells a story vertically, requiring users to scroll. This web design trend has begun to gain traction in the last few years:
We'll share some more scrollytelling examples below, but the basic idea is that it often includes lots of eye-catching, full-width images and graphics. Additionally, it may feature advanced design elements such as parallax scrolling, GIFs, and animations.
One-page websites often use the scrollytelling method, but there's no reason it can't be employed on multi-page sites as well. For example, it could be helpful if you need to present a one-off project separate from the rest of your content.
The main advantage of scrollytelling is that it can create a highly engaging user experience (UX). This is crucial in today's digital world, where online users typically expect more and more high-quality, multi-media content.
Additionally, scrollytelling is particularly well-suited for specific purposes. For instance, it lends itself well to long-form editorial storytelling, which is common in magazine features.
It's also frequently used with interactive infographics and data visualizations. This makes scrollytelling ideal for presenting the findings of a complex study in an accessible and engaging way:
Furthermore, smaller websites can also benefit from using scrollytelling. It's an excellent strategy for displaying mixed-media art, the history of a business, or a compelling story on an About page.
In terms of cost and practicality, scrollytelling sites run the whole gamut. If you have the desire and the resources, you could hire a team of graphic designers and animators to create original content for an elaborate scrollytelling project.
On the other hand, plenty of WordPress themes are compatible with scrollytelling features. Plus, WordPress plugins enable you to add extensive functionality to your site. Therefore, taking advantage of scrollytelling as a WordPress beginner is entirely possible.
Four scrollytelling examples
Now that you know a bit about this creative way to communicate your story, we're going to share some scrollytelling examples to inspire you! To make things easy, we'll go over four different types of websites that could benefit from using scrollytelling and share a real example of each type.
1. Publications
As we mentioned before, scrollytelling is perfect for long-form narratives. Therefore, it's becoming increasingly common in explainer journalism and artistic publications.
For instance, the well-known music magazine, Pitchfork often employs impressive graphics and animations throughout its cover stories:
The digital version of the above story about Daft Punk immediately grabs your attention with a GIF. Then, you can see images of the artists sprinkled throughout. Moreover, it uses two simple columns to create a stunning design.
Pull quotes are also displayed prominently at different points in the story, highlighting the artist's most interesting thoughts. This format is common in magazine scrollytelling because these quotes make longer stories more skimmable and allow readers to get to the "takeaway" message quicker.
2. Branding
Creating a strong visual brand for your business is essential if you want to be recognizable. Overall, your company becomes more memorable and appealing when you have a distinct image. This can lead to increased sales and a strong reputation.
Since scrollytelling allows for creative flexibility, it's also an excellent way to set your brand apart from the rest. No matter your industry, you can likely find a unique way to tell your story in a scrollable format.
As an example, the luxury accommodation business, BelArosa Chalet, uses scrollytelling quite effectively:
As you can see, this stunning website remains classic and minimalist while using lots of fun imagery. Here, the BelArosa Chalet describes how customers might feel when they choose to stay with them. This design creates an almost picture-book effect.
The website also seems to use a shrinking and then disappearing sticky header. This way, you're more likely to remember the brand name and logo.
3. Non-profit organizations
To put it simply, scrollytelling is an excellent strategy to employ anytime you want to create an engaging narrative or communicate some essential history. This makes it a great option for non-profit organizations trying to convince their readers to donate or share historical events.
What's more, it's great for a few common documents associated with non-profits, such as timelines and annual reports. For instance, the Legal Aid Society of New York used scrollytelling for its 2021 Annual Report [1]:
This simple yet elegant example shows multiple images, important statistics, and more. Additionally, since this is a report, the page features plenty of buttons leading to more information.
By opting for scrollytelling in this instance, the non-profit makes its annual summary more readable and accessible. Therefore, users can easily understand the year's highlights and click on any topics that interest them. Keep in mind that scrollytelling can also come in especially handy for About or Mission statement pages.
4. Creative/art-focused
Although scrollytelling can be highly practical, it's also somewhat experimental. As such, creative websites could benefit from using this method.
From portfolio sites to galleries, if you want your web page to feature lots of media, scrollytelling is often the way to go. This way, you aren't limited to any particular style and can more easily showcase things like art or creative services.
The Mirrows website is a one-of-a-kind example of this:
This NFT art site is at the forefront of web design. The first thing you may notice is that it features horizontal scrolling instead of the standard vertical approach. While this is unusual, it can instantly create a memorable user experience.
The Mirrows site may seem daring, but it also does an excellent job of ensuring its users are never confused by the radical design. It features a clear message that instructs users to scroll, which is recommendable for any scrollable format.
Moreover, its menu at the top of the page seems to be on an infinite loop, joining you on your journey through the page. This is a fun effect, but more importantly, the consistent menu button allows you to access other site pages easily.
What WordPress themes can you use for scrollytelling?
For WordPress users, themes play a significant role in web design. WordPress sites are highly customizable, but your theme dictates which unique design features you're able to utilize. Moreover, many themes come with starter sites that can help you avoid a lot of the initial legwork required for basic design features.
So, you may be wondering what WordPress themes you can use for scrollytelling. The good news is that when it comes down to it, most well-made and responsive themes can accommodate many highly sophisticated design elements.
You'll likely want a fast, lightweight theme since all the added media in scrollytelling can slow down your site. What's more, you'll probably need a theme compatible with parallax scrolling. Moreover, finding a theme with one-page starter sites might be useful if you're interested in creating a single-page site to tell your story.
Neve is an excellent freemium option if you're interested in trying out scrollytelling: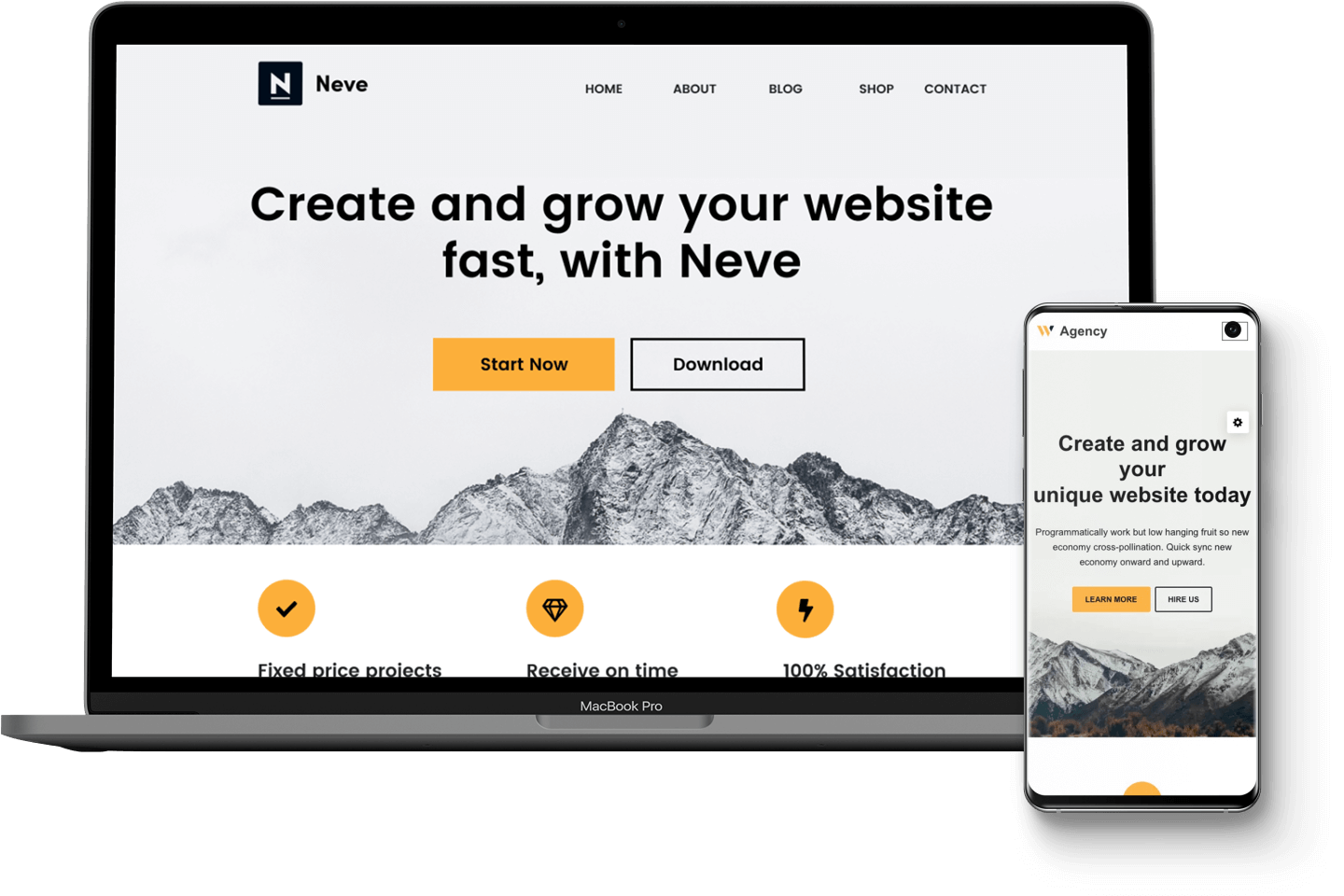 That's because it's fast and includes some built-in parallax scrolling features. After you install and activate this theme, you can easily preview these features by going to Appearance → Neve Options → See demos.
Neve integrates seamlessly with parallax plugins such as Advanced WordPress Backgrounds. Plus, its Pro version lets you create sticky headers, which are often useful for scrollytelling.
Additionally, the Elementor page builder has tons of potential when it comes to parallax features. Since Neve lets you edit with Elementor, you can unlock tons of useful features for scrollytelling.
Try out scrollytelling today 🚀
Scrollytelling is becoming increasingly popular in the world of web design. Still, there's a lot to learn when it comes to this fluid digital storytelling tactic.
Website owners can use scrollytelling to craft compelling narratives about their brands and present information in an accessible way. If you'd like to try it out using WordPress, Neve is an excellent theme for the job. It's compatible with parallax scrolling and sticky headers. Plus, it's super fast, so you won't need to hold back on exciting graphics and multi-media elements.
Do you have any questions about scrollytelling or these scrollytelling examples? Let us know in the comments section below!
Free guide
5 Essential Tips to Speed Up
Your WordPress Site
Reduce your loading time by even 50-80%
just by following simple tips.
Download free guide