Increasing organic traffic is the most effective long-term strategy for growing a website or blog. Although it may take some time, search engine optimization (SEO) can provide much better returns than paid advertising, guest blogging, and almost any other online marketing tactic. The problem is there are no shortcuts to learning how to increase organic traffic.
If you want to gain more traffic from search engines, you'll have to understand how they work, and you'll need a strategy. Planning what type of content to publish and tracking your posts' performance is an excellent start. Still, there are other, lesser known methods you won't want to neglect.
👉 In this article, we're going to walk you through five strategies to help you increase organic traffic to your website. Let's start by talking about People also ask sections!
How to increase organic traffic to website
1. Target People also ask sections 🎯
You may already be familiar with People also ask sections in Google's search results. These are answer boxes that appear under the first result. They include questions related to the initial query. Each question has a succinct answer taken from a website, plus a link to that page: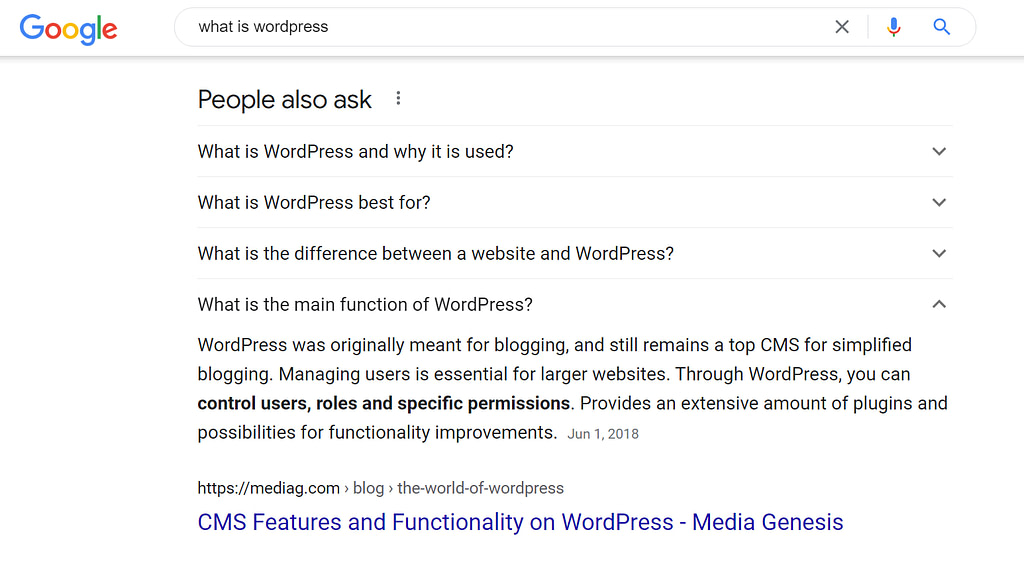 People also ask sections appear in approximately 43% of all searches [1]. Engagement numbers for these question-and-answer sections vary a lot. In some cases, as little as 3% of users interact with the People also ask section. For other searches, that number goes up to 13%. Out of those interactions, approximately 40% result in clicks.
If your content is already among the top results for a specific search, the benefits of appearing in the People also ask section will be minimal. However, if you're not ranking among the top results for a search, appearing in there will enable you to get organic traffic that you otherwise wouldn't.
To increase your chances of appearing in this section, you'll need to optimize your content to provide concise answers to questions that users are looking for. A great source for these questions comes from the bottom of the Google search results pages, where you can look at Related searches:
There is usually some overlap between what you'll find in this section and the People also ask boxes. You can also use keyword research tools like AnswerThePublic to look at related questions for any query:
Once you have a list of questions you want to target, we recommend using proper formatting to help search engines target that information. That means using subheadings for the questions and including the answers below as concisely as possible. One great way to do this is to add Frequently Asked Questions to your pages.
2. Analyze your keyword gaps ⛳
The concept of a keyword gap is simple. The "gap" is made up of the keywords that your competitors are targeting, but you aren't. If you exclude branded keywords, you end up with a list of potential topics that users are looking for, and for which they're not finding any content from you.
Closing that gap is not only a great way to increase traffic to your website, but it also makes you more competitive. Plus, researching that gap will help you identify content ideas you might otherwise miss.
To analyze these gaps, you'll need access to a keyword research tool such as Ahrefs or SE Ranking. These can be very expensive, but you can get away with using a free trial (at least with SE Ranking) if you're on a budget.
If you have access to SE Ranking, you can use the Competitive Research tool from the dashboard and enter the domains that you want to compare.
The first domain should be yours, followed by the competitor that you want to analyze:
The competitor analysis will show you queries that you share, those where your competitor is beating you (and vice-versa), and searches the other site is ranking for that you're not. To look at those missing keywords, select the Missing tab:
Armed with this data, you can begin to filter the keywords that aren't a good fit for your audience and those that might be too difficult to rank for. The remaining keywords will be the ones that you want to focus on.
3. Refresh outdated content 🔄
Refreshing outdated content is something that a lot of bloggers overlook. As you publish more and more blog posts and time passes, some of that content will become out-of-date. For example, if we published a WordPress cloud hosting comparison two years ago, the providers that we would recommend can change drastically during that time.
The same logic applies to pretty much any post that gives specific advice or recommendations. Even if it keeps getting traffic after years, there might come the point where visitors stop using it as a reference because it's become outdated.
In our experience, it's a good idea to go over your content library in its entirety at least once a year. Make a list of the posts that you think might be outdated or decayed, with a focus on those that reference specific years, product reviews and comparisons, listicles, and other similar articles.
Once you have that list, prioritize the posts that get the most traffic to your website. Those are your golden eggs, and you want them to remain as informative as possible, so you can retain your audience. Go through each post and make sure the information inside remains both (a) accurate and (b) relevant. Make any necessary changes, make your content effective, and update the post. That's it!
4. Look for quick-win, low-competition keywords 🏆
When analyzing keywords, most people opt for either high-volume searches or middle-ground options. That is to say, keywords that get decent traffic (as in hundreds of searches per month) but have moderate competition. Depending on your domain authority and backlinks, it can be relatively simple to rank for moderate-competition searches with well-structured articles.
However, most people overlook low-competition keywords with modest search volumes. These would be keywords with search volumes between 100-200 per month:
You can identify the search volume for specific keywords using tools such as Google Keyword Planner. With Keyword Planner you can order keywords by average monthly searches, from lowest to highest and vice-versa.
By definition, low-competition keywords should be easy to rank for with well-structured and well-researched content. Still, most people ignore these keywords since producing that content requires extra effort, which needs to be weighed against the reward (potential traffic).
For a new website, targeting these kinds of keywords can be a decent way to get small boosts in traffic. For the best possible results, you can identify keywords that you're able to group together. This way, you can use a single post to target multiple options.
5. Update your posts' titles and description tags ⚙️
If you're writing posts targeted around specific keywords, it stands to reason that you should monitor their performance. One of the key indicators for a post's performance is how many clicks it's getting in the search engine results pages (SERPs).
As you may know, it's the top results in the SERPs that get the most clicks – 75% of all clicks go to the first three results [2].
Therefore, when it comes to SEO, your first order of business should be to try and get posts to show up on that first page of results. That should be enough to get at least some clicks. To improve your ranking, we recommend tweaking the title and meta description tags for that post:
Luckily, the process is simple. The Block Editor enables you to change blog post titles at any time. Furthermore, if you're using an SEO plugin, you'll typically see an option to modify the meta description for each post while you're editing it:
To put it simply, search rankings play a massive role in your posts' success, and their titles and meta descriptions can make or break them. Catchy blog titles are more likely to get users' attention, which should help to increase their click-through rate (CTR).
If you're not sure how to monitor click-throughs for your WordPress site, we recommend using Google Search Console. Accessing the Performance tab in your Search Console dashboard will show you the average CTR for your site's pages:
That section also includes a breakdown of the CTRs for individual keywords further down the page. This information will help you identify which articles are pulling their weight and which ones are underperforming.
Increase your site's organic traffic today!
There's no secret to learning how to increase organic traffic for a website. It all comes down to doing the research, figuring out what topics to write about, and keeping up a consistent posting schedule. Over time, a great content strategy will pay off and translate to recurring organic traffic. In other words, you'll have an audience.
If you're wondering how to increase organic traffic, we recommend considering the following strategies:
Target People also ask sections.
Analyze your keyword gaps.
Refresh outdated content.
Look for quick-win, low-competition keywords.
Update your posts' titles and description tags.
💡 To learn more about SEO in general, you can read our 👉guide to WordPress SEO and follow 📢 our SEO checklist.
Do you have any questions about how to increase organic traffic to your website? Let's talk about them in the comments section below!
Free guide
4 Essential Steps to Speed Up
Your WordPress Website
Follow the simple steps in our 4-part mini series
and reduce your loading times by 50-80%. 🚀
Free Access