Gmail has dominated the email market thanks to its intuitive interface, generous free storage (15 GB shared with other Google tools, like Google Drive and Photos), and a wide range of free productivity tools that come as an addition to the regular Gmail account. However, there are serious concerns about how Google uses your emails, and not everyone loves the Gmail interface, which is why you might want to explore some Gmail alternatives.
If you've been using Gmail for the past decade because of its user-friendliness, it might surprise you how much competitors have improved their services. For instance, many email providers offer a similar browser-based experience and a modern design these days. Some even offer end-to-end encryption and take extra measures to ensure that they keep all your messages private.
Finally, the best Gmail alternatives have mobile apps, desktop clients, features that aid your social media accounts, and even document suites for replacing common Gmail integrations, like Google Drive and Google Docs.
In this article, we'll discuss the top Gmail alternatives that are free or low cost, and secure (some of which prioritize privacy over everything). Let's dive right in! 🏊‍♂️
Best Gmail alternatives 📧
Here are the best Gmail alternatives we'll evaluate today. They each offer secure experiences, so the best option for you will depend on the storage you need and the integrations you'd like to use.
⏰ In a hurry? Skip to a comparison chart showing all of the Gmail alternatives stacked against Gmail itself, with our final guidance on which option to pick, based on your needs.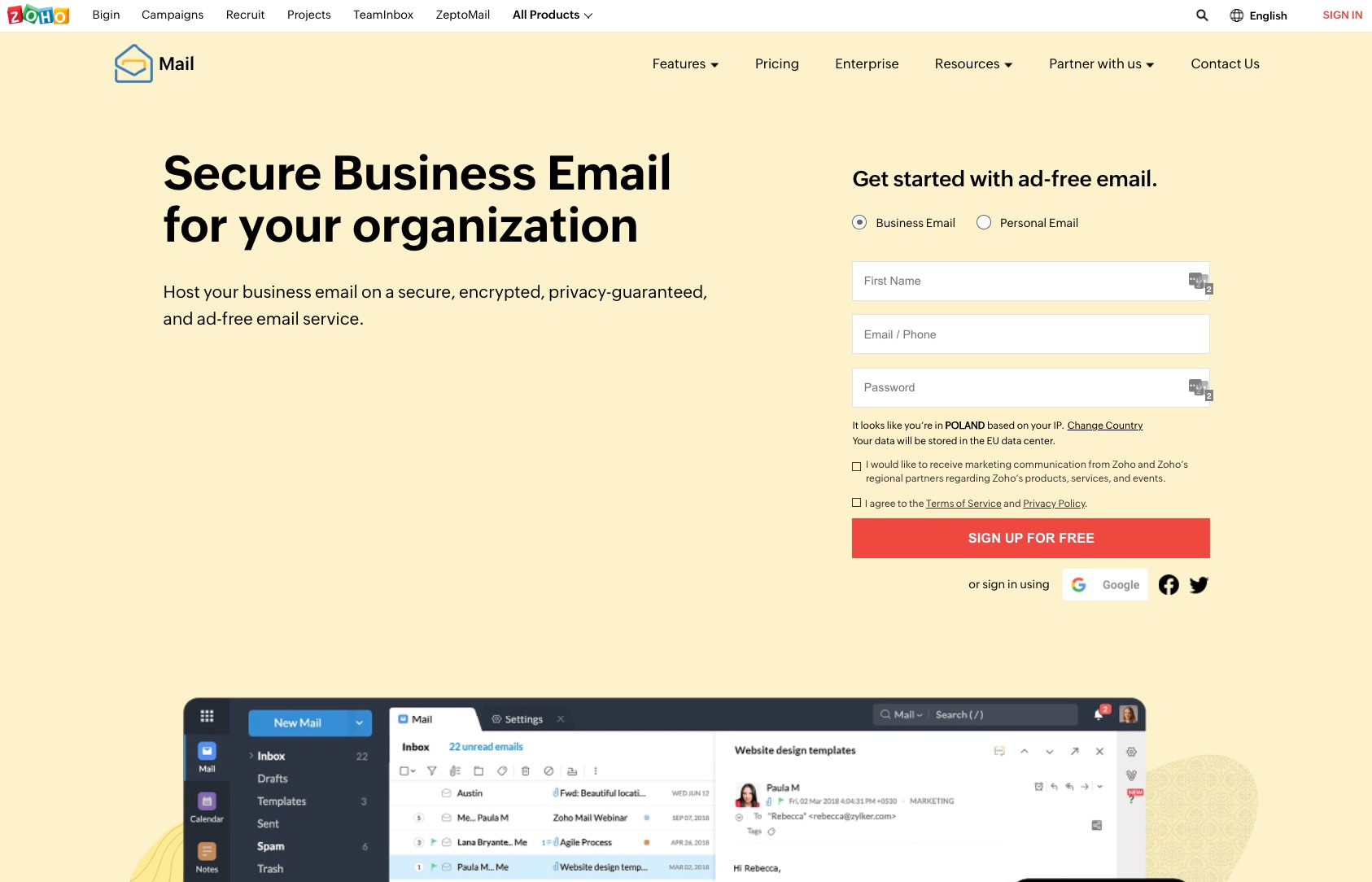 Our first recommendation is Zoho Mail, a feature-rich email service for small businesses and personal use. It includes a full suite of organizational tools, like a calendar, storage drive, tasks, contacts, and bookmarks, making it the closest alternative to Gmail you can find.
Zoho Mail comes with a clean interface, which you can organize neatly with the Streams feature: Streams enable you to add comments to your email threads, exchange files, and assign tasks, which can be useful if you want to use the platform professionally.
Both businesses and individual users will appreciate Zoho Mail's calendar, contacts, and tasks, which help keep your inbox more manageable and help ease your transition from Gmail to Zoho. Those concerned with Gmail's privacy issues can also rest easy, as Zoho Mail offers secure email hosting and end-to-end encryption on all messages.
Besides all that, Zoho Mail makes it super easy to set up a custom business email, so it's an excellent option if you want to establish a more professional presence. You should note, however, that you'll only be able to access the custom email address through webmail or Zoho Mail's dedicated mobile apps unless you upgrade to a premium plan.
Features ⚙️
99.9% uptime guarantee (excluding downtime caused by planned maintenance and updates, which are communicated in advance)
Integrations with other Zoho products like Zoho Docs, Notebook, and Workdrive
Access to 24/7 customer support through email, phone, or chat
Group accounts with user permissions
End-to-end and S/MIME encryption
Mobile app
Migration tool
Mail retention and backup
Email recall
An offline mode
Quick actions and email snippets
Email filters, searching, and advanced management with Zoho Streams
Spam settings like a blocklist, trusted list, and spam filters based on language
Automated mail forwarding, tags, and folders
Notifications and email follow-ups
Pricing 💵
The 'forever free' plan is suitable for up to five users with 5 GB of storage per user, a 25 MB attachment limit, and email hosting for a single domain. If you'd like to access more storage and productivity tools, pricing starts at just $1 per user per month – making it one of the most affordable Gmail alternatives.
Next, we have Mail.com, a free Gmail alternative that gives you a choice of over 200 domains to suit your niche or personality. It's an excellent option for freelancers who would like to look more professional without spending money on a custom domain.
For instance, you can set up an email like yourname@accountant.com that's completely free. You can also choose something casual, such as yourname@catlover.com, if you prefer to use it for personal communication.
Mail.com also comes with powerful anti-virus tools to protect you from email-based threats. This provider ensures that its system scans for viruses only and that your email privacy is safe. Other security features include 2FA (2-factor authentication), spam filters, and the use of secure US servers.
Furthermore, Mail.com offers a tool called Mail Collector, which allows you to access and manage several accounts from one inbox. This way, you can set up a central Mail.com account and coordinate all incoming communications, whether they're from your business or personal email address.
Besides all that, Mail.com enables you to keep your inbox tidy, thanks to its intuitive dashboard. It also comes with an organizer tool, online calendar, and office suite, making it a solid alternative to Gmail.
Features ⚙️
Mobile web access
Dedicated Android, iPhone, and iPad apps
Email widgets for mobile apps
30 MB attachment limit for FreeMail users and 100 MB for Premium users
Spam filter, virus protection, and US server storage
Generous free cloud storage (2 GB for general storage and 65 GB for email)
Chrome email notification extension
Added security with 2-factor authentication (2FA)
Search and filter functionality
Over 200 custom domain options
Mozilla Firefox integration with bookmarks, password manager, and add-ons
Browser notifications and multi-account checking with MailCheck tool
Mail Collector tool to manage all email inboxes in one
Online calendar with reminders
Address book with digital contacts and syncing
Office suite for documents, presentations, and spreadsheets
Pricing 💵
You can use Mail.com for free, which gives you up to 10 alias addresses, 65 GB of email storage, and 2 GB of general cloud storage for documents and photos. There is also a premium option if you'd like to remove ads, increase storage, and receive your emails through 3rd-party email apps. They sell premium plans as extended bundles (no monthly plans), starting at $9.99 for three months of service and going up to $47.87 for an entire year.
Number three on our list of Gmail alternatives is StartMail, a secure email service headquartered in the Netherlands. StartMail's founders are the same people who created Startpage, popularly known as "the world's most private search engine," so from a security and data protection standpoint, you'll be in good hands.
A good example of this is how StartMail offers two methods of email encryption: The first is through password-protecting your emails. This can be very helpful if you send a private email to a recipient who doesn't use an email service that offers encryption. The second is through PGP encryption, which protects the content of your emails using PGP keys.
Another standout feature is StartMail's unlimited aliases. This allows you to create multiple email addresses for different purposes, which will all funnel into one inbox and help shield your primary email from spam and other online threats.
Similar to Gmail, StartMail simplifies email management by allowing you to customize your inbox and how emails are displayed and organized. You can also set up filters and rules to automatically categorize and prioritize incoming emails based on criteria like subject, keywords, or sender.
Features ⚙️
End-to-end encryption
20 GB of storage
Unlimited aliases
No ads and no tracking
Instant email deletion
Inbox customization
Accessible via IMAP or webmail
Malicious link protection
European data protection according to GDPR
Hidden IP addresses
Group email options
Two-factor authentication (2FA)
Pricing 💵
StartMail doesn't have a free plan. However, you can try it out for free, for seven days. If you're happy with the service and would like to commit, the Personal plan is $5 per month, billed annually. This subscription offers 20 GB of storage, allows you to create email addresses with the StartMail domain, and pay for it using Bitcoin.
On the other hand, the custom domain plan is $5.85 per month, billed annually, however, it doesn't come with a 7-day free trial. In addition to the personal plan features (except for Bitcoin payments), it allows you to create email addresses and unlimited aliases with your custom domain.
Next on our list of Gmail alternatives, another company that prides itself on its security practices. They initially promoted ProtonMail as "the only email system the NSA can't hack," so rest assured that your data is in safe hands.
Similar to Mailfence, ProtonMail can guarantee your privacy, which is protected by strict European law. To secure your mail, the provider uses end-to-end and zero access encryption, which means not even the company can read your messages.
ProtonMail values your privacy so much that you can open an email account without giving out your personal information. All you need is a username and password, and an optional recovery email.
Besides all that, you enjoy a modern inbox design and productivity tools that resemble the ones in Gmail. For instance, you can assign color-coded labels to organize emails and star important messages. ProtonMail also offers calendar and storage drive products with all email accounts, making it one of the best alternatives to Gmail.
Features ⚙️
Android and iOS apps, along with a web-based inbox
Encrypted storage drive and calendar
Open-source code
Biometric-secured data centers
End-to-end email encryption
Self-destructing messages
Anonymous email address options
Pricing 💵
You can use ProtonMail for free, which includes 1 GB storage and 150 messages a day; support is non-priority. You can also upgrade for $3.99 per month to access more storage, premium customer support, and the ability to set up a custom domain. Additionally, ProtonMail now offers the Proton Unlimited plan, which provides 500 GB storage, 3 custom domains, and all the other advanced features. Any ProtonMail plan comes with a bundle of products including ProtonVPN, ProtonPass, ProtonCalendar, etc.
Tuta (formerly known as Tutanota) serves as an excellent Gmail alternative, particularly for those concerned about privacy. The email provider offers a free account, affordable upgrades, and an end-to-end open source email platform from its headquarters in Germany.
Tuta excludes advertising from its business model, so it only generates revenue through premium subscriptions and donations. Luckily, the developers provide a simplified free plan as well, along with email access on any device, a beautiful online interface, and integrated calendars and contacts. Another notable part of Tuta is its own desktop clients for Windows, Linux, and macOS.
You can send anonymous emails, manage encrypted calendars, and send out-of-the-office messages. Tuta definitely doesn't have the online office suite you'd find from Gmail alternatives like Zoho Mail and Mail.com, but you can still open and edit documents in their respective programs. Combine that with alias addresses, white-labeling potential, and secure servers in Europe for a rather impressive shift from Gmail.
Features ⚙️
Encrypted emails, storage, contacts, and calendars
Encrypted email content like subject lines, email bodies, and attachments
Android apps, iOS apps, and desktop clients for Mac, Windows, and Linux
Two-factor authentication for added security
Policies for no third-party captcha, no advertising, and no data logging
Support for custom domains
Autoresponders
Email exports
Advanced text searching
White-label customizations for branding
Multi-user support
Options for alias email addresses
1 GB of free storage (considerably more as they compress emails)
Potential for custom domains
Pricing 💵
Tuta (Tutanota) offers a free plan for personal use that supports one user and provides 1 GB of storage, a Tuta domain, some search capabilities, and one encrypted calendar.
The premium plans for personal use start at €3 per month and let you add users, custom domains, and multiple calendars. Premium plans also allow aliases, inbox rules, and increased storage. Business packages begin at €6 per month and add advanced features, like email templates, event invites, autoresponders, and custom branding.
If you're already using Microsoft products, you might like our next recommendation. The free version of Outlook is a new, revamped version of Hotmail, which integrates seamlessly with other Microsoft services.
In terms of integrations with other productivity and storage apps, this email service provider is one of the best Gmail alternatives. For instance, you get extended storage space through OneDrive, a robust calendar with color-coding, contact management, and a task organizer. It also lets you assign emails to categories, much like Gmail.
The interface is modern and easy to use, which Gmail users should adapt to almost immediately. Besides that, Outlook supports a generous attachment limit of up to 34 MB. You can use OneDrive to send larger files, too, up to 2 GB.
Outlook also prides itself on providing advanced security, which it claims is the same in Outlook as in its enterprise-level services.
The one big downside compared to Gmail, is that as of November 30th, 2023, Outlook has announced that they will stop supporting custom email domains [1]. However, existing custom domain users will be grandfathered in.
Features ⚙️
Contact syncing options
Integrated email and calendar
Free access to the Office 365 web versions (Word, Excel, and PowerPoint)
Real-time chat via Skype
Accessibility tools (voice-controlled navigation, support for assistive devices)
Spam and malware filter
Android and iOS apps
Access to email via web browsers
34 MB limit for email attachments and 2 GB attachments with OneDrive
5 GB of overall OneDrive storage
15 GB mailbox storage
Pricing 💵
You can use Outlook for free, which gives you 15 GB of mailbox storage, an additional 5 GB of OneDrive storage, and free web versions of Office 365 apps.
You can also upgrade for $69.99 per year, which gives you an ad-free experience, premium Office apps, advanced security options, more generous storage, and data encryption. The Family plan sells for $99.99 per year and gives you six user inboxes.
Our final recommendation is Mailfence, a private email provider based in Belgium. They heavily root their services in online security, so it's one of the best Gmail alternatives if you're concerned about Google's policies.
According to the Belgian privacy protection laws, only local jurisdictions can request your mail access, which happens under extremely rare circumstances. Therefore, this particular free email service provider can guarantee no surveillance and no selling of your data to third parties, which is not a promise that most other providers make.
Mailfence also uses encryption, which happens in the browser and works with all OpenPGP services. You can also set up a password and even an expiry date for messages. This way, no one but you will read your communications, not even Mailfence.
Besides advanced security and privacy features, Mailfence gives you access to other essential tools. For instance, you can manage your appointments in a user-friendly calendar or store and edit documents in the cloud.
Features ⚙️
Easy contact imports
Groups for secure data sharing
Email encryption
Mobile access
POPS, IMAPS, and SMTPS support
OpenPGP key manager
Digital signatures to minimize email faking
No ads or email trackers
Calendars, documents, and contacts
Up to 500 MB email storage and 500 MB for documents
Pricing 💵
You can use the webmail version of Mailfence for free. It includes 1 GB of storage, up to 500 MB document limit, email customer support, and two-factor authentication. If you need more storage and support for mobile apps and email clients, you can upgrade for $3.50 per month. Higher storage plans sell for $9.50 and $29.00 per month.
How to choose a Gmail alternative 🤔
As you weigh your options for a Gmail substitute, it's crucial to consider what matters most for your communication and productivity needs.
Start by considering what you love (or don't love) about Gmail. Is it the intuitive interface, the massive storage, or the integrated productivity tools?
Maybe you're seeking better privacy features, or simply a fresh layout.
Align your priorities – whether it's a user-friendly design or cost-effectiveness – with the features offered by Gmail alternatives.
Remember, the best email service for you is the one that fits seamlessly into your workflow and enhances your digital life, without feeling like a compromise.
To help you out, we've put together a handy table that compares some of the most basic information that you're probably curious about. Ideally, this will help you quickly narrow your choices down to only two or three. Then you can scroll back up to them to analyze some of their other features more closely. Alternatively, you can also just click the links in the table and go directly to the Gmail alternatives that end up on your shortlist to examine them more closely that way.
Gmail alternatives compared: pricing, features, custom domains
| Email Service | Free Plan | Premium Plans | Free Storage | Premium Storage | Custom Domain Support |
| --- | --- | --- | --- | --- | --- |
| Gmail | ✅ | Starting from $6/month | 15 GB free | Premium plans start at 30 GB | Free (via SMTP/POP3); Paid (via Google Workspace) |
| Zoho Mail | ✅ | Starting from $1/month | 5 GB free | Premium plans start at 5 GB also | Free (for one domain); Paid (multiple domains) |
| Mail.com | ✅ | Starting from $2.50/month | 65 GB free | Premium plans start at 75 GB | N/A; pick from list of 100+ semi-custom domains |
| StartMail | ❌ | Starting from $5/month | ❌ | 20 GB | Paid (starting from $5.85/month) |
| ProtonMail | ✅ | Starting from $3.99/month | 1 GB free | Premium plans start at 15 GB | Paid (starting from $3.99/month) |
| Tuta (Tutanota) | ✅ | Starting from €3/month | 1 GB free | Premium plans start at 20 GB | Paid (starting from €3/month) |
| Outlook | ✅ | Starting from $1.67/month | 15 GB free | Premium plans start at 50 GB | N/A from 30 NOV 2023; existing custom domains grandfathered in |
| MailFence | ✅ | Starting from $3.50/month | 1 GB free | Premium plans start at 40 GB | Paid (starting from $3.50/month) |
Try one of these Gmail alternatives today 📨
With the growing security concerns surrounding Google and its related services, more and more users are moving away from Gmail, looking for secure and free email accounts. Fortunately, many free email providers have stepped up their game in terms of design, usability, and offerings like calendars, storage drives, and online documents.
In this article, we've discussed some of the best Gmail alternatives in 2023. Only one question remains, how to actually make your final decision? 🤔
Your ultimate choice of Gmail alternative will depend on what your main goal is when it comes to email. Consider the following:
☂️ If you're looking for an all-around alternative that delivers similar productivity tools and various integrations, go for Zoho Mail.
👀 If you're the most concerned about privacy and keeping your personal communications away from prying eyes, go for StartMail, Tuta, or Proton Mail.
🆓 If you simply want a free personalized email address, give Mail.com a try.
Do you have questions about any of these Gmail alternatives? Let us know in the comments section below!
Free guide
4 Essential Steps to Speed Up
Your WordPress Website
Follow the simple steps in our 4-part mini series
and reduce your loading times by 50-80%. 🚀
Free Access
* This post contains affiliate links, which means that if you click on one of the product links and then purchase the product, we'll receive a commission. No worries though, you'll still pay the standard amount so there's no additional cost on your part.