The right WordPress job board plugin can help you transform your site into a fantastic place to post about job openings. With a job board, you can use the site to post openings in your own business or enable users to publish other opportunities.
There are a lot of job board plugins to pick from. The best options will include features such as filters and search to help your visitors find the perfect gigs. These plugins can also help you set up notification systems to let you know when someone applies for a job, among many other features. 🔌
In this article, we're going to help you pick the perfect 🤩 WordPress job board plugin for your needs by comparing our top choices. Let's get to it!
1. Simple Job Board
Simple Job Board sets up a jobs listing page within your site. The page includes features that enable users to sort job openings by category, type, and location, as well as keywords: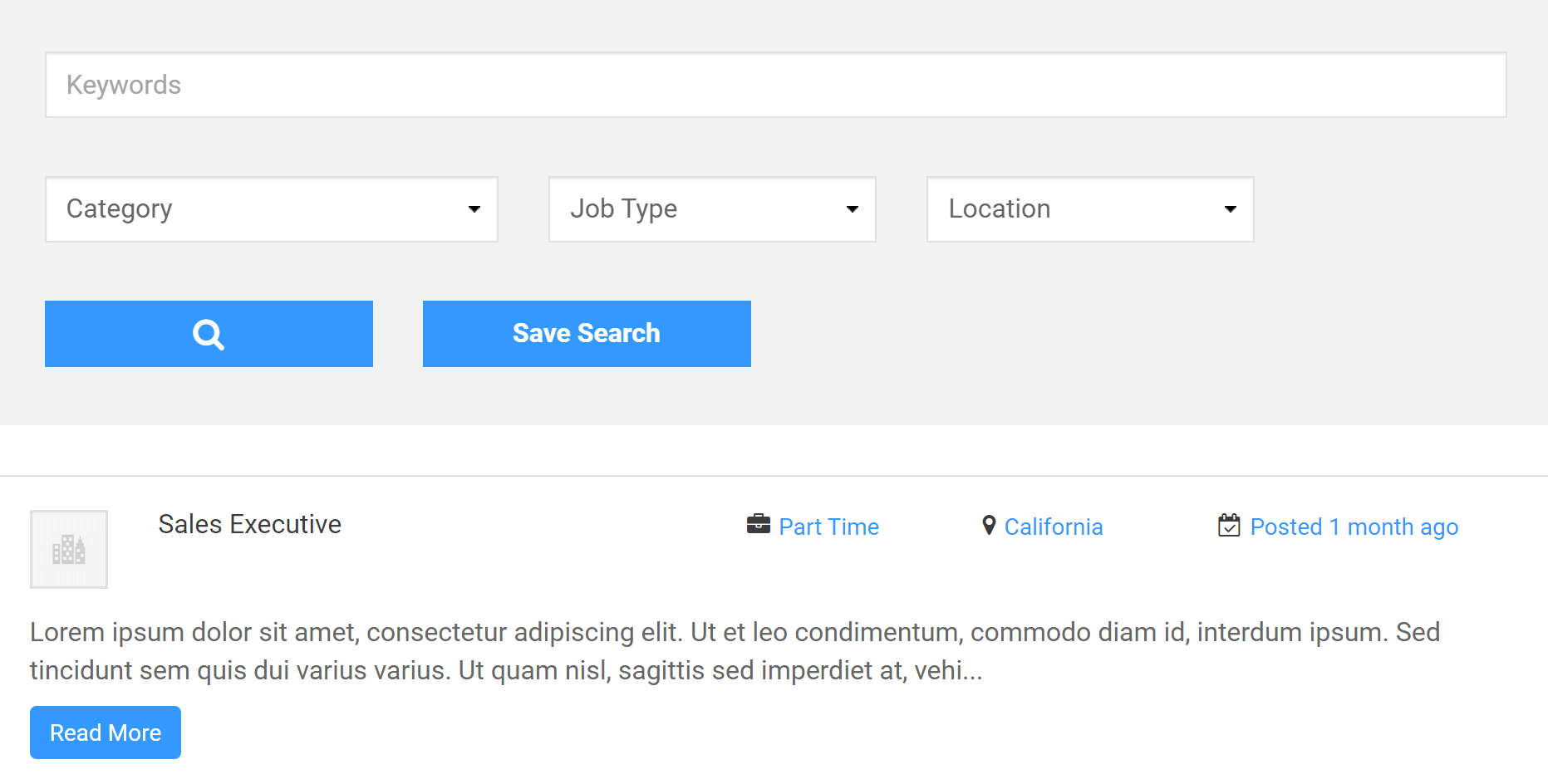 This plugin is geared toward businesses that want to publish internal job opportunities. It makes it easy to manage large numbers of listings, which can be useful if your business is expanding rapidly.
Each job opening gets a page where visitors can see its full details. The plugin enables you to include sections for job requirements and what the position entails. Each posting also includes a form that visitors can use to submit an application:
These forms support file attachments for resumes, and they include all the fields you need to receive a basic job application.
Note that these options are available in the free version of the plugin. The plugin also offers a large selection of add-ons that add features, such as enabling users to submit job postings. That means, if you pay, the plugin enables you to transform your site into a jobs board open to public submissions.
Simple Job Board add-ons vary a lot in price, with some of the simpler options starting at $10 per year. The option to purchase all add-ons together comes out to approximately $500, along with one year of support.
Due to the price, we can only recommend this WordPress job board plugin if you want to use it to set up a job board for in-house opportunities. Other plugins offer more flexibility in setting up other types of job boards, and they do it for free.
2. WP Job Manager
WP Job Manager is a plugin by Auttomatic (the company behind WordPress.com, WooCommerce, Jetpack, etc) so it gets regular updates. The plugin enables both you and users on your site to publish job postings (we also have a full tutorial on how to use WP Job Manager).
You can browse job postings in the form of listings. These listings can include information on the job title, location, and whether it's a full-time or part-time position:
Users can browse listings using a selection of filters, and when they open a publication, they get to see additional information such as salary ranges and a full description. The bad news is you don't get access to forms users can use to apply for jobs unless you buy an add-on:
WP Job Manager offers a selection of add-ons that expand the plugin's functionality. These add-ons range in price from $29 to $79 per year. They add features such as support for paid listings, application forms, resume managers, and job alerts.
Without add-ons, what you get is a WordPress job board plugin that enables users to publish openings. However, you won't be able to charge users for publishing job openings (at least not automatically) if you stick with the free version of the plugin.
The major downside of the free version is the lack of job application forms. This means you'll need to publish contact information alongside each posting and wait for applicants to reach out to you directly.
3. WP Job Openings
WP Job Openings enables you and other users to publish job opportunities in WordPress. The plugin lets you choose from two designs for your job board, including list and grid options.
The base job posts look similar to the ones on the Simple Job Board. The plugin enables you to include details such as the job title, whether it's full-time or part-time, the desired location, and more. Users can sort through openings using a search feature and filters:
When you open a job listing, you get to see its full description. The plugin enables you to use the Block Editor to create listings, which means you have full control over how they look. Each listing also comes with an application form:
WP Job Openings offers a sizable selection of add-ons, many of which are free. Paid add-ons include options such as a tool that enables you to customize job application forms.
The plugin offers these add-ons as part of a Pro package, which starts at $69 per year. That is in contrast with the other two job board plugins we've seen so far, which require you to buy add-ons one by one.
Although WP Job Openings doesn't support front-end job postings, you can assign users a custom HR role. This role will enable them to create job postings and check out existing applications from the dashboard.
Which WordPress job board plugin is right for you? 🤔
As with any other type of tool, your choice will come down to what features you're looking for in a WordPress job board plugin. Each of these plugins can be an excellent choice for specific use cases. Here are our recommendations:
Simple Job Board: This plugin is a great option for internal job postings. It relies a lot on add-ons, but the free version is all you need to post about openings for your business.
WP Job Manager: This plugin enables users to publish job openings. The downside is that you can't charge for postings unless you use the right add-ons. You also don't have access to application forms without add-ons.
WP Job Openings: This plugin works for both internal and user-submitted job postings. You also get to include application submission forms with the free version.
Ultimately, your decision will come down to whether you want to focus on internal job postings or user submissions. WP Job Manager and WP Job Openings are better options for job boards that include job posts submitted by users.
WP Job Openings has the advantage of supporting application forms out of the box. With WP Job Manager, you have to use add-ons to add that and other features.
Putting job application forms aside, WP Job Manager and WP Job Openings offer better user interfaces and designs for job listing pages than Simple Job Board. If you don't need application forms, you're free to choose between both plugins based on their style. 💼
Do you have any questions about which WordPress job board plugin to choose? Let's talk about them in the comments section below!
Free guide
4 Essential Steps to Speed Up
Your WordPress Website
Follow the simple steps in our 4-part mini series
and reduce your loading times by 50-80%. 🚀
Free Access