If you have a WordPress website, you might have asked yourself, "what is Jetpack, and how can it help my website?"
Having countless plugins that can help you manage your website can create a lot of confusion and affect your website's speed and overall performance.
Jetpack for WordPress solves this problem by providing an all-in-one solution for enhancing the functionality of your website. With its comprehensive security, performance, and site management features, the Jetpack plugin helps you quickly get the most out of your WordPress website.
📚 Read on to learn the answer to your question, what is Jetpack and discover what it can do for you.
What is Jetpack and what are its features?
Jetpack provides a comprehensive suite of tools for WordPress website owners to help keep their sites secure, fast, and optimized. The plugin offers an array of features designed to maximize website performance and provide peace of mind.
Free features 💸
Some of Jetpack's most popular features are included in the free version of the plugin, including:
Brute force attack protection (formerly Protect): Safeguards your website from unauthorized activities
Comments and likes: A new comment system with the Like feature and social media integration
Google Analytics: To track and analyze your website's traffic
JSON API: For seamless integration with other applications
Markdown: Write posts and comments with lists, links, and different styles
Monitor: Receive real-time emails about downtime
Notifications: Receive notifications in your admin bar and on your mobile device
Plugin Management: Select which plugins update automatically
SEO Tools: Improve your SEO
Sharing: Lets your readers easily share your content
Shortcode Embeds: Embed content from other websites with a simple shortcode
Site Accelerator: Improves your website's speed
Subscriptions: Notify visitors about new posts and comments
👉 You can also benefit from other free features like:
Carousels, slideshows, and tiled galleries
Contact form
Custom CSS
Extra sidebar widgets
Sitemaps
WordPress.com toolbar
Paid features 💳
Some of Jetpack's free features come with limited functionality; you can upgrade to the paid version to access the full suite of features. These include:
Backups: Save changes and restore your website
Jetpack Social: Share your content across multiple social media platforms
Payments: Accept payments and donations through Stripe
Security Scanning: Scans your website for potential threats
Search: Improve search experience with advanced search tools and filters
Spam Filtering: Filters spam comments automatically
Video Hosting: Add videos to your website
WordAds: Monetize your website with quality ads
You can find a complete list of Jetpack for WordPress features here.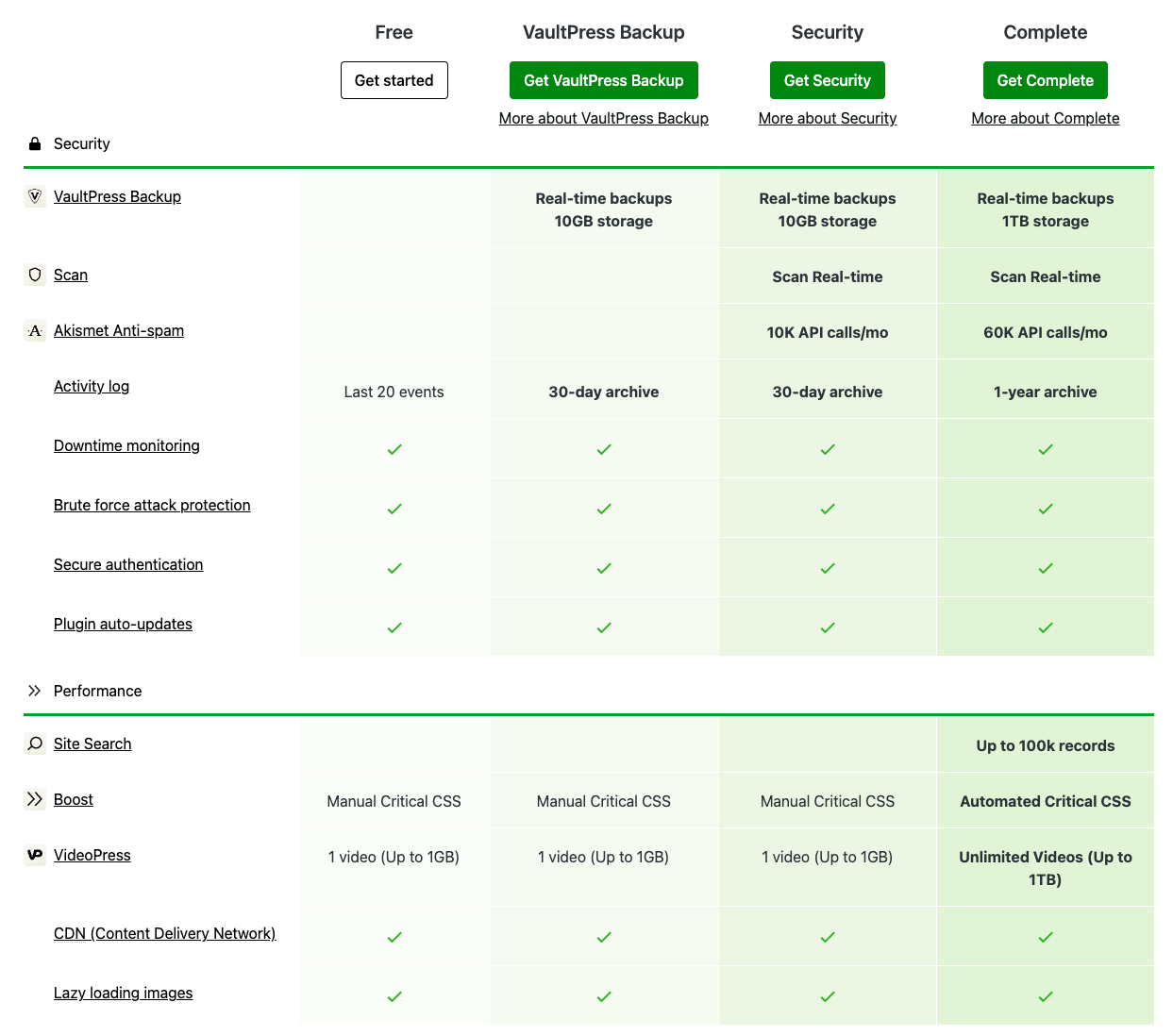 How to integrate Jetpack with WordPress
Integrating Jetpack into your WordPress website is a simple, straightforward process. To get started, download the Jetpack plugin from WordPress Admin:
Go to Plugins, then Add New
Search for Jetpack
Choose Install Now
Click Activate
Select Set up Jetpack
Click Approve
Be sure to create a WordPress account or log in to an existing account and connect it to the plugin.
Once it's connected, you can review the features in Jetpack and get started using them on your WordPress website. You can activate and deactivate individual features or upgrade to the paid version to access all the features.
Do I need Jetpack?
Anyone with a WordPress website can benefit from Jetpack's features, as the plugin helps make managing a WordPress site faster, more accessible, and more secure. It provides many tools for optimizing your website performance, such as backups, security scanning, SEO tools, and more.
You can enjoy the free features included in Jetpack or upgrade to the paid version for access to even more powerful tools. Ultimately, Jetpack for WordPress provides a multi-functional solution that helps you get the most out of your website.
You can find plenty of alternatives if you're looking for something more specific. Still, Jetpack's comprehensive set of features makes it an excellent option for website owners who need an all-in-one solution.
Improve your website's functionality with Jetpack 🚀
What is Jetpack? A WordPress plugin with a comprehensive suite of tools that can improve your website's performance, speed, and security. With its free and paid versions, Jetpack is an excellent all-in-one solution for optimizing your website. Start using it today to get the most out of your WordPress site!
Free guide
4 Essential Steps to Speed Up
Your WordPress Website
Follow the simple steps in our 4-part mini series
and reduce your loading times by 50-80%. 🚀
Free Access