If you've recently dipped your toes into the website building and design world, you may have come across the name "WordPress.com." What is WordPress.com exactly and why do we even have to talk about it separately from WordPress.org?
In a sentence, WordPress.com is an all-in-one website creation and hosting platform. It provides users with an easy way to create professional-looking websites without any coding or design experience.
In this article, we'll discuss WordPress.com and explore its features, benefits, and how to get started.
What is WordPress.com: understanding the platform
At its core, WordPress.com is a web-based platform that allows you to create and manage websites with ease. It's a fully-hosted service, meaning you don't have to worry about finding a separate hosting provider or dealing with server configurations.
With WordPress.com, you can focus on designing and publishing your content while the technical aspects are taken care of behind the scenes.
WordPress.com vs WordPress.org
Before we proceed further, it's essential to distinguish between WordPress.com and WordPress.org.
Here are some key differences between WordPress.com and WordPress.org:
Plugin and theme support. WordPress.com doesn't allow for the installation of third-party plugins and themes (unless you upgrade to the Business plans), while the open source WordPress.org software fully supports them.
Maintenance. WordPress.com takes care of the software and security updates for you, while you'll need to do this manually with WordPress.org.
Costs. WordPress.com is free while setting up and running a WordPress.org site requires hosting and domain costs. Luckily, those are not expensive. You can run a WordPress.org site for around $3 a month.
So, why would anyone use WordPress.com?
The biggest benefit of WordPress.com is that it's easy to set up and maintain.
You don't need any technical knowledge or experience to get started, and you don't have to worry about managing plugins and software updates like you do with WordPress.org.
WordPress.com is also great for users who want a simple website (like a blog or personal website) that they can quickly set up.
How to start using WordPress.com
Now that you understand the basics, let's explore how simple it is to start with WordPress.com. Follow these steps, and you'll be well on your way to crafting your own beautiful website:
1. Sign up: Visit the WordPress.com website and sign up for an account. You'll need to provide a valid email address and choose a username and password.
2. Pick a domain: A domain is your website's address (e.g., www.mywebsite.com). WordPress.com offers free subdomains (e.g., mywebsite.wordpress.com) or the option to use your custom domain.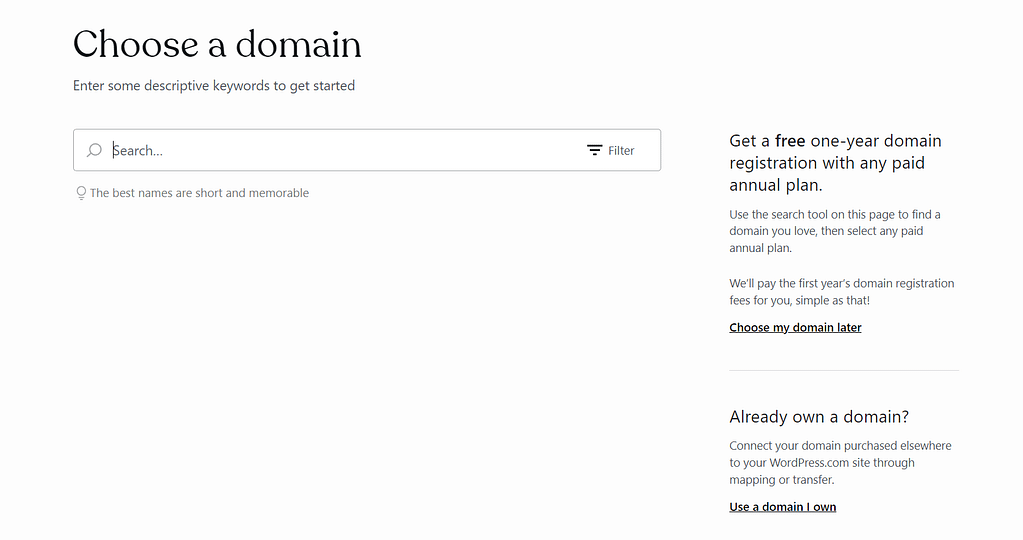 3. Choose a plan: WordPress.com offers a range of plans tailored to different needs, from free options to premium plans with advanced features.
From there, you can select your theme and explore WordPress' customization options to make your website uniquely yours. You can also start creating your website content, publishing posts and pages, adding media, and more.
After that, hit publish and share your website with the world!
WordPress.com pricing plans
WordPress.com offers various plans to cater to different needs and budgets. The free plan is a great starting point and allows you to explore the platform's features.
Consider upgrading to a paid plan if you require more storage, advanced customization options, monetization capabilities, or ecommerce functionality.
Here are the available WordPress paid plans for different types of users:
Personal: Basic websites and projects with custom domain name and ad-free experience.
Premium: Blogs and business websites with more advanced design features and WordAds integration.
Business: Larger businesses or teams looking to manage multiple WordPress sites with advanced features such as unlimited storage, plugin installation, performance, and security.
Ecommerce: Online stores with advanced features like payment gateways, shipping integrations, product upsells, and many more.
The pricing is competitive, and you can choose the plan that best suits your requirements.
Build your WordPress website
What is WordPress.com? It is an excellent platform for beginners and those who want a hassle-free website-building experience.
With hosting capabilities and competitive pricing, WordPress.com is the perfect platform to take your business or organization to the next level.
Free guide
4 Essential Steps to Speed Up
Your WordPress Website
Follow the simple steps in our 4-part mini series
and reduce your loading times by 50-80%. 🚀
Free Access