Looking to add some WordPress live chat functionality to your website? Then read on, as we're taking a look at some of the plugins available…
1. LiveChat
LiveChat is a very handy live chat solution – as the name implies – and it's geared at providing everybody in the picture with something that's really easy to use. This goes both for your website visitors/customers and you (your agents).
On the customer side, LiveChat greets people with a nice chat box at the bottom of the page. That box always remains in sight and can be accessed with just a single click.
⭐ Best for: customizable chat boxes, agent ratings, beautiful and functional dashboard.
☁️ Customizable chat box: YES
⏳ Chat history: YES
🔥 Free conversations per month: none (premium solution)
💳 Price: premium plans start at $20 per month for a single user and you get 30% off for your first payment.
Then, after the conversation is done, your customers can leave feedback and grade their experience with your agent. They can also give you a shout-out on social media through the share buttons embedded in the chat box itself.
However, where LiveChat really shines among the other WordPress live chat plugins, is in the amount of cool features that it gives to you and your support agents.
For instance, you can engage customers directly (instead of waiting for them to contact you). By making the first step towards a conversation, you're increasing the likelihood that the customer is going to walk out with a positive experience.
You can customize the chat window.
You get to control all conversations from a single dashboard – even if you have LiveChat set on more than one site.
Each customer interaction is marked with colorful circles indicating how long the person has been waiting (this allows you to react faster).
You get full history of the previous chats.
They offer a 14-day free trial for every new user, but you can get an exclusive 30-day extension if you sign up to LiveChat here.
LiveChat's WordPress plugin allows you to integrate your site with their solution easily. The chat window is also friendly and simple. But do know that the pricing could vary based on the number of agents on your team.
Ready to download LiveChat? Get an exclusive 30% discount on your first payment, plus an extended 30-day trial when you use this Themeisle coupon.
2. Tidio Live Chat
Tidio Live Chat is one of the easiest WordPress live chat plugins to get up and running – simply activate the plugin, and you're ready to go. The chat boxes come in three designs, which can be fully color customized to fit your branding.
Chats are handled from a Tidio Chat tab, which is accessed right from your WordPress dashboard. You can also manage chats by installing a dedicated desktop, iOS, or Android app.
⭐ Best for: one click installation, and direct emails sent to offline chat users.
☁️ Customizable chat box: YES
⏳ Chat history: unlimited
🔥 Free conversations per month: unlimited
💳 Price: premium plans start at $20 per month.
If you're unable to chat for any reason, offline messages are sent directly to your inbox. Similarly, if a visitor leaves the chat, you can continue the conversation via email.
The free version of Tidio allows you to have one agent and one chat open, with no other restrictions. This makes it one of the best plugins for small business owners who manage their business entirely on their own. Additional agents are added from $19 per month, which also enables unlimited concurrent chats and automatic messages.
3. Olark
Olark is a fully-featured live chat solution. While it's not an ideal example of WordPress live chat plugins per se, it can be easily integrated with your WordPress website through a handy widget.
Basically, you get a piece of code directly from Olark, which you can then embed wherever you wish. Simple stuff.
⭐ Best for: advanced live chat solution that integrates with other elements of your business, like CRM, help desk, even sales.
☁️ Customizable chat box: YES
⏳ Chat history: YES
🔥 Free conversations per month: 20
💳 Price: premium plans start at $29 per month.
More importantly, Olark offers really a lot … with many of the features quite advanced:
First off, you get chat reports – you can track chat frequency, operator responsiveness, and customer satisfaction.
There's CRM Integration – with Salesforce, Highrise, Nutshell, and many more CRMs.
You can set rules to hide and show the chat box, automatically send messages, and assign chats to specific departments.
Helpdesk integration – with Groove, Desk.com, Zendesk, and more.
You can group your operators by team, like a sales team and support team.
You can search through the chat history and detailed transcripts of the talks.
See what visitors have in their shopping carts to give more informed answers and close sales faster.
White label feature – remove Olark's branding.
Each chat conversation box gets a detailed breakdown of the person's (your customer's) activity on your site. You can see which pages they've been to and what they did on those pages. And once the talk is done, the customer can leave their feedback and rating. But that's only the tip of the iceberg, as Olark has really a lot to offer, and particularly if your live chat needs are slightly more advanced, so to speak.
4. Jivo Chat
JivoChat is an easy solution to connect to your online visitors in real time. You can receive calls via multiple channels: live chat, email, Facebook, WhatsApp, Telegram, Viber, Apple Business Chat and even phone calls – all from one convenient dashboard. Using a powerful web-based app, it works quietly in the background, popping up on both desktop and mobile devices when needed. The app is built for speed and opens up in the same window as your website.
JivoChat acts like a built-in CRM, allowing you to quickly learn more about your site visitors and engage them in the moment.
⭐ Best for: Connecting all your communication channels and handling it all from a single dashboard, geared to close deals.
☁️ Customizable chat box: YES
⏳ Chat history: YES
🔥 Free conversations per month: unlimited
💳 Price: Starts from $19 per agent, per month to use on as many sites as you want. If your agent number crosses ten, you'll fall under the Enterprise Plan and you'll need to request a custom quote. A fourteen day trial is available for the premium plans.
In addition, conversation history loads automatically on repeat chats. If you already have an existing CRM, you can easily connect it to JivoChat for seamless communication. All the conversation data is stored in Jivo, which means there's no need to share passwords with staff. If that's not enough, it integrates comfortably with other popular platforms that you and your colleagues probably use in your day-to-day work. This includes Slack, WordPress, Shopify and other tools.
Jivo Chat offers an impressive list of features that help you see what's going on with every visitor and act when required:
There are chatbots to answer routine queries not just on your website, but with messengers and social media too.
Improves agents' efficiency with the help of timely notifications, canned responses, message sneak peeks, and customizable templates for answering FAQs.
Statuses, tags, deals, comments and color-coded chats help respond to customer inquiries quickly.
Agents can hold multiple chats simultaneously.
You'll be able to track visitors in real-time and proactively initiate conversations with the help of smart triggers.
Not available 24/7? Use offline contact forms to collect visitor details and call them back later.
Includes a customizable chat widget offered in 25 languages, with two-way translation during chats with foreign language speakers.
Make or receive calls via Jivo by connecting your phone.
Uses Google Analytics to gather leads; identify sources; collect feedback; track negative ratings; and review employee responses and response time.
JivoChat has a free forever plan with unlimited chats over any number of websites. With the options to respond over both chat and messenger, as well as chat with any number of team members simultaneously, it can very well replace your team communication app. It's no wonder that it's increasingly becoming one of the more popular WordPress live chat plugins available on the market today.
5. Chaport
Chaport is a messaging platform that encourages customer self-service by combining live chats and chatbot services.
You'll need to create a knowledge base for your website and activate an FAQ bot in the chat widget. Chatbots then take over the job of answering common questions, collecting feedback and more. This leaves the agent free to focus on the more complex chats.
⭐ Best for: automating sales and support with chatbots.
☁️ Customizable chat box: YES
⏳ Chat history: YES
🔥 Free conversations per month: unlimited
💳 Price: free forever plan and two paid plans that start at $19 per agent, and scale up based on number of operators. Premium plans have a 14 day free trial.
Chaport's interface makes it one of the most user-friendly WordPress live chat plugins on this list. To create a chatbot, it's not necessary to know code. Simply add a new bot, write a scenario and specify the triggers. If things get complicated, you can transfer visitors to a live chat.
Chaport includes other features as well to ensure top-notch service 24/7:
Install the chat widget on multiple websites and receive chats in the Chaport app.
Visitor monitoring, typing insights for quicker responses.
Collect basic visitor information using chat forms before or during chatbot conversation.
Share information to related apps to create automated workflows. 3000+ integrations are possible via Zapier.
Customizable chatbot to match your website design and strengthen brand recognition.
Encourage visitors to close a deal using rule based auto invitations to chat and automatic messages to visitors on checkout page.
For a coordinated response, there's group chats and chat transfer.
You'll receive notifications when chat is initiated, and use autoresponder for off-time.
Analytics and reports, including on-demand reports that show engagement rates, response time, and more.
6. Zendesk Chat (formerly Zopim Live Chat)
Zendesk Chat is one of the most popular live chat services available to WordPress users.
It is easily installed thanks to a dedicated WordPress plugin, available for free from the official repository.
Zendesk's chat boxes are among the most stylish you will find on this list of WordPress live chat plugins. You get plenty of beautiful, customizable layouts and themes to choose from.
⭐ Best for: gorgeous, professional-looking chat boxes, with minimal restrictions for free users.
☁️ Customizable chat box: YES
⏳ Chat history: 14 days with free plans; unlimited for premium plans
🔥 Free conversations per month: unlimited
💳 Price: premium plans start at $19 per month.
To respond to visitor messages, simply access the external Zendesk Dashboard – if you want to access chats on the go, you can install a dedicated Android or iPhone app, too. The dashboard is crammed with vital metrics that let you review chat performances, track chat history, and learn about your visitors in real-time.
A free subscription with Zendesk Chat allows one chat agent to handle unlimited chats, though restricted to one at a time. If your website is small, this live chat plugin may well suffice.
If, however, you want to upgrade, premium access starts at $19 per month. This also unlocks cool additional features like chat triggers – chat triggers let you specify certain conditions for the chat box to auto-launch, such as if a visitor is stuck on a page for more than a minute.
7. Brevo (formerly Sendinblue)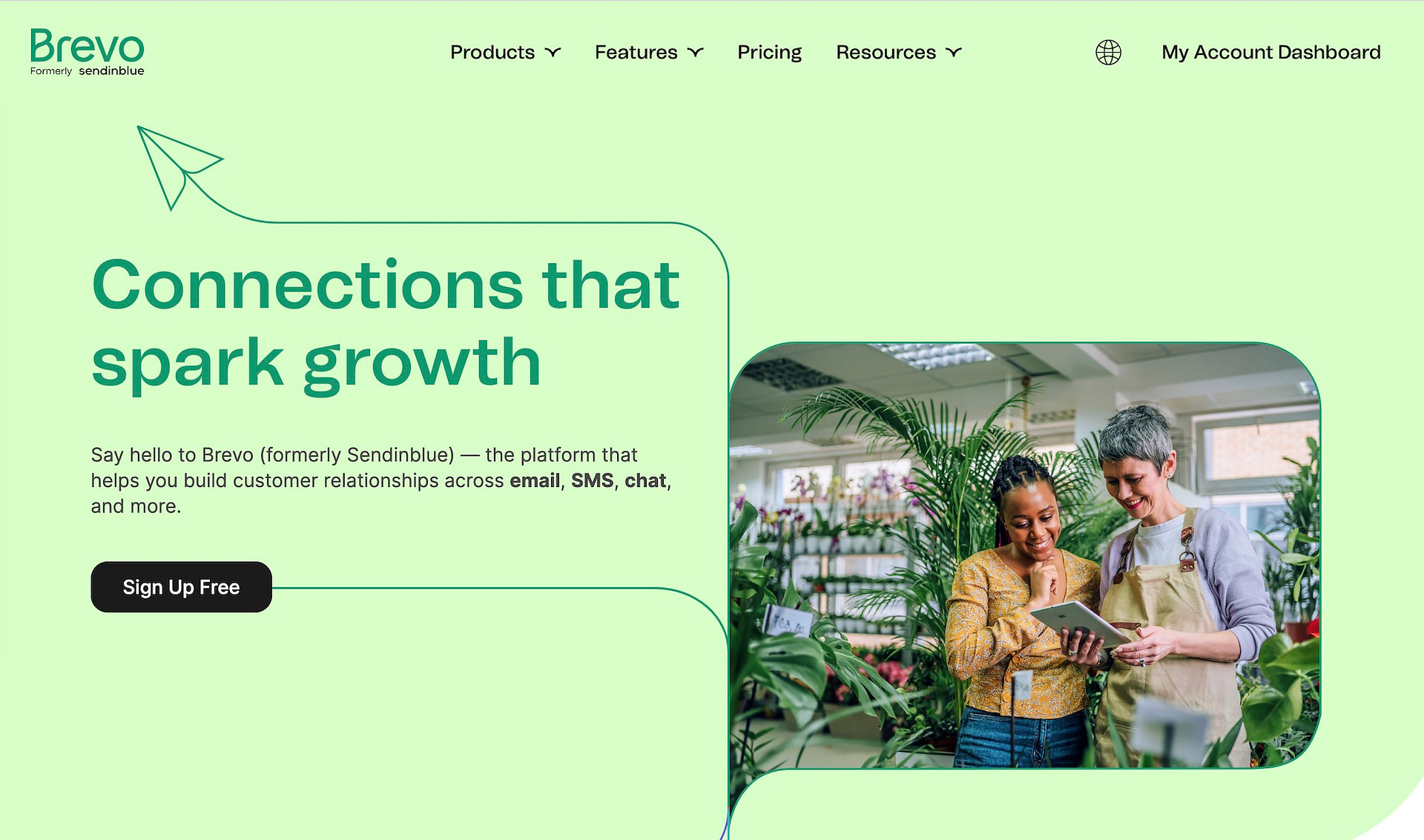 This solution isn't a live chat plugin per se, but it's very easy to integrate with your site and offers similar functionality to the other WordPress live chat plugins listed within this post.
The way it works is that you are provided a simple embed code that you can put in your site's footer (can be done via WordPress Customizer), which then unlocks the live chat feature.
⭐ Best for: all-in-one solution for customer communication via multiple channels; including live chat.
☁️ Customizable chat box: YES
⏳ Chat history: undisclosed
🔥 Free conversations per month: undisclosed
💳 Price: chat-enabled plans start at $25 per month.
Even though it's not a WordPress chat plugin, the reason we're including Brevo here is that it's an interesting alternative for those site owners who are looking for a multi-purpose tool that is capable of handling more than just live chat.
Brevo is most known for their email marketing tools that are on par with the giants in the market. But perhaps its main strength is that you can use Brevo to replace a handful of other tools, all in one package.
Brevo lets you:
Send email newsletters and broadcasts
Set up email marketing automation
Send email via Brevo's SMTP
Set up and manage Facebook ads
Build landing pages
Send SMS messages
And, yes, you've guessed it, use live chat
Brevo is a great option for those who know that they will need multiple tools to handle various aspects of their online business – so why not invest in a solution that offers it all in one place?
The version of Brevo that gives you access to all of the features above starts from $25 per month, which also comes bundled with the option to send out up to 200,000 emails per month.
8. Live Chat Unlimited
If you find monthly fees off-putting with live chat plugins, look no further than the Live Chat Unlimited. It's available from CodeCanyon for a fee of $75.
Chats are handled entirely from the WordPress dashboard – ideal if you spend most of the day logged in. If you find yourself drowning in a sea of design options offered by some of the other WordPress live chat plugins, to the point where you can't even decide on one, then you will appreciate the simplicity of Live Chat Unlimited. The chat boxes here are simple but effective, with only two colors for you to choose from.
⭐ Best for: no monthly fees, and chats handled from the WordPress dashboard.
☁️ Customizable chat box: YES
⏳ Chat history: unlimited
🔥 Free conversations per month: none (premium plugin)
💳 Price: one-off $75 fee.
You can handle an unlimited number of conversations at any given time, plus multiple operators can respond to the same query. If all operators are offline, the chat box is replaced by a contact form, so that visitors can email their questions directly.
9. Formilla Live Chat
Formilla is an excellent freemium live chat solution.
If your website is a small, one-person operation or otherwise has modest traffic figures, you can use Formilla for free. The free package allows one agent with unlimited chats per month, which is a significant upgrade from their previous free plan.
⭐ Best for: good feature set for free users, including saved replies.
☁️ Customizable chat box: included in free plan
⏳ Chat history: last 60 days in free; unlimited in premium
🔥 Free conversations per month: unlimited
💳 Price: premium plans start at $19.99 per month.
In the past, the free plan was more of a selling tool to give users a firsthand experience of what it's like to use Formilla before committing to a premium plan. It's a very different story now though. If you're looking for WordPress live chat plugins that simply get the job done without any bells-and-whistles, then you won't be disappointed by the free plan.
However, if you have more complex needs or are expecting to get some more horsepower out of your WordPress live chat plugin, then the premium plans have absolutely got you covered.
Some of the impressive features include proactive chat, an AI powered chatbot, canned messages, third-party integrations, multi-language chat support, departmental splicing (e.g., tech support chat vs. billing chat), and more.
You can also set your hours of operation and your chat widget will appear online during the time frame specified and offline outside of your configured settings. When offline, you'll be able to collect email submissions in the Customer Inbox. All in all, it's a great live chat solution for your WordPress site.
10. Pure Chat
Pure Chat is one of my favorite WordPress live chat plugins because of the beautiful chat boxes it builds. Any part of the chat box can be customized, with unlimited colors, eye-catching animations, and custom images available.
Beyond the eye candy, Pure Chat is also a very capable live chat tool. Its features include: powerful analytics, multi-chat management, and proactive chat triggers.
⭐ Best for: eye-catching chat boxes and powerful real-time visitor tracking.
☁️ Customizable chat box: YES
⏳ Chat history: 30 days with free plans; premium plans start with 90 days
🔥 Free conversations per month: 15
💳 Price: premium plans start at $39 per month.
You can also schedule when the live chat function is online – and when offline, your live chat box converts into an opt-in form for any MailChimp email list.
The free version of Pure Chat offers up to 15 chats per month. If you want more than this, plans start from $39 per month, which includes four users and unlimited chats. Chats are handled via the Pure Chat dashboard or mobile apps.
Final thoughts on WordPress live chat plugins 🏁
That concludes our roundup of ten of the best live chat plugins for WordPress. And because most of the live chat plugins featured include some form of free plan, you have no excuse not to give one a try!
Using a different solution than the ones we listed above? We always love to try new WordPress live chat plugins to compare them to each other. So if you have a good one, drop it in the comments below and let us know.
Free guide
4 Essential Steps to Speed Up
Your WordPress Website
Follow the simple steps in our 4-part mini series
and reduce your loading times by 50-80%. 🚀
Free Access