Trying to choose between Substack vs Ghost for your blog and/or newsletter?
If you're a writer looking to build your own audience, these two platforms, along with WordPress, are some of the most popular options available.
But while Substack and Ghost have similar feature sets, their basic approaches to creating a blog and newsletter are different. You'll want to make sure you're picking the right platform for your needs, knowledge level, and budget.
In this post, we'll help you do that by comparing Substack vs Ghost in four key areas:
👋 Substack vs Ghost: Two different approaches
Let's start at the beginning, because Substack and Ghost use different approaches.
Substack is a hosted newsletter/blogging service. A "hosted" tool means that you don't need to install any software to create a website – you just sign up and start writing. Substack handles all of the technical aspects for you so that you never need to mess around with software or technical configurations.
Ghost is free, open-source software. It's like self-hosted WordPress, if you're familiar with the WordPress software. That means anyone can download the Ghost software for free and install it on their own web hosting.
To make it easier for non-technical people to use Ghost, the Ghost team also offers a paid service called Ghost Pro. With Ghost Pro, the Ghost team will handle hosting and maintaining the Ghost software for you so that you can just sign up and start writing, which creates a much more "Substack-like" experience in terms of simplicity.
However, for advanced users, you can always download the Ghost software and install it on your own hosting, which gives you a lot of flexibility. It also means that Ghost can never "ban" you from the platform like Substack hypothetically could. People who are concerned about privacy and autonomy might prefer Ghost for this reason, though Substack has not shown any signs that it plans to ban users.
⚙️ Features
In general, Ghost is more flexible than Substack when it comes to changing designs, adding new features, and integrating with third-party services.
On the other hand, Substack is very limited in these areas, which is partly how it creates such a simple experience for a user.
Substack
Substack really does only a few things:
Blogging.
Newsletters.
Member management.
You can easily accept free and paid subscribers. Then, when you publish content, you can choose between making it available to everyone or making it available only to paid subscribers. You can also send it out as a newsletter to your free or paid subscribers.
That's pretty much it – you can't change the design of your site beyond making some basic color choices and you can't add your own integrations.
Ghost
Ghost has the same core features as Substack. That is, you get:
Blogging.
Built-in newsletter support.
Built-in member management, including payment tools.
However, Ghost goes beyond Substack in two key areas:
Themes – you can use Ghost themes to gain full control over your site's design. You can find tons of pre-made themes or you can always pay a developer to create a custom design.
Integrations – Ghost integrates with tons of third-party services. There's also a Zapier integration, which means you can connect to all the apps on Zapier to automate stuff.
Ghost's integrations open up a lot of possibilities. For example, you can add Google AdSense to monetize your content with ads in addition to subscription revenue, which lets you diversify your revenue streams.
You also get neat features like connecting Ghost with Patreon so that you can automatically give Patreon subscribers access to premium members-only content on your Ghost site.
Overall, Ghost is more flexible than Substack because of these additional features.
🏗️ Setup and user experience
In terms of setup, Substack is a little bit simpler. However, if you use the paid Ghost Pro service, Ghost is still completely non-technical and almost as simple as Substack.
Substack
Substack is super easy to get started with – all you need to do is register for an account. Once you've done that, you can manage your newsletter from a simple dashboard: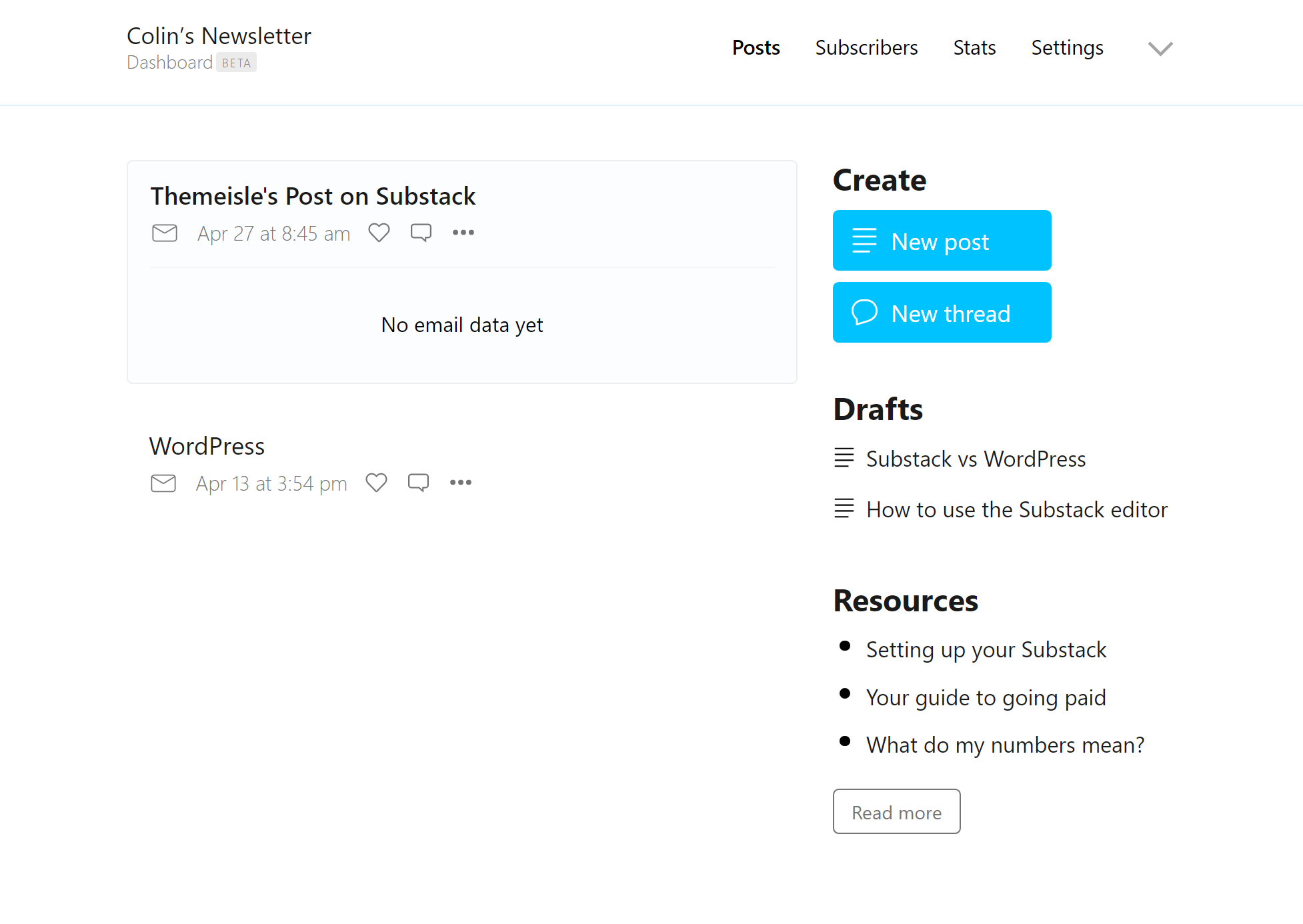 To create content, you can use a basic text editor that works a lot like Microsoft Word/Google Docs. Personally, I prefer the Ghost editor, but you might like Substack's editor better:
When you publish a piece of content, you can choose between making it available to everyone or only paying subscribers:
You'll also get other areas to manage your subscribers and stats.
Ghost
Because Ghost is free, open-source software, there are two different ways that you can use Ghost:
You can pay the Ghost team to host the software for you (called "Ghost Pro"). This is the simplest option and it's what gets you closest to Substack's experience.
You can install the Ghost software on your own web hosting. This is more complex and requires some technical knowledge, but it gives you full control over your platform.
If you're not a technical person, you should use Ghost's paid Ghost Pro service so that you won't mess around with installing the software yourself.
With Ghost Pro, you'll get a simple onboarding wizard to set up key details:
Then, you'll be launched into the Ghost dashboard, which provides an easy way to manage all aspects of your site:
To control the design of your blog, you can use a Ghost theme. If you love the Substack look, you can even find a theme called Substation that lets you use the exact same design as Substack for your Ghost site. Installing a theme is pretty easy – you just need to upload a file.
To create content, you can use the Ghost editor, which offers a nice distraction-free interface. Personally, I much prefer writing in Ghost to writing in Substack.
In addition to adding text, you can also use the plus icon to insert other elements like:
Restricted email-only content.
Public previews (while restricting the rest of the content to members).
Images or image galleries.
Embeds from third-party sources such as Twitter, YouTube, Spotify, and more.
When you publish a post, you can choose to either:
Not send an email.
Send an email to free members.
Send an email to paid members.
Like Substack, you'll also get areas to manage your members and stats.
All in all, the Ghost setup process is quite user-friendly as long as you're willing to pay for Ghost Pro.
💰 Pricing
In terms of pricing, Substack is the cheaper option when you're just getting started because there are no upfront costs, but Ghost will let you keep a lot more of your money once you get some paying subscribers because Ghost doesn't charge any ongoing commissions.
Let's break it down:
Substack
Substack is 100% free to get started. You can register for Substack and start writing free content without spending anything and you'll never need to pay anything to publish free content.
Where Substack does start charging money, though, is when you want to accept paying subscribers. Then, Substack will take a 10% cut of all the subscription revenue that you collect.
For example, if you have a subscriber paying $5 per month, then:
You get $4.50 per month.
Substack gets $0.50 per month.
There's also a 2.9% + $0.30 processing fee for credit card payments, but this is standard on the Internet and the money goes to Stripe, not Substack.
This pricing model creates a dynamic where Substack is very cheap at the beginning, but can quickly get very expensive if your blog is a success and you get hundreds or even thousands of subscribers.
For example, if your newsletter were making $3,000 per month from 600 subscribers paying $5 each, you'd be paying $300 per month to Substack.
Ghost
To use Ghost, you'll need to pay an upfront fee to set up your Ghost website but Ghost doesn't charge any ongoing commissions, unlike Substack.
The price that you'll pay for Ghost depends on which setup approach you're using. That is, are you using Ghost's hosting service (Ghost Pro) or are you self-hosting the Ghost software on your own web hosting?
I'm going to focus on the prices for Ghost Pro, though, as this is the most accessible way to create a blog with Ghost. For a look at self-hosting, check out our website cost post.
There are four different Ghost Pro pricing plans. The differences in price are based on a few different things:
How many visits your site gets per month.
How many staff members you have.
The features that you need access to.
How many members/subscribers you have.
You can view the plans below:
So the bare minimum would be $108 per year ($9 per month), with plans topping out at $2,388 per year ($199 per month) if you have over 8,000+ subscribers.
The downside of this is that you can't create a Ghost site for free like you can with Substack. But if you plan to accept paying subscribers, Ghost offers a lot of upside because there are zero ongoing commissions.
With Ghost, you'll also need to pay that same 2.9% + $0.30 processing fee for card payments. Again, this is the fee for processing credit card payments on the Internet – you can't avoid it.
🤔 Final thoughts on Substack vs Ghost
Overall, Substack and Ghost provide a similar feature set, but they do it with different approaches.
Substack is simple by design, letting you focus on writing. The setup process is incredibly easy, and it's also free of charge to get started with – you only ever need to pay money if you make money. However, the downside is that it's more limited than Ghost and the ongoing 10% commissions for paid subscribers can add up over time if you're successful.
Ghost is open-source software. But with the Ghost Pro service, it's almost as simple as Substack because you just need to register for an account and start writing. You'll also get a lot more flexibility with Ghost – you have full control over your site's design, with lots of pre-made themes to use (including a Substack clone). You also get more flexibility when it comes to integrations, such as using Zapier to connect to your own email marketing service.
The downside of Ghost is that you can't get started for free – you need to pay at least $108 for the Ghost Pro service. However, the upside is that Ghost doesn't charge any commissions based on your paying subscribers, so once you start getting paying members Ghost will actually let you keep a lot more of your money.
For most people, that means Ghost is the better option if you can stomach the upfront fee and you plan to grow a community of paying subscribers. You'll have more flexibility in setting up your site without much added complexity and you'll also save money.
If you want to try it out, Ghost offers a 14-day free trial.
Or, if you want another option that gives you even more flexibility than Ghost, you might like WordPress. You can learn more about it in our WordPress vs Ghost and WordPress vs Substack comparisons.
Do you have any questions about Substack vs Ghost? Let us know in the comments!
Free guide
4 Essential Steps to Speed Up
Your WordPress Website
Follow the simple steps in our 4-part mini series
and reduce your loading times by 50-80%. 🚀
Free Access