Is WordPress a CMS? 🤔
Short answer – yes, WordPress is a CMS.
But the long answer is that there's more to it than that.
You see, WordPress isn't just any CMS – it's the CMS. We're talking about the one platform that dominates 63.1% of the CMS market and powers a whopping 43.1% of all websites on the internet [1].
This dominance can be attributed to WordPress's open-source code, ease of use, vast array of themes and plugins, and exceptional flexibility. 😎
In this in-depth write-up, we'll explain how that came to be. And while at it, we'll provide answers to the question: "is WordPress a CMS?" Plus, you get to explore the depth and breadth of WordPress as a content management system.
📚 Table of contents:
Is WordPress a CMS?
To begin with, CMS stands for content management system. A CMS is a platform that offers simple tools for creating, managing, and publishing digital content. Some of the resources you'll find here include rich text editors, media libraries, and version control apps.
Without a CMS, you'd be forced to manually code all your content updates. That's exactly the challenge WordPress addresses with its user-friendly web interface.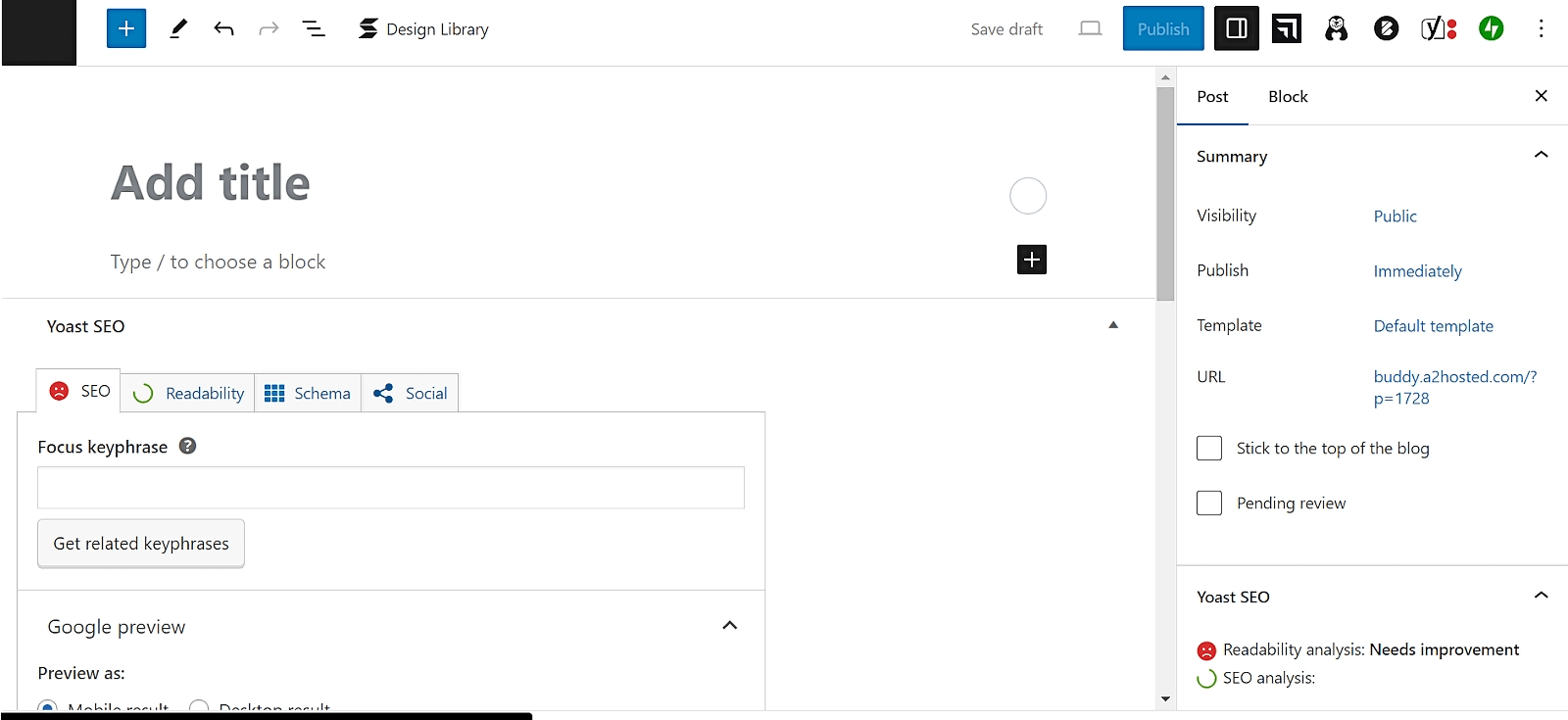 When most people talk about "WordPress," they're talking about the open-source WordPress CMS software that's available at WordPress.org. Once installed, WordPress functions as a centralized hub for managing your website's database, design, and posts.
However, there's also a separate for-profit implementation of the software at WordPress.com – you can learn more about the differences in 👉 our WordPress.org vs WordPress.com comparison post.
Advantages of using WordPress as your CMS
Now that you know WordPress is not just a CMS, but the most popular CMS, let's go over some of the advantages of using WordPress as your CMS.
The WordPress CMS is 100% free
👉 WordPress is entirely free to download and install.
It's not a trial or limited version – what you receive is the complete package without any hidden conditions or unexpected subscription costs.
The generosity doesn't end there. Upon setting up your WordPress site, you get a repository of smart customization tools – many of which are free. They help design the website and expand its functionalities without touching a line of code.
The WordPress CMS is open-source
WordPress, being an open-source CMS, allows everyone to use, study, change, and redistribute its source code. Every line of code is out there, open to scrutiny, and custom edits.
There are no boundaries here. Whether you're looking to inject a snippet of custom code or design an entire theme or plugin from scratch, WordPress offers the canvas and tools for boundless creativity.
This openness extends even to many of its themes and plugins, which are free under the GPLv2 license. Behind them is a global community of programmers, sharing code, ideas, and solutions.
It's non-technical – you don't need to be a developer
Gone are the days when you needed specialized software just to edit HTML. The technology on WordPress is refined to such an extent that even the most complex tasks feel effortless. You can create pages, format text, and upload media without relying on external tools like Adobe Contribute or Dreamweaver.
Another highlight of WordPress is the built-in block editor, which uses a drag-and-drop interface. This is where building a page becomes as easy as arranging blocks, each fitting perfectly into place. The visual editors facilitate real-time design modifications on a true WYSIWYG (What You See Is What You Get) layout.
And for those who thrive on collaboration, the accompanying user and role management system adapts to your workflow. You can assign roles, manage access, and collaborate with ease.
You can extend the WordPress CMS with themes and plugins
Themes drive WordPress's visual appeal. Developers create these as collections of customizable templates and stylesheets using PHP, HTML, CSS, and JavaScript. They aim to provide a non-coding web design framework for building sites.
On the other hand, plugins are extensions that enhance the functionality of WordPress. They integrate seamlessly with WordPress, allowing developers to add custom features without modifying the core code.
And if you're wondering is WordPress a CMS when all those functionalities are added, the answer is still yes. Even as plugins and themes expand the platform's capabilities, the WordPress core remains a content management system.
Your site will work on all devices (it's responsive)
WordPress achieves its responsiveness through a harmonious blend of fluid grid layouts, adaptable images, and media queries.
Unlike rigid pixel-based designs, WordPress' fluid grids proportionately respond to visitors' devices. When you squeeze your site layout onto a tiny mobile device or stretch it across a huge screen, it retains its integrity – both in design and functionality.
Website builders like Elementor and Beaver Builder, designed for WordPress, use advanced CSS and JavaScript techniques to give you granular control over design elements. For example, you can use their CSS Flexbox and Grid layouts to adjust content positioning, alignment, and spacing for different screen sizes.
You can rank your content high in Google (it's SEO-friendly)
WordPress is inherently built with search engine optimization (SEO) being a priority. Its underlying code is crisp, streamlined, and free from fluff, making it easily scannable by search engines.
The accompanying customizable permalink structures keep URLs search engine friendly, while WordPress' built-in XML sitemap generation guides crawlers through your content for better indexing.
Your WordPress admin further grants you extensive control over the SEO elements for each page, post, and image. You should be able to fine-tune their meta tags, descriptions, and titles to target specific keywords.
There's a huge WordPress community if you ever need help
WordPress is supported by a global, vibrant community of developers, designers, bloggers, and enthusiasts.
They form a hub of collaboration and learning – where questions are welcomed, expertise is generously shared, and innovation is celebrated. Here, you'll find all sorts of technical resources for customization, troubleshooting, web development, web design, etc.
Disadvantages of using WordPress as your CMS
While there's a lot to like about WordPress as a CMS, it's also important to understand some of the disadvantages.
You're responsible for hosting the WordPress software
Being self-hosted means taking on the responsibility of server management. While most hosts make this pretty easy to do, it's still an extra responsibility when compared to a tool like Wix or Squarespace.
Even though the CMS itself is free, the supporting premium WordPress hosting solutions can be an investment – especially for small businesses or individual bloggers.
While you don't need to be a coder, there's still a learning curve
Unlike many drag-and-drop builders, WordPress provides a depth of customization that can empower you but also overwhelm you.
While developers enjoy the flexibility that WordPress' open-source code provides, beginners may sometimes find the learning curve high. They might struggle with simple tasks such as customizing themes or configuring plugins.
The WordPress community might offer help, but the sheer breadth of WordPress options and settings could leave you feeling lost and frustrated.
You're responsible for keeping your site secure
Due to its status as the world's leading CMS, WordPress often becomes an attractive target for hackers.
In particular, outdated plugins and themes may harbor vulnerabilities that hackers could exploit and breach your WordPress site. You should also be extremely wary of nulled WordPress plugins, as they're often laced with malware.
Is WordPress a CMS? Now you know!
So, if someone ever asks, "Is WordPress a CMS?" you can explain that it stretches even further. There's no other digital platform that has empowered as many content creators as WordPress.
Today, the potential for professional and business growth with WordPress is still immense. Whether you're a blogger, developer, or business owner, the platform offers just the right tools, community, and flexibility to accommodate your objectives.
Here are a couple of guides to help you kickstart your journey:
If you're considering other CMS platforms, we invite you to explore our compilation of the best WordPress alternatives.
Do you still have any questions about the status of WordPress as a CMS? Let us know in the comments!
Free guide
4 Essential Steps to Speed Up
Your WordPress Website
Follow the simple steps in our 4-part mini series
and reduce your loading times by 50-80%. 🚀
Free Access