Sometimes, one page is all you need to promote your business. A large or complex website may be unnecessary, especially if you run a startup or offer a single service or product. Some one page website examples can show you how to implement a more streamlined approach.
With that in mind, we've compiled a list of visually appealing and effective single-page websites you can learn from. By reviewing these real-life examples, you'll be better prepared to design a site that effectively communicates all the most important information in one place.
First, we'll discuss some scenarios when it makes sense to use a single-page site. Then we'll look at those high-quality one page website examples. Let's dive right in!
When to use a one page website
A single-page website is a site that contains all the most important details and content in one place. It may include elements such as company information, testimonials, product and pricing details, and a contact form.
While they may seem limited, one page websites are used by a variety of businesses, including restaurants and cafes, software developers, small agencies, and more. They can also be effective in promoting awareness campaigns and events.
Let's look at some other scenarios when you might use a one page website:
You're an artist or freelance professional and want to display all of your work and information on a single page. 🎨
You just want a simple site for your physical store or outlet. 🛍️
You have a single product or service to sell. 🛒
As long as it's neatly organized, a one page website can make it easier for users to find what they're looking for quickly. For example, if you have a restaurant site, they won't have to click through various pages to find your menu and make a reservation. They can simply complete these actions in one place.
Ten real-life one page website examples
Now, let's look at some one page website examples. We'll discuss their key features and what you can learn from them.
📚 Table of contents:
Roma is a one page website that raises awareness about the exploitation of domestic workers. When you land on the site, you're greeted with a full-width image and a bold statement: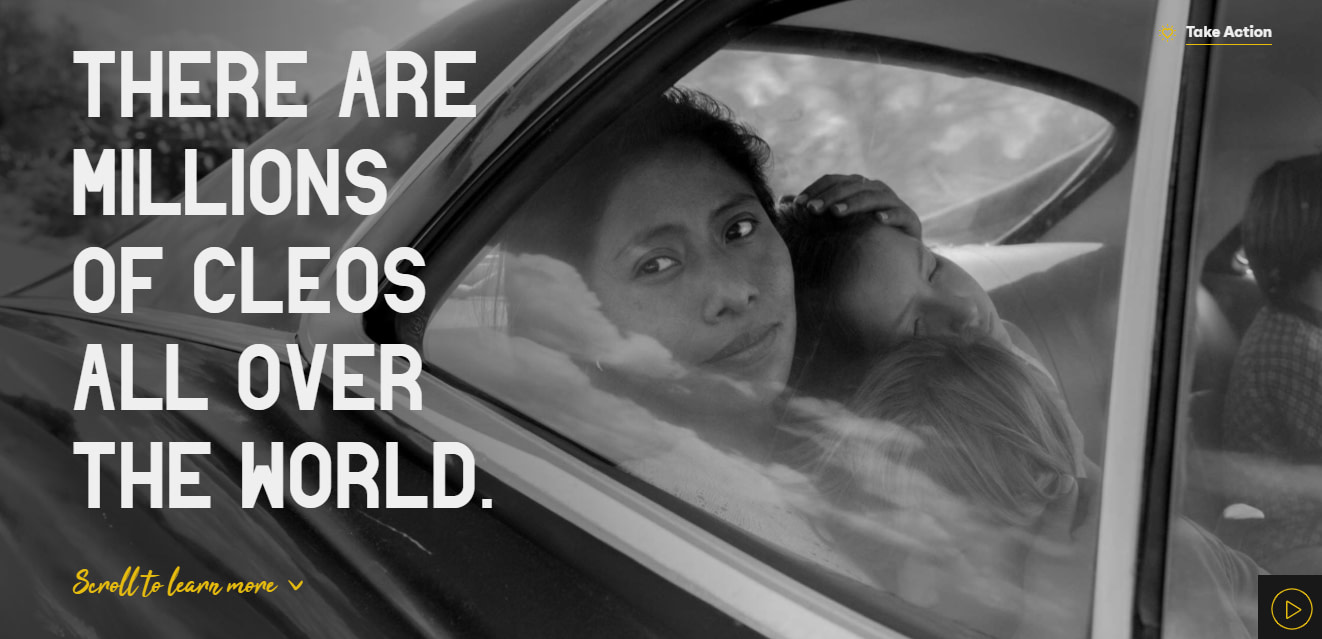 This above-the-fold content also contains three important links: one that brings you to the "Take Action" section on the page, an external link to the Roma documentary on Netflix, and an anchor link to the next section. This means you can navigate to the most important content right from the header.
If you keep scrolling down, you'll get tidbits of information about domestic workers in the United States, including statistics and quotes:
Further down, you'll find the website's main calls to action (CTAs), with links to external pages where users can sign up:
If you want to set up a site to raise awareness, one page may be enough to make a lasting impact. You can present startling facts, embed educational videos, and show visitors how they can contribute to your cause.
Next up, we have Dolox, Inc., a software development company based in New York. An animated slideshow at the top of the page presents some information about the company:
The page walks you through the project development process, so you'll know what to expect:
Dolox uses animation to make the page more interactive and the content more digestible. Bits of information appear on the screen as you scroll through the site:
This includes the services offered by the company, its history and location, and contact details. Everything is contained on a single page and loaded at the appropriate time.
By using animation on your one page website, you'll avoid overwhelming the user with too much information right away. Instead, you can present different elements one at a time for a more engaging user experience (UX).
Cook Collective is a shared kitchen service that enables businesses in the food industry, from virtual restaurants to street vendors, to rent a preparation station and storage space. All of this information is communicated on a single-page website:
The menu at the top takes you to different sections on the page. Here, you'll learn more about the company, what it offers, and the partners it's worked with:
Plus, you'll find a booking and information request form on the same page:
This one page website example shows that you don't need to fill up your site with a lot of content to promote your service. By using a single page with clearly defined sections, you can present a short bio of your company, list the key features of your service, and finally enable users to get in touch or make a request.
As mentioned earlier, one page websites can be ideal for promoting events. For example, Beyond is a music festival that promises spiritual and immersive experiences. This is conveyed on a one page site with an outstanding header image:
As you scroll down the page, you'll learn more about the festival and its past participants:
The design is very minimalist, with very little text. The page contains a byline and a profile photo for each participant, as well as a couple of short paragraphs about the event's mission and experience.
Less content doesn't necessarily translate into a boring site. As demonstrated by Beyond, you can use a large and attractive header image to draw the user in, and keep their attention with high-quality photos throughout the rest of the page.
We Ain't Plastic is a one page online portfolio for a UX engineer:
It has a sleek and minimalist design, with a menu that takes you to different sections on the page, including the portfolio:
You're able to explore various examples of the artist's work without leaving the page. When you click on a project, the page will load more details about it, with an external link to that website:
The page also contains a list of awards, features in publications, and other achievements. As you can see, all of the information is organized into neat columns and lists:
This one page website example shows us that it's possible to highlight all of your best works and projects in one place. However, to keep things neat and organized, you'll only want to display additional information once the user performs an action, such as clicking on a Read More button.
Let's look at another one page website example for portfolios. Pixel Lab is an award-winning web design and development studio. Like the previous example, the site comes with a menu that directs users to various sections on the page:
Additionally, you can browse through the company's portfolio without leaving the page. The projects are displayed in a slideshow:
If you click on the Read More button, you'll get a pop-up window with more information about the project:
This one page website example presents another way of showcasing projects while keeping your layout clean. Using slideshows and pop-ups can help you avoid clutter and make your site more interactive.
Balsoy is a one page site for a condiment that combines balsamic vinegar and soy sauce:
It makes use of interactive elements like a video background, as well as menu anchors that take you to the ingredients, the chef's profile, and other information about the product:
Another interesting aspect of this single-page website is the recipe ideas section. Here, you'll find some examples of dishes that go well with the condiment:
If you click on an image, you'll get a window with more information on how to use the product with that particular dish:
If you want to create a website for your own product, you can use this framework to organize your information on one page. For instance, you might showcase the product's features and use cases with engaging elements such as animated transitions and videos.
Next on our list of one page website examples is The Art of Texture. This is a one page website for a documentary about a collage artist:
If you click on the Play Movie button, you're able to watch the documentary directly on the page:
Plus, you'll find a gallery of artworks that are on sale and a slideshow with photos from the film premiere:
If you want to promote a documentary or film, you can do so with a one-page site. You could embed it into your page and include additional elements, like a blurb and images, to provide more context.
Eggshell Studio is a one page portfolio website for a graphic designer:
It is a very basic site, with minimal text. The page mainly contains an image gallery of brands that the professional has worked with:
Users can click on a logo to learn more about the project:
If you work in an industry that's mainly visual, such as graphic design or photography, you might use a similar layout for your one page website. All you need is a gallery with image thumbnails of your projects, with pop-up windows or transitional elements that contain more information.
Finally, let's look at Pastaria. This one page restaurant website has a fun and colorful design:
You can use the sticky menu to navigate to the opening hours, the restaurant's menu, vacancies, and more:
It's a basic yet compact page that contains all the information you would expect to find on a restaurant site. It also has a few interesting elements that add character to the page, like the sticky side menu in the shape of a pizza base. This shows that you can still incorporate unique features into your one-page site, even though you're working with limited space.
How to build a one page website in WordPress
Fortunately, building a one page website is easy with WordPress, as long as you have the right ⚙️ tools.
For the easiest way to get started, you can use a multipurpose and customizable theme such as Neve to design your one page site.
Neve includes all the tools that you need to create a one page design, along with several importable demo sites that use a single-page approach.
Before you get started, it might be a good idea to make a list of all the key information and features that you want to include on your page. Then, you can organize those elements in terms of importance.
For example, you might start with a brief bio of your company. Then, you could proceed with a list of services you offer, clients you've worked with, and finally your contact details.
We also recommend using elements such as anchors and sliders to make your content easier to navigate. When doing so, you can draw some inspiration from the one page website examples above!
Create your own one page website today 🏁
One page websites can be used for a variety of purposes, such as selling a single product, promoting an event, or offering professional services.
Alternatively, if you run a small business or restaurant, you can probably fit all the important information customers need to know onto a single page.
In this post, we looked at some real-life one page website examples. For instance, portfolio sites, such as We Ain't Plastic and Pixel Lab, display project details with interactive elements, like sliders and pop-ups. Meanwhile, Pastaria and Balsoy are both single-page food sites that make smart use of visuals to promote their products concisely.
If you want to get started with your own one page website, you can follow our guides on how to create a WordPress site and then how to set up a one page website with WordPress.
Do you still have any questions about how to create a one page website like these examples? Let us know in the comments section below!
Free guide
4 Essential Steps to Speed Up
Your WordPress Website
Follow the simple steps in our 4-part mini series
and reduce your loading times by 50-80%. 🚀
Free Access