If you asked "how much does an eCommerce website cost?" ten years ago, the answer would have been a lot.
However, thanks to tools like WordPress and Shopify, the cost of an eCommerce website has come down by orders of magnitude, and it's no longer the $10,000+ affair that it once was.
However, it's still not free, and if you're planning to sell online, understanding how much an eCommerce website costs is essential so that you don't bust your budget before you even launch.
In this post, we'll dig into the issue of eCommerce website cost so that you know exactly what you can expect to pay to start selling online.
eCommerce website cost: Two parts to the puzzle
When it comes to the cost of any website, there are two main categories you'll need to pay for:
Infrastructure – this is the behind-the-scenes stuff that powers your eCommerce store. You'll need software to give your store its core functionality, hosting to power it, a domain name to make it accessible to visitors, and an SSL certificate to encrypt data.
Design and functionality – this is the stuff that visitors will directly interact with. For example, the design of your store, or the social coupon giveaway you use to grow your email list.
If you're on a budget, you can set all of this up yourself. Seriously – even if you're not a technical user, it's now possible for you to set up your store (and yes – it will be secure). You do not need to hire someone to do it.
However, if you'd rather put your focus elsewhere, you might want to hire someone to build all this for you.
As I dig into the question of eCommerce website cost, I'll start with just looking at the costs for infrastructure and design and functionality as if you were setting things up yourself. Then, after that, I'll share how much more you can expect to pay if you want to hire someone to do it for you.
How much does an eCommerce website cost for backend infrastructure
As I mentioned above, there are four main parts to your store's backend infrastructure:
eCommerce software
Domain name
Hosting
SSL certificate
1. eCommerce software – Free or $29+ per month
Rather than coding something from scratch, most stores nowadays use a pre-built, off-the-rack software solution because:
It's a lot more affordable
You don't have to worry as much about security, because there's an entire team dedicated to maintaining the software
There are a lot of different eCommerce platforms. But, by the numbers, the two biggest are:
WooCommerce
Shopify
These two platforms help you create a store in slightly different ways:
WooCommerce – this is a free, open-source, and self-hosted platform powered by WordPress, which means you'll install it on your own hosting. The core WordPress software is also open source and free.
Shopify – this is a paid, hosted platform/service, which means the Shopify team will handle hosting and maintaining your store for you.
In general, the tradeoff is that WooCommerce is more flexible and affordable, while Shopify is simpler and more convenient. You can learn more in our detailed Shopify vs WooCommerce comparison.
If you opt for WooCommerce, there's zero cost for the core functionality because it's free (though you'll probably want to pay for some extensions – more on that later).
Another popular free, open-source option is Magento, though it's not quite as suited to non-developers.
If you opt for Shopify, or another hosted platform like Squarespace Commerce, you'll pay a set monthly fee for as long as you want to run your store. Shopify's cheapest plan costs $29 per month, and plans range up to $299 per month:
2. Domain name – $10 per year
Your domain is basically the permanent address of your store on the Internet. For example, our domain name is themeisle.com.
The exact amount you'll pay for a domain name varies by the domain registrar you buy it from and the TLD of your domain name, which is the part that comes after your name – e.g. ".com", ".org", etc.
However, a ".com" domain name from your average registrar should only cost you ~$10 per year, and some hosts even give you a domain name for free.
3. Hosting – ~$7-$15 per month to start, more when you get more visitors
Hosting is what powers your store's software and makes your website accessible to visitors.
If you opt to use a hosted service like Shopify or Squarespace Commerce, you don't need to worry about purchasing your own hosting because the service handles that for you (and it's baked into the price).
However, if you want to use one of the self-hosted platforms like WooCommerce or Magento, you'll need to purchase your own hosting to power the software.
If you're just getting started with your store and you don't sell that many products, it's totally fine to use budget hosting at the beginning.
For example, we recommend Bluehost, which has a good budget WooCommerce hosting option that costs just $14.95 per month when you pay for a year up front (or as little as $6.95 per month if you pay for three years at a time). You'll also get a free domain name with your purchase: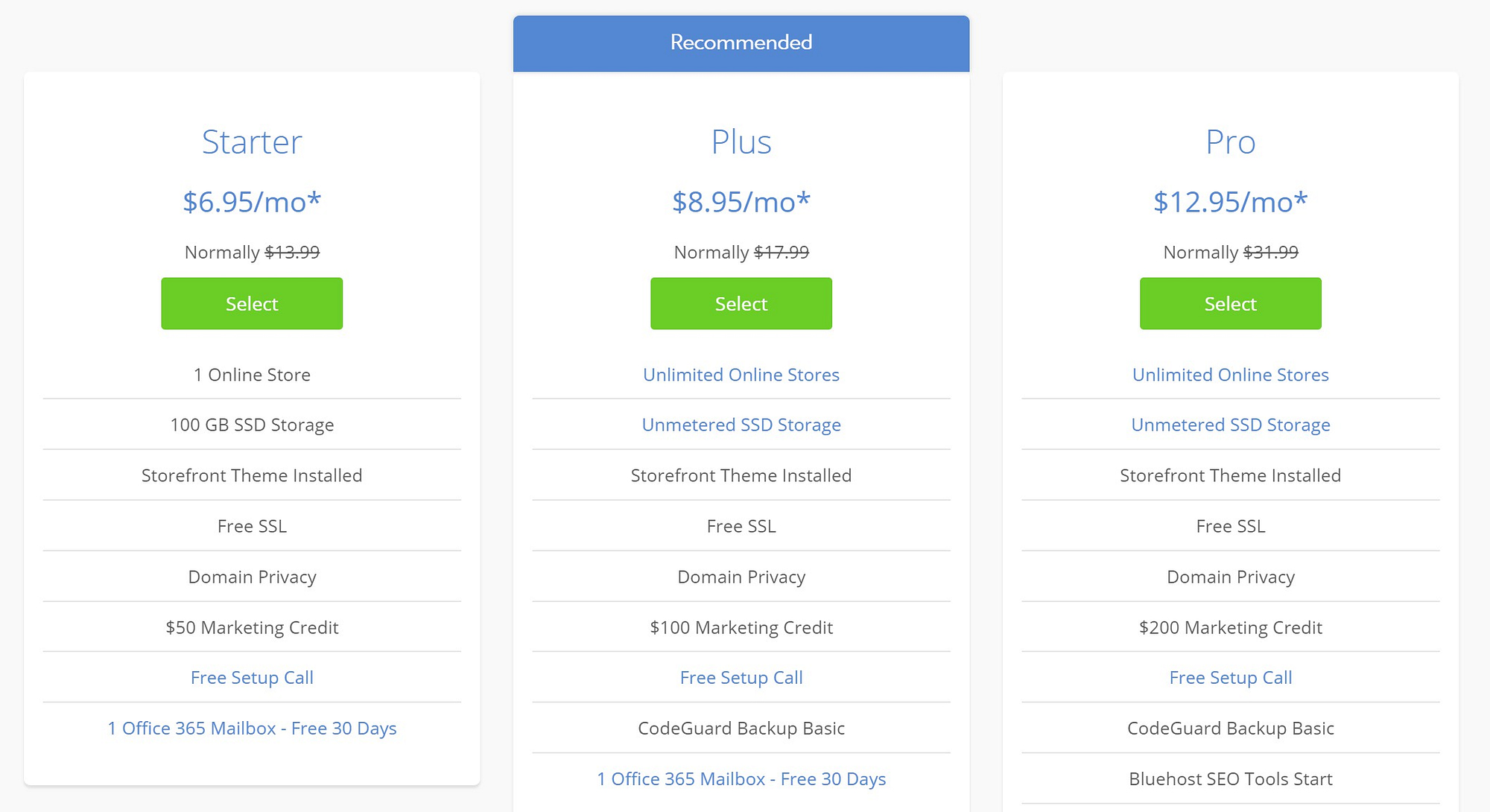 So if you only want to pay for a year at a time, expect to dish out ~$180 to host your store for an entire year. Or, if you pay three years upfront, you'll pay just ~$83 per year.
Once you grow, however, you'll likely need to spring for more expensive hosting. However, that's a good problem to have because it means your store has more traffic and revenue!
4. SSL Certificate – Free to $20+ per year
An SSL certificate encrypts the transfer of data from your website to visitors' browsers and gets you that coveted green padlock. For an eCommerce website, it's an absolute must to secure your store because of the sensitive nature of the data you're handling.
Nowadays, you can actually get SSL certificates for free, which is fine from a security perspective.
However, from a trust perspective, you might want to pay for something called an Extended Validation Certificate (EV) or Organization Validated Certificate (OV). These certificates require verification and, as such, usually are a little more trustworthy. Many browsers also use these to display your organization name next to the green padlock:
You can find organization validated certificates for as little as $20 per year, with extended validations going for more in the $70 per year range.
Website infrastructure cost summary for eCommerce – As little as ~$180
Ok, so if we put those costs together, here's a rough estimate for eCommerce website cost for infrastructure depending on whether you go the self-hosted or hosted route:
~$180 for your entire first year if you self-host WordPress/WooCommerce – ~$180 for one year of WooCommerce hosting (including a free SSL certificate), free domain name, WordPress and WooCommerce are free. Add another $20+ if you want an OV or EV SSL certificate.
~$350 for a year of a hosted tool like Shopify – you'll pay $29 per month, which includes hosting and SSL.
It's important to remember that the price disparity will not be this large once your store grows. That is, if you need to upgrade to ~$30 per month hosting to power your WooCommerce store, the numbers are a lot closer.
How much does an eCommerce website cost for design and functionality
With the purchases above, you'll have a working eCommerce store that people can visit. However:
It will have a pretty barebones design
It might not have all the functionality you want. For example, maybe you want people to be able to create their own wishlists.
So how much will you need to pay to fix that? Let's dig in…
1. Store theme/design – Free to $60+
Nowadays, you don't need to design your store from scratch to get something that looks nice.
Instead, you can take a premade theme and tweak it to your needs. The cost savings of this approach can be pretty huge.
For example, how much do you think it cost to design this store?
If you answered $0, you're right!
See, this store uses the premade ShopIsle WordPress/WooCommerce theme, which can be had for as little as…free.
All the major eCommerce platforms come with premade themes, and you'll usually find both free and premium options.
If you're on a budget, it's totally safe to use a high-quality free theme. But for the most options (and often higher-quality designs), you'll probably want to pay. Here's how much you should expect to pay for a premium eCommerce theme:
WordPress – $59 is the average price of a WordPress theme, though it will vary depending on the theme you're looking at.
Shopify – typically $160+
Squarespace Commerce– usually $100+
2. Website functionality – Free to ???
No matter what eCommerce platform you choose, it's almost a certainty that you'll want to add some extra functionality to help you more effectively promote and grow your store.
As with your store's design, you can normally use premade solutions rather than coding something from scratch. These are typically called plugins or apps depending on the platform. And like themes, you'll find tons of both free and premium options.
So how much can you expect to pay for plugins or apps? Unfortunately, we can't give a single number because it depends entirely on your needs.
However, we can say that even a super simple eCommerce store should probably budget at least $200-300+ per year for these type of extensions.
Additionally, we can lay out an important difference in the payment structure of these extensions:
WordPress – most premium WooCommerce plugins are a one-time payment, though you might need to renew to continue receiving updates after the first year.
Shopify and Squarespace Commerce – most premium "apps" charge a monthly fee that you need to pay for as long as you want to continue using them.
Website design and functionality cost summary – $0 to $100+
Overall, it's possible to spend $0 on design and functionality if you use:
A free theme to control your store's looks
Only free plugins or apps
However, this really isn't realistic for most stores, and it would be pretty rare to find an active store that isn't paying anything for premium extensions.
Typically, you'll want to budget $60-$200 for your theme, depending on your platform. Beyond that, you'll probably end up spending at least $200+ per year on premium extensions, even for a barebones store. And for more complicated stores, it's not unheard of to get closer to ~$1,000 for premium extensions.
So how much does an eCommerce website cost in total?
As you can see from the numbers, the costs to DIY an eCommerce website with WordPress/WooCommerce or Shopify are surprisingly low.
If you just want a "standard" eCommerce store, these platforms are really all you need. Beyond that, even non-technical people can use these platforms to create a store.
All in, you're looking at around…
$180 (WordPress/WooCommerce) to $350 yearly for the basic infrastructure for a low-traffic store (the WordPress cost will increase as your store grows)
Potentially $0, but more realistically $300+ for your store's design and functionality
How much it costs to hire someone to build an eCommerce site
Everything you saw above is assuming you build your eCommerce website yourself. Again, that's totally possible nowadays, even if you're not super technical.
However, how much does an eCommerce website cost if you want to pay someone else to build it for you?
Well, the only really accurate answer here is "it depends" because there are so many variables:
The person/agency you're talking with
How many products your store has/traffic it will receive
Any unique functionality that you need, like a build your own product configurator.
However, to try and give you at least some idea of how much an eCommerce website costs when you work with someone else, I dug into some Facebook groups where web designers/developers hang out to see what they're charging clients and found this thread of people who build eCommerce websites with WordPress.
From that, and other threads in similar forums, you'll find that the starting price for a small, basic WordPress-powered eCommerce store is around $5,000, with prices going up from there for more complicated implementations.
If you want to go with Shopify instead, Shopify maintains a directory of setup experts. These experts start at $500 (in addition to all the other Shopify fees) and can help you with setting up the basics of your store. It's important to note that this fee is not for custom development – it's just for setting up your products, choosing a premade Shopify theme, etc.
How much does an eCommerce website cost? It doesn't have to be that much
In the end, the key takeaways from this post should be that:
Thanks to platforms like WordPress, Shopify, and Squarespace, it's now possible for non-technical users to create fully-functioning, secure eCommerce stores.
You get started with a basic, but totally functional store for less than $500 for your entire first year if you're willing to DIY.
On the other hand, if you want to hire someone to build your store for you, you should probably expect to pay at least $5,000 at a minimum for a standalone site, or shell out $500+ just to have someone help you set up Shopify.
Do you have any questions about how much to pay for an eCommerce website? Ask away in the comments!
Free guide
5 Essential Tips to Speed Up
Your WordPress Site
Reduce your loading time by even 50-80%
just by following simple tips.
Download free guide