It's really not too hard to get online with your store these days, not with so many helpful options on the internet. In case you're looking for free ecommerce platforms, you've come to the right place. In this post, we share six best tools for creating free ecommerce websites.
Some of these tools let you create a store and start selling 100% for free, while others let you set up your store for free but charge you to start selling. What's more, some of them are pretty easy to use, while others involve some learning curve.
We'll examine each of them for the following aspects step-by-step: free plan features, limitations of the free plan, price for the paid plans when applicable, transaction fees, and more.
Let's get the list started. Here's the final lineup of the best free ecommerce platforms on the market:
Wix comes with a user-friendly website builder (similarly to Weebly or Squarespace) to help you create a website in one of two easy ways: with mere drag and drop or by using Wix's ADI artificial intelligence designer. What's more, you can even customize it without knowing a thing about code.
Wix is also a perfect store builder that will let you create an ecommerce website for free. If you want to start selling to customers though, then you'll need to upgrade to a paid plan. In other words, building the actual ecommerce store is free, but making it fully functional will require some investment on your part.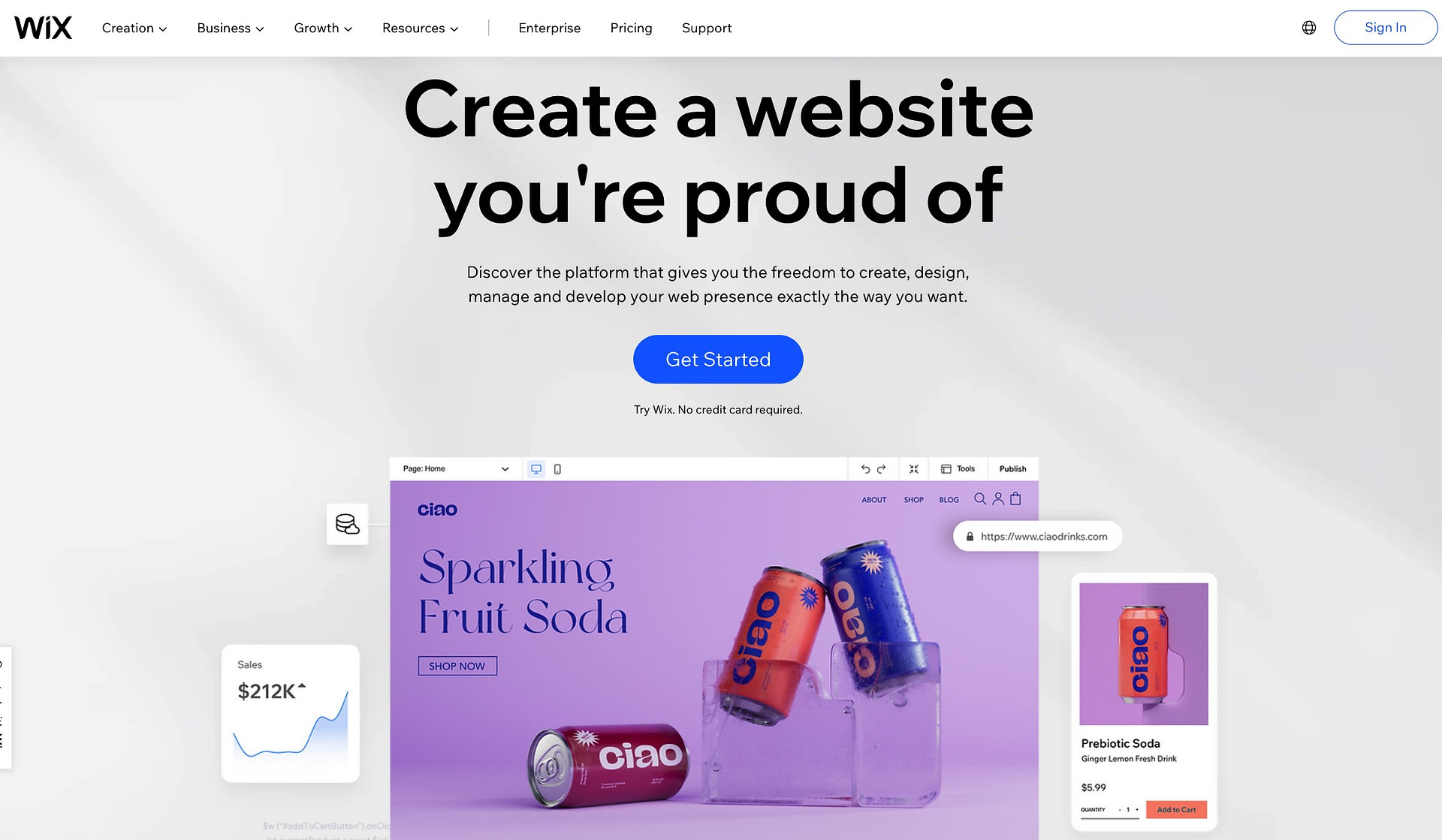 Free plan
Online presence with free and secure web hosting
Up to 500 MB bandwidth and up to 500 MB storage
Hundreds of fully customizable templates, mobile-optimized website
Access to an extensive collection of icons, images, clip art, and free apps
Free Wix domain – (username.wixsite.com/siteaddress)
Email marketing, SEO assistance, and other marketing tools
Free plan limitations
Your site address will carry the Wix favicon. Further, you'll find Wix ads on every page. You cannot have a custom domain or change templates.
Most importantly, you cannot accept payments under the free plan. Again, while you can create your store for free, you need to pay once you're ready to start selling.
Other key features
Easy-to-use tools in a drag-and-drop WYSIWYG editor
Assistance of Wix Artificial Design Intelligence to build personalized websites
500+ design templates covering any and every type of website
Built-in tools to customize the design and layout
Unlimited bandwidth and 10 GB storage
Hassle-free coding for advanced functionality
Mobile-friendly and SEO-friendly
Google Analytics included
Great ecommerce website builder
Among the free ecommerce platforms, Wix is ideal for websites that want everything taken care of and need only regular website features.
Price & transaction fees
The premium plans start at $17 per month. There are three premium plans that are usable by small businesses, startups, and medium-sized ecommerce business owners – Basic, Unlimited, and VIP.
All these plans allow you to connect to your own domain and are ad-free. They vary in the amount of storage as well as the level of support and apps available. All three plans provide unlimited bandwidth.
While these business and ecommerce plans allow you to set up a store, accept payments, and view detailed Analytics, you'll have to pick from their Unlimited or VIP business and ecommerce plans to get access to other advanced Wix Business applications, such as currency converter, automated sales tax, etc. They cost $25 and $35 per month, respectively. All in all, while it can't be fully considered to be a free ecommerce platform, the prices are reasonable for what you get in return.
Transaction fees:
Wix Payments lets Wix business and ecommerce plan subscribers accept card payments, digital wallets, and more without having to integrate third-party payment gateways.
It's available only in some countries, and in the US, there's a fee of 30¢ plus 2.9% for each transaction. It's lower in EU countries, at 1.9% of the transaction amount + 0.30 EUR. These are similar to the fees that other payment processing software options charge.
Learn how to create a website with Wix 👈
Right up at the top among the best free ecommerce platforms is WooCommerce. It is a free and open source ecommerce plugin that integrates perfectly with WordPress (both WordPress sites and most WordPress plugins). Even though "a plugin" might not sound like much, WooCommerce is actually a fully-featured tool that has all the ecommerce features you might need. Plus, there's also a huge ecosystem of extensions that let you build on top of WooCommerce's main offering and make it fit your needs perfectly.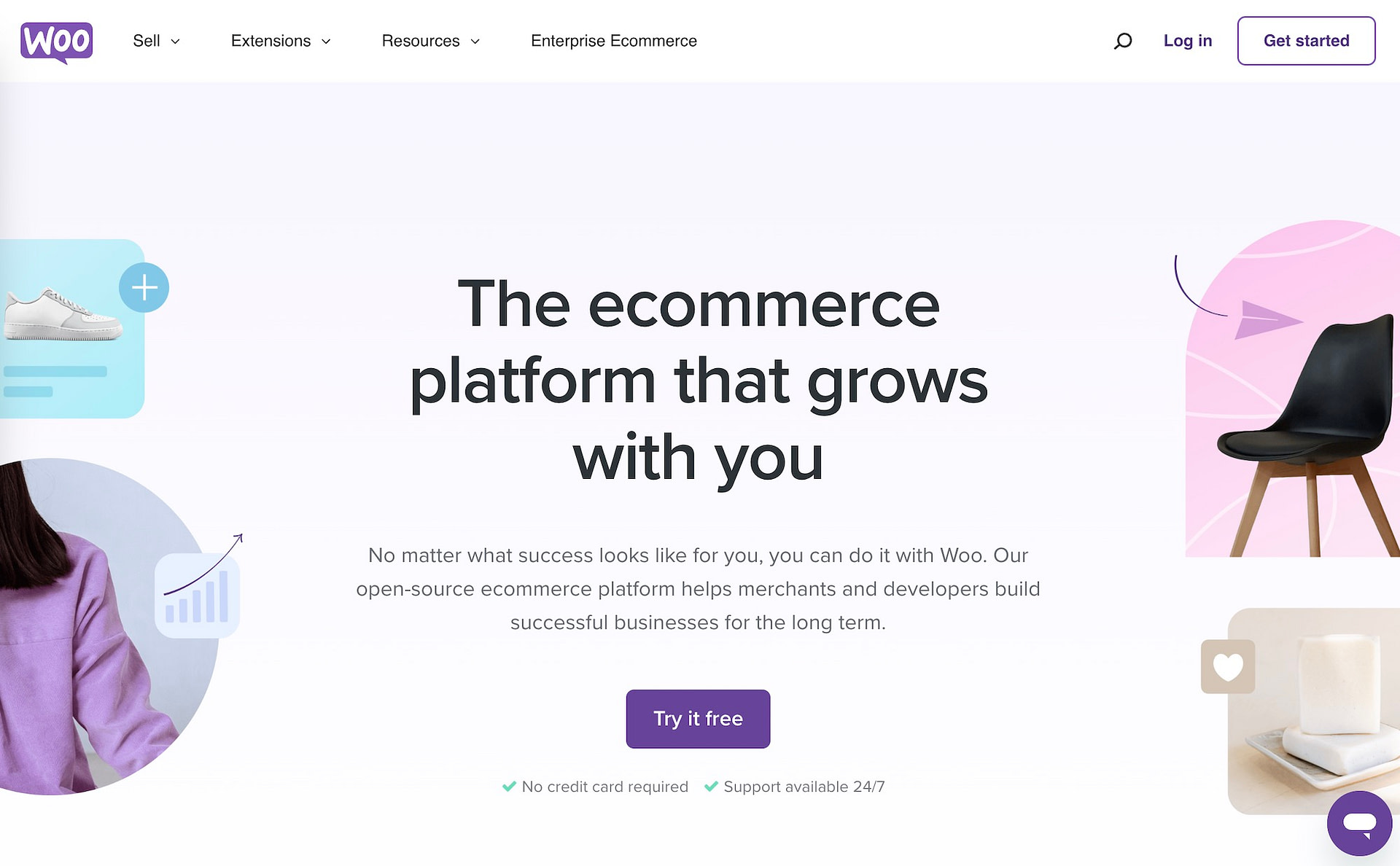 Free plan
There's a lot you can do with the free WooCommerce plugin:
Sell anything: physical or digital goods, including subscriptions
Easy installation and use
Adding your products is straightforward
There are many free WooCommerce themes to help you design your store the way you want it
Flexible and secure payments
Multiple currencies to sell globally
Integrates with multi-channel shipping options
Stripe plugin available if needed
WooCommerce is a delight for advanced users as it gives you complete control over your ecommerce platform. As for beginners, it's a complete solution to start your online store, scaling up and learning as you grow.
Free plan limitations
The base plugin with free add-ons should more than suffice for most online stores that are just starting out. However, if you want to use additional payment gateways, integrate with certain shipping solutions directly, or have WooCommerce help you with handling taxes, then this will require additional investments in some extensions. There are a lot of those available.
Price & transaction fees
Here's something important to note – WooCommerce, by itself, is totally free; so is WordPress – the CMS that WooCommerce works with. However, as with setting up any website, there are other costs involved – mainly web hosting and domain name. That being said, there are some very budget-friendly options to choose from for those who want to minimize the costs as much as possible. For example, Bluehost will give you an optimized web hosting space, a free domain name for the first year, and a quick single-click WordPress and WooCommerce installation. All of that for the price of $2.75 / month.
Transaction fees:
If you end up using the native WooCommerce Payments module, the transaction fees are 2.9% + $0.30 for each transaction made with U.S.-issued credit or debit cards. For cards issued outside the U.S., there's an additional 1% fee.
If you choose to use PayPal, that is also around 2.9% and $0.30 per transaction. Other payment methods have their own rates and fees.
Learn how to create an ecommerce store with WooCommerce 👈
Want a store that plugs into your existing site? If that's a yes, it's Ecwid for you. No website? Not to worry, you'll get an instant starter site too for free. This makes it one of the most popular free ecommerce platforms.
Free plan
Ecwid has a free plan that's very usable. Once you sign up, you can set up a fully functional free ecommerce website that sells up to ten products in two categories. Here's what you get:
Mobile responsive customizable online store with product options
Mobile responsive shopping cart
Unlimited bandwidth
Add it easily to WordPress or any other website
Sell simultaneously on multiple sites
Facebook Pixel
Built-in support for SSL certification, security, server configuration, and hosting
40+ payment methods in multiple currencies
Real-time shipping rates from some carriers
Built-in Google Analytics integration
Free plan limitations
You won't get access to digital goods, staff accounts, or promo codes. These features, along with many more, are available only in premium plans.
Other key features
Sell on the go with Ecwid mobile
Store management app
Multiple sales channels like Facebook, Instagram, or other POS
Unlimited products, including digital goods
Inventory management, automated tax calculation
Order creation, product filters, and variations
In short, Ecwid's free plan can be a fine option for small merchants who have basic selling requirements.
Price & transaction fees
Beyond the free plan, three paid plans are available:
Venture – $15 per month
Business – $35 per month
Unlimited – $99 per month
Transaction fees:
None of them are charged directly by Ecwid, but your chosen payment processor will likely charge fees.
If you've got T-shirts, paintings, jewelry, or other crazy stuff to sell, then Big Cartel deserves to be on your shortlist of free ecommerce platforms.
Free plan
With the free Gold plan, you can:
Start your free store with up to five products
Pick a theme and customize
Add one image per product with product options and categories
Sell in person and on Facebook
Choose to accept credit card or PayPal payments, or both
SSL encryption
Basic order management via the Big Cartel dashboard
Email support
Free plan limitations
On the free plan, it's not possible to have a custom domain. Nor will you be able to add multiple images per product or track inventory. Nonetheless, it's still one of the best free ecommerce platforms.
Other key features
Enable inventory tracking
Offer discount codes
Google Analytics
Full code customization
Since minimalism is Big Cartel's forte, you won't find the platform weighed down by too many features. At the same time, the free plan gives you enough to set up a shop, sell, and receive payments.
Price & transaction fees:
Three premium plans are available that allow you to sell different numbers of products
Platinum – you can sell up to 25 products at $9.99 per month
Diamond – 100 products at $19.99 per month
Titanium – 300 products at $29.99 per month
Transaction fees:
None charged directly by BigCartel, but your chosen payment processor will likely charge fees.
Gumroad is among the best free ecommerce platforms to sell digital, physical, and creative goods, though the emphasis is more on digital products and creative stuff, like photographs, writing, podcasts, and designs.
It lets you create a free ecommerce website upfront, but they charge a commission on everything that you sell, unlike the other open-source ecommerce platforms on this list.
Free plan
Create and customize your storefront
Sell as many products as you want
Send out four updates each month
Setup one automated workflow
Free plan limitations
Besides missing out on some key premium features, you'll also pay a higher transaction fee in a free account.
Other key features
Import email lists and rely on powerful analytics
Sell physical product variants, track inventory, manage shipping, and restrict to countries
Digital products sellers have a lot going – multiple versions, generate license keys, and offer discount codes
With a simple '+' sign, ask customers to pay what they wish
Built-in abuse prevention with PDF stamping or turning off downloads
Sell goods before they are ready and schedule future payment receipt
Support for recurring subscriptions and membership plans that offer access to content libraries and license keys for software
Multiple payment options and easy checkout
Customers can create an account and keep all content in one place
Moreover, Gumroad promotes product branding with custom URLs and markets your products with customized previews for social commerce on channels like Facebook and Twitter. Thank you notes and updates in automatic workflows help you stay engaged with your customers.
Price & transaction fees
Professional features will cost you just $10 per month.
Transaction fees:
The fee on each sale for free accounts is 8.5% + $0.30 (USD) per sale.
It's lower on premium plans at 3.5% + $0.30 (USD) per sale. There's an additional 10% charge on first-time purchasers for sales that come through browsing Gumroad.
Shopify is a full-fledged ecommerce platform, hosting included. It's rather popular and takes care of everything – marketing, payments, shipping, and secure checkout, and is easy to set up.
The big caveat with Shopify, is that like Wix, it will let you create a free ecommerce website, but you'll need to upgrade to a paid plan to start selling to customers.
Free plan
While it's not one of the fully free ecommerce platforms on this list, you can subscribe to Shopify's free trial for 14 days, without submitting credit card details.
Free plan limitations
During your free trial period, you can set up your store and explore features. But before you sell products or services, you'll need to pay up for one of the plans.
Key features
Online store with customizable themes, Shopify POS apps, multiple sales channels are part of Basic Plan
Also in Basic Plan, unlimited products, manage products and inventory, track sales, and growth trends
Shopify includes a dashboard with a complete ecommerce builder
Hosting, domain names, design, themes, and marketing – all included
100+ mobile-ready themes and hundreds of apps to enhance store functions
Integrates with most social media forums
Possible to create regular web content as well – static pages, blog posts, contact forms, and so on
Downtime is minimum with round the clock support
Shopify is a delight for anyone who wants a hands-off approach to online store setup and maintenance. With a range of plans to suit every need and type of online business, it has something for everyone.
Price & transaction fees
Four plans with varying features and monthly fees are available:
Lite – $9 per month
Basic – $25.00 per month
Shopify – $79 per month
Advanced – $299 per month
All plans, except the Lite, allow you to create fully-functional Shopify stores. The Lite plan only allows you to sell on Facebook and in physical locations, as well as integrate a Buy Button on an existing site.
Transaction fees:
There are no separate transaction fees when you use Shopify Payments (available in some countries). If you choose an external payment gateway, there'll be an additional fee of 2%, 1%, or 0.5% for the Basic Shopify, Shopify, and Advanced Shopify plans, respectively.
Learn how to create a store with Shopify 👈
Final thoughts on free ecommerce platforms
If you want something that will let you create a working store for free as part of your business plan, your best options are Ecwid or Big Cartel. Gumroad is also an option if you're willing to put up with transaction fees.
Shopify and Wix will also let you create a free ecommerce website, but you'll need to subscribe to a paid plan once you're ready to start selling publicly. This means they aren't fully free ecommerce platforms in the same way that some of the other options on this list are.
Finally, if you're willing to go the DIY route, you can create an affordable ecommerce store with WooCommerce and Bluehost.
Of course, the free ecommerce platforms that we've presented today are not the only ones available (there are also others, like Prestashop, OpenCart, or Square Online). Feel free to research other options and choose an appropriate platform for your needs.
Do you have any questions about these free ecommerce platforms? Ask away in the comments!
Free guide
4 Essential Steps to Speed Up
Your WordPress Website
Follow the simple steps in our 4-part mini series
and reduce your loading times by 50-80%. 🚀
Free Access
* This post contains affiliate links, which means that if you click on one of the product links and then purchase the product, we'll receive a commission. No worries though, you'll still pay the standard amount so there's no additional cost on your part.