There are a lot of decisions to make when you're opening an online store. One of the most important is the platform you'll use to create it. In this guide to Shopify vs WooCommerce, I'll explore key aspects of these two popular ecommerce platforms to help you make the right choice.
🧩 I'll compare a few aspects of these platforms, namely:
Before we dive into the meat of the Shopify vs WooCommerce debate, though, let's get a better understanding of what these two platforms are.
Shopify is a popular hosted ecommerce platform that hosts more than 6.3 million online stores [1]. The platform provides integrated hosting, website/online store design tools, inventory management tools, payment processing, and the ability to integrate your Shopify store with an Amazon seller account.
Because Shopify is a "hosted" platform, all you need to do is register for an account to get started. There's no need to purchase your own web hosting, install software, etc.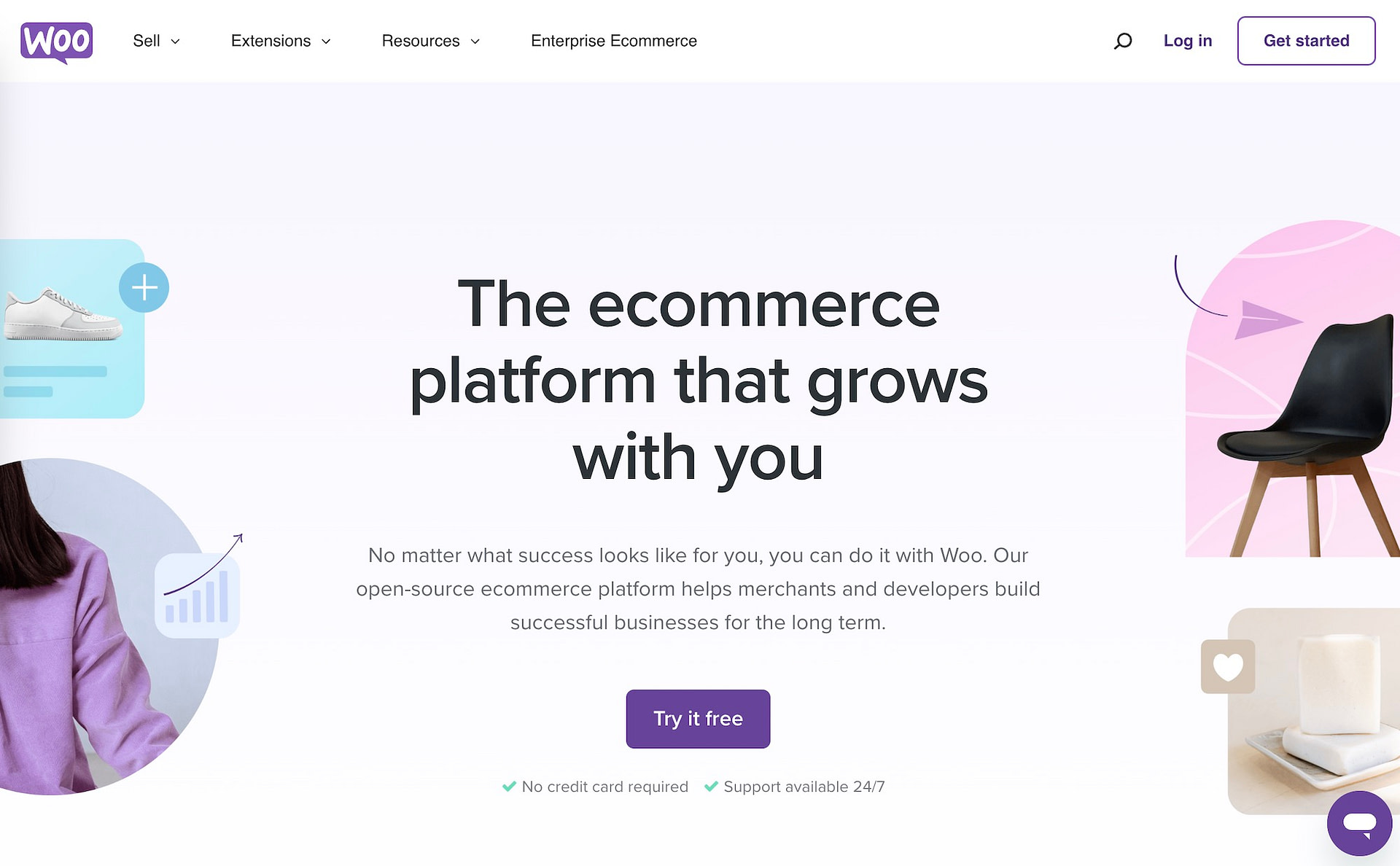 WooCommerce is a free, open-source plugin that lets you create a fully functioning ecommerce store using the open-source WordPress software. There are over 6.5 million WooCommerce stores, making this the most popular ecommerce platform – although Shopify isn't far behind [2].
WooCommerce doesn't come with web hosting or a full site design, but it does offer a variety of tools for making the store portion of your site attractive, managing your inventory, and processing payments.
You're also able to fully edit every single part of your site's underlying code, which gives you more control than Shopify offers (though at the expense of some simplicity).
Shopify vs WooCommerce: Design 🖱️
Shopify
The first thing you'll need to do when designing your Shopify store is choose a theme. There are a dozen free themes for different types of stores:
These themes are customizable, but most only come with the Mega menu and Sticky header features. If you want more advanced features, like built-in color swatches, countdown timers, and age verifiers, you'll need to spring for one of the 129 premium themes.
After choosing a theme, you'll be redirected to the Themes section of the Shopify admin area. You can then click Customize to open the theme editor:
To alter your page, click on the area you want to edit. This will bring up editing options for that section in the right sidebar.
You can also add blocks to display things like featured products, videos, and newsletter signup forms.
The built-in block selection is somewhat limited when put in the context of the Shopify vs WooCommerce debate, but it's plenty for building an online store – and you can always add apps to your store if you need additional blocks.
Want to customize colors, fonts, and other elements of your site's overall appearance? Click on the paintbrush in the left sidebar to open the Theme Settings area.
Here you'll be able to add your logo and brand information, customize fonts for headers and body text, control the spacing of your layout, and more.
These options make it easy to give your site a unique, branded aesthetic that can visually tie various pages of your site together.
WooCommerce
As a WooCommerce user, you'll gain access to all of the design options provided by WordPress. This includes thousands of free themes found by going to Appearance → Themes > Add New in the WordPress admin area. You can then search for "store" or "ecommerce" to find appropriate themes:
We recommend Neve for access to WooCommerce-optimized starter sites.
Once you've chosen a theme, you can head to Appearance → Customize to open the site editor. Note that this area is designed for altering the overall look of your site, not individual pages.
The options available in the site editor vary based on the theme you have, but there are some basics you'll always be able to customize:
Site title, tagline, and logo
Theme colors
Blog layout (sidebar/no sidebar, etc.)
Menu location and items
What page is used as the homepage
Here's an example of what the customizer looks like when using Neve:
You can design your store page by going to Pages > Add New and using blocks to build your content. The WordPress block editor has many built-in blocks, and you'll also get specialized WooCommerce blocks for things like, featured product displays, product grids, sale displays, and organizing products by category or tag.
All in all, the WordPress block editor combined with WooCommerce offers significantly more options for designing individual website pages than Shopify.
However, the number of overall site customization options varies based on theme and may even be less than what you get with Shopify if you're using a theme without many built-in options.
WooCommerce vs Shopify: Inventory and product management ⚙️
Shopify
The product listing process on Shopify is easy and offers several tools to organize your product right away.
In the center of the page, you can enter core product information like the product name, description, images, and pricing details.
One great thing about this area is that you can enter your list price and your cost per item, and Shopify will automatically calculate your profit as both a dollar amount and a percentage. Directly below that is where you'll be able to set up inventory tracking and shipping information.
On the right side of the page, you'll find organization options. You can specify a product category, type, vendor, and any collections the product will be part of. You can also add product tags to further organize your product display.
Collections
Another Shopify product management feature worth highlighting is collections. You can create these in the Collections area by entering basic information, like a collection name, description, image, and the sales channels you want this collection to be active on.
Moreover, you can set up automated collections where products are automatically added based on tags or other criteria.
For example, you could set up a collection for products tagged with "Summer Collection" and all the products currently tagged as "Summer Collection" will automatically be added to this collection. Shopify will also automatically add new products tagged as "Summer Collection" to this collection.
This can be a great way to save time if you want to add numerous products to one collection. If you want to create a smaller collection, however, you can stick with the Manual option, where you have to organize products into collections yourself.
Other inventory and product management features
Shopify also has other inventory and product management tools that there isn't time to explore in this article:
Inventory tracking across multiple locations
Order tracking
Manual order creation
Shipping label creation
You can use these tools to create robust sales systems for both digital and physical products.
WooCommerce
The WooCommerce product creation process is similarly easy to set up. In the center of the page, you'll be able to add a product title, description, and price. On the right side of the page, you'll be able to add product images, categories, and tags.
The big difference between this and the Shopify product creation process is that, instead of having separate sections for things like inventory and shipping information, WooCommerce has one area with different tabs for these pieces of information.
Categories
WooCommerce allows you to sort your products into categories. Creating these categories is simple: head to the Categories area of WooCommerce and enter a title, slug (the part of the URL that comes after the /), and description.
You can also specify a parent category, add a thumbnail, and select how items will be displayed on the category page.
Unfortunately, there is no way to automatically put items in a category. Instead, you'll need to manually add categories to product listings during the creation process. You can also edit the categories associated with existing products by going to All Products and selecting the item you want to modify.
Other product and inventory management features
The base WooCommerce plugin also offers the following features:
Inventory tracking
Order management
Other features can be added through WooCommerce extensions, which we'll discuss later on in this guide to Shopify vs WooCommerce.
Shopify vs WooCommerce: Marketing 📈
Shopify
Shopify offers a comprehensive analytics dashboard with deep insights into store sessions, including locations, devices, and where visitors came from. The company also offers sales reports, customer cohort insights, and conversion rate calculations.
Shopify also offers built-in email marketing tools, allowing you to send up to 10,000 emails per month for no additional charge. Past 10,000, you'll pay $1 per 1,000 emails.
You can access several templates for building specific types of emails, including newsletters, promotions for specific products, and sale announcements. There are even special templates for seasonal sales.
Once you've selected a template, you can use the visual email builder to customize the content of your email:
Shopify also offers several email automation options, including abandoned cart recovery, welcome emails, and post-purchase thank-yous. Note that automated emails do count toward your monthly 10,000.
You can use the Discounts area to create coupon codes for use in email campaigns and other promotions.
And, if you've got an advertising budget, Shopify offers built-in tools for creating paid campaigns on platforms like Pinterest.
WooCommerce
This is one part of the Shopify vs WooCommerce debate where, at first glance, you might think that WooCommerce doesn't hold up.
By default, WooCommerce only includes the following marketing features:
Analytics tracking views, orders, and income earned
Product review collection & display options
Coupons
This might not seem like a lot of options, but if you're using WooCommerce, you'll also be using WordPress. This means that you'll have access to thousands of plugins for various marketing tasks.
Here's a quick roundup of how you can use WordPress plugins in your marketing:
And these are only four of the most notable marketing plugins for WordPress! You can find a plugin to help you with any marketing task you can imagine, which means that WooCommerce can actually give you far more marketing options than Shopify.
WooCommerce vs Shopify: Payment processing 💳
Shopify
The default way to accept payments on Shopify is via the built-in Shopify Payments. You won't have to pay anything extra, though – this tool is offered on all Shopify plans, with some limitations based on region.
Once you've set it up, you'll be able to accept payments from the most popular credit cards in the US and many international cards. You'll also be able to accept payments in a variety of currencies.
Shopify does let you use other payment gateways. However, in that case, Shopify charges an extra fee on top of what the external payment gateway charges – this fee ranges from 2.0% to 0.5% depending on your Shopify pricing plan.
The one exception is PayPal. If you use both PayPal and Shopify Payments, then Shopify doesn't charge you anything extra to offer PayPal. However, if you want to disable Shopify Payments and only use PayPal, then the extra fee still applies.
WooCommerce
In order to accept payments via credit card, the easiest solution is to install WooCommerce Payments. This plugin is free, easy to set up, and compatible with most major credit cards around the world. You can also accept payments in over 135 currencies with this extension.
If you want more flexibility, you can find hundreds of WooCommerce extensions that add support for other payment gateways. This includes well-known names like PayPal, Square, and Stripe, as well as smaller local payment gateways.
Unlike Shopify, WooCommerce does not charge you anything extra to use third-party payment gateways.
So if you want to use local payment gateways, that might be a notable advantage in WooCommerce's favor.
Shopify vs WooCommerce: Integrations and extensions 🔌
Shopify
You can find many tools for extending the functionality of your online shop in the Shopify App Store. Don't let the word "store" dissuade you, however; many of these tools are free or offer some kind of free plan in addition to premium offerings.
Shopify apps are divided into four categories:
Sales channels like Amazon, Pinterest, and TikTok
Store design tools like product review collection and display, translation, and more
Finding products, which encompasses tools that connect your store to dropshipping companies and Print on Demand (POD) suppliers
Marketing and conversions, which includes tools for things like email and SMS marketing as well as tools for running paid advertisements on a variety of sites and apps
There are over 8,000 apps in the Shopify store, so you can be sure that you'll find the tools you need to build your ecommerce store in a variety of ways.
WooCommerce
If you want to add more features to your WooCommerce store, you can do so by heading to the WooCommerce Extensions Store (or you're also free to find WordPress plugins from other sources, like the WordPress.org directory or CodeCanyon). And, just like in the Shopify App Store, many of the tools you'll find in the WooCommerce Extensions Store are free.
You can choose to view all WooCommerce apps or filter your search based on cost, who developed the tools, and what they do. Some of the most notable categories are:
Payments for things like additional payment gateways
Shipping, Delivery and fulfillment, for things like enhanced inventory management and printing shipping labels
Conversion for things like email marketing
There are 830 official WooCommerce extensions, but that doesn't mean there are only 830 ways to increase the functionality of your store. In fact, thanks to WordPress, you can access over 60,000 free plugins. There are also many premium-only plugins you can use to set up advanced functionality on your website.
These plugins allow you to do almost anything you can imagine with your WordPress/WooCommerce website, such as:
And, as an added bonus, many of these plugins offer some level of integration with WooCommerce.
In short, WordPress + WooCommerce is a significantly more flexible website building solution compared to Shopify.
Shopify vs WooCommerce: Pricing 💵
Shopify
Shopify plans include hosting, a domain, and all of the tools we've discussed in this article, starting at a base price of $25.00 per month (billed annually).
There's also a cheaper Shopify Starter plan for selling on social media, but it doesn't let you create a fully functioning store.
Beyond that, you might want a premium Shopify theme, which typically costs $150-$300.
And beyond that, you'll also likely want some paid Shopify apps. The exact cost will depend on the app, but you should expect to pay an ongoing monthly fee for as long as you want to use each app.
WooCommerce
To use WooCommerce, you'll first need to buy web hosting. You could theoretically get web hosting with a domain bundled in for $2.75 per month from Bluehost.
However, more realistically, you'll probably want to spend at least ~$25 per month on high-quality WooCommerce hosting.
Once you've bought web hosting, you can install WooCommerce for free to create your store.
You might want a premium WooCommerce theme, which could cost $60-$90.
Then, you might want some premium WooCommerce extensions. These typically cost less than Shopify apps and rely on one-time payments plus optional renewals to continue receiving support and updates after the first year.
Shopify vs WooCommerce: how to choose the right platform
Almost ready to choose your ecommerce platform? Here's a quick reminder of what we've covered in this Shopify vs WooCommerce comparison:
🖱️ Design – Shopify offers a variety of themes and numerous site-wide customization options. However, WooCommerce gives you access to all of the themes and design options available with WordPress, giving you far more flexibility.
⚙️ Inventory and product management – Shopify offers more built-in tools for inventory management, including automated collections. WooCommerce requires extensions for advanced inventory management.
📈 Marketing – Shopify offers built-in email marketing and ad campaign tools, plus in-depth analytics. WooCommerce's only built-in marketing tools are coupons, analytics, and review collection. You can fix this by adding WooCommerce plugins, but it's a little more complex to set up.
💳 Payment processing – Both platforms make it possible to process payments from all major credit cards and PayPal. However, Shopify will charge you extra if you don't want to use the Shopify Payments service. Beyond WooCommerce not charging extra, it also offers extensions for a variety of additional payment gateways.
🔌 Integrations and extensions – Shopify has over 8,000 apps for various aspects of store management and marketing. WooCommerce has tens of thousands of extensions because you're able to access the full WordPress plugin library (including thousands of plugins specifically built for WooCommerce).
💵 Pricing – Shopify's hosting plans are quite expensive at $25.00 per month. With WooCommerce you're given the choice of web host, which means you can buy hosting for $2.75 per month, and the plugin itself is free. More realistically, though, you'll likely want to pay more for WooCommerce hosting.
🏆 So, who is the winner in the debate between Shopify vs WooCommerce? Well, it depends on your budget and your goals:
Choose Shopify if you've got room in your budget for premium hosting and you want built-in email marketing and a focus on ecommerce. It's the absolute simplest way to make an ecommerce store.
Choose WooCommerce + WordPress if you want the flexibility to create any kind of online business and the ability to choose affordable web hosting.
If you're ready to get started, we have step-by-step tutorials for both platforms:
And if you want to discover some other ways to make a store, you can read our full roundup of the best ecommerce platforms.
Do you still have any questions about our Shopify vs WooCommerce comparison? Let us know in the comments!
Free guide
4 Essential Steps to Speed Up
Your WordPress Website
Follow the simple steps in our 4-part mini series
and reduce your loading times by 50-80%. 🚀
Free Access