When it comes to running a blog, one of the biggest challenges is creating a large volume of content that's also high quality. Often, it seems you can either have many posts written quickly and poorly, or well-crafted posts that take days or weeks to write. However, content curation provides an alternative.
Choosing to curate some or all of your blog's content can result in a large number of excellent posts very quickly. By focusing on high-quality sources and drawing material from existing articles, you can fill your blog while still producing work you can be proud to share on your site.
In this post, we'll dive 🏊 into what content curation is and how it can benefit your blog. Then we'll share a step-by-step guide on how to curate content for your own blog. Let's get started!
Understanding content curation and its benefits
The definition of content curation can get lost in translation. It's important to note this is not taking content from another blog and publishing it on your own – that's just plagiarism. Instead, curation is a process of collecting, organizing, and providing fresh insight into existing articles.
Content curation's most immediate benefit is it's typically much faster than producing traditional blog posts, without sacrificing quality. However, by helping you tap into a backlink network, it can also help improve your blog's Search Engine Optimization (SEO) and visibility, increasing your traffic and possibly your revenue.
How to curate content for your blog (in 5 steps)
Though usually a fairly streamlined process, content curation still takes some careful planning if you want to do it right. Trying to cut corners could result in copyright disputes and a negative impact on your blog's SEO, so make sure all your bases are covered by sticking to the steps below.
1. Select your sources 📚
A strong source for curated content needs to be reliable, recognizable, and relevant to your target audience. Choosing reliable sources influences your own credibility and your blog's quality. When considering a source, make sure their claims are factual and based on research.
You'll also want your sources to produce quality content consistently. Avoid sources with lots of grammar or spelling mistakes, as well as those with poor web design. Sources posting new material on a regular basis are preferable since you'll be able to count on them to deliver content.
A source that's recognizable to your target audience is always useful too. Sourcing content from other blogs with small followings is unlikely to help you boost your traffic, unless you're both fortunate enough that a post goes viral. Name recognition goes a long way to establish credibility as well.
Relevancy is needed for the success of just about any website, including your blog. If you pull articles about subjects your target readers aren't interested in, you'll have a hard time reeling them in and getting them to become loyal followers.
One of the best ways to hit all three of these points is to source content from the top blogs, websites, and other publications in your niche. A quick Google search will likely point you in the right direction, but if you're already tapped into your niche's online community, consider asking for recommendations or using sites you already follow.
2. Excerpt and annotate your content 📝
As we mentioned earlier in this post, content curation is not taking content off one website and putting it on your own. It's crucial to add some of your own thoughts and comments to each curated post. This step is vital for a couple of reasons.
For starters, copying others' content and passing it off as your own is copyright infringement and illegal. Plus, plagiarism probably won't earn you any respect in the blogging community. It will almost definitely hurt your reputation, greatly decreasing the chances that you'll be able to build a solid following.
You'll also want to annotate your curated content for SEO purposes. Duplicate content will have a difficult time ranking on Search Engine Results Pages (SERPs) because it will have to compete with its copy. Differentiating your post gives it a better chance to rank higher.
A common and successful strategy for dealing with this is to excerpt from and annotate your sources. This involves pulling the most important information from an article in the form of block quotes, and then providing your own thoughts, ideas, explanations, or reactions to them.
The popular site Brain Pickings is a prime example of this method. Writer Maria Popova covers topics related to literature, art, philosophy, and science, often sharing long quotes from other articles or books and expounding upon them: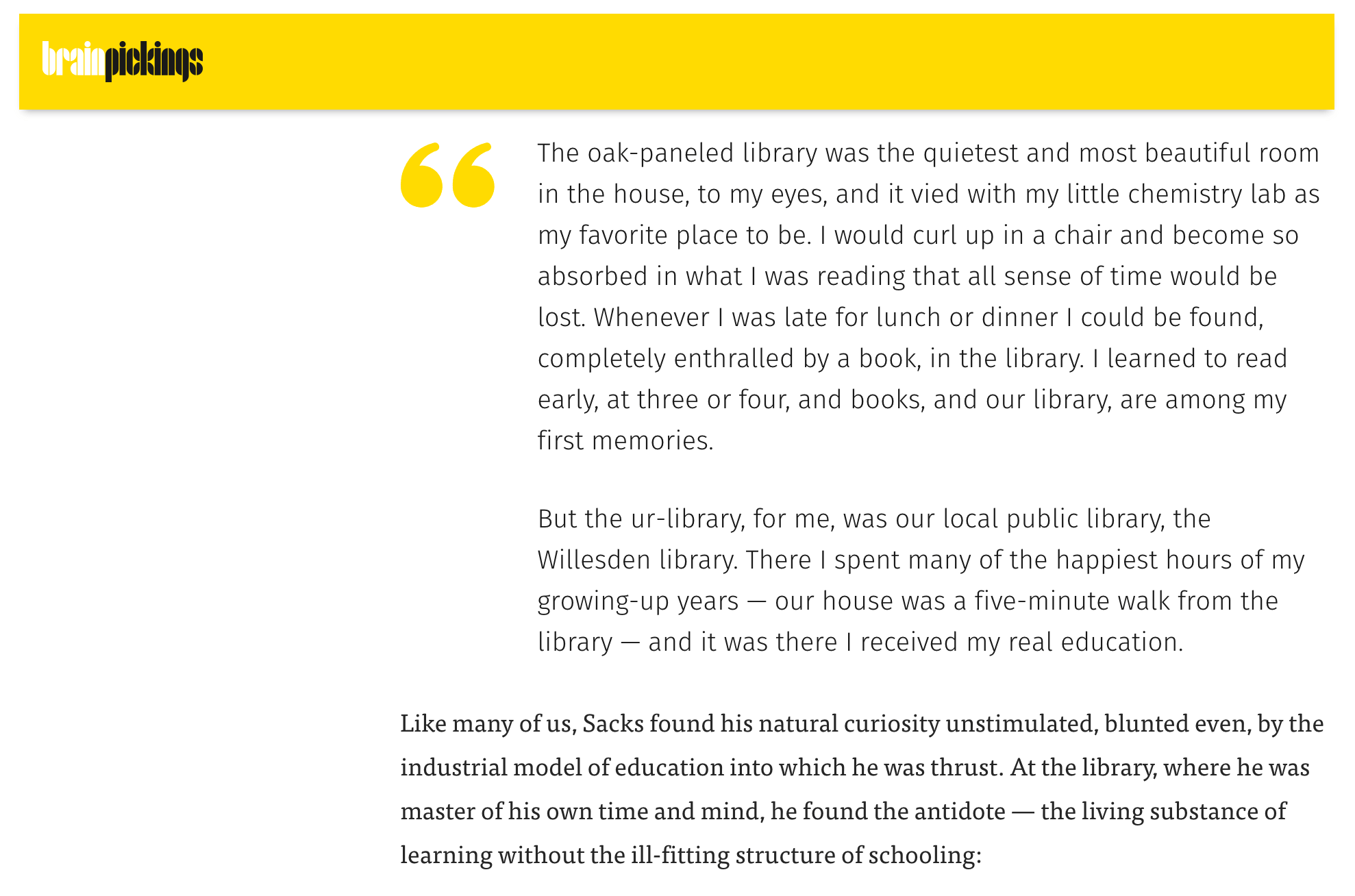 Your posts don't necessarily have to be as in-depth and intellectual as Popova's. However, her site provides some good insight into curation best practices and how to structure your excerpts and annotations.
3. Aggregate additional content 📄
Another technique for responsibly curating content is known as 'aggregation.' This consists of compiling a list of articles or other resources you think your readers will be interested in and sharing it with them. It's a popular strategy among news aggregator sites such as theSkimm.
Aggregated content can make up the majority of your blog posts if you want it to. However, it's smart practice to write a summary for your own site highlighting key points then linking to the original article, for the same reasons mentioned in previous steps.
Even so, aggregated articles can also make for a nice supplement to your main posts. You can provide your readers with a list of latest niche community news, popular resources for further research, or some of your own favorite reads.
Regardless of which method you prefer, aggregation is an extremely easy way to generate content because you can automate it. Plugins such as our Feedzy RSS Feeds can create lists of aggregated content and automatically add them to a post, page, or sidebar on your site:
Your feeds will update automatically, so they require minimal maintenance. Feedzy even uses Artificial Intelligence (AI) to rephrase and refresh aggregated posts to avoid duplicate content concerns.
4. Cite your sources 💁
Even though you will have either excerpted and annotated, provided an original summary, or used AI to rephrase your curated content, it's still necessary to cite your sources. In some way or form, you'll need to acknowledge your posts' original creators.
For one, this practice is polite. It's always best to give credit where it's due – after all, someone else worked hard to create the material that will now provide your blog with an ample volume of high-quality content. Readers and other bloggers will usually respect you more if you cite your sources.
Additionally, citing sources can be useful for your blog's SEO. Some online writers will appreciate you giving their site backlinks and return the favor. Others may become readers and recommend your blog to their own following.
These days, linking to the original source is the standard way to give credit to another content creator. However, there's nothing wrong with using good old-fashioned parenthetical citations or footnotes as well.
5. Use content curation SEO best practices 📈
Some of the previous steps have already covered important considerations for SEO when curating content. Specifically, we've mentioned the potential negative effects of using duplicate content on your site, and how to avoid doing so.
However, there are also opportunities to improve your SEO using content curation. Specifically, there's a chance to build a well-rounded backlink profile that can bring in traffic from other sites as well as improving your organic search rankings.
By citing your sources, you should start to build a network between your blog and other sites. Hopefully, they'll start linking back to you as well. Plus, because your site includes informative content on relevant topics bolstered by your own unique insights, other blogs may link back to you as a resource.
It's also key that the sites linking to yours are of high quality. Google's Penguin Algorithm assesses your site's backlink profile for quality as well as quantity. This means you'll get a better signal boost from the reliable sources where you get your content than from small, low-quality sites.
Conclusion 🏁
When it comes to blogging, having a large number of first-rate posts is key. The traditional method of brainstorming and writing content sometimes makes this goal difficult to achieve. However, content curation can help speed up the process without dragging your blog's quality down.
🎯 In this post, we've examined five steps that can help guide you to successfully curate content for your blog:
Select your sources 📚
Excerpt and annotate your content 📝
Aggregate additional content 📄
Cite your sources 💁
Use content curation SEO best practices 📈
Do you have questions about how to use content curation? Let us know in the comments section below!
Free guide
4 Essential Steps to Speed Up
Your WordPress Website
Follow the simple steps in our 4-part mini series
and reduce your loading times by 50-80%. 🚀
Free Access