What is a blogroll exactly? A blogroll is a list of links typically found in the sidebar of your blog. These links direct users to other articles, written content, or websites whose subject matter is related to the blog you posted. The author of these linked blogs may be other people or yourself.
Read on to learn more 👨‍🎓 about blogrolls and how to add them to your WordPress site.
Understanding blogrolls
To have a deeper appreciation of blogrolls, you should know their origins in WordPress and why WordPress site owners continue to use them.
History of blogrolls in WordPress 👴
Blogrolls, initially called blog links, is a feature that was incorporated into WordPress at the platform's inception. Personal blog posts were popular during the early days of WordPress, so there was a great incentive among bloggers to promote one another's blogs through these links. They served as means to advertise content and proliferate information.
However, as new mediums of digital expression arose and blogging became a less personal industry, blogrolls lost the influence they once had. Despite this, there are still site owners who find value in using blogrolls.
The design of a blogroll is nothing special. It's just a list of links like this one: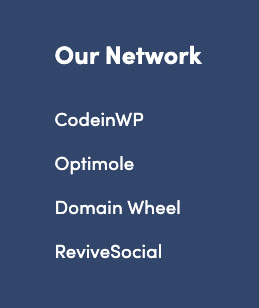 Why add a blogroll in WordPress? 🤔
Blogrolls can be useful for WordPress site owners who want to increase their platform's online visibility. Interlinking is a good SEO strategy that can increase your site's credibility and trustworthiness.
Moreover, these links can serve as a bridge between the different websites you operate. This facilitates traffic generation and improved brand awareness. You can likewise use blogrolls to promote your partners' pages, content, and websites.
Beyond what is blogroll: how to add a blogroll to a WordPress site
While a plugin can help you add a blogroll, the same can be achieved by simply using one of WordPress's core functionalities – menu.
First, navigate to the sidebar of your WordPress dashboard and press Appearance. Then, select Menus to get directed to the Menus page. Click on the Create a new menu link.
Next, type your preferred menu name on the designated field and select Create Menu. Then, navigate to the sidebar and click Custom Links. Either type or paste the URLs of the blog posts you want to list in the URL field. There's also a dedicated field where you should input the link text. Once you're done, press the Add to Menu button.
Reorganize the links in whatever order you like by dragging them up or down. Finally, press the Save Menu button.
To display your blogroll, go to Appearance again and select Widgets. The exact location of the widget area will depend on your WordPress theme. Once you locate and select this area, press the + icon. Then, search for Navigation Menu widget and add it.
Input a widget title and select the blogroll menu you made in the designated fields. Also choose where you'd like the blogroll to appear. A very common placement is in the footer, but you can choose whichever other location is available in your theme.
Conclusion 🤓
Now that you know the answer to "what is blogroll" and how to add one to your WordPress website, you can take advantage of this useful feature and drive more attention toward your blogs.
Free guide
4 Essential Steps to Speed Up
Your WordPress Website
Follow the simple steps in our 4-part mini series
and reduce your loading times by 50-80%. 🚀
Free Access