Asking what is a WordPress theme is common for anyone new to the platform and eager to create an engaging online presence. Themes form the visual backbone of your website by defining its look and style. In this post, we will further explore what WordPress themes are, how they function, and why they are vital for building your website.
What is a WordPress theme?
At its core, a WordPress theme consists of files that determine your website's appearance and style. It acts as a template, providing the framework for your site's design and layout, essentially serving as the outer layer for your website's underlying content and functionality.
In addition to shaping your site's visual elements, a WordPress theme dictates its behavior. It determines how your content displays, where menus and sidebars appear, and how visitors navigate your site. Think of a theme as both the stylistic and structural blueprint that transforms a basic WordPress installation into a fully functional website.
The anatomy of a WordPress theme
From a technical standpoint, a WordPress theme comprises PHP and CSS files that work together to define your website's structure and appearance.
Here's an overview of key theme files and their roles:
index.php: The primary template file responsible for rendering your website's core content.
style.css: This file contains styling instructions, specifying fonts, colors, spacing, and layout, thereby determining your website's visual identity.
functions.php: A file that allows you to add custom functionality to your theme. You can use it to register sidebars, create custom widgets, and more.
Understanding template hierarchy is crucial in web design. It dictates which template file is suitable for specific types of pages on your website. This way, you can ensure consistent design throughout your site.
How themes impact website functionality
WordPress themes do more than influence aesthetics — they significantly affect your website's functionality. Here's how themes play a pivotal role:
Responsive design: Many themes are designed to be responsive, ensuring your site appears well on different devices, from desktops to smartphones. This adaptability is essential in today's mobile-centric world.
User experience (UX): Some themes come with built-in features that enhance the user experience, such as user-friendly navigation menus, optimized layouts for readability, and strategically placed calls-to-action that encourage visitor engagement.
Built-in widgets and customization options: Themes often include widgets and customization features, simplifying the addition of functionality like social media integration, contact forms, and newsletter sign-up forms. These built-in tools reduce the need for extensive coding and enhance user-friendliness.
Choosing the right theme for your needs
Selecting the right theme sets the tone for your entire online presence. Consider the following factors when choosing a WordPress theme:
Purpose: Determine your website's primary goal, be it a blog, ecommerce store, portfolio, or another purpose. Different themes cater to specific objectives.
Design: Choose a theme that aligns with your brand's style and aesthetic preferences. Customizability is essential, allowing you to fine-tune the design to match your vision.
Features: Look for themes that offer the features and functionality you require. For instance, if you plan to sell products online, opt for a theme that seamlessly supports ecommerce plugins.
How to install a theme
Once you have selected a suitable theme, installing it is straightforward:
Access your WordPress dashboard: Log in to your WordPress admin area.
Navigate to the themes section: In the dashboard, go to the Appearance section and click on Themes.
Install your chosen theme: Click the Add New button at the top of the page. You can then either search for your theme in the WordPress theme repository or upload it from your computer.
Activate your theme: After installation, click the Activate button to make your chosen theme the active one for your website.
Popular WordPress themes
While countless WordPress themes are available, some have gained popularity due to their versatility and quality. Exploring various options can help you find the theme that best suits your needs.
If you're looking for a quality multipurpose theme with a lot of starter designs and versatile features, consider checking out Neve: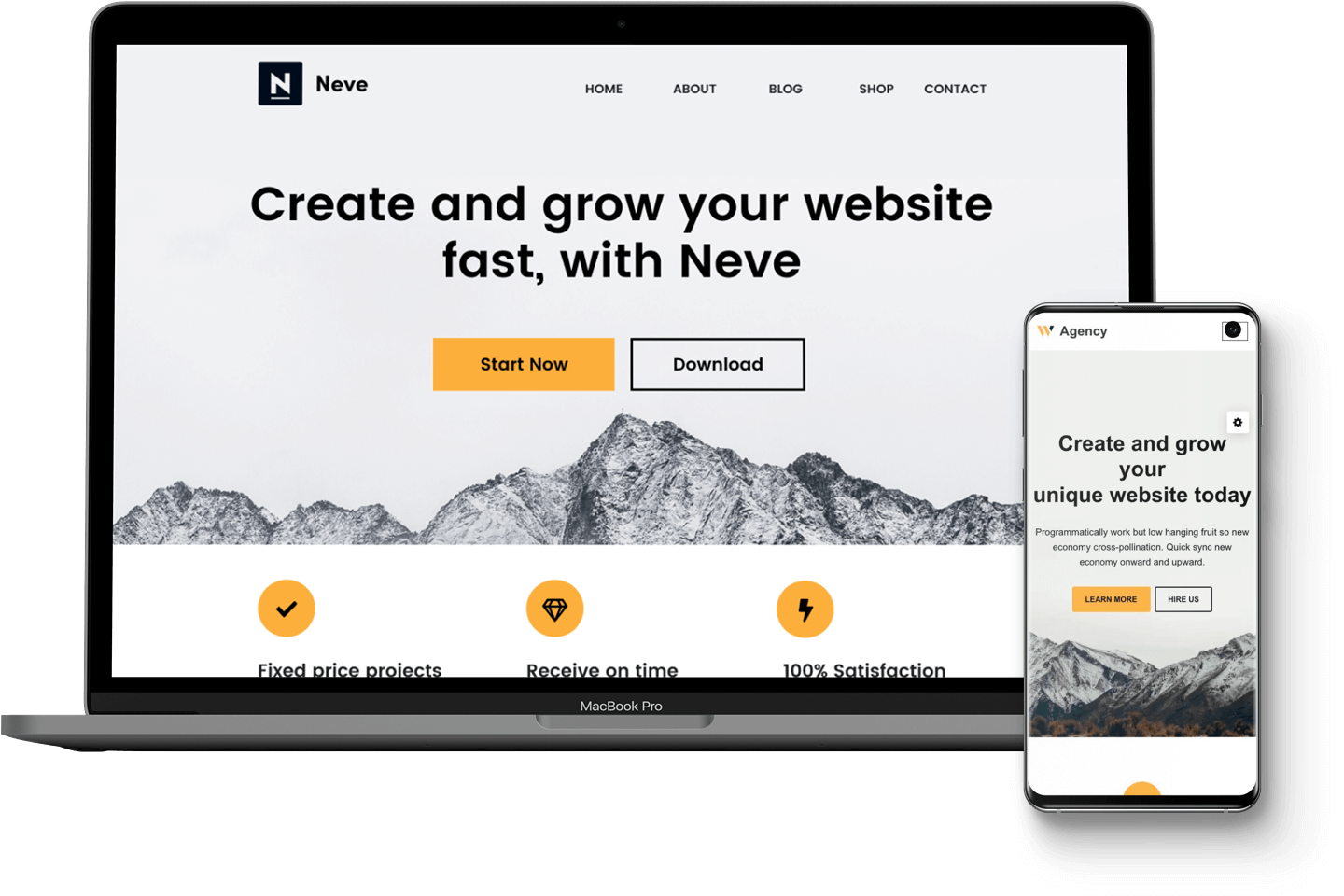 To discover some more themes, visit our article on the most popular free WordPress themes on the market.
Conclusion
When asking what is a WordPress theme, know that it forms the cornerstone of your website's identity. They not only shape its appearance but also its functionality and user experience. As you embark on your WordPress journey, remember that selecting the right theme is pivotal.
Take the time to explore different options and find the one that aligns with your needs and vision. With the right theme, you will be well on your way to creating a stunning and engaging online presence.
Free guide
4 Essential Steps to Speed Up
Your WordPress Website
Follow the simple steps in our 4-part mini series
and reduce your loading times by 50-80%. 🚀
Free Access