What is a sidebar? Sidebars are a common feature found on many websites that give space to display additional content and functionality.
If you're a web designer or a user looking for more information about sidebars, join us to see how sidebars can take your website to the next level.
Understanding sidebars
A sidebar is a vertical column that appears on the side of a webpage or blog that gives extra information to users. It typically appears on every page of the website in the form of a search bar, recent posts, popular posts, categories, tags, social media links, advertisements, or other widgets that enhance the user experience and make navigation options easier.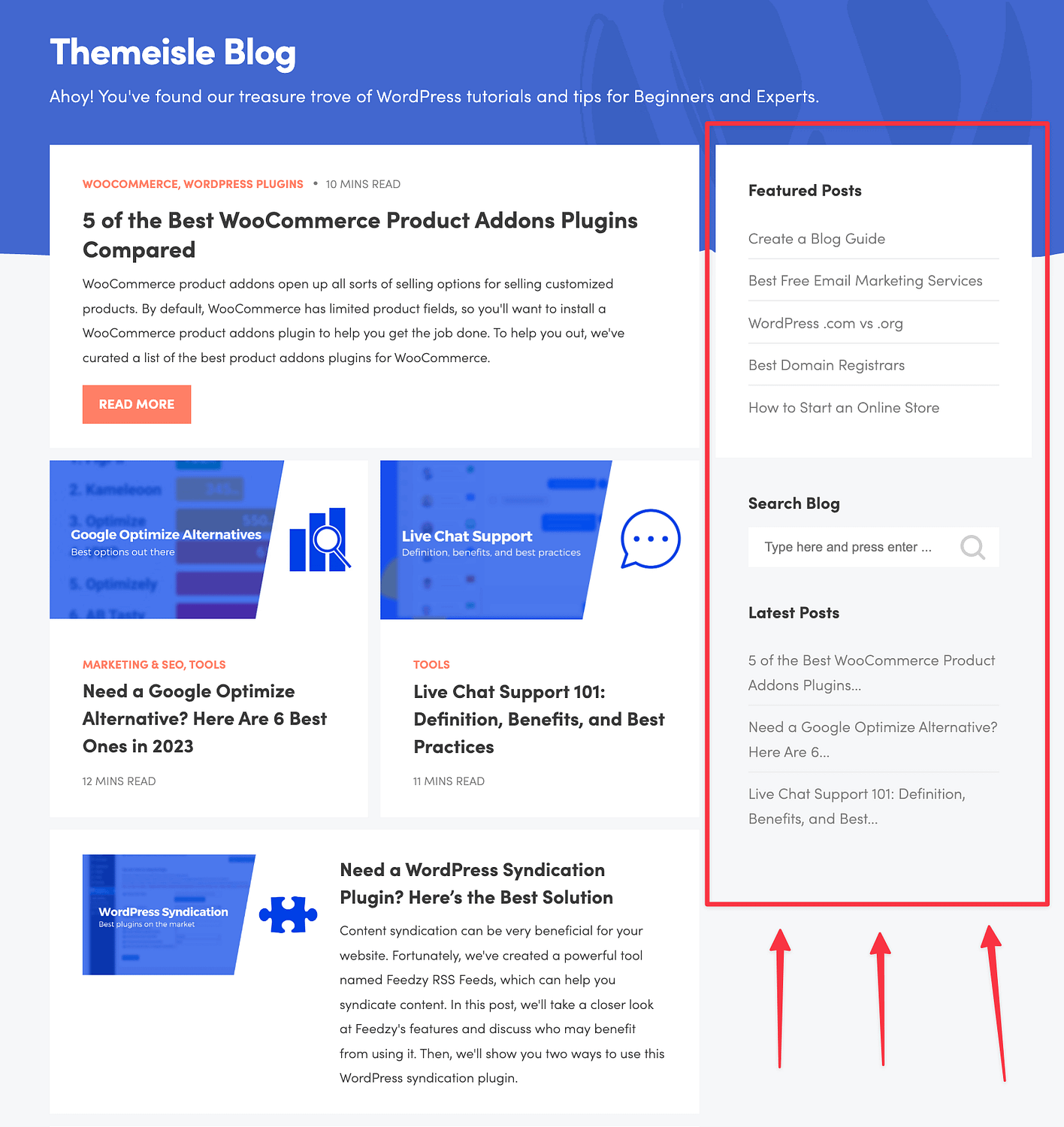 The content and layout of a sidebar can vary depending on the design and purpose of the website, but its main function is to complement the main content and give users easy access to information and tools.
Common use and benefits of sidebars
Sidebars encourage people to explore the website more thoroughly by showing links to popular or similar material. People can click through and read additional articles, which results in higher page views and time spent on the website.
👉 Sidebars are a popular feature on websites and are commonly used for various purposes. Here are some of the most common uses of sidebars:
Searches
Call to action
Related content
Author information
Navigation
Social media links
Advertisements
Contact information
Website owners can enhance the user experience and achieve their website's objectives by strategically using sidebars.
Left and right sidebars
Left sidebars are often used for navigation purposes and can include categories, archives, social media links, and other supplementary content. They are also traditionally used for website or WordPress widgets. Because left sidebars are typically located near the top left of the page, they can be easily accessed by users.
Right sidebars, on the other hand, are often used for promotional or advertising purposes. They display ads, call-to-action buttons, and links to sponsored content that generate revenue for the website. Right sidebars can also be used to display related content or social media links.
Importance of navigation on a website
Imagine you are in a new city, eager to explore all the sights it has to offer. You're excited to visit the famous landmarks, try the local cuisine, and meet new people, but you have no map, no directions, and no idea where to start. Your enthusiasm wanes, and you begin to feel overwhelmed, wondering if the trip was a mistake.
This scenario is similar to what users experience when they land on a website with poor navigation. Just like a map, navigation on a website is crucial for providing direction to users. Good website navigation allows users to easily find the information they need, explore the site's offerings, and take desired actions.
Modifying the content in a sidebar
👉 To modify the content in a sidebar on either a website or on WordPress, you can follow these general steps:
Step 1: Access the website's content management system (CMS) or website builder by logging in to a dashboard or backend interface.
Step 2: Navigate to the section of the CMS or website builder that controls the sidebar content. The website's design may be labeled as a sidebar, widgets, or something similar.
Step 3: Use the CMS or website builder tools to add, delete, or rearrange widgets that can be added to the sidebar.
Step 4: Preview the changes to ensure that they appear as intended in the sidebar.
Step 5: Save or publish the changes to make them live on the website.
Modifying the content in a sidebar can be a straightforward process, depending on the complexity of the website's design and the CMS or website builder being used.
What is a sidebar? Optimize yours today 🎯
To summarize what is a sidebar, it may seem like a small part of a website, but it can have a big impact on user experience and engagement. By providing quick access to important information, guiding users toward relevant content, and reinforcing branding and personality, a well-designed sidebar can make a website more memorable.
Free guide
4 Essential Steps to Speed Up
Your WordPress Website
Follow the simple steps in our 4-part mini series
and reduce your loading times by 50-80%. 🚀
Free Access