Choosing a web host is a key step in launching your business website. There are plenty of companies out there that offer top-notch enterprise WordPress hosting. However, this also means that selecting the right service provider may prove challenging.
That's why we've done a bit of research to help you get started. By looking closely at the features offered by the top options, you'll be able to choose a service that meets your enterprise business's unique needs.
In this post, we'll briefly discuss what you should consider when picking an enterprise WordPress hosting provider. Then, we'll dig into six of the most popular hosting options for enterprise businesses.
Let's get started!
What to look for in enterprise WordPress hosting
Choosing the right hosting provider is essential to your site's success. This is even more important if you run a large company. A slow, poor-performing website can have a negative impact on your revenue and reputation.
There are many companies that offer enterprise WordPress hosting. However, it's important to know what to look for when choosing the right solution for your business.
For example, one of the most important features of enterprise-level hosting is scalability. As your business grows, your web host should be able to accommodate new demands. For instance, you may need to increase your server size and resources to handle larger amounts of traffic and data.
You'll also need to ensure that your web host offers enterprise-grade security. A data breach could result in hefty fines and significant losses. Therefore, it's important to find out what security measures each web host has to protect your site from attacks.
Beyond security, you'll also want reliability, with stellar uptime that's ideally backed by a service-level agreement (SLA).
In addition, we recommend choosing a provider that offers a developer-friendly environment. That way, your web developers can work on your enterprise site without any issues. For instance, some hosting plans come with staging environments, as well as powerful development tools and software.
Best enterprise WordPress hosting providers in 2023
Now that we know what to look for in enterprise WordPress hosting, let's explore six top companies that offer this service:
1. Kinsta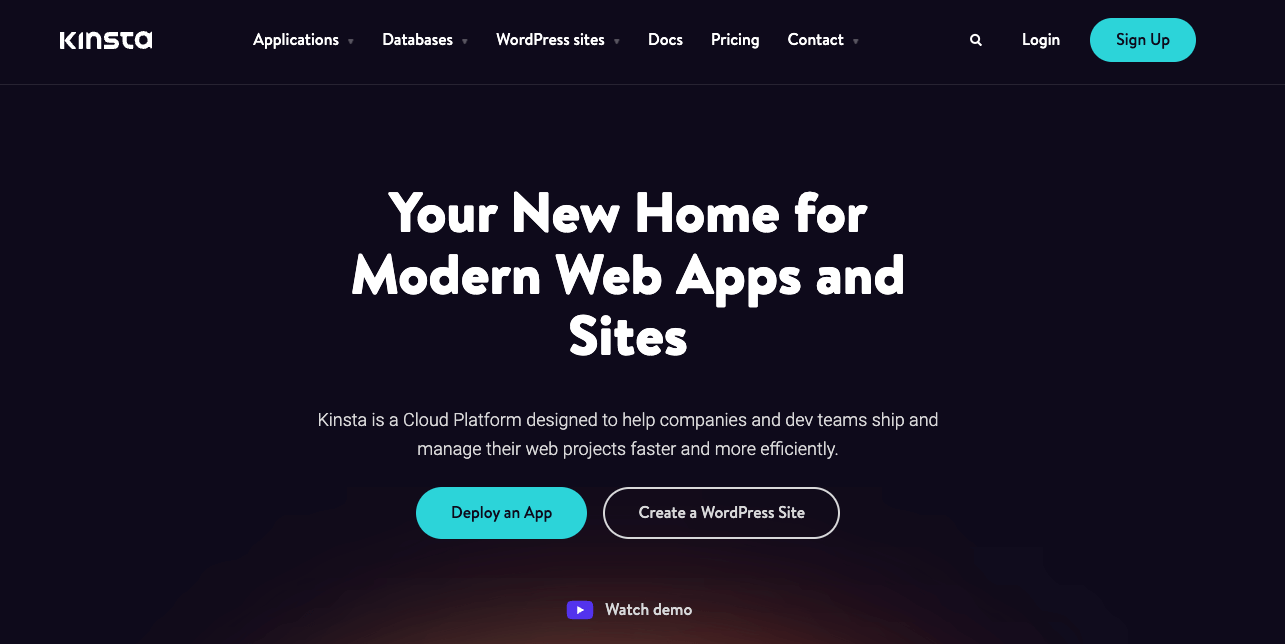 First up, Kinsta is one of the most popular hosting providers for WordPress. In fact, it hosts over 21,500 business websites, from online shops to agencies and enterprises.
Kinsta's enterprise WordPress hosting offers world-class security and optimized performance for large businesses. This provider also makes it easy to scale up as your website grows.
Let's look at some of the features that make Kinsta an ideal choice for your enterprise:
Automatic daily backups to keep your content safe
Enterprise-level technical support to handle your server's infrastructure
A user-friendly dashboard that facilitates team collaboration and management
Daily monitoring to ensure that your site is running smoothly at all times
One-click staging sites with conditional deployment
99.9% uptime guarantee backed by the Kinsta SLA
Kinsta's hosting plans are also highly flexible. You get a lot of freedom when it comes to choosing and customizing the tools for your business site. Moreover, you can select one of 29 Google Cloud data centers.
💳 Pricing: Kinsta has entry-level plans for as little as $30 per month, but the enterprise-focused plans start at $600 per month. Each plan has a 30-day money-back guarantee and comes with 24/7 expert support.
2. WP Engine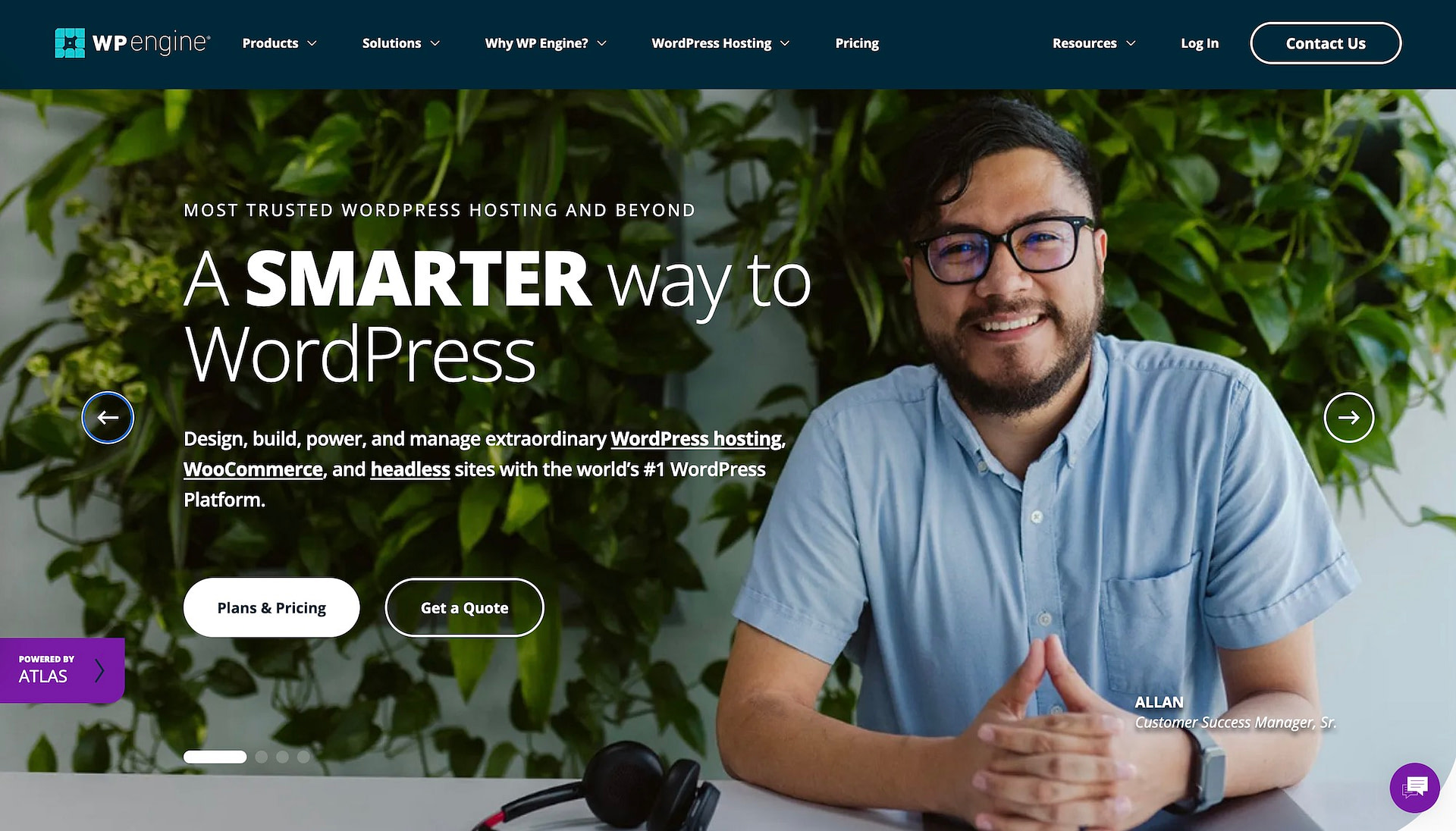 A leading hosting provider, WP Engine's top-notch enterprise technology is designed to help businesses grow and increase their return on investment (ROI). This company provides a secure and scalable service that is optimized for WordPress.
Moreover, WP Engine offers a wealth of tools for web developers, including multiple staging/development environments and conditional deployments. This makes it easy for professionals to design and update your WordPress site.
Other powerful features include:
Speed tests, actionable reports, and real-time updates to help you keep track of your site's performance and growth
Enterprise-grade security, including a managed web application firewall (WAF) and DDoS mitigation
A managed CDN and front-end caching for faster site speed
99.95% uptime guarantee backed by an SLA
The option for high availability (HA) hosting setups, where your site is hosted on multiple servers so that you can guarantee uptime
WP Engine also provides white-glove onboarding and support. That way, you can rest assured that any technical issues will be handled efficiently, and you can focus on growing your business.
💳 Pricing: While WP Engine offers preset plans for as little as $30, most enterprise businesses will want to go with one of WP Engine's custom plans. These custom plans allow you to add features such as high availability configurations, headless setups, and more.
You can contact the WP Engine team to request a quote and find the right WordPress solution for your business.
3. WordPress VIP
WordPress VIP is an enterprise-level hosting service offered by Automattic, the same company behind WordPress.com and WooCommerce. Whether you run a large publication or online store, this platform can help you provide a secure and reliable service to your followers and customers.
WordPress VIP enables you to customize workflows and manage team collaboration across WordPress sites. It also offers a curated set of plugins and tools to help you run your business more efficiently.
This managed hosting service comes with a wealth of other features, including:
One admin panel for managing multiple storefronts from a single platform
Granular permissions and controls to make your site more secure
Automatic updates and regular security testing
Integrated application performance monitoring (APM) to help you spot issues before they can impact your site's performance.
Standard 99.9% uptime guarantee backed by an SLA, with the option to upgrade to up to 99.95% SLA-backed uptime guarantee
Moreover, WordPress VIP is a highly-scalable platform. This means that it can accommodate big traffic spikes and ensure that your site keeps running smoothly during busy periods.
💳 Pricing: WordPress VIP plans start at $2,000 per month. However, the prices can vary depending on your business's needs and goals.
4. Cloudways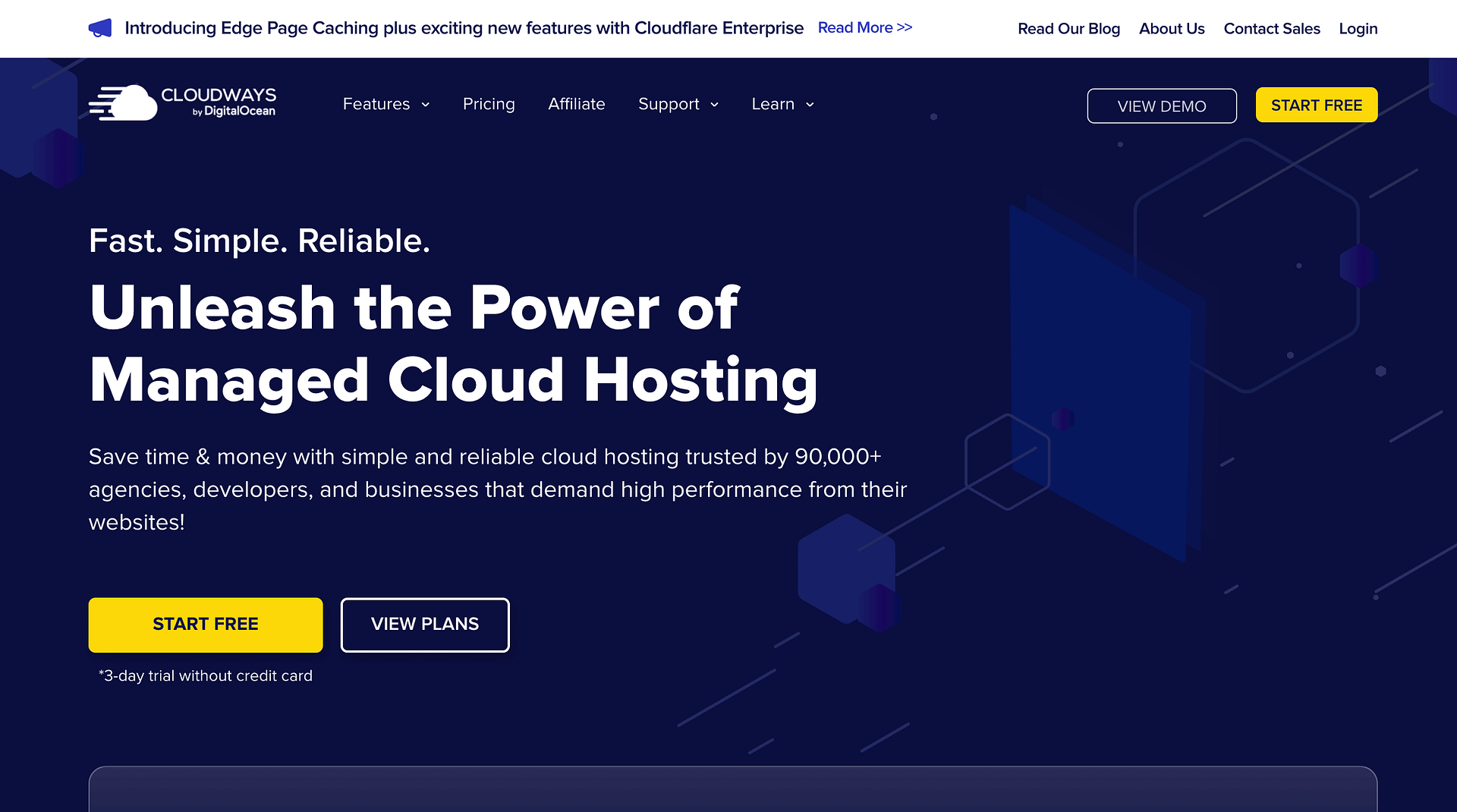 Cloudways offers managed cloud hosting plans for all types of businesses, both small and large. It helps companies set up their first websites without any hassle, while also enabling team collaboration on web application management.
When you sign up for a Cloudways account, you'll be asked to select a web application, such as WordPress. You can then choose a cloud server that you want to host your content on. One unique thing about Cloudways is that you can choose from five different cloud hosting providers:
DigitalOcean
Vultr
Linode
AWS (Amazon Web Services)
Google Cloud
Let's look at some of the most outstanding features offered by Cloudways:
Free SSL certificates and dedicated firewalls to help keep your enterprise site secure
Unlimited application installations on your chosen host servers
A content delivery network (CDN) to help your website run faster
A built-in MySQL manager so you can easily create and manage databases
Cloudways gives you a lot of flexibility when it comes to customization. You can configure the server to meet the needs of your enterprise. For instance, you can select its location and size, and scale up as your business grows. Moreover, you only pay for the resources you use. This makes Cloudways a cost-effective solution.
One thing to note, however, is that Cloudways doesn't offer an SLA-backed uptime guarantee. Because Cloudways doesn't own the underlying infrastructure, your site's uptime could be affected by your chosen cloud hosting provider, which is out of Cloudways' control.
💳 Pricing: What you'll pay for Cloudways depends on the cloud provider and server resources that you select.
Cloudways' managed cloud hosting plans start at $10 per month for the entry-level DigitalOcean plan, but for enterprise-level hosting, you'll almost certainly want to choose a server with more resources.
Every plan comes with 24/7/356 support and free migration.
5. Pagely
Pagely is another excellent option for enterprises of all types. Its hosting plans are built on Amazon AWS to offer a fast, secure, and reliable service.
Pagely's enterprise WordPress hosting service provides easy resource scaling and multi-region redundancy to ensure optimal performance at all times. It also comes with enterprise-grade security to protect your site against hackers and malware.
Additionally, Pagely's hosting solution includes the following:
Option to upgrade to high availability setup for an extra fee
Default 99.99% uptime guarantee backed by an SLA, with the option to upgrade to a 100% uptime guarantee on the Enhanced SLA
Smart caching and a CDN to boost your site's speed
Nightly backups to Amazon S3
Git support, WP-CLI, and other powerful tools for your web developers
Pagely also enables you to choose any one of Amazon's global data centers. Additionally, you have the option to geo-replicate across different locations for increased scalability.
Note – Pagely was recently acquired by GoDaddy in November 2021, so it remains to be seen whether GoDaddy will make any changes after its acquisition.
💳 Pricing: Pagely's business-focused plans start at $499 per month for regular setups or $1,249 per month for high availability configurations.
Pagely also offers two types of enterprise-focused hosting services: Preconfigured Plans, which starts at $2,500 per month, and Custom Clusters, which starts at $5,000 per month.
6. Pressable
The last candidate on our list is Pressable, which also comes from Automattic (the same parent company behind WordPress VIP). This company offers WordPress hosting solutions for several different types of businesses, including digital marketing professionals, online stores, and companies with high-traffic sites.
Pressable provides scalable plans for enterprises with busy websites. These come packed with features to help your site run smoothly and meet growing traffic demands, including unlimited bandwidth and a redundant global network infrastructure.
Plans for large businesses and enterprises also include:
Automatic failover, a global CDN, and other features to boost your site's reliability
24/7 malware scans and DDoS protection
Proactive WordPress maintenance by a team of experts
100% network uptime guarantee backed by an SLA
You'll also get an onboarding specialist to help you set up your site or migrate an existing one. Plus, Pressable helps you customize your hosting plan to meet your needs and requirements.
💳 Pricing: Pressable's prices can vary according to the number of WordPress installs and site visitors you expect. For instance, if you get 150,000 to 200,000 visitors per month, you can expect to pay around $90 per month.
Get started with enterprise WordPress hosting in 2023
Choosing the right hosting service for your enterprise is essential. You'll need to ensure that your web host can keep your site secure and performing at its best.
In this post, we looked at six companies that offer enterprise WordPress hosting. While all of these options provide a secure and reliable service, we're particularly impressed by Kinsta's hosting solutions. Besides offering enterprise-grade security and performance, Kinsta also facilitates seamless team collaboration and workflow management for large businesses.
If you want to learn more, you can read our full Kinsta hosting review or our Kinsta vs WP Engine comparison to see how it stacks up against another top enterprise option.
Do you have any questions about picking the best enterprise WordPress hosting provider for your business? Let us know in the comments section below!
Free guide
4 Essential Steps to Speed Up
Your WordPress Website
Follow the simple steps in our 4-part mini series
and reduce your loading times by 50-80%. 🚀
Free Access
* This post contains affiliate links, which means that if you click on one of the product links and then purchase the product, we'll receive a commission. No worries though, you'll still pay the standard amount so there's no cost on your part.