By default, WooCommerce product pages come with a standard set of tabs. You can include descriptions and reviews for each product, and users can switch between these sections to see the information they want. However, adding custom tabs requires editing your theme files, which is not a simple task if you're not a developer. Therefore, you might be looking for a WooCommerce tabs plugin.
A WooCommerce tabs plugin enables you to add custom sections to your product pages. Depending on the plugin, you will get complete control over the tabs you can add, which products display particular tabs, their order, and even their style.
In this article, we're going to introduce you to five WooCommerce tabs plugins and talk about the features that each of them offers. By doing so, we'll help you choose the best tool for your ecommerce projects. Let's get to it!
📚 Table of contents:
1. Custom Product Tabs for WooCommerce 🛒
The Custom Product Tabs for WooCommerce plugin enables you to add custom tabs to product pages, which can be used to display any information you want.
With this tool, you're able to add and customize tabs with the Classic Editor, which means you can use text, HTML, CSS, and shortcodes.
For example, if you want to add a size chart to a product tab, you could include the shortcode from your size chart plugin.
Here are some other notable features:
Insert tabs on a per-product basis.
Save elements to reuse them across your store.
Compatible with multilingual plugins such as WPML, which makes it a great option for international stores.
The premium version of the plugin lets you create global tabs and assign tags and categories to them. It also makes tabs searchable, which can help customers find the products they need.
💸 Price: Free with premium licenses starting at $29.99 per year for one website.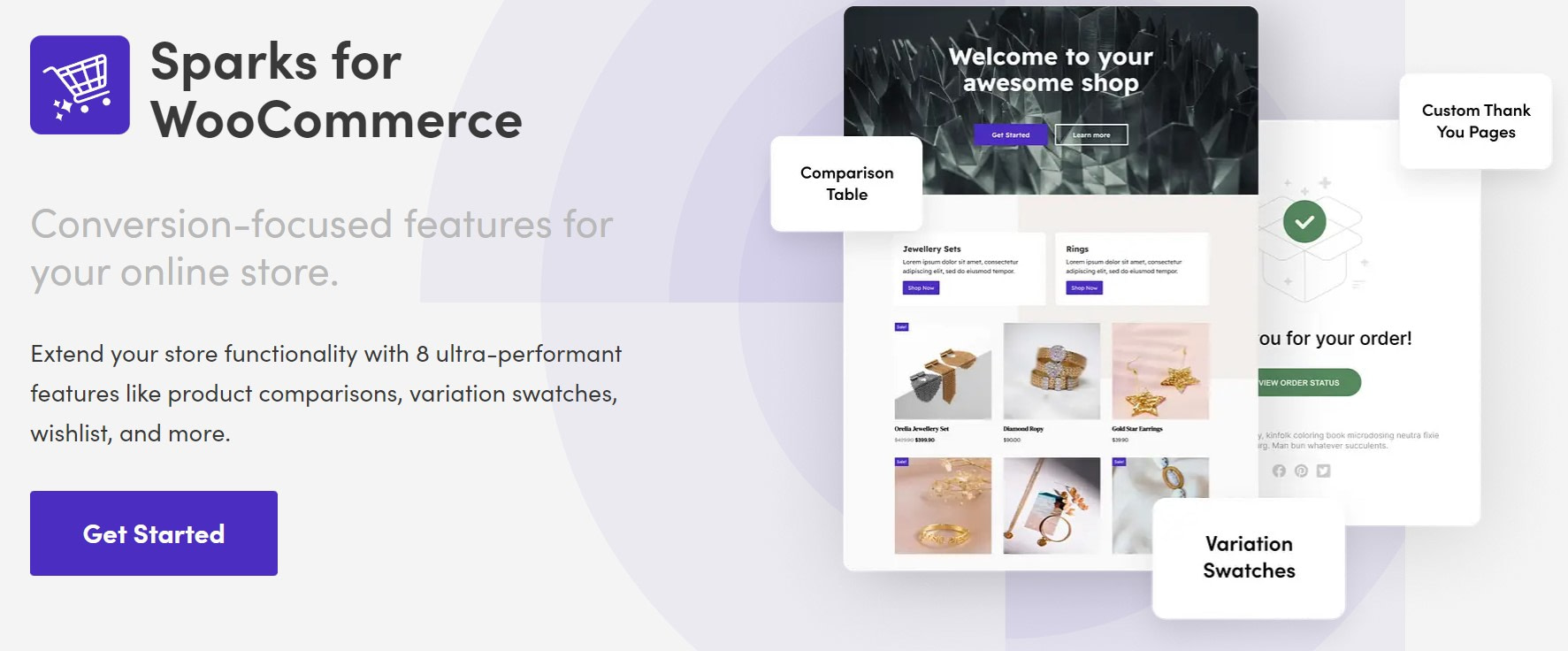 Sparks is a complete WooCommerce toolkit, including WooCommerce tabs plugin functionality and a bunch of other helpful tools.
With Sparks, you can create product tabs you assign to all your products or only to specific ones. These may include certain categories or even individual products.
To control the content of each tab, you can use the native WordPress block editor, which gives you a lot of control over its design and layout.
The plugin offers configuration options for both visibility and sorting. You can rearrange tabs, including default options, and decide if you want to disable specific elements.
Furthermore, you'll get access to a broad range of features that enable you to create more user-friendly WooCommerce product pages. Apart from designing custom tabs, you can add comparison tables to products and enable customers to set up wishlists.
You can also use Sparks to display variation swatch buttons to products, set up site-wide announcement bars, enable product quick view, and more. In short, it's a well-rounded tool for improving the WooCommerce customer experience.
💸 Price: Sparks licenses start at $49 per year for one site.
WooCommerce Tab Manager is a premium WooCommerce tabs plugin that lets you create both global and per-product tabs. You're also able to set default styles for tabs and customize them depending on the product.
The plugin includes a taxonomy system for tabs. You can assign categories and tags to each tab and decide which products display which elements. This system makes it easy to automate tab setup without configuring each product manually.
Any information you add to tabs can be found using the WordPress search feature. This is crucial if you have a store with a large inventory since customers are more likely to search for what they want instead of browsing the shop item by item.
WooCommerce Tab Manager also offers a feature that lets you import elements from other WooCommerce tabs plugins. This setting can be helpful if you're dissatisfied with your current plugin and want to try a different option.
💸 Price: A WooCommerce Tab Manager license costs $99 per year.
4. Product Tabs Manager for WooCommerce 🏬
Product Tabs Manager for WooCommerce enables you to add new custom tabs to your products, along with renaming and customizing existing ones. The plugin supports global tabs and custom elements for specific products.
The Product Tabs Manager for WooCommerce plugin also includes advanced features such as conditional tabs. This setting allows your store to display specific tabs only when certain conditions are met. You can also rearrange tabs using a drag-and-drop editor.
Furthermore, if you pay for a premium license, you're able to set up tabs for specific product categories and create QA-style elements. It's also worth noting that the plugin is compatible with WPML and lets you configure different tab setups for each language on your site.
💸 Price: Free with premium licenses starting at $34 per year.
5. WPB WooCommerce Custom Tab Manager 💸
WPB WooCommerce Custom Tab Manager enables you to add tabs to WooCommerce products and other post types on your website. You're then free to insert any kind of content you want into each tab using the WordPress Classic Editor, including shortcodes.
Using this plugin, you're able to configure the order in which tabs appear for products. The tool also adds checkboxes for each global tab you configure. That way, you can select which options to display for each product using a widget in the editor screen.
Moreover, the premium version of WPB WooCommerce Custom Tab Manager enables you to set up product-specific tabs and conditional elements. Plus, you'll get to configure default tabs for any new products added to your store.
A premium license also gives you access to tab icons and subtitles. That means you can include more information about each tab's content to increase the chances that visitors will want to peruse them.
💸 Price: Free with premium licenses starting at $39 per year for a single site.
Try WooCommerce tabs plugin today 👨‍🔧
Tabs are often overlooked elements in website design. However, they can greatly improve the user experience, particularly in online stores.
To convince users to make a purchase, you'll need to provide as much information as possible about the products you sell. However, adding too much text to a single product page can overwhelm customers. That's a problem you can solve with tabs.
By default, WooCommerce adds multiple tabs to product pages. If you want to add more, you'll need to use a WooCommerce tabs plugin.
🎯 Sparks is the best option if you're not only interested in configuring product tabs, but also in gaining access to conversion-focused features, such as variation swatches.
Do you have any questions about choosing a WooCommerce tabs plugin? Let's talk about them in the comments section below!