The typical fields you have to play with in WooCommerce can work for many different products. However, you may have unique requirements for a particular product in your store. For this, you'll need Personalized Product Fields Manager Pro (PPOM.) This plugin lets you insert any of over 30 additional fields for individual products. Our PPOM review will cover this aspect and much more.
In this PPOM review, we're going to look 👀 at almost everything relating to the plugin, including how to use it. However, our first stop is to discuss what it can do.
📚 Table of contents:
What Personalized Product Fields Manager Pro is
Under normal circumstances, WooCommerce doesn't give potential customers much variety when it comes to customizing an upcoming purchase. On the back end, you can add general attributes and variations, and display them. However, you only get the option to use drop-down menus.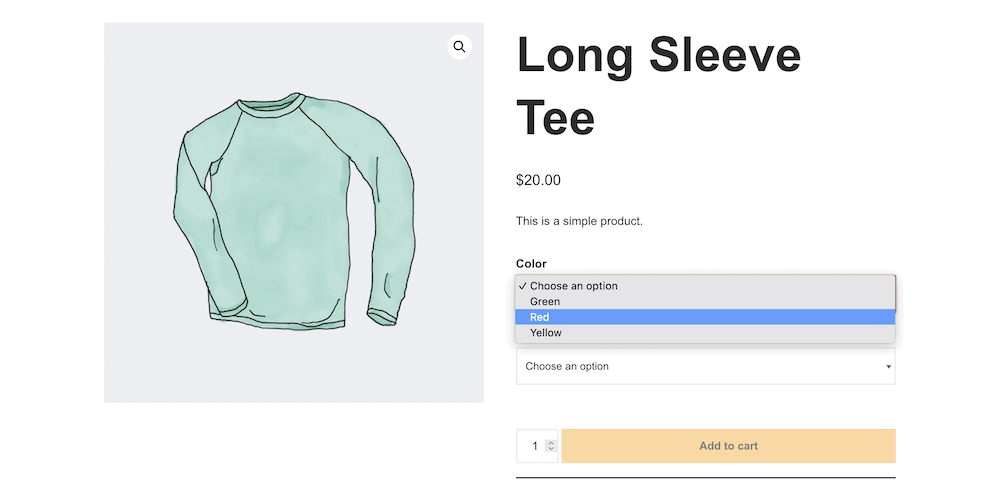 What's more, you can't personalize the set of product fields any further than this. For extra customization of your product pages, you'll need PPOM:
This plugin lets you display additional custom fields for individual WooCommerce products. In fact, PPOM Pro includes over 30 different field types.
For example, you can add additional variation fields, such as color swatches and palettes, images, and more. This gives your customer a better visual experience and might result in more sales.
In addition, though, PPOM lets you add fields to customize products further. For instance, the Fonts Picker lets you customize the typography settings for a piece of text. This will come in handy if you sell customizable garments, as just one example.
In general, PPOM makes a great option for any type of customizable product. For example, if you sell custom smartphone cases, you could let users engrave their name in the case or just generally customize the case to their liking.
Later in this PPOM review, we'll show you how to use 👨‍🔧 the plugin itself. First though, let's talk about some of PPOMs standout functionality and how much it costs.
The key features of PPOM
While PPOM is easy to use, it still manages to pack a lot into its feature set.
Here's a quick rundown of the key features of PPOM:
Familiar interface. You'll use the native WooCommerce interface to add additional product fields. This will make using PPOM quick and straightforward.
30+ custom field types. With so many field types, you can easily add the customization needed for your product. Some of the 30+ field types include measurement input, color pickers, file uploads, and many more.
Adjust price based on user inputs. Based on a shopper's input, you can adjust the price of the product. You can even set up more complex pricing rules, such as generating a price based on the length/width dimensions that a user enters.
Drag-and-drop form builder. You can use a drag-and-drop interface to set up the custom input form that displays on your product page.
Field rules and validation. You can set min/max conditions and set up other validation rules to make sure customers enter the proper information.
Conditional logic. You get to decide when and where a specific custom field appears on your site. PPOM includes comprehensive conditional logic options within its interface.
Field access conditions. You can make some/all of the custom fields available only to certain users based on their logged in status, user role, or other conditions.
Meta field management. You can also use PPOM to add, import, export, and customize meta fields, too.
Cart editing functionality. PPOM lets customers edit the custom product fields from the cart page, rather than forcing them to delete and re-add the product.
Even better, PPOM comes with a variety of price points 💰 for all budgets. We'll look at this next.
PPOM's pricing (and how to get the plugin)
First off, there is a free version of PPOM available on the WordPress.org Plugin Directory. This is a great way to get a feel for the plugin and what it can add to your WooCommerce store.
However, this PPOM review will look at the Pro version. It gives you a full experience, and offers three different pricing tiers:
Essential. For $99 per year, you get 12 months of updates and support, all of the available custom fields options, and the ability to import and export meta fields.
Plus. If you run more than one site, the $199 plan will be for you. In addition to extra licenses, you'll also be able to use the meta fields repeater, add in-cart editing functionality, access the Fields Popup option, and create multiple choice purchasing options using the Quantities Pack.
VIP. For $399 per year, you get everything PPOM can offer. Alongside all of the goodies in the previous tiers, you can also use the Variation Quantity Matrix and even a Domain Checker.
There's plenty to unpack with PPOM, and there is a tier to suit all budgets. However, regardless of which plan you choose, the purchasing process is exactly the same.
How to Buy PPOM
To grab a copy of PPOM Pro, you'll need to head to the dedicated site. From the home page, click the View Plans button, or scroll down to find the pricing table:
You'll choose your plan using the Get Started button, then complete the payment screen. Once you finish, you'll have access to the ZIP files you'll need.
From here, you'll want to install PPOM Pro – our guide will walk you through the process if you need a reminder of how to install a WordPress plugin. However, you'll also have to install the free version of PPOM. If you don't, WordPress will show a warning notification:
Once you have both plugins ready to roll, you can start to use the plugin. 🔌 Our PPOM review will cover this next.
PPOM review: using the plugin
To access most of the PPOM functionality, you'll want to head to WooCommerce > PPOM Fields within WordPress:
Your first task is to create a new meta group. You can do this using the green Add New Group button:
This will bring you to a screen where you'll enter all of the relevant information for your new meta group. For example, you'll add a group name and decide on how you'll display pricing on the product page:
From here, you can add new custom fields using the Add PPOM Fields section:
The blue Add field button will let you select from all of the available fields:
We can't run through every option here, so you'll want to have the plugin's documentation open as you learn about what you can achieve.
Your selection will open another dialog box that lets you customize the field itself:
Once you save your changes, you'll want to go back to the main PPOM Field Groups screen to attach the group to products (using the dedicated button):
Here, check the products in the list, and save your changes:
To test out your new custom fields, head to WooCommerce's Products > All Products screen. You'll see the PPOM column, which denotes the meta group you're attaching to each product:
If you view an individual product page that uses a custom meta group, you'll see the new fields on the front-end:
There's so much more to PPOM that we can't cover everything here. However, the documentation provides detail when it comes to the PPOM Repeater, display conditions, and more.
If you'd prefer a video overview, you can also check out this YouTube video for a general overview:
How to decide whether PPOM is right for you (including pros and cons)
Lots of WooCommerce store owners will see the benefit of using custom fields for products. It's the only way you can make the experience unique and customizable. As such, consider the answers to the following questions:
Do you offer a wide range of products that have specific requirements: merchandise, for example?
Do the products you want to offer benefit from customization? Custom stickers, clothing, greetings cards, and more all require some form of unique customization.
Is it important that your customers have an interactive visual and user experience that matches the rest of your site?
If you answer "Yes" to the majority of these, PPOM is likely a good fit for you. However, if you're still on the fence, we have a quick list of pros and cons for you to look at:
Pros 👍
A wide range of valuable and fantastic field options.
Simple implementation within the WordPress dashboard.
You won't need code to implement any of PPOMs functionality.
You can set up more advanced pricing and display rules if needed.
Cons 👎
Beginners to WooCommerce will need to study the documentation.
On the whole, you'll need to decide whether any plugin you choose will benefit your site and customers. In this PPOM review, you have all of the information you'll need to make the best decision for your store.
Try PPOM today 🚀
Adding extra fields to your WooCommerce products can help to create unique experiences for customers.
With the Personalized Product Fields Manager Pro plugin, you can insert over 30 fields to create a unique product page that contains pricing sliders, color swatches, repeating fields, forms, and more. Even better, a one-site license is only $99 per year.
If you want to try it out, you can start 🏁 with the free version at WordPress.org. Then, purchase the premium version to unlock the full flexibility of PPOM, including all 30+ field types.
Do you have any questions about what we cover in this PPOM review? Ask away in the comments section below!
Personalized Product Fields Manager Pro (PPOM)
WordPress/WooCommerce plugin allowing you to add additional fields to your products and display them on your product pages. More than 30 types of fields are available.
Pros
Easy to use and compatible with WooCommerce
Cons
Beginners to WooCommerce might need to study the docs
Free guide
4 Essential Steps to Speed Up
Your WordPress Website
Follow the simple steps in our 4-part mini series
and reduce your loading times by 50-80%. 🚀
Free Access