When customers are browsing your online store, they might not be completely ready to buy a certain product. If you don't install tools like WooCommerce wishlist plugins, shoppers won't have a chance to save their items and purchase them at a later time.
With the right plugin, you can easily set up wishlists in WooCommerce. Your customers will be able to save their favorite products and find them quickly when they return to your store. This feature can help you improve your user experience (UX) and retain loyal customers.
Features to look for in WooCommerce wishlist plugins
WooCommerce wishlist plugins make it easy to add wishlist functionality to your store. However, beyond general wishlist functionality, there are some more nitty-gritty features that you'll want to consider.
Here are some key features ⚙️ to look for:
Wishlist sharing and privacy settings 🔒️ – this makes it easy for people to share wishlists with their friends and family (or keep it private).
Support for multiple wishlists 🖱️ – some people might want to create multiple distinct wishlists.
Add-to-cart buttons on wishlist pages 🛒 – this can help encourage people to make a purchase.
Access to saved wishlist data 🖥️ – this analytics data can be useful for marketing.
Marketing emails 📧 – some plugins make it easy to email customers about the items in their wishlists.
Grouped products and product variations 🛍️ – these can be tricky to handle with wishlists, so you'll want a plugin that offers full support.
Ultimately, your WooCommerce wishlist plugin should make it easy for customers to add products to their lists.
While some tools will be more customizable than others, they usually include add-to-wishlist buttons, social sharing buttons, and support for multiple wishlists per customer.
Five best WooCommerce wishlist plugins for your store
Although you now know what to look for, you may struggle to choose the right WooCommerce wishlist plugin.
To help you out, we've compiled a list of the best options.
We'll look at the main features and pricing information of each tool, so you can easily identify the one that meets your needs!
At Themeisle, we've developed a plugin to help you add extra functionality to your WooCommerce store. With Sparks for WooCommerce, you can access new features to build a conversion-optimized business website: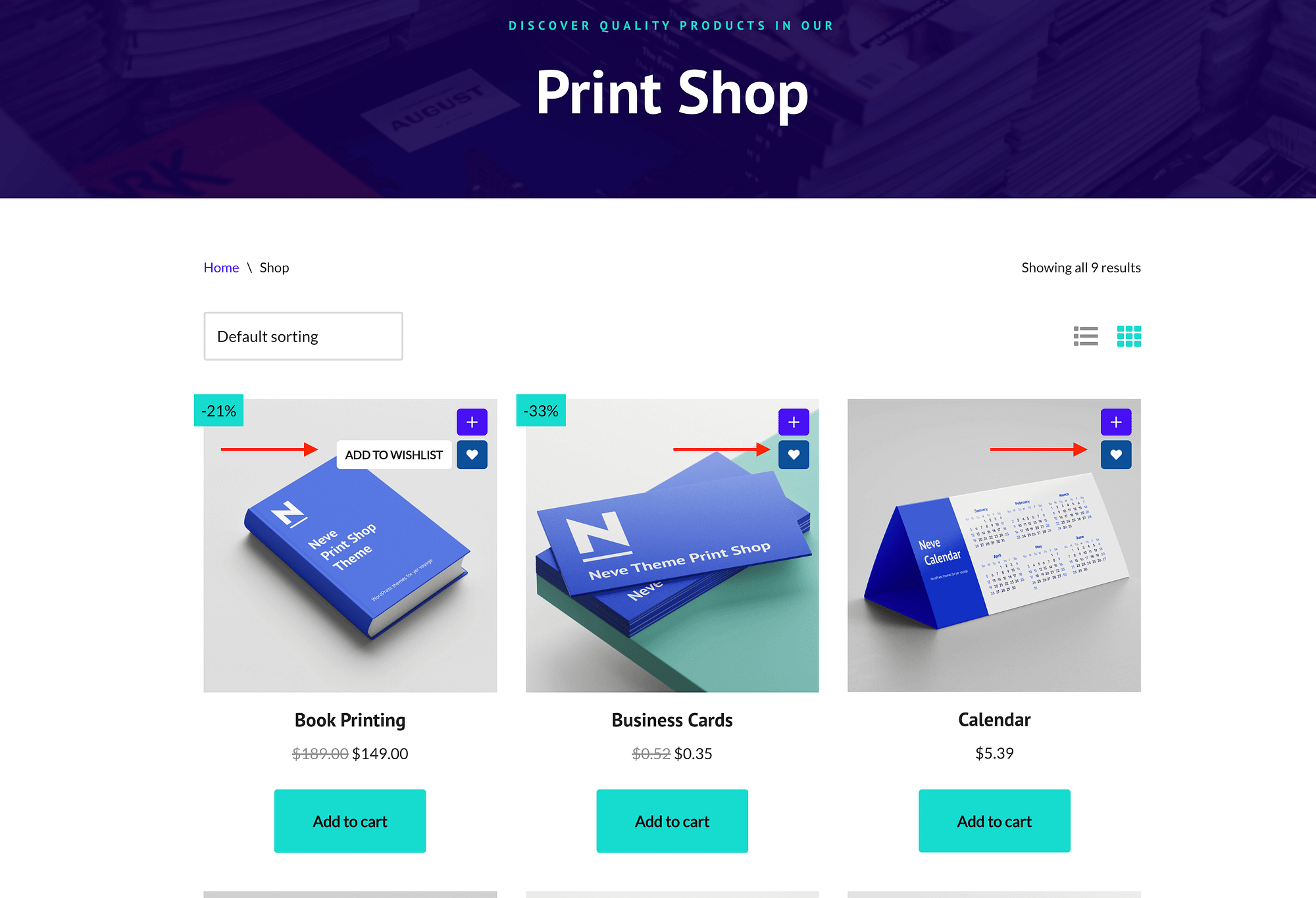 Sparks for WooCommerce has eight different modules, including an option for creating wishlists. After activating this module, customers will be able to save any of your products to a dedicated wishlist page.
However, Sparks for WooCommerce isn't just for building wishlists. You can also use this tool to add product comparison tables and advanced product reviews. This can help you showcase your items more effectively and encourage shoppers to purchase or save your products for later.
⚙️Key Features:
Product wishlists with a customizable CTA button
Comparison tables
Advanced product review
Multi-announcement bars
💸 Pricing: Sparks for WooCommerce is a premium plugin that starts at $49 per year. The basic plan provides support for product wishlists, comparisons, and reviews. Higher subscription tiers enable you to use the plugin on more than one website.
Another effective plugin for creating wishlists is TI WooCommerce Wishlist. This free tool has over 100,000 active installations, making it one of the most popular WooCommerce wishlist plugins:
Using TI WooCommerce Wishlist, your customers will be able to create multiple lists with their favorite products. On each wishlist page, users can customize privacy settings, adjust product quantities, and move items to another list if needed.
As the store owner, you'll have full control over these customization settings. TI WooCommerce Wishlist enables you to manage wishlist tables by adding add-to-cart buttons, checkboxes, and other useful elements.
⚙️ Key Features:
Privacy settings
Customizable wishlist tables
Drag-and-drop wishlist product sorting
Add-to-wishlist buttons
Wishlist price subtotals
Multi-wishlist capability
Social sharing
💸 Pricing: You can download TI WooCommerce Wishlist as a free WordPress plugin. Its premium subscriptions start at $79 per year. These come with more advanced options for creating promotional emails, using shortcodes and widgets, and viewing product analytics.
If you want to display add-to-wishlist buttons throughout your entire store, YITH WooCommerce Wishlist might be the right plugin for you. This enables you to promote wishlists on your shop page, product sliders, product shortcodes, and category pages:
Unlike other tools, YITH WooCommerce Wishlist has different layouts for the wishlist page. These can make your products appear more attractive and motivate customers to complete their purchases.
Sometimes, customers will leave products in their wishlists and forget about them. With this plugin, you can create and send promotional emails to any customer with a wishlist. By including discounts for specific items, you'll likely gain more conversions.
⚙️ Key Features:
Privacy settings
Pre-designed wishlist layouts
Header and sidebar widgets
Drag-and-drop wishlist product sorting
Multi-wishlist capability
Wishlist estimates
Ability to track popular products
💸 Pricing: YITH provides a free version of its wishlist plugin, which has basic features like customizable wishlist table columns, product variations, and add-to-cart buttons. The premium version starts at $94.99 for the first year.
As a beginner, you might want advanced wishlist customization options without paying for a premium plugin. In this case, WPC Smart Wishlist for WooCommerce can be an effective, beginner-friendly alternative:
WPC Smart Wishlist makes it easy to set up wishlist functionality in your store. You can create add-to-wishlist buttons that open a confirmation pop-up window. You'll also have options for positioning the button next to a product's title, rating, price, or add-to-cart button.
When a customer adds a product to a wishlist, you can display a pop-up window that fits your WordPress theme. WPC Smart Wishlist enables you to customize its color palette, create product notes, and add an Empty Wishlist button.
⚙️ Key Features:
Disable the wishlist for unauthenticated users
Customize the wishlist button
View customer wishlists
Track popular products
Add product notes
Enable/disable auto-removal of products added to carts
Update the Continue Shopping destination link
💸 Pricing: WPC Smart Wishlist is available for free in the WordPress Plugin Directory. Its developers also have a premium version starting at just $29 for a lifetime subscription. This can be a better option if you want multiple wishlists per user, wishlist product notes, or buttons that match your theme design.
WooCommerce Wishlists is a premium plugin that is available via the official WooCommerce extension marketplace (though it comes from a third-party developer):
When using WooCommerce Wishlists, registered customers can create new wishlists and come back to their favorite items indefinitely. Guests will still be able to save their products, but these will only be stored for 30 days.
As customers are browsing your website, they can use add-to-wishlist buttons to save products. On the wishlist page, users will be able to add items to their carts, delete them, update quantities, or move products to another wishlist. Plus, customers can create unlimited wishlists and easily share them on social media.
⚙️ Key Features:
Privacy settings
Add-to-wishlist buttons
Saved guest wishlists for up to 30 days
Unlimited created wishlists
Social sharing to Facebook, Twitter, Pinterest, or email
Notifications when a product is already saved in a wishlist
Integration with WordPress menus
💸 Pricing: The WooCommerce Wishlists plugin costs $79 per year. After your purchase, you'll receive one year of support and updates. If you're not happy with the plugin, full refunds are valid for 30 days.
Try these WooCommerce wishlist plugins today 🏁
Without a wishlist, your customers may leave your store and quickly forget that they liked certain items. If they're not ready to make an immediate purchase, you can allow them to save their favorites to a wishlist. Then, users can return later and purchase items directly from this list.
When you need to quickly add wishlist functionality to your website, you can simply install a WooCommerce wishlist plugin. A tool like Sparks for WooCommerce can create add-to-wishlist buttons and dedicated wishlist pages for your store.
📌 For some other ways to improve your store, you can check out 👉 our full collection of the best WooCommerce plugins. We also have a guide 📚 on how to add a wishlist feature to WooCommerce.
Do you have any questions about the WooCommerce wishlist plugins featured in this post? Let us know in the comments section below!
Free guide
4 Essential Steps to Speed Up
Your WordPress Website
Follow the simple steps in our 4-part mini series
and reduce your loading times by 50-80%. 🚀
Free Access