Hello and welcome to this month's Themeisle interview! In this one, you'll meet Amitai Gat from Elementor, who will talk about what's new in the latest Elementor Pro release, WordPress, plus other various curiosities.
But before we hear the news from Amitai, make sure to check out our most recent interview with Marcel Sobieski about entrepreneurship and business. Or browse through our huge collection of interviews with web professionals and pick your favorite ones.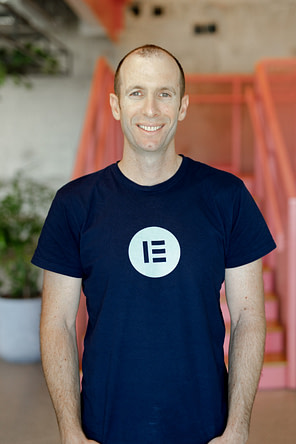 I will assume that everyone in the WordPress community – maybe even beyond – has heard of Elementor. So there is no need for further introduction here.
Amitai Gat is the Elementor's VP of Product. In other words, he makes sure the plugin meets the highest user standards and coordinates the workflow of Elementor's technical teams.
He recently led the latest Elementor Pro release, of which he briefly speaks in this interview. After the release, he took part in a live AMA session about what you should expect from the new features and updates.
The event caught our attention, so we wanted to get him to answer a few questions of our own. But this interview is not only about Elementor. You will learn about Amitai's philosophy of life, marketing insights, business tips, and other fun topics.
Here's Amitai for you:
Amitai Gat interview on the latest Elementor Pro release, WordPress, and success
When and how did you start working with WordPress? Is there an interesting story here?
Discovering WordPress was a really significant moment for me. I felt like I had finally found what I was looking for, even though I didn't know quite what was missing before!
When I first began to build websites I didn't know how to code and I had to start from the very basics teaching myself HTML, CSS, JavaScript, and some PHP. I began creating sites but I felt there had to be a better way to go about the process. I then ran into WordPress on a video tutorial and everything just clicked!
It was an open-source platform so I could do anything I wanted with it but it also stripped away the requirement to build (and rebuild) all the fundamental and most complicated components of CMS-powered websites and it freed me up to focus on just building sites and getting more clients. It really propelled me forward in terms of my velocity and of course – the quality of the projects I delivered
I also really connected with the idea that code is poetry. My background is in music and I spent a lot of time in the music industry. It's always been hard to explain to non-coders how similar creating code is to creating music and that line basically said: we understand 🙂
How do you define "being successful"?
This could get very philosophical very fast – so I'll try to keep it short!
Obviously, in the most simple sense, being successful is about achieving your objectives, whether in business, family, or generally in life.
But in a personal and more philosophical sense, "being successful" is really all about adventure, forward movement, and fearlessness without being ruled by the need to avoid failures or mistakes.
And it's also not about you (or me), being happy all the time. It's about looking back at your life and knowing that you've been present in every part of it, doing the right thing at each moment in time, living life to the fullest.
If I am able to do all that – I'll consider myself successful. So… there it is – don't say I didn't warn you 🙂
Describe the WordPress community in one word.
What is unique about the latest Elementor Pro release?
Well, the latest Pro release was all about WooCommerce. This has been one of the most requested features to expand and it was a pleasure to finally ship the updated offering.
As I've mentioned in an AMA session that we had a little while ago, we really tried to strike a balance between design flexibility on the one hand and compatibility with the WooCommerce ecosystem on the other.
We got some great feedback about this release and we intend to keep on improving the integration of Elementor with WooCommerce to make sure our users have all the tools and flexibility they need in order to build the best looking stores on the internet.
You just launched the Web Creators campaign at Elementor. What is its purpose and how can it benefit the users?
I consider myself a Web Creator so I really relate to our mission here. We want to introduce a new category – a workforce literally building the virtual world we all live in. Elementor recognizes that there are these super heroes, so far working behind the scenes, and we want to pay tribute to them.
We also want to inspire and rally these professionals to take pride in their work
The Web Creator video is part of a wider creative campaign that is showing thought leadership to empower and support web creators. We want to start a conversation.
What's the no. 1 thing a new business entering the WordPress space should do?
I think that, like any new space a business is entering into, it's important to really take the time and understand what makes the WordPress ecosystem unique.
There are a lot of things in this space that are not very intuitive to outsiders – the immense power of the community, the strong values – so it's really important to take the time, dive into the WordPress pool and try to become part of it. Become a WordPress user or a developer, build, create and get your feet wet – this is super important in my opinion.
What do you think is the most efficient way to market a product at this moment?
This question is probably better aimed at our VP of Marketing 🙂
But from a product perspective it's simple: build a product that solves a real pain and provides ten times more value than all the other products in the space.
What is driving you to keep doing what you're doing? What's your personal mission?
I honestly believe that what we're building here in Elementor has a real impact on our users' lives.
We see this all the time in our thriving user community.
We have so many stories from users writing to tell us how Elementor changed their lives. I believe that Elementor opens the door for a huge number of people to participate in an economy that would otherwise have been out of reach for them.
There aren't too many products like that out there. It really is 100% goodness. Real value, real impact, real people – and it's a wonderful feeling being part of all of this.
This is what drives me.
That sums up our Amitai Gat interview. If you enjoyed it and want to learn more, please leave your comments in the section below. Also, if you have any ideas for who we should talk to next, feel free to share your suggestions with us!
Free guide
4 Essential Steps to Speed Up
Your WordPress Website
Follow the simple steps in our 4-part mini series
and reduce your loading times by 50-80%. 🚀
Free Access