You've got a great looking website that ticks all the right boxes with regards to design and content, but it doesn't convert visitors in a way that matches your expectations. You want more leads, more sales, and more targeted traffic? Then how about some WordPress lead generation plugins?
One potential plugin solution to generate more leads is to use something called notification bars. Hello Bar is one of the most well-known examples of this type of lead generator plugin, but it's certainly not the only one.
Overall, these tools are fantastic on-site conversion tools that can be used to sell products, direct visitors to a landing page, or grow your email subscriber list. They can also contribute to keeping visitors on your website – especially when paired with other tactics, such as displaying popular posts in your sidebar.
In this post, we'll look at 🔎 Hello Bar itself, and then we'll introduce you to three of the best alternatives, comparing and contrasting them, so you can decide which solution is best for you.
Let's get started!
Hello Bar vs Smart Notification Bar vs Sparks vs WPFront Notification Bar
If you're already very familiar with Hello Bar, feel free to skip ahead to any of the three alternatives:
1. Hello Bar (free and premium)
Overview
Hello Bar is one of the most popular WordPress lead generation plugins on the market – and for good reason.
Not only does it have a refreshingly sleek user interface, it also comes jam-packed with additional features, such as built-in analytics and mobile-specific notification bars. Furthermore, it helps you to get the basics right via extensive customization options and various display modes.
Pros and cons
Stunningly simple user interface
Enables bars, popups, sliders, and page takeovers
Mobile-specific features
Built-in analytics
Targeting rules for specific visitors or actions
Integrates with MailChimp and other major email newsletter platforms
Hello Bar branding will be displayed unless you opt for one of the paid plans
Ads are shown to one in every ten visitors on the free plan
Who is Hello Bar best suited for?
Hello Bar comes bundled with some advanced marketing features, but it also imposes branding and ads on your website when using its free plan. With that in mind, Hello Bar is ideal for established marketers who won't flinch at spending a minimum of $15 per month on Hello Bar's premium plans.
2. Smart Notification Bar (free plugin)
Overview
This plugin has a friendly and straightforward interface. After you install it, just click on the "Create New Notification Bar" button, set your preferences, and you're done. The plugin lets you name the notification bar, set its position, make it sticky, and choose from some cool design options.
You also get a lot of settings for the calls to action, display rules, the close button, and more. Smart Notification Bar is good at offering basic targeting options, too, for novice marketers.
Pros and cons
It has nine visually-appealing design templates
The call-to-action settings are diverse: style, animations, colors, fonts, and more
Choose to display the notification bar to users who come to your site from specific sources, such as Facebook, Google, email campaign, etc
Target users based on their device
Select which user roles can see the notification bar and on which pages to display it
No built-in analytics
While it does provide targeting features, do not expect anything advanced if you own a business
Who is Smart Notification Bar best suited for?
It's good for both casual users and marketers who are just starting out. While it lets you target audiences based on the source and device they come from, you don't get advanced targeting or analytics.
3. Sparks (premium plugin)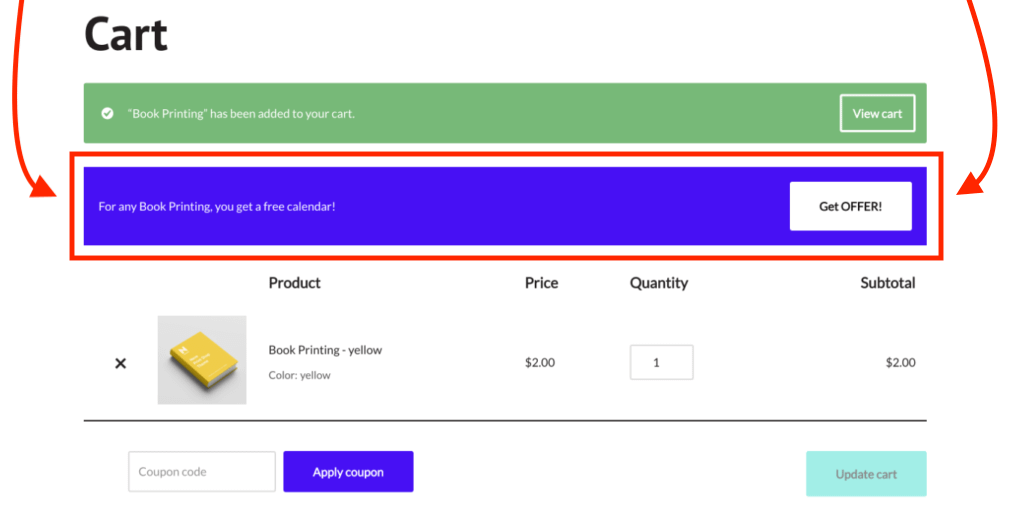 Overview
Sparks is a premium plugin that provides a suite of conversion-focused functionalities for your online store. It brings eight features to help you convert more with your WooCommerce site. Among these features, you will find the multi-announcement notification bars.
The purpose of these bars is to display your store's offers, deals, discounts, and other general announcements. The notification bars are easy to spot and activate once you install the plugin because it has a modern, intuitive interface.
You can also check out our Sparks review or the helpful video below to see them in action:
Pros and cons
Creates notification bars using the WordPress block editor
Set specific display restrictions – per product, min/max spend, items on sale, categories, etc
Styling options for the CTA buttons (custom CSS included)
Choose on which pages to display the notification bars – cart, checkout, product catalog, etc
Set actions that trigger the announcement bars, e.g. when a product is added to the cart
Configuring a notification bar takes more steps and actions than with the other plugins
If you do not need the other features of the plugin, you might not want to buy it just for the notification bar module
Who is Sparks best suited for?
Sparks is an excellent tool for people who run an online store with WooCommerce. Apart from the notification bars, you get additional features that will help you boost conversions on your online shop.
4. WPFront Notification Bar (free plugin)
Overview
With all of its settings squeezed into one page, WPFront Notification Bar is a relatively simple solution when it comes to WordPress lead generation plugins. However, it boasts some powerful features that enable you to easily configure campaign dates, select specific pages or categories on which to display notification bars, and even target specific user roles.
WPFront Notification Bar isn't quite as comprehensive as Hello Bar when it comes to customization, but it doesn't impose any branding or adverts either, and it's free!
Pros and cons
Creates a professional looking notification bar
Configure start and end dates for campaigns
Select the pages on which the notification bar displays
Choose which user roles will see the notification bar
No built-in analytics
Not quite as user-friendly as Hello Bar
Who is WPFront Notification Bar best suited for?
For a free tool, WPFront Notification Bar packs some detailed targeting features. For this reason, we recommend this plugin to marketers looking to target different segments of their audience with personalized content.
Conclusion 🏁
Great design and content are, of course, important for drawing traffic. However, converting visitors into paid customers before they navigate away from your site is just as crucial. Notification bars can help by displaying lead generating content in prominent positions on your pages.
Hello Bar has long been a go-to notification bar solution, and one of the top WordPress lead generation plugins, but there are a number of other worthy competitors you should be aware of – and some of them can do a stellar job with no cost attached. Let's recap the solutions we've covered:
Are you a fan of any of the WordPress lead generation plugins / notification bar plugins above, or do you favor another alternative to Hello Bar? Let us know in the comments section below!
Free guide
4 Essential Steps to Speed Up
Your WordPress Website
Follow the simple steps in our 4-part mini series
and reduce your loading times by 50-80%. 🚀
Free Access