Searching for the best WordPress accordion plugins?
A WordPress accordion is a great way for you to improve your readers' experience. It easy for readers to skim a post quickly if they are in a hurry. This also means lower bounce rates, since your visitors won't have a hard time finding the exact details they're looking for. Many webmasters use accordions for FAQs, but you can use them anywhere in the content section.
In this post, we're going to share our picks for the seven best WordPress accordion plugins (in no particular order). Let's begin!
Seven best WordPress accordion plugins
Now that we've discussed the benefits of using accordions, let's look at seven excellent options. Each of the choices offer the same basic features, so finding the best fit will partly depend on the depth of customization and flexibility you need, as well as what editor you're using to build your WordPress site.
1. Accordion Gutenberg Block by Otter Blocks
Number one on our list of WordPress accordion plugins is the Accordion Gutenberg Block by our very own Otter Blocks. The reason we love Otter Blocks – other than the obvious fact that we designed it ourselves – is that it not only has a super easy to use accordion feature, but it has more than 30 amazing additional blocks.

The accordion block itself can be used to to create vertically stacked lists that can be either displayed or hidden with the click of a button. It helps to save space on your pages or posts by collapsing select pieces of content, but leaves them easily accessible for your site visitors.

Adding multiple accordion items is also ridiculously intuitive. Simply click on the burger icon as you in the image below, and it will be automatically generated. Also, these items can be represented by any block, so that the accordion can be adjusted accordion to your needs.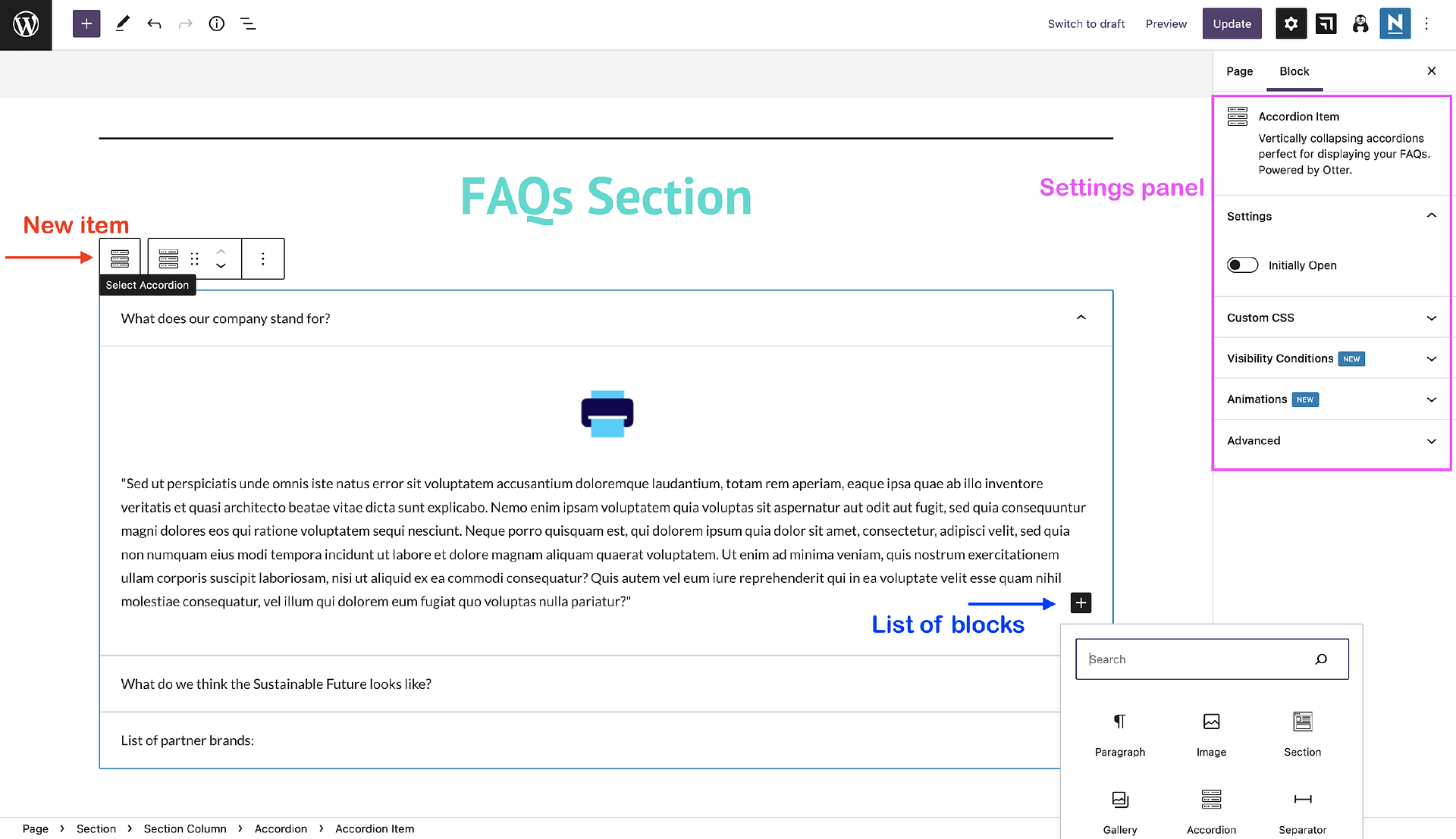 Top features
Offers not only the accordion option you're on this page for, but over 30 other features
Keeps your website light, with clean code, and continuous compatibility with WordPress
If you're even slightly familiar with WordPress, then you'll have no learning curve to deal with
Accordion items are highly customizable and you can insert other blocks into them
Custom CSS so you can change colors, and add borders all in one easy-to-use area
You can use various animations to jazz up the content inside the accordion
Control whether or not you want the accordion to open by default when a visitor lands on your page
Final verdict on Accordion Gutenberg Block by Otter Blocks
If you're already using the native WordPress (Gutenberg) editor then Otter Blocks is a plugin that is going to change your life in more ways than just the great accordion block you see above. It truly is the Swiss Army knife of WordPress plugins and will very likely exceed your expectations.

On the other hand, if you're using some other external website builder, then you'll want to consider one of the other options on this list, most of which are standalone WordPress accordion plugins designed solely for that purpose.
2. Accordion
Second on our list of WordPress accordion plugins is Accordion. It's a simple, easy-to-use plugin available for free. You will get a lot of customization options like color, font size, and so on. Plus, it can also be used as tab content, FAQ, etc. Overall it's easy to use, and it includes a lot of features for being a free plugin.
Top features
Unlimited accordion and tabs
Display anywhere via shortcode
Lazy load for page speed
Responsive accordions
Vertical tabs (premium)
Custom icons
Multiple header/content styles
Third-party plugin data import
Header click stats (premium)
Compatible with the WordPress block editor and WooCommerce
Final verdict on Accordion
Overall, Accordion is a solid, simple, and free option. It gives you the option to choose from accordions or tabs. You can easily fully customize the accordion. Once you create your accordions, simply hit publish and use the shortcode wherever you want to add them.
3. Easy Accordion
Our next pick is Easy Accordion, which is good if you want to have a fancy accordion that looks professional. It's a freemium accordion plugin with drag-and-drop functionality, a great degree of customization, and some awesome features. It is a tough competitor to many popular page builders' accordion functionalities. Use it to create beautiful accordions in no time.
Top features
Lightweight accordion builder
Click or mouse hover effect
Translation-ready
Multi-site supported
SEO-friendly
Cross-browser support
Mouse wheel support
Expand/collapse icon styles
Keyboard navigation support
Advanced shortcode generator (premium)
Responsive & mobile-friendly
Final verdict on Easy Accordion
When it comes to customization, no other WordPress accordion plugin offers as many options. You will get tons of expand/collapse style icons, color options, transition time decisions, and typography options.
4. Accordion FAQ
Accordion FAQ is a free FAQ accordion builder that goes handy with your Amazon affiliate sites, blogs, and other sites where you put up extensive guides. Along with ample color options, you will have an excellent customizer in the WordPress plugin section. As it has been built in Bootstrap, this plugin offers fast rendering. Accordion FAQ is an amazing WordPress accordion plugin with an interactive and easy to use interface.
Top features
Responsive and mobile-friendly design
Drag-and-drop builder API
Unlimited accordions
Unlimited color options
Bootstrap framework
Font Awesome icons
Multiple advanced custom fields
Compatible with all browsers
Instant workflow (paid)
Final verdict on Accordion FAQ
Accordion FAQ is good for adding an accordion with simple and sleek design elements. You can easily select the structure for your FAQs and add them to any location using the shortcode. The plugin editor shows all the options on the right sidebar so you can easily switch to the ones you like.
5. Ultimate Blocks
Ultimate Blocks is much more than just a simple WordPress accordion plugin – it's a suite of new blocks for the WordPress block editor. However, one of those blocks is an accordion block (called Content Toggle). With this block, you can set up your accordion sections directly from the native block editor interface.
Top features
Beautiful accordions
Work in the native block editor
Tabbed content blocks
Custom content toggle
Easy to use
20+ new blocks for the block editor
20,000+ active installations
Updated regularly
Page layout blocks
Final verdict on Ultimate Blocks
Ultimate Blocks lets you add accordions directly via the block editor. You will see it as a content toggle block. I'd say the usability of this WordPress accordion plugin is great. Unlike other plugins, you won't have to create accordions separately and then add the shortcode. You can do it directly via the block editor.
6. Shortcodes Ultimate
Shortcodes Ultimate is another unique option on our WordPress accordion plugins list. It offers a collection of visual and functional elements that you can use for adding elements via both the block and classic editors, widgets, or any other means. Also, for additional functionality such as a scheduler, drop caps, notes, dummy images, and more, you don't have to write long-form code.
Top features
Simple accordions
Fast-loading design
Responsive
Compatible with the block editor
Translation-ready
Beginner-friendly documentation
RTL support
Live preview
50+ beautiful shortcodes
Final verdict on Shortcodes Ultimate
Shortcodes Ultimate allows you to create a WordPress accordion directly via the block editor, but unlike the plugin we just talked about, Shortcodes Ultimate will give you a complete shortcode to tailor. Shortcode makes it really simple to add FAQs on any part of the page. Plus, you will get to fully customize the accordion design.
7. Elementor
Elementor is a lot more than just a WordPress accordion plugin – it's one of the most popular visual, drag-and-drop page builder plugins. However, as part of those page building features, it includes a free accordion widget that you can use in your designs.
It excels when it comes to giving you style and customization options. You can use the drag-and-drop functionality and adjust everything from height, font, design, and responsiveness via the live page builder.
Top features
Highly customizable accordion
Motion effects
Visual page builder
Drag-and-drop editing
Easy to build
40+ free widgets
Custom fonts & icons
WooCommerce-compatible
Powerful support
Custom CSS
Fully responsive
Final verdict on Elementor
In terms of design flexibility, Elementor is the winner. However, keep in mind that you'll need to use Elementor to design your entire page. So if you just want something that you can plug in to your existing editor, it's not a good option.
Which is the best WordPress accordion?
When it comes to adding an accordion, there is not much room for discussion. Nearly all of the plugins do their job.
However, a lot of WordPress plugins limit the functionality of their free versions.
We tried to pick the ones with the fewest limitations, so you can choose any of the above WordPress plugins and it will do the job. However, if you want more than just a basic accordion, then Otter Blocks is really the top choice on this list, with Elementor coming in second.

With Elementor you can tailor the entire page and improve your readability time, bounce rate, and overall user experience. However, because it's an external website builder, built on top of WordPress, it can really weigh your site down and cut into your site speed. This affects user experience and overall performance. It is still a wonderful tool and it's popular for a reason, but it does have certain limitations and drawbacks to it – especially if you really start adding a lot extra functions to your site.

Otter Blocks edges out Elementor because it offers a lot of those same extra features you'd want from a high-caliber website builder, but the difference is that unlike Elementor, Otter Blocks was built to work with the native WordPress (Gutenberg) editor. Therefore it keeps your website much lighter, even when you start adding additional features like the accordians featured here. Since it functions as an extension of WordPress itself, it also ensures ongoing compatibility as WordPress continues to upgrade to newer iterations.
Finally, if you're using your accordion to build a FAQ section, you can also check out our guide on how to add a WordPress FAQ section with a dedicated FAQ plugin.
Do you still have any questions about these WordPress accordion plugins? Ask us in the comments!