Voice search is one of the most talked-about SEO trends in recent history. More and more people are using voice assistants, which means voice search SEO can be a great way to get your site's content in front of visitors.
So, what exactly is voice search? In simple terms, voice search is whenever a person searches for content using their smart speaker or in-built smartphone assistant. Google Assistant, Siri, Alexa, and Microsoft's Cortana are just a few of the most popular ones.
Voice search is a growing trend that you need to pay attention to
It's unlikely that voice search is going to take over all of the search traffic at once. However, as a content creator, you should expect that the usage numbers will continue to rise for industries like eCommerce, services, food, local businesses, news, education, and travel.
A comScore report has said that more than 50% of searches will be done using a smart assistant by 2020. Even with substantial margins, this is a large enough number to pay close attention.
The purpose of this article is to give you actionable tips so that you can prepare your content for an influx of voice search users. Best of all, a lot of these voice search SEO tips also directly affect your overall search engine optimization strategy.
Ready to get started? Let's learn!
Voice search SEO: Four key tactics in 2019
1. Incorporate conversational, answer-based content
All of the big smart speakers and assistants use Natural Language Processing (NLP) to understand the intonation behind users' search queries. In short, NLP looks to respond to search queries with content that matches the same tone of voice a person used when searching.
So, if someone is searching for:
What happened with the Night King in Game of Thrones?
What is the best pizzeria near me?
When did Leonardo DiCaprio win an Oscar?
NLP will look for clearly defined and concise answers. If your content is written like a story with too much fragmentation, then voice assistants simply won't be able to pick up your content.
Here is an example of a snippet that NLP will easily interpret:
In 2016, Leonardo DiCaprio won his first Oscar as Best Actor for his role in The Revenant. This was Leo's 6th nomination and his 1st win. During his acceptance speech, Leo urged people all across the world to pay close attention to climate change and its impact on the planet.
You can learn more from this official document published by Google: Evaluation of Search Speech.
The PDF includes a lot of samples that you can learn from, and ultimately, get yourself ahead of the pack.
2. Add structured markup data to tag individual paragraphs
Structured data markup is a way to make it easier for search engines to understand your content. You can specify things like Article data, Review score, and more. And this information helps you get rich snippets in Google search.
Here is an example of a Google search result when searching for "coconut pudding":
And while none of these will directly influence your voice search SEO, the Speakable property will. Speakable is an up-and-coming (BETA) Schema value which lets you define a segment of your content as voice-friendly.
Here's what Google says about this new property, "When the Google Assistant reads aloud a speakable section, it attributes the source and sends the full article URL to the user's mobile device through the Google Assistant app."
So, this is actually really beneficial to you in multiple ways.
First, your content is understood by voice assistants, and second, the voice assistant will provide the user with a link to your content.
If you would like to learn more about structured data, head over to our article about schema plugins for WordPress.
3. Optimize your content for featured snippets
Featured snippets are something you encounter every day in Google's search results. Here's an example:
Unlike Rich Snippets, you cannot add any direct markup to your content to tell Google to create a Featured Snippet. It's something that Google just "does".
SEO experts argue that they're both a blessing and a curse. And the reasoning is simple, users are more likely to click on a Featured Snippet result than browse to search results below it. That's just human nature.
As for voice search SEO, they're an absolute godsend.
So, you are probably wondering by now, how do I get my content to be featured by Google?
Unfortunately, there isn't one specific recipe for this. We do know that Google uses multiple signals to decide what content gets featured.
Here are some of those signals:
Content-rich paragraphs which expand on a specific question.
Lists which enrich content underneath a sub-heading.
Technical content organized within an HTML Table.
Highlighted content using tags such as Bold and Italic.
The short answer is, write content in multiple segments with extremely rich and relevant information. Don't just think about writing, think how your content answers questions.
4. Write in-depth content with lots of long-tail keywords
Speaking of answering questions. We can't talk about voice search SEO without mentioning long-tail keywords and in-depth content.
Both are a strong recipe for voice search success.
First of all, here's some data on the average word length per article for top 10 results in Google search:
The data suggests that lengthier posts correlate with a higher rank in Google. And articles with 2,400+ words provide a lot of content and a lot of opportunity for being the source of voice search queries.
The said opportunity comes from using long-tail keywords and adding depth to your content.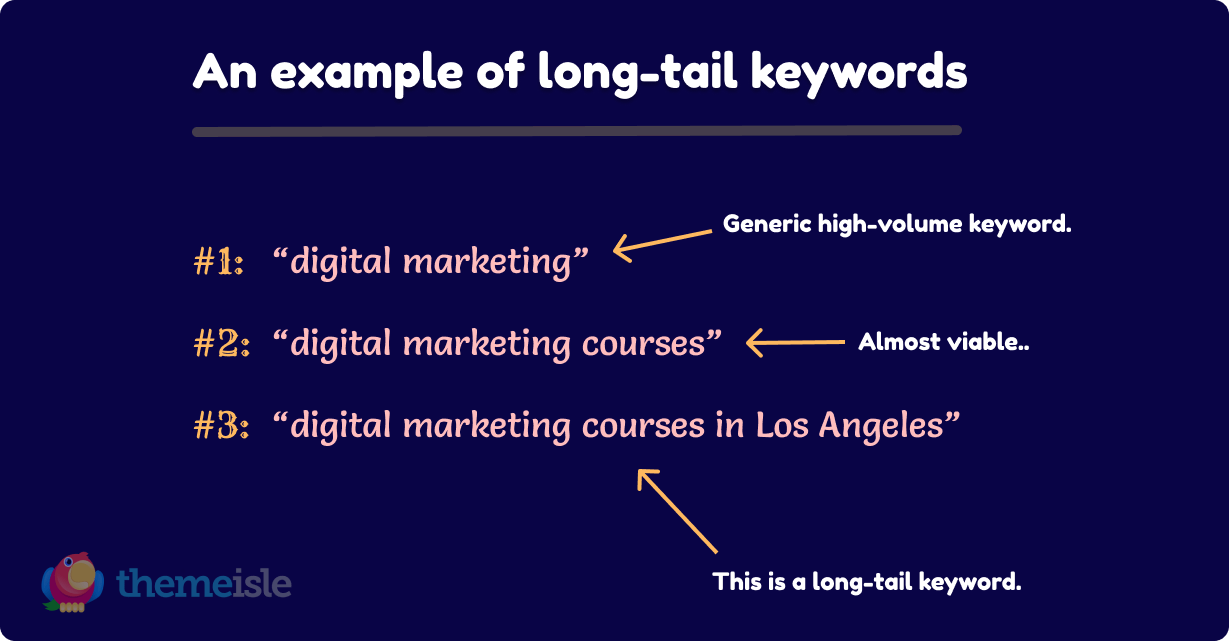 Another way to look at it is to think of your blog posts and articles as FAQ sections on a specific subject.
The more you focus on creating definitive content, the more Google can understand the depth of what you are sharing.
Here are some tips for adding depth to your content:
Use a lot of sub-headings to go deeper into a subject.
Write down all the questions you want to answer with your post, then use those questions as guiding points for your content.
Provide a Table of Contents so that users can quickly navigate to a section they need.
Focus on smaller content segments which provide extensive information.
I recommend looking into blogging tools such as Ahrefs to analyze the top content across your specific search queries. Once you know which content ranks the best, you can use similar principles in your own content to make it as extensive as possible.
Implement voice search SEO today
As you can see, applying voice search SEO tips to your content isn't all that difficult. And it's a lot like optimizing your content for general SEO purposes.
The only real difference is that search engines want you to make your content very specific. The emphasis is on snippets of content rather than meaty paragraphs.
Here's a summary of what we learned:
Conversational writing tone helps to match the tone of the user who is performing a voice search query.
You can use structured data markup to specify a segment of your content that's voice-friendly.
Voice assistants use Featured Snippets as a means of answering user questions.
You'll get better results if you write in-depth content which is thoroughly organized.