Hello! Welcome to another edition of our interview series with WordPress professionals. In this one, you'll meet Tess Coughlan. We'll be talking about WordPress, success, marketing, mission, and more.
Before hearing from Tess, make sure to read our previous interview with Josh Pollock. If you want more diversity and inspiration, feel free to browse through our full collection of interviews with WordPress connoisseurs and web experts.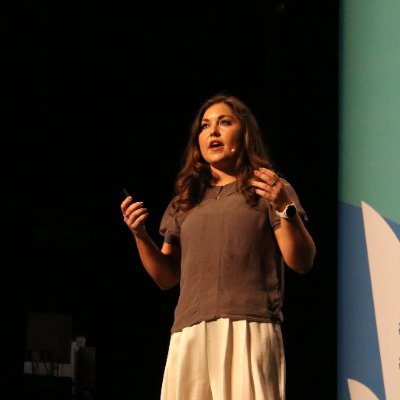 I met Tess at WordCamp Europe 2018 in Belgrade, when Themeisle was a media partner. Back then, she was part of the Public Relations team and helped us do our job smoothly.
She was the one putting us in touch with all the speakers we wanted to interview live during the conference. She was also the person I was reaching out to before the event whenever I needed help with my media partner duty. What an awesome experience that was!
When she's not doing volunteer work for our WordPress community or speaking at major WordCamps, Tess leads the marketing team at Atomic Smash – a website performance agency in the UK, focusing on WordPress and WooCommerce. Let's find out more from Tess herself:
Tess Coughlan Interview – "Narratives Run Through Your Business Every Day. Don't Be Afraid to Get Creative With the Way You Share That With the World"
When and how did you start working with WordPress? Is there an interesting story here?
I started out managing content on a WordPress site back in 2013 and I was working alongside WordPress developers and designers for a few years before discovering the global community. At that point, I got involved with organising meetups and conferences, eventually becoming one of three Global Leads for WordCamp Europe 2020. Over the years I have been lucky enough to take the stage to deliver some talks and workshops at meetups and WordCamps too, including speaking at WordCamp US about co-organising and hosting Europe's first do_action day, an official WordPress hackathon where we built new sites for charities in a single day.
Now I work for website performance agency, Atomic Smash, with a curious and dedicated team of WordPress and WooCommerce experts. Most recently, I was invited to speak at WooCommerce's own company event in Vienna alongside Piers Tincknell, the Managing Director of Atomic Smash, where we shared our insights with ~300 of their team who had gathered there from all over the world. It was an honour to be asked!
What's your favorite/must-have WordPress plugin and why?
It's got to be an image compression plugin, Shortpixel is a favourite with Atomic Smash! It makes a huge difference to site speed. As well as quicker load times, it also automatically serves up the correct image format (jpg/webp/avif) based on browser support.
Describe the WordPress community in one word.
What does "a good day at work" mean to you?
A good day is usually one where I'm feeling proud of the quality of work that's being done, either on a personal level and on behalf of the team here at Atomic Smash. It's extra special when we have points of celebration, like a new client coming on board, some epic stats showing how a client's site is improving, or some really great feedback that we want to share with the rest of the team. And any day is made better by smiling or laughing at something a colleague said or wrote on Slack.
How do you define "being successful"?
I think that, for me, success is linked to dedication. I'm going to feel happy, fulfilled and proud of my achievements if I'm dedicated to something and see it through, whether that's in a professional setting or outside of work. Personal definitions of success will change over time — even day-to-day. We're committed to learning and making iterative improvements at Atomic Smash, so we're always striving to do and be better. Mirroring that philosophy, success isn't a destination, but it's influenced by each small action you take.
What's the no. 1 thing a new business entering the online space should do?
Things will change and evolve over time, so be ready to lean into that.
What type of content marketing has been the most effective for your business so far?
I love sharing case studies and I think the video case studies we've created are some of my favourites. We collaborate closely with our clients and they do amazing work, so it feels good to shine a light on them alongside the efforts from our team. Here are some video case studies with clients Spike Island, SS Great Britain, and The Grand Appeal.
What are some interesting ways to gather people around your brand and keep them engaged?
Storytelling! Narratives run through your business every day, pull a thread and see where it takes you. Then don't be afraid to get creative with the way you share that with the world.
What is driving you to keep doing what you're doing? What's your personal mission?
I feel energised by my work when I know that I'm contributing positively to the communities or environment around me in some way. We're B Corp-pending at Atomic Smash and I love supporting clients who do important work, like charities, B Corps, and organisations that transform experiences for the better to continue moving the world forward. And I will always want to continue telling stories in creative ways. If that's what I do for the rest of my life, I'll be happy.
That sums up our Tess Coughlan interview. If you enjoyed it and want to learn more, please leave your comments in the section below. Also, if you have any ideas for who we should talk to next, feel free to share your suggestions with us!
Free guide
4 Essential Steps to Speed Up
Your WordPress Website
Follow the simple steps in our 4-part mini series
and reduce your loading times by 50-80%. 🚀
Free Access