One of the many things that often fall between the cracks after setting up a business website is a privacy policy page. But it's tough to create a privacy policy by yourself, which is where a privacy policy generator comes into play. You can use a privacy policy tool for setting up your policies page in just a few clicks.
This post will discuss the best privacy policy makers to help you select a tool for your eCommerce/business website. Most of these generators are functional for both apps and sites, but some do have limitations. Let's uncover everything!
Five best privacy policy generator tools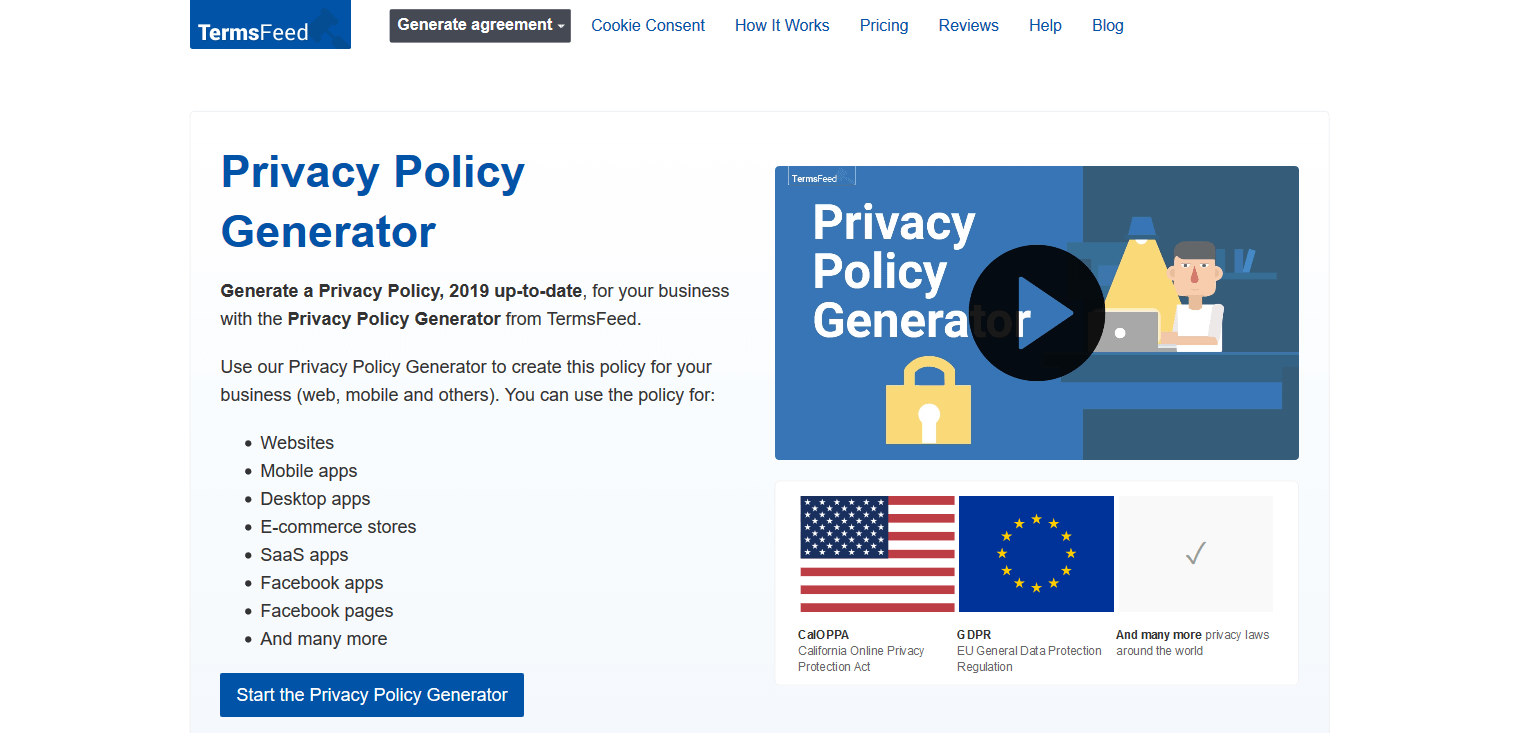 First, on our list, we have an all-rounder freemium tool for creating trusted legal agreements. TermsFeed works great for web/mobile-based apps, websites, eCommerce, SaaS, Facebook pages, digital products, and more.
You can also use this tool for creating terms and conditions, EULA, return/refund policies, cookies policies, and a disclaimer for better protecting your business legally.
You can create a privacy policy page representing individuals for free, but adding GDPR OR CalOPPA compliance will cost extra money.
Features
Easy to use
All legal agreements
No recurring costs
Create a policy in four steps
Free agreement templates
Live chat support
Follows worldwide laws
GDPR and CalOPPA compliant
Ease of use
TermsFeed has a beginner-friendly interface. You will have to go through a four-step process. Enter general information and business details like your site name, business entity type, and country. Disclose the kind of data you will be collecting, i.e., GPS, analytics tracking, and other information you will be receiving. Hit the download button, and you are good to go.
Price
When it comes to pricing, TermsFeed offers one-time payments for its premium plans.
This tool is free for use, however for creating a policy page as a business entity (and not an individual), you'd have to spend $14. GPS disclosure will cost an extra $9, GDPR can be added for $24, CalOPPA for $14, and so forth.
GetTerms is a choice with sharply defined plans and quick policy page procedure. You need to enter your business name, site URL, policy date, location, and then you'll have a working privacy policy.
If you have a business site, we'd recommend you go premium. The free version only offers a basic privacy policy page. You will get GDPR compliance, but CalOPPA isn't available. Overall, GetTerms is a simple privacy policy creator for blog, website, mobile app, or eCommerce store.
Features
Log data mention
Cookies addition
Preferred contact for data controller
Personal information
Third-party access
Terms and conditions generator
GDPR compliant
Ease of use
GetTerms is simple and extremely easy to use. You can literally get a basic privacy policy page in just two minutes.
Price
GetTerms has three clear cut plans to choose from. You can create a quick privacy policy with GDPR for free, but more sophisticated features require a paid plan.
Basic – free (simple terms of service (TOS) + privacy policy)
Custom – $15 (TOS + custom privacy policy)
Comprehensive – $29 (TOS + comprehensive privacy policy content)
PrivacyPolicies.com is a tool that can help you create all kinds of policies for your website or app. You can create a privacy policy, cookies, disclaimer, return/refund, terms and conditions, and even EULA. These documents will help keep your business safe and users' data secure.
As a webmaster, you also have to worry about different privacy laws. And that's where PrivacyPolicies.com's global coverage feature proves to be very useful. It will automatically customize your privacy policy page based on where you operate.
Features
Custom privacy policy generator
Fully compliant with GDPR and CalOPPA
Free policy templates
All agreement tools
Website/mobile app/eCommerce/SaaS
Cookie consent
5+ translation languages
DOCX and PDF formats available
Payment processors and ads clauses
Data controllers
Ease of use
PrivacyPolicies.com has a builder interface almost exactly like the TermsFeed. You will need to go through a 4-step process selecting your state, URL, disclosures, and all that.
Price
The free version will limit you to an individual privacy policy. To create a page as a business identity, it costs $14. You will have to pay an additional $9 for every piece of information you collect.
Shopify's free privacy policy generator tool is designed to create a privacy policy page, particularly for an eCommerce store. You can use this generator to create a pretty basic privacy page disclosing the information you will be collecting. Similarly, there are refund policy, terms of service, and other tools to help you get started.
Features
Fast privacy policy creator
Extremely easy to use
Dedicated eCommerce policy
Get privacy policy content emailed
No additional charge
Upgraded for GDPR
Ease of use
One thing common among all of Shopify's offerings is usability and navigation. You need to enter the name, email, business address, and URL, and you will get a basic privacy policy delivered to your inbox.
Price
Shopify's privacy policy generator is available for free.
WebsitePolicies is one of the only privacy policy generators that doesn't use a generic template. This tool helps build a policy for both sites and mobile apps.
You can either host the policy page on their website or publish it on your own site. In the former case, you can be sure about the automatic updates and compliance with the latest requirements and regulations. Additionally, there are tools like refund policy, terms and conditions, and disclaimer for making your business safer.
Features
Custom legal agreements
Compliance with international laws
Free privacy policy page hosting
Responsive design
Lifetime automatic updates
Useful clauses
HTML and text format
Getting started resources
One-time payment
Ease of use
While this privacy policy generator has some useful features, it does not have a fast-track procedure for creating a policy page. The interface is beginner-friendly, but takes up a lot of time, even to create a basic policy page for blogs.
Price
This privacy policy generator offers two unique plans with additional features like commercial usage, automatic updates, and no WebsitePolicies branding. Here are the plans without any recurring cost:
Basic – Free
Premium – $19.95
Which is the best privacy policy generator?
A privacy policy page is your chance to show transparency for how you handle collected data. Let's summarize all the privacy policy generators:
Once you have the content for your privacy policy page, you can follow our WordPress privacy policy tutorial to add your policy's text to your site for visitors to read.
Do you have any questions about choosing a privacy policy generator for your WordPress site? Ask away in the comments!
Free guide
4 Essential Steps to Speed Up
Your WordPress Website
Follow the simple steps in our 4-part mini series
and reduce your loading times by 50-80%. 🚀
Free Access