Hi there! Welcome to a new edition of our interview series here on the Themeisle blog! This month, Lindsey Miller of Post Status will be our guest. Read further to learn about her insights, as both businesswoman and content creator.
Before hearing from Lindsey, feel free to check out our previous interview with Andy Crestodina (co-founder of Orbit Media) in case you missed it. Or, if you feel like exploring more, maybe you'd like to take a look at our full collection of interviews with lots of other WordPress connoisseurs.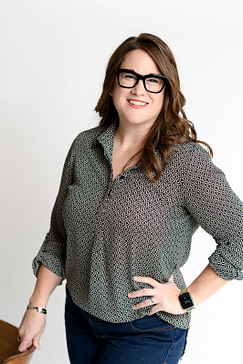 If you are a WordPress aficionado, you probably know Post Status. If you do, then the name Lindsey Miller might sound familiar. That's because Lindsey is the leader of the Post Status team. In other words, the CEO.
Her passion for the WordPress community and helping other people succeed had her pursue this human-centered career.
By starting Content Journey (another big project of hers), she had the same idea in mind – contribute to this world by doing something meaningful.
At Content Journey, Lindsey and her team focus on delivering quality content to their clients. She loves working with data in order to create strategies that bring long-term success to the companies she works with.
But let's hear it from Lindsey herself:
Lindsey Miller Interview – "We Don't Celebrate New Clients Coming On Board, We Celebrate When They Win"
When and how did you start working with WordPress? Is there an interesting story here?
In 2010 I worked in politics, mostly helping candidates fundraise for their campaigns. There was very little work I was doing on websites as it was a very traditional offline business at the time. Even though it doesn't feel like that long ago! My boyfriend at the time suggested I start a blog talking about my experience and helping other people in my industry, so I started my first blog. And, as they say, the rest is history 🙂
How do you define "being successful"?
That is a very loaded question. For me, success is always a moving target. I am a goal-setter. Daily to-dos, weekly tasks, monthly, yearly, and even longer-term goals are all written down. My short-term goals are more attainable, but they help me feel successful and accomplished, they provide me with the confidence to keep going after my bigger goals.
Success should never be measured against others, but always within ourselves. It is hard to speak in absolutes, but I try to never judge my success against other people and just keep pushing myself to where I want to be and how I define my own goals.
Describe the WordPress community in one word.
What's the no. 1 thing a new business entering the WordPress space should do?
Join PostStatus! I know I am biased on that one! But really it is to find your community. I don't think it is on social media, maybe a local meetup group of local businesses, for example. Even if it isn't PostStatus. Find the business space of like-minded people who you can lean on and ask questions of.
We have to be willing to come into spaces and admit that we don't have it all figured out (we don't have it all figured out). I find that so many of the folx in the WP community offer experience and expertise when we are willing to ask and listen. For business owners, there isn't anything more valuable.
What's your favorite/must-have WordPress plugin and why?
Yoast, we use it every single day at Content Journey. AND the pro version. We upgrade each of our clients, the features they get in pro make it worth it for the upgrade.
What is your personal definition of a "quality piece of content"?
I don't have long enough to talk about this! Kenna wrote an entire post on this in July of 2022. I asked others on the team and here are a few more comments to add to the discussion:
Emilee: Rooted in data, delivers real value, written by professionals, and something about a thorough process (editing, QC, review, etc).
Sarah: Understanding the need at a deep level and delivering immaculately detailed results.
Our goal at Content Journey is to do exactly what the team said above. To make sure that, when a piece of content has gone through our process, it feels highly detailed. You can tell that a writer has been chosen for you, that your brand voice is represented well, and that the subject is covered fully.
Google's algorithm is getting more sophisticated and can tell if content is just fluff and garbage and truthfully the humans who are reading it demand it to be up to their standards as well. So, high-quality content is content that doesn't cut corners and delivers what readers want.
What are some infallible strategies that you rely on at Content Journey to bring new visitors to a niche blog on a regular basis?
We follow the data. Our research always leads the way. As marketers, it is really fun to have ideas and go with gut instincts on new strategies, but the truth is when it comes to bringing organic traffic to a niche blog you just have to trust the process.
Perform the research and follow the tried and true steps, do not cut corners, and do not try to "trick" the search engines. If you just do the work the right way it works every single time. It sounds easy, but if it was easy everyone would do it. Doing things the right way is hard, but worth it.
What are some effective ways to build a community online? Let's take Post Status as an example.
Champion their causes. Find what their key issues, challenges and opportunities are, and then continue ringing those bells over and over and over again.
People want to talk about subjects that are important to them with people they like. So, be that place for them. That is what we strive for at Post Status. It helps that we have been a part of this community for so long, so the issues that have been important to us for over a decade are the same things on the radar now.
Cory is constantly checking in with people and making sure that we are on the right track. That is what community is all about, caring and really meaning it. I think if we were faking it everyone would see right through it.
What is driving you to keep doing what you're doing? What's your personal mission?
There are two pieces of the Lindsey puzzle.
One is creating a workplace that I am proud of. Creating Content Journey I wanted to create a workplace where people didn't feel tied to their desks, but instead work to complete projects and manage their own time. This company is under 3 years old and I still have a lot to learn as a leader, but it drives me to create this space for myself and others.
The second part is I derive a lot of happiness from helping other people achieve their goals. I get excited when that happens. Working for clients that are doing great things in the world and I get to be a part of their success, there isn't anything better than that. We don't celebrate new clients coming on board, we celebrate when they win. Those wins drive me every day.
That concludes our Lindsey Miller interview. If you enjoyed it and want to learn more, please leave your comments in the section below. Also, if you have any ideas for who we should talk to next, feel free to share your suggestions with us!
Free guide
4 Essential Steps to Speed Up
Your WordPress Website
Follow the simple steps in our 4-part mini series
and reduce your loading times by 50-80%. 🚀
Free Access