Ahoy WordPress lovers and welcome back to another exciting installment in our Pirate Interviews series! This month, you will hear from Francesca Marano, the SiteGround WordPress Community Manager, who shares networking strategies guaranteed to help you become a networking master.
Before handing over the microphone to our guest, don't forget to check out our recent interview with Nemanja Aleksic from ManageWP, where he shared his insights into the WordPress community and how he found a career as a marketer despite his passion for programming. Also, for further "get-to-know-ings", explore our interview archive dedicated exclusively to the interesting folks from the WordPress Universe.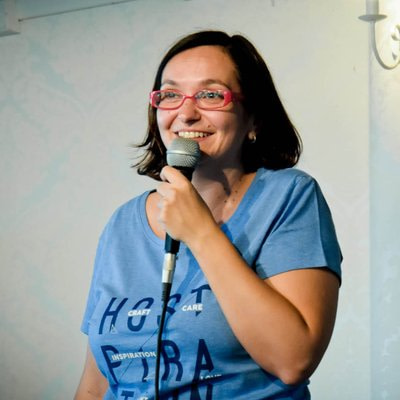 Francesca Marano has turned her passion for WordPress into a wonderful career on the back of her networking skills. We met Francesca immediately after her presentation at WordCamp Europe 2019 in Berlin, but you will see she still had enough energy to share some of her networking secrets. Francesca's WordPress journey started with a blog for sharing family pictures and has seen her travel the world as a speaker and popular member of the WordPress community.
In the years since she became a member of the WordPress society, she has volunteered as a mentor at WordCamps and helped organize WordCamp Torino in 2019. She also helps build communities with her blog, C+B, which helps Italian female creative entrepreneurs reach their personal and professional goals. With over 80 authors providing advice and guidance, it is a treasure trove of inspiration and tips for budding entrepreneurs.
If you're ready to start networking like a master, you can read the full interview below or watch the video to the right. Make sure to click to open the full Twitter thread, as each question is a separate video.
Francesca Marano Interview – The Woman Who Masters Networking
What is the number one rule of networking?
Be prepared, do your research and put yourself into the right mindset.
First would be preparing yourself in order to get out there. There is nothing natural about a conversation with people that you don't know. So pump yourself up and note that this is only for three days and then you can return.
Be prepared, switch it on, and know that this is only for three days and you can go back and be a hermit or whatever you want to be. But, be prepared for the event, know who the speakers are, even basic stuff like the location, so you don't get lost, because all these things add anxiety to the situation.
Prepare for the people you are going to meet. If there is someone that you really want to meet, try to spot them in the crowd and then start a conversation. I would say that preparation is key for living and also networking.
How can someone prepare to network when they aren't comfortable doing it?
First of all, keep your eye on the prize. Are you making a living out of WordPress?  If so, this place is ripe with opportunities. Everyone likes to make money, myself included. Therefore, you already made the first big step.
For example, taking yourself out from, in my case, the duvet, and coming to Berlin. So, you spent money, you spent time, you are here. Why not take advantage of it? That's how you pump yourself.
The biggest struggle is actually coming here and convincing yourself. Being here for three days with three thousand people is extremely overwhelming, so you did the hardest part.
How can you network effectively if you hate marketing yourself? And how can you pick people to network with?
I think networking is really not about marketing, it's about connecting with other human beings. We all crave human interaction. Even after a few days of working from bed, I feel like going to grab a coffee just to see someone and have a conversation – you know, hear a voice that is not the one in my head.
We talked about preparation. They make the attendance list available at some events from WordCamp Europe. That being said, the list is public and some people might write down the company they work for and maybe you already used that plugin, or you used that service, or you hosted with them, it doesn't matter.
That's a great opportunity to meet this person face-to-face. Maybe someone wrote a piece of software that you've been using and that's the case in most WordCamps. Someone wrote something that helps you make a living out of it, so you know you can go there.
The other thing would be hashtags on social media. Since Monday, it has been non-stop tweeting about WordCamp Europe. Therefore, when you follow the hashtag, you'll see someone that tweets about something fascinating and maybe you're interested in meeting that person, so, again, it comes back to preparation.
What advice do you have for maintaining a connection after you meet someone?
Follow up, always. Even if the conversation is not leading to any business, it is good to be polite. Honestly, that's a good rule in life (being polite).
Then, you can just be like, "Hey, it was nice meeting you". We can connect on Twitter, Linkedin, or I can just send you an email, but I always try to follow up with something.
Maybe I'll spot your face and your name again in another WordCamp. So, especially if there is a business opportunity, I will try to meet with you again and say, "Hey, we've met in Berlin, how is it going?"
What is the best channel for maintaining a contact?
Anything that the person made readily available in public. For example, my Facebook (I hate Facebook). I need to keep the profile on Facebook because I manage some groups.
Obviously, as a community manager, it is a part of my job to monitor some conversations that happen online. But my Facebook is not advertised anywhere. So, if you contact me via Facebook I won't answer.
From all the channels that I made available, (because, you know, on my business card there is my email and you're invited to use, there is my phone number, Twitter, LinkedIn), Facebook is not listed. Email is pretty good because you're landing right into someone's inbox.
Also, don't be spammy. If you go to my Facebook profile and there is nothing except for a message "Don't ask to be my friend, because I use this profile just for administrative purpose" and tons of people that I don't know get in there (I don't want to be rude, talk to me on Twitter, LinkedIn, Slack, Email, even phone me up).
What would be a good number of people to try and network with?
Whatever makes you feel comfortable. The moment you feel like you're overworked, overwhelmed, this is not fun anymore and you need quiet time, that is the moment when you quit. Because otherwise, you'll start being less effective.
I don't think there is a specific number, because sometimes you get one connection, but it is the right connection.
For example, if I talk to one person and I bring an enterprise client onboard, I don't need to do anything else. I think networking works only if it is genuine.
So, the moment you feel like you're not yourself anymore, you're not connecting and you're tired, just go to your room, relax and maybe you'll do better tomorrow. I spent a whole conference in the US in my hotel room because I was horribly jet-lagged.
What do you wish more people knew about WordPress?
How incredibly complex it can get. I am so sick of developers and businesses looking down at us like we are a mom blogging tool. We can do some pretty, pretty complex structured things with WordPress. I honestly wish more of the tech communities at large would know what an incredible tool this is.
My whole career in tech started because I wanted to learn how to knit, so I went to a knitting meet-up, I found out that everyone had a blog, I launched my own blog and started tweaking the code. I honestly have a great, great respect for mom blogs, but they won't be technologically advanced, while we can be and I wish more people would know about that.
By the way, most of the people who make a lot of money with affiliate marketing are mom bloggers – respect for mom bloggers!
That wraps up our Francesca Marano interview. If you have any burning questions for her, please leave a comment below. Also, if you have any suggestions for who we should talk to next, give us some names!