Publishing fresh content on a regular basis can help improve the search visibility of your blog. However, writing new posts can be challenging, especially when you're a busy business owner. Therefore, you might consider using an AI content writer.
Artificial intelligence (AI) tools can be a powerful way to enhance, streamline, and expedite your content creation. While they may let you produce more content in less time, there are also some downsides that make them less appealing than professional human writers.
In this post, we'll explain what an AI content writer is. Then, we'll discuss one pro and three cons of each of these tools to help you decide whether an AI content generator would be ideal for your blog. Finally, we'll wrap up with our picks for the seven best AI content writer tools. Let's jump in!
📚 Table of contents:
What is an AI content writer? 🤔
An AI content writer is a computer program that writes or generates content based on input from a user. The user provides the AI content writer with information about what they want the final product to look like, and the program then creates the material according to the user's specifications.
They can be used for a wide variety of content types. For instance, you can use them to create:
In some cases, AI content writers can generate better content than humans. That's because they are not biased by personal opinions or preconceived notions of what the final product should look like. However, most of them will still require some human input to create quality content.
AI content writers can also write faster than humans, which can be a major advantage when time is of the essence. Plus, machine-generated content is typically focused and free of typos. Therefore, it can help you produce cleaner content in less time.
On top of assisting with content generation, these AI writers can help you improve it. There are different types of tools for artificial intelligence content writing, and each has its own unique methodologies. For example, some AI writing generators are designed to help the flow and readability of your posts. Others are designed to write sections or entire posts for you, while some do a combination of tasks.
Should you use an AI content writer for your blog? (One pro and three cons) ➕➖➖➖
Now that you understand what an AI content writer is, let's discuss how to determine whether you should use one.
To help you do that, let's go through one pro and three cons of using an AI content writer. While 1:3 might seem like a bad ratio, the one pro is a pretty big one, so this is closer than you think!
Pro: The ability to produce and publish more content in less time
The greatest advantage of using an AI content writer tool is that it provides the ability to produce and publish more content in less time. This can be an excellent way for marketers to increase their content output without having to spend hours researching and crafting blog posts.
AI content writers can also help boost your creativity. For example, you can use them to generate ideas for how to structure a blog post or potential topic ideas. They can also help with keyword and word count recommendations, alt text, meta descriptions, and automatic formatting.
Furthermore, auto-generating your posts can free up your time to focus on other areas of your business. You can dedicate time to revising and enhancing the posts once the basic and technical elements are out of the way.
ℹ️ For most people, this is the single most important benefit of using an AI content writer. This alone might be all the motivation you need to try out one of the tools that we'll cover later in the post.
Cons: The negatives of using an AI content writer
1. Higher costs vs writing yourself
Two important factors to consider when deciding to use a tool for AI content writing are costs and the learning curve associated with it. There are some free ones available, but their features can be limited. Such tools are usually best for editing or revising purposes.
For example, Hemingway App is a free website that can help improve the readability of your posts: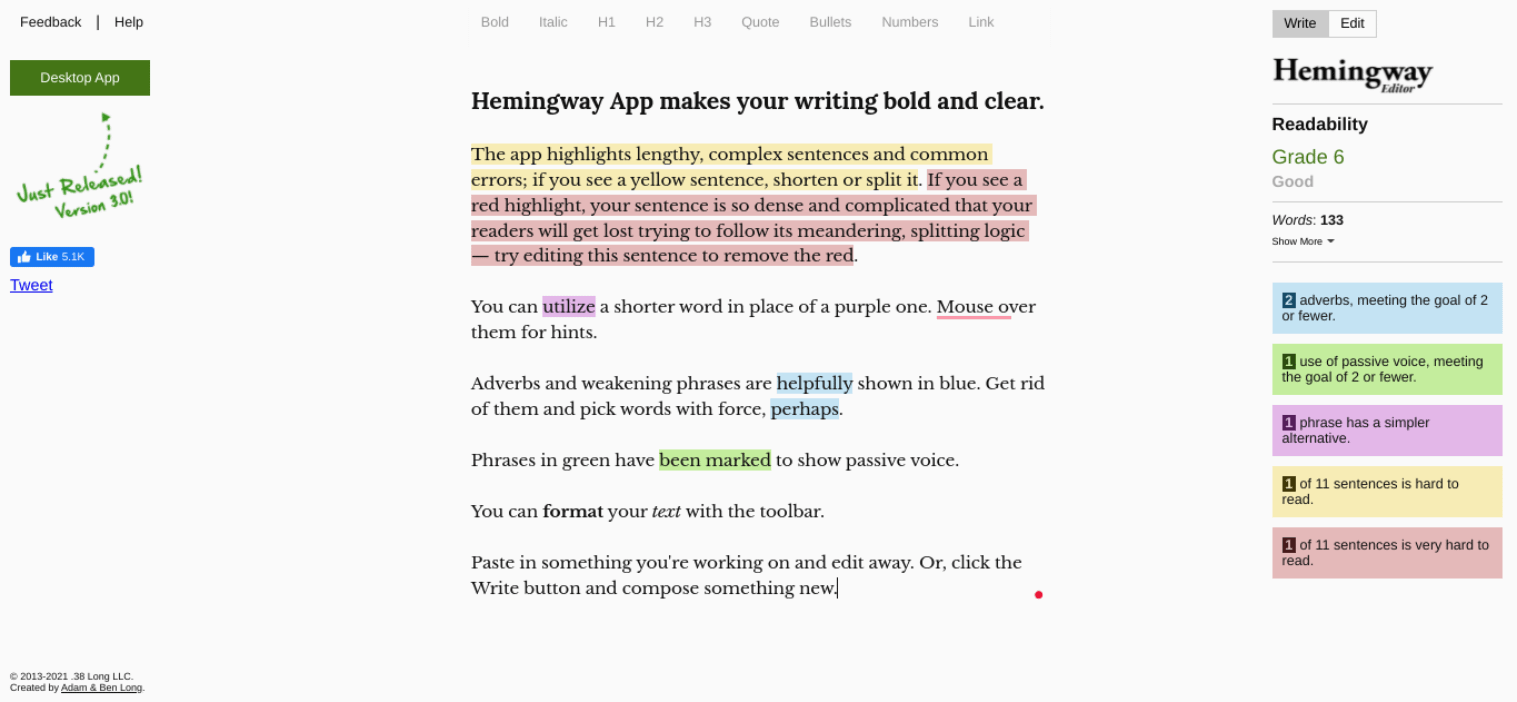 However, if you're looking for an AI content writer that lets you generate full blog posts from scratch, you'll likely want to purchase premium software. The costs for this type of software vary greatly depending on which option you're looking into. AI content generators can range anywhere from $10 to $200+ per month.
For many, this may seem like a high price to pay. On the other hand, some would argue that it's more cost-effective than hiring a full or part-time content writer.
There's also the learning curve to consider. Most tools for artificial intelligence content writing are relatively straightforward and easy to use, with guided tutorials to help you learn and navigate them. However, there are some complex options that may require some time and research to be able to get the most out of them.
2. A lack of human touch
Another important consideration with AI content tools is the lack of human touch. Quality options can produce unique, relevant content. However, at the end of the day, it's still an AI writing program producing the posts.
This means that the content may come off as a bit robotic and lack personality. There are, however, some AI content writers that might let you choose a preferred tone of voice – such as friendly, professional, authoritative, etc. But still, you shouldn't expect the resulting content to have as much emotional appeal and perspective as a piece written by a real human.
3. Accuracy and natural flow of posts
One of the biggest concerns you may have about using an AI content writer is the accuracy of your posts. Reliable tools and platforms can produce unique content that's free of plagiarism. They use predictive text and the input context to create factual content.
However, there are times when these tools might generate content that is repetitive and nonsensical. For instance, if you use a platform to auto-generate a 500-word blog post, you may find that some paragraphs are nearly identical, with sentences that are just reworded variations of each other.
⚠ For this reason, even if you decide to use an AI content writer, it's still important to spend time editing and revising the result to improve the flow and accuracy. In most cases, it's best to rely on artificial intelligence content writing as a writer's aid, rather than something that is going to produce a final, polished product.
Best AI content writer tools in 2023 and beyond ✍️
If you do decide to use an AI content writer, the next step is to figure out which one is best for your needs. You have a handful of tools to choose from. Let's take a look at some of the most popular options. 😎
Founded in 2021, Writesonic has already attracted hundreds of thousands of businesses to its platform. This stardom status has a lot to do with the fact that Writesonic's AI content writer strikes a balance between versatility and user-friendliness.
We're talking about a multi-faceted tool that's pre-trained on generative models to produce over 40 types of content. All you need is a few lines of text in any of the supported 25 languages, and the Writesonic AI content writer will whip up a logical landing page, social media ad, Google ad, or SEO-optimized blog post. You can also use it to paraphrase pre-existing content, generate content ideas, summarize text, and expand your articles.
The pricing itself is competitive, and starts at $19 a month after a free trial. Each plan has a word count limit, which drops as the content quality increases. That starting price, for instance, allows you to choose between 19,000 words of premium content, 47,500 words of good content, 95,000 words of average content, and so on.
Jasper (formerly known as Jarvis) is one of the most popular AI content writers out there. This open-source machine learning platform is used for Natural Language Processing (NLP). It's an excellent AI content writing tool for creating marketing content for a business website.
It can help you generate content that performs well in search rankings, Facebook ad copy, and more. This is courtesy of the many powerful features it packs – such as its Boss Mode system, which creates long-form articles from basic commands. The Jasper AI content writing tool further allows you to choose from a library of over 50 copywriting templates.
You can get started for $59 per month. This plan offers an allowance of 50,000 words per month, which you could double to 100,000 for $99 a month. If you however choose to pay an upfront annual rate, Jasper will grant you a favorable discount of 17% per month.
Grammarly is another popular AI writing tool that can enhance your blog posts. However, rather than generating entire long-form articles, this platform is meant to help you improve the readability of your posts. It checks for clarity, conciseness, correctness, and more.
One of the advantages of Grammarly is that it proofreads your work as you go. You can use it via the Grammarly app interface or install the browser extension to access its AI proofreader within your emails, WordPress editor, documents, and more.
You can use the online writing assistant for free. However, Grammarly is also in premium plans that start at $12 per month. The paid plans come with advanced features such as a plagiarism checker.
Currently on its fourth iteration, the AI language model, ChatGPT, has been making waves in the tech world with its fast-rising popularity. So much so that, according to analysts at Swiss bank UBS, ChatGPT has officially become the fastest-growing consumer app in history. UBS estimates that ChatGPT had 100 million active users in January 2023, just two months after its launch in late November 2022. Incredibly, it attracted one million users in just one week, a feat that took other popular apps months or even years to achieve. [1]
Those milestones are more than just some parlor game tech trivia facts, they underpin an undeniable reality: ChatGPT works really, really well. It's far from flawless, but if you understand how to use certain prompts to get it to do what you want it to do, then it is an extremely useful tool for artificial intelligence content writing.
OpenAI, the developer who created the ChatGPT AI content writer, currently offers it for free. An optional premium version called ChatGPT Plus is also available for $20 per month.
Fifth on our picks of the best AI tools for content writing is CopyAI, a high-quality tool that can help you create everything from social media content to product descriptions. It boasts an easy-to-use user interface (UI) and lets you use pre-made AI writing generator templates.
With Copy AI, you can select the type of content you want to generate, such as a headline or a blog introduction. This should be followed up with a brief description of the product (or topic or service), which ought to take just a couple of sentences. The AI content writing tool will then generate a list of ten options for you to choose from.
You can use Copy AI for free. The free plan gives you access to over 90 AI copywriting tools and ten credits. Paid plans start at $35 per month and they include unlimited credits.
Anyword is an AI writing assistant and text generator that provides predictive performance scores. It leverages a data-driven approach to generate landing pages, ad copy, blog posts, product listings, and more.
It also includes an array of sophisticated AI content generation features. For example, its Custom Mode lets you train the AI assistant to write copies in your brand's voice. It also offers Continuous Optimization to ensure that your on-site copy appears to the right audience at the most appropriate times.
You can use Anyword as a free AI content writer for up to 1,000 words per month. The paid plans otherwise range from $79 to $999 per month.
Frase is another helpful tool for creating SEO-focused content. It not only generates content briefs and blog articles, but also optimizes them for keywords.
In particular, this AI content writer tool is an excellent choice if you work with multiple team members. It comes with collaboration features – such as sharing editable links and creating project folders.
Frase offers a free trial. And once that lapses, a premium upgrade will cost you $44.99 per month.
Try an AI content writer today 🗒️
AI content writers can help streamline the content creation process for your WordPress blog. However, they may not be the best option for everyone. That's why it's important to weigh all the pros and cons before deciding whether an AI content generator is worth the investment.
The main advantage of an AI content writer is the ability to produce and publish more content in less time. However, there are also three negatives that you'll want to consider:
💵 The costs and learning curve associated with artificial intelligence content writing.
🤝 Lack of human touch.
📝 Issues with the accuracy and natural flow of posts.
However, if you choose not to go down the AI content generator path, there's always the option of outsourcing your writing to human writers. This in itself should be a breeze if you follow our guide to hiring freelance writers and the 20+ best freelance writing websites to find writers.
Do you have any questions about AI content writers? Let us know in the comments section below!
Free guide
4 Essential Steps to Speed Up
Your WordPress Website
Follow the simple steps in our 4-part mini series
and reduce your loading times by 50-80%. 🚀
Free Access